Sunglasses are essential cycling kit – not only do they enhance road and trail visibility as well as comfort, they also protect the eyes from wind, flying bugs, dust and debris.
With a seemingly endless array of cycling sunglasses available, which do you choose? What are the most important features of cycling sunglasses? What are the best lens options to suit the changing conditions riders face throughout their ride?
First, protection. You need 100% UV blockage to protect eyes from the sun's damaging rays. Additionally, the lens must be made from impact resistant material to protect from flying debris or crash impact.
Second, performance. Different lens colours are optimal for different times of the day, as well as changing light and weather conditions. The optimal colour for each condition gives you the best visual contrast and perception. The challenge is choosing the best sunglasses that will address most of your cycling needs, without having to buy multiple pairs of sunglasses or swapping lenses each time conditions change.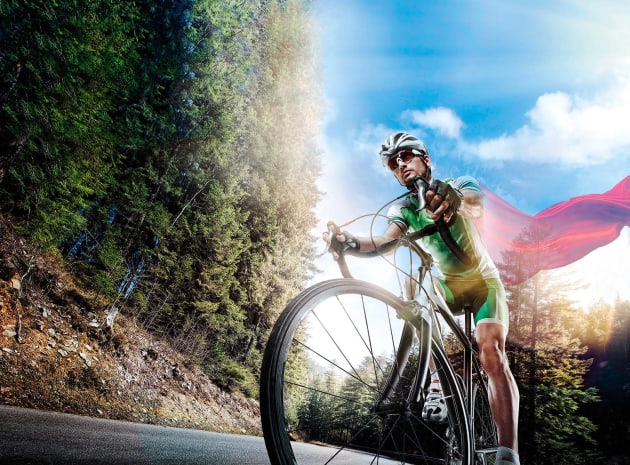 Despair not, there is an ultimate sunglass lens solution for cycling. Transitions Drivewear polarized photochromic sunglasses.
Transitions Drivewear is the world's only polarized photochromic lens that automatically changes to three different colours which are each optimised to the eye's physiology. It darkens and lightens according to the light conditions while also blocking harmful UV rays. And it is fully polarized to block blinding glare from the environment, including wet road surfaces.
Suited all the challenging conditions cyclists face, Transitions Drivewear seamlessly changes to three different colours, with the photochromics darkening and lightening the lens in response to the amount of light available while the polarization blocks blinding glare.
Transitions Drivewear eliminates the need for cyclists to remove or change their sunglasses by intelligently adapting to dark early morning starts, bright midday sun, long shadows of late afternoon, glaring sun, overcast conditions, fog and rain.
Available in non-prescription and prescription, Transitions Drivewear lenses can be fitted into many sunglass frames or you can buy ready-made non-prescription sunglasses.
Developed by ophthalmologists and optometrists in the US, Transitions Drivewear combines two global leading technologies: Transitions photochromics and NuPolar polarization.
The super vision of Transitions Drivewear gives you the edge for performance, comfort and safety. So make your next ride the best it can be.