Updated: A driver that hit and killed a female cyclist in December last year appeared before a Sydney court this week.
Dr Ann Formaz-Preston, an avid cyclist and promising young doctor, was riding along Mona Vale Rd Pymble when a vehicle turned across her path and collided with her just weeks before Christmas. Witnesses described the horror of seeing their friend dragged by the car and dying at the scene.
The Sydney Morning Herald reported the driver, 38-year-old Mohamed Abbasher Fageer, pleaded guilty to negligent driving occasioning death. The court sentenced him to 300 hours community service and suspended his license for two years.
News of the abhorently light sentence has left many in the cycling community in shock and disbelief, especially coming the day after two riders lost their lives in seperate incidents – one in Melbourne the other in Sydney.
Peak cycling body Bicycle NSW described the sentence as 'outrageously light'.
"A light sentence like this is not supported by Bicycle NSW," they wrote to their Facebook page.
"It is a punishment yes but not enough of one to deter others. Motor vehicle drivers will not be deterred from performing dangerous or negligent acts around the smaller road users, including cyclists, when all they receive is a light sentence."
Earlier: The 33-yo woman tragically killed while cycling near Sydney on Sunday has been named. Dr Ann Formaz-Preston was riding with a bunch on Mona Vale Road in Pymble when she was hit by a car around 10am. She died at the scene.
Speaking to the Sydney Morning Herald the woman's partner, Christopher Vanneste, said Ann was a promising young doctor due to start working at Sydney's Royal North Shore Hospital in coming weeks.
"She was placed at the SAN [Sydney Adventist Hospital] and often used her bike to get to the hospital from our apartment on the lower north shore," Mr Vanneste told the newspaper.
"She was an avid cyclist and completed a full Ironman [triathlon] in Canada. She made many close friends, who she was with on the day the accident happened," he added.
In an emotional plea Mr Vanneste said people need to change their language to 'people on bikes' and 'people in cars', rather than the war on cyclists vs drivers.
"Road users are people with families and friends who care about them," he told The Sydney Morning Herald. "Two people were involved in this crash, but hundreds of people will be affected by this accident. A little more care and patience will go a long way to decreasing these terrible road tragedies."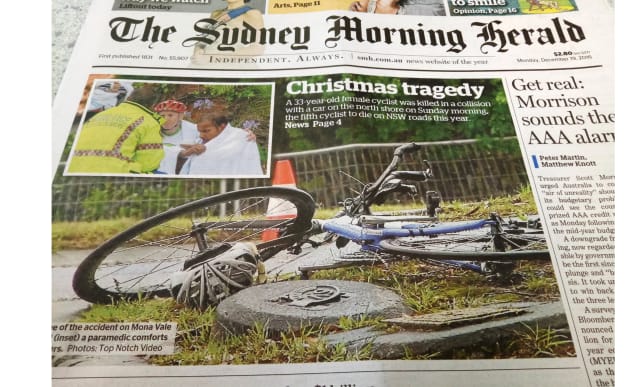 Earlier: Clubmates, loved ones, family & friends are mourning the tragic loss of a female cyclist killed by a car while riding north of Sydney on Sunday.
According to police a group of riders were travelling southbound on Mona Vale Road about 10 am when a Toyota Corolla sedan, travelling north on Mona Vale Road, collided with the 33-year-old female at the intersection of Woodlands Avenue.
The woman was seriously injured and died at the scene, no other riders were injured. She was the fifth cyclist to die on New South Wales roads in 2016.
Police reported the 37-year-old male driver of the car underwent mandatory drug and alcohol testing, a crime scene was established and the Crash Investigation Unit are continuing to look into circumstances surrounding the crash.
Police are urging anyone with information to call Crime Stoppers on 1800 333 000 or use the Crime Stoppers online reporting page https://nsw.crimestoppers.com.au/ All submitted information is treated in absolute confidence.
Bicycling Australia magazine express our deepest condolences to the family, friends and riding mates of the woman. May she forever Ride in Peace.