International travel is off the agenda for now, but there's no harm in dreaming about future adventures. Here Marcus Leach takes us on an inspiring journey to Morocco's Atlas Mountains.
My Garmin is telling me to turn left, only there's no road, just the faint outline of a dirt track leading into a vast expanse of copper-tinged mountains. Surely this can't be right. I take out the old tattered map I was given in Marrakech to double-check. There's a small, but clearly defined road showing.

It dawns on me that I have two choices: turn left or turn back. Engrossed in thought, pondering what to do, I fail to notice a bedraggled donkey, laden with towering bundles of grass, ambling towards me. It's only as it draws nearer that I discover it's accompanied by a diminutive figure dressed in a traditional djellaba wandering behind.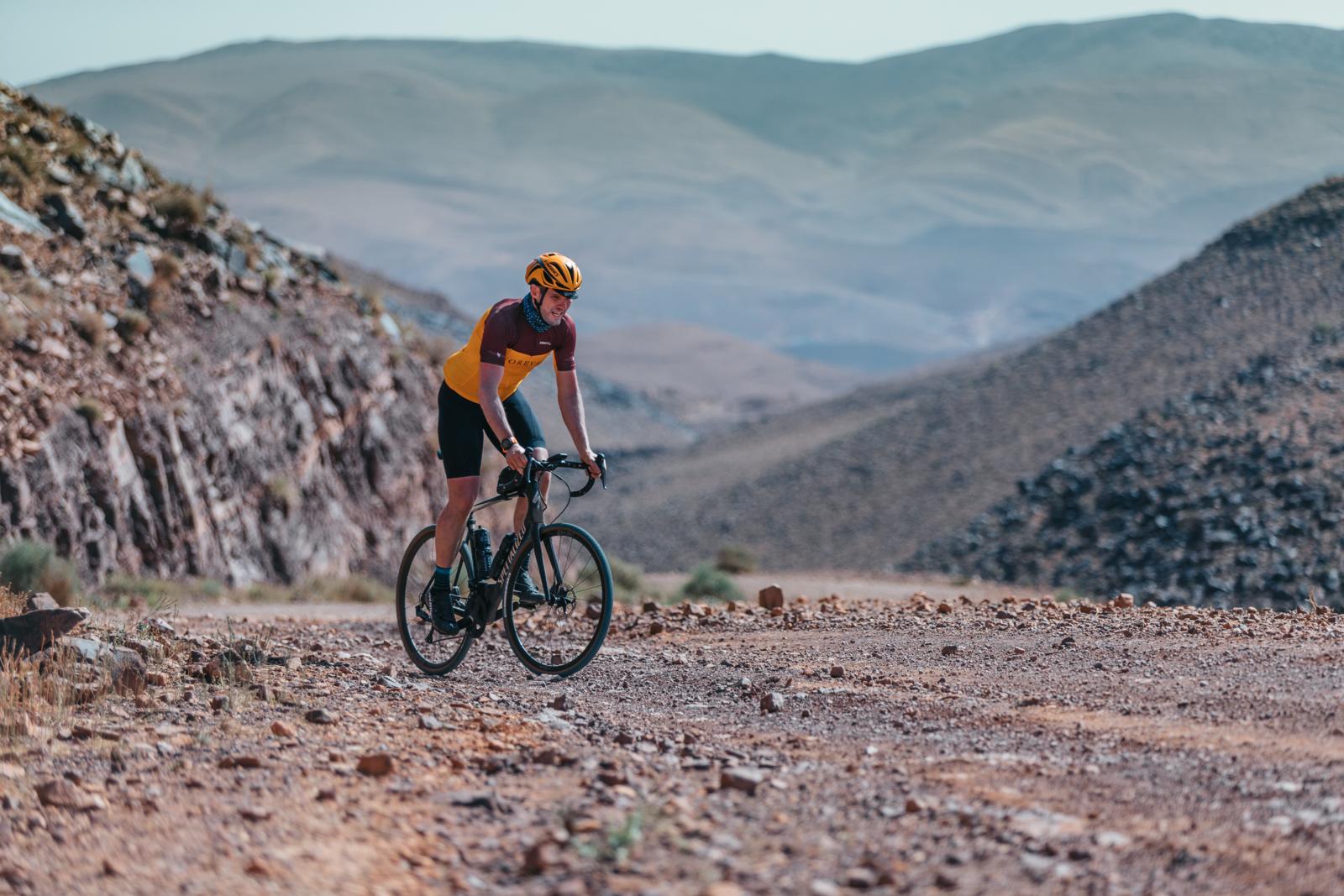 Upon seeing me the old man's crumpled, leathery face breaks out into a warm, toothless smile.
"Imilchil?" I ask tentatively pointing in the direction of the track and mountains.
"Yes, Imilchil, many miles, bumpy road," comes his reply. There's so much more I want to ask, but am prevented from doing so due to the language barrier. Instead, I thank him, pack my map away and turn left, unaware that I am about to ride the most incredible fifty kilometres of my life.
I have been craving a new adventure for some time. Over recent years I have been fortunate enough to cycle throughout Europe, and as majestic as the Alps, Dolomites, Pyrenees and many lesser-known mountain ranges have been, I long for something else, something different.
… My emotions are divided: I am longing for a hot shower, something of a rarity in the mountains; equally I don't want the ride to finish…
When I used to think about Morocco it would evoke images of medinas, minarets, kasbahs and seas of sand, of an exotic land laced with perfumed scents and enchanting music. But never cycling—not until I found myself in Marrakech on a business trip, that is, sat on a rooftop terrace sipping mint tea and noticing the sheer scale of the snow-capped peaks staring back at me.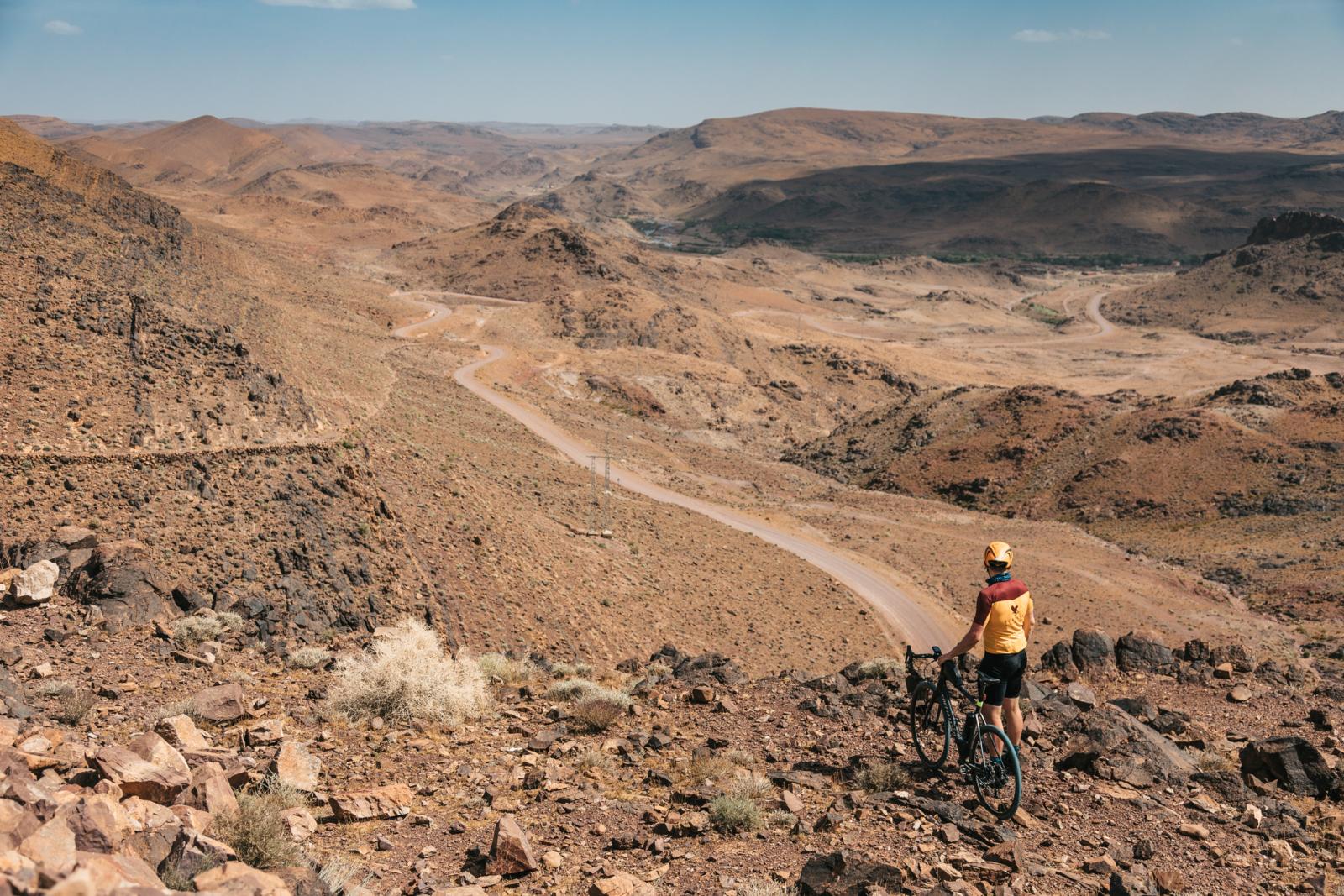 Upon returning home my thoughts were dominated by the Atlas Mountains; hours were spent poring over maps, reading blogs, slowly piecing together a route that, on paper at least, looked doable if not a little daunting. Six days, 970km, a touch over 15,000m of climbing and a sprinkling of gravel roads to add to the sense of adventure.
Three months later and I am back in Morocco. I ride out of Marrakech under a veil of darkness as the enchanting sound of call to prayer fills the air. Roads that are usually a chaotic mix of cars, mopeds and horse-drawn carriages are eerily quiet. Somewhere in front, hidden from view for now, are the very mountains that I have come to discover.
The first slivers of light creep over the horizon to reveal a clutch of white-fanged peaks looming over me. Through the gloom I can just about make out the road ahead as it disappears into the folds of the intertwining slabs of rock. Moments later and the gradient gradually ramps up, signalling the start of one of Morocco's most iconic climbs, Tizi n'Tichka.
What the climb lacks in severity—it rarely goes above seven percent—it more than makes up for in length. For thirty-three kilometres a dizzying combination of switchbacks and hairpin turns take me ever higher, each twist in the road revealing a little more of the mountain's grandeur.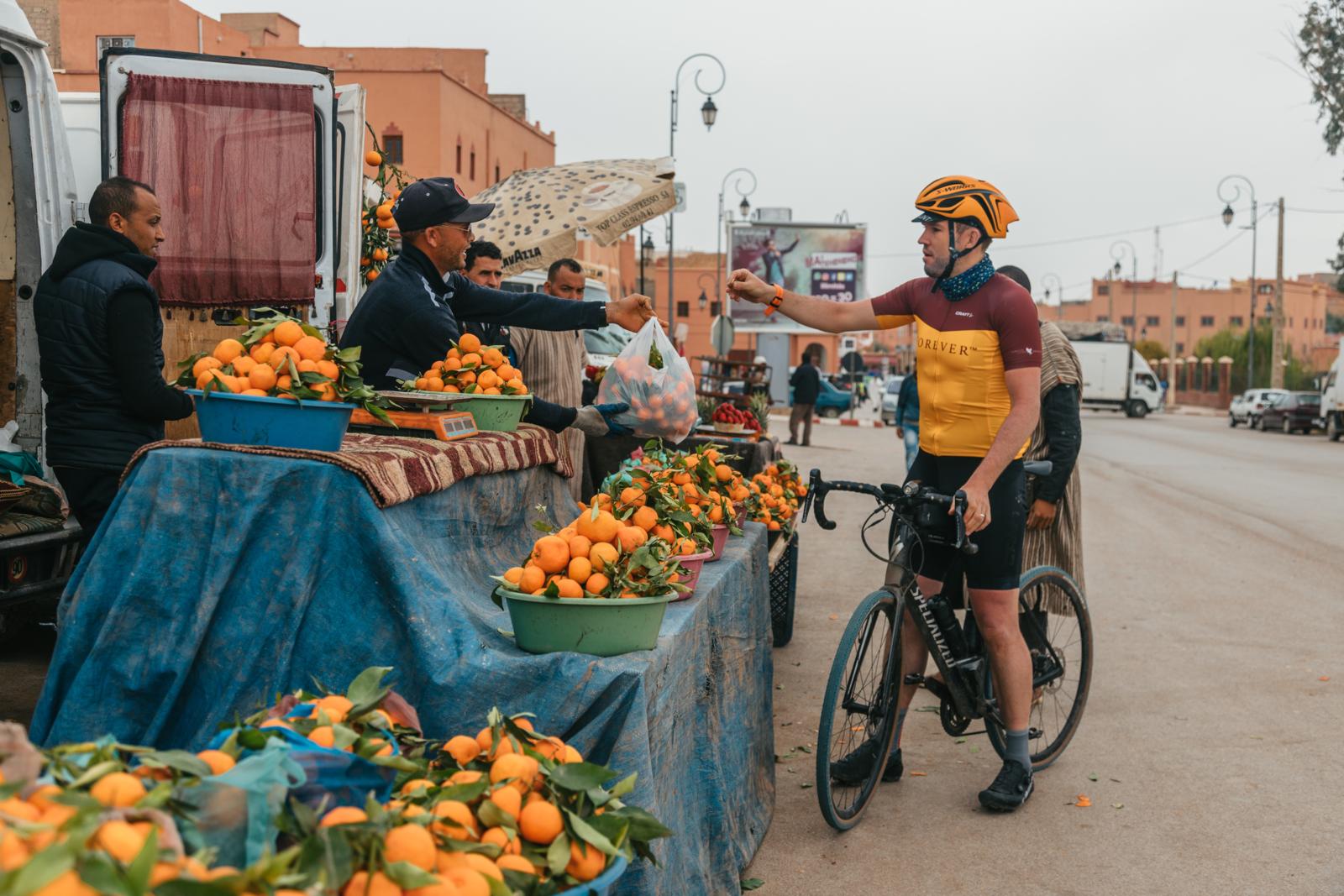 The descent is fast and exhilarating; smooth asphalt, sweeping apexes and perfect lines of sight allow me to seamlessly glide down towards the bustling town of Ouarzazate, and the end of the first day. Once I leave here my route will, according to the map and my research, gradually take me further away from civilisation and into the heart of the mountains.
I rise early, eager to make the most of a relatively flat start to the day, but my optimism is soon dashed by a headwind that will not abate for over a hundred soul-destroying kilometres. By the time I eventually turn off the main road at Boumalne, the gateway to the Atlas Mountains, I am mentally and physically exhausted from the constant battle to keep the pedals turning. A veritable feast of couscous and mint tea restores my moral and energy levels.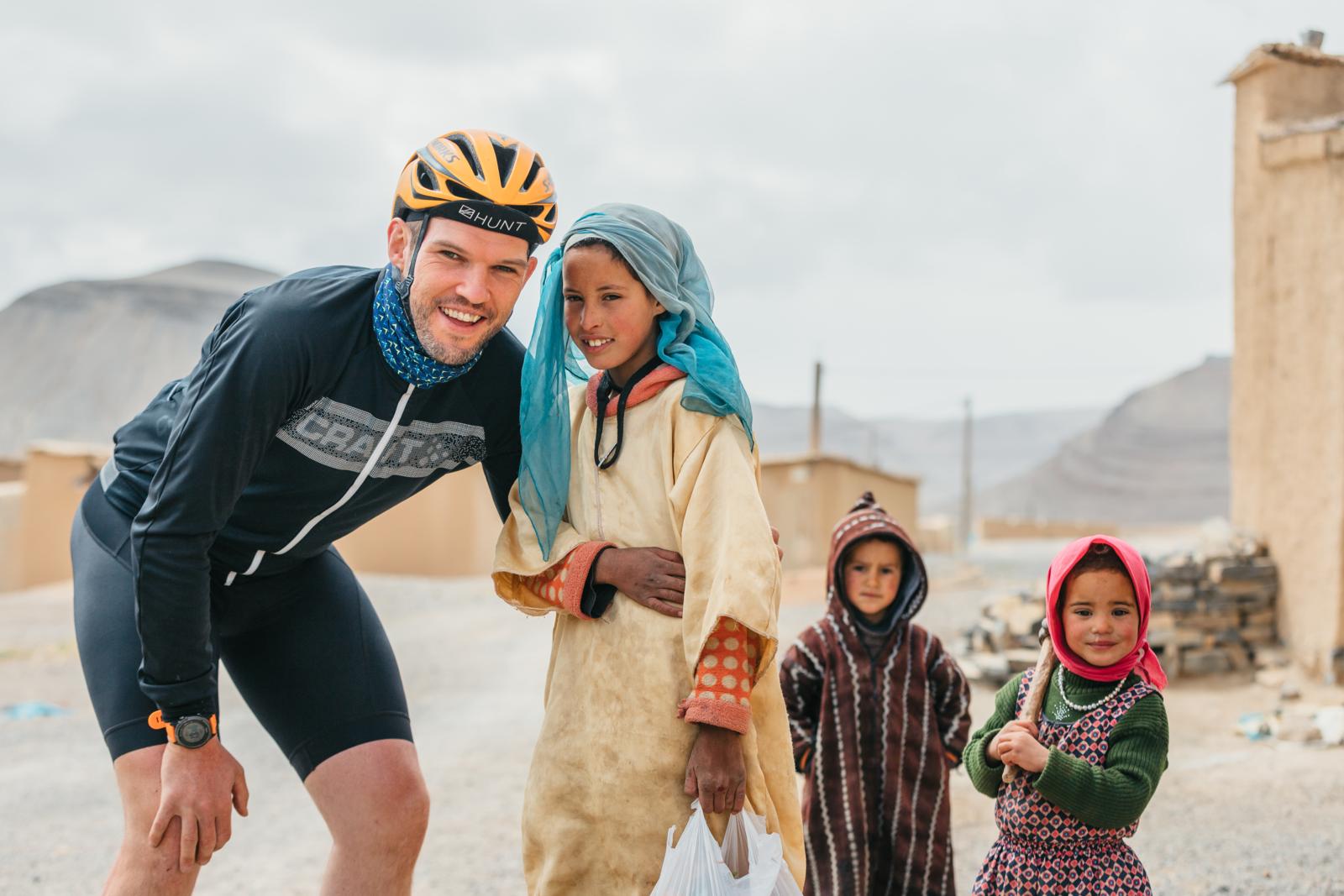 Leaving Boumalne and heading through the Dades Gorge there is a distinct change in feel. Ancient kasbahs from a time gone by line a road that snakes its way along the bottom of the valley, hemmed in by rusted mountains stripped bare in dramatic zig-zagging formations of rock, lingering whispers of past spirits carried on the breeze.
The road is famed for a tight series of switchbacks that sap my energy levels once more, but thankfully bring me to the simple stone auberge that is home for the night. I arrive as the sun slides down the horizon, torching the sky a golden orange and bringing a chill to the early evening air. From here there are only a handful of crumbling villages before the road ends, replaced by a network of gravel tracks that traverse the mountains.
The morning air is crisp; I yearn for the warmth of the sun and fresh coffee. Moments after setting off and I am joined by a gaggle of rickety mopeds, their smiling riders and passengers slowing to observe me, the lone cyclist, as intrigued by me as I am by the landscape that they call home. Slowly, one-by-one, they wave and turn off the road, kicking up plumes of dust as they do so, until eventually I am alone once more.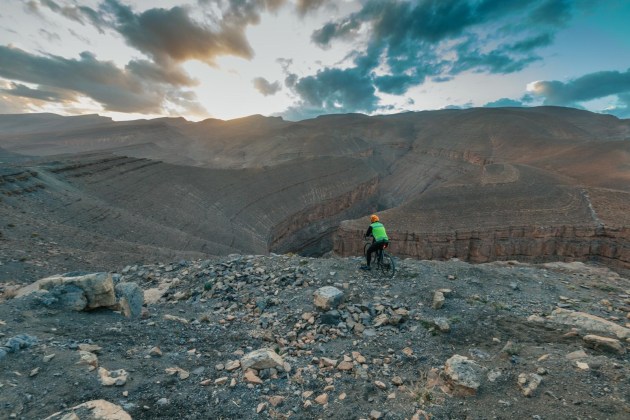 By the time I reach the left turn and gravel track the day is full of heat. True to the old man's word, it's rough going. What he failed to mention, or maybe he felt it was obvious given the scale of the mountains that filled my vision, was that the road was also very steep in places.
Progress is slow, not that I mind as it allows time to savour every moment in this mesmerising environment. Cycling is many things to me, not least the ability to explore foreign lands, to submerge myself in different environments, to see small windows of the world far removed from my usual life. Places exactly like this.
The track coils its way up towards 3000m, the mountains and views as vast as the yawning gorge that falls away to my right is deep, not a single sign of civilisation as far as the eye can see. Immersed in this raw and rugged landscape a sense of total isolation from the rest of the world washes over me; this is the adventure I have been craving.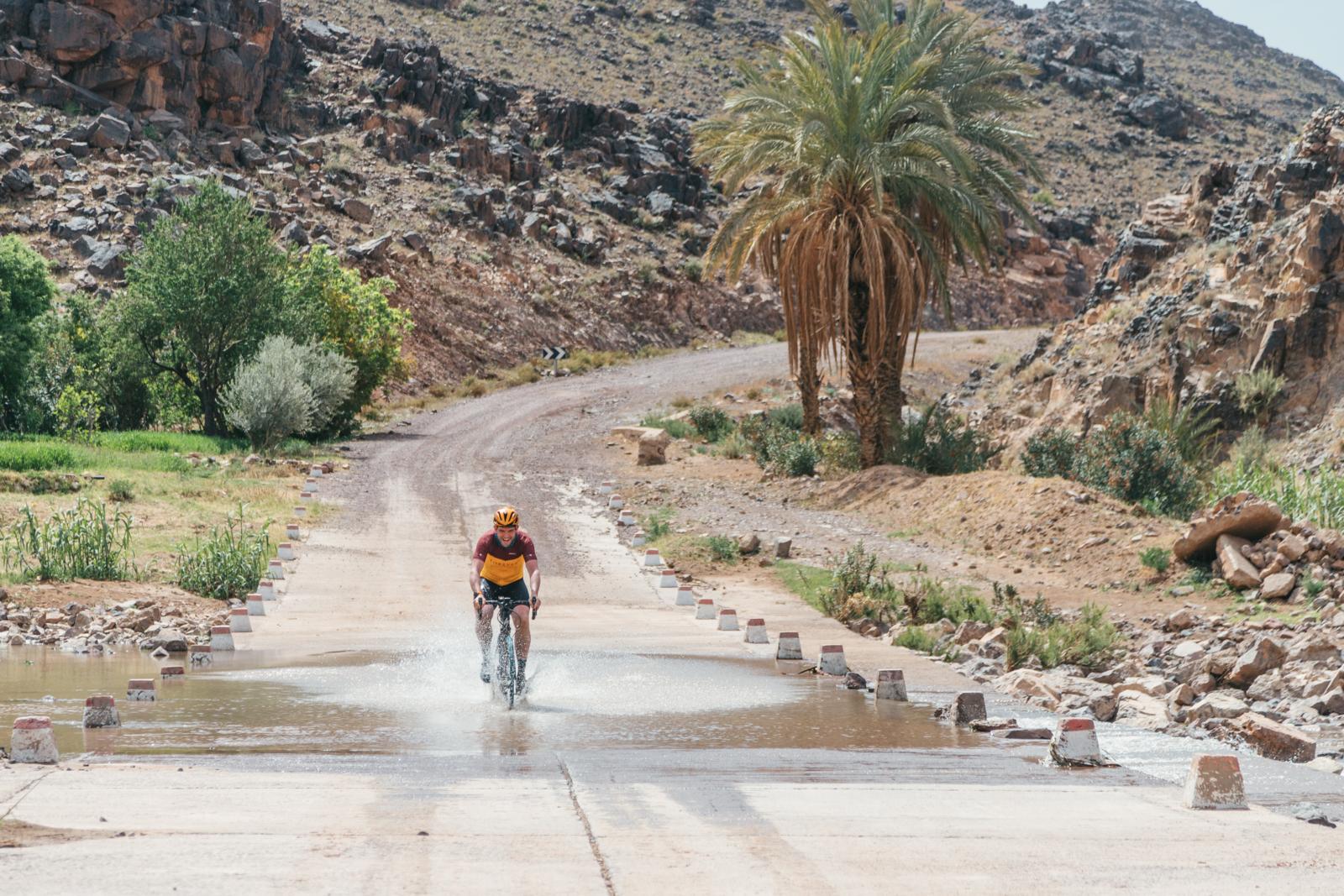 Some hours later the silence is broken by the distant shout of 'chai'. Despite needing to reach Imilchil before night falls the offer of tea is too good to resist, so I stop to join the shepherd from whom the offer came. Miles from anywhere, his sheep grazing lazily on what little grass there is, he has a small fire going and a battered silver tea pot sat on the hot embers, the distinct smell of mint wafting through the air.
His hospitality is indicative of all those I meet during my time in the mountains, each person as eager as the last to share a moment, to express their kindness and gratitude that I have chosen to travel here. The following days are filled with offers of tea and bread as I make my way through a string of remote mountain villages, each set against a backdrop of snow-capped peaks.
I reach Imilchil as the light of day fades into a murky darkness, street vendors grill meat on rustic BBQs, children play with a tattered ball and dogs excitedly follow me along the single road around which the village is built. Sleep comes easy after gorging on several plates of a local dish made with shredded flat breads soaked in a sumptuous stew. The following day I'm woken by a combination of hunger and the now familiar sound of call to prayer.
The dawn of every day brings with it fresh panoramas of imperious mountains, tinged pink in the early morning sun, at the heart of which lies Jebel Toubkal, North Africa's highest peak. Unmistakable, this giant of the Atlas dominates the horizon until eventually, as the road begins to fall away, Marrakech can be seen in the distant and the mountains are little more than a memory.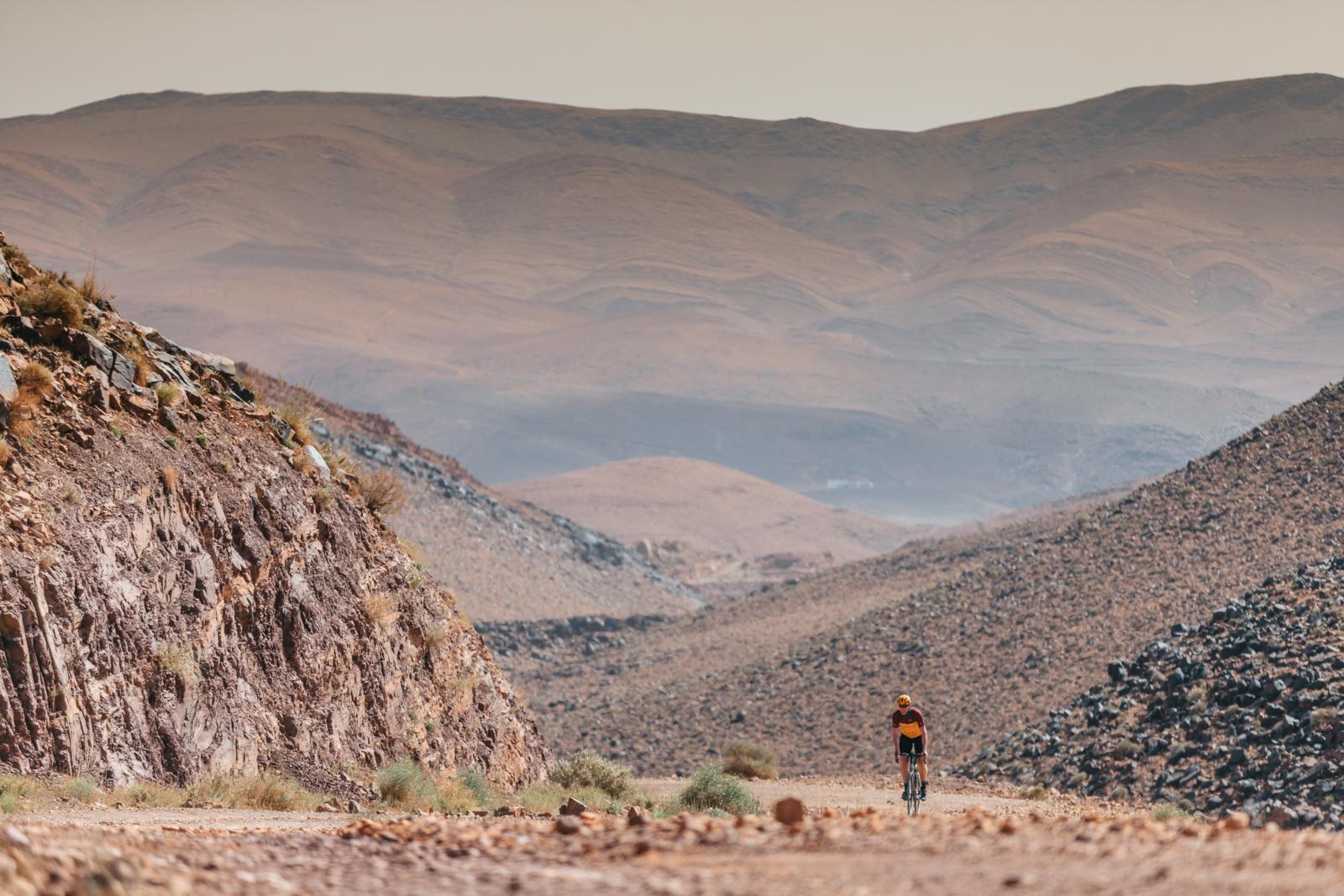 Roads become busier, relatively speaking, the closer I get to the end of what has been the adventure of a lifetime. My tired legs are thankful of the long and fast descent down from the final climb. Mopeds carrying entire families offer a welcome draft as small pick-up trucks with teetering loads wobble past.
My emotions are divided: I am longing for a hot shower, something of a rarity in the mountains; equally I don't want the ride to finish. Absorbed in my thoughts I take a wrong turn and suddenly find myself amidst the maze of tiny streets that twist their way around Marrakech's main square, through which rivers of people, bikes and scooters flow. My body is present in this chaotic scene, but my mind is elsewhere.
I am longing to be back in the mountains, far away from this cacophony of noise—the only saving grace being the ability to get my first proper coffee since setting off. I stop to escape for a moment, taking time to reflect on the past week's riding. What I had experienced was not the Morocco I had once imagined, but it is one that will forever live in my memory.
..Despite needing to reach Imilchil before night falls the offer of tea is too good to resist, so I stop to join the shepherd from whom the offer came…
Bike Set Up
To get the most out of a trip to Morocco, which means riding on mixed surfaces and gradients, it's best to run gravel tyres and generous gearing. I used Panaracer Gravel King 32mm tyres and had 52/38 chainrings with an 11-32 cassette. Pack for all weather conditions as they can fluctuate in the mountains.
International cycling and far-flung adventure seems a distant dream for the vast majority of us. When overseas travel is back on the agenda and those dreams return to reality, destinations such as the Atlas Mountains will beckon.
Access to water and ensuring adequate hydration between towns was an important part of planning the trip.

Wide open vistas were par for the course during this epic adventure to a rarely ridden part of the world.

Meeting friendly and welcoming locals was one of the standout highlights as Marcus travelled through Morocco by bike.
Five of the Best Climbs
1 Tizi n'Tichka 01
(33.2km long, 2.9% average and 1079m gained, summit at 2260m)

2 Tizi n'Test
(29.3km long, average 4.6% and 1364m gained, summit at 2094m)

3 Tizi n'Ouadi
(36.2km long, 5.2% average and 2034m gained, summit at 2942m)

4 Tizi n'Tirherhouzine
(15.2km long, 4.6% average and 703m gained, summit at 2671m)

5 Col du Ouano
(16.5km long, 4.6% average and 763m gained, summit at 2829m)
When to Travel
March to June and September to November
Visas
Australian and UK passport holders can obtain a tourist visa upon arrival in Morocco. Obviously the latest travel advice should be considered during the COVID period.
Accommodation
Marrakech is blessed with numerous options to suit all budgets, however, choice is limited in the Atlas Mountains with most places at the budget end of the scale.
Who To Contact
Conquistador Cycling Club offers fully supported week-long Atlas Mountains expeditions, as well
as the ability to organise bespoke trips www.conquistadorcyclingclub.co.uk