First published by Bicycling Australia in April 2017, this is the Aussie success story of Daz Haynes, a mad-keen South Australian cyclist who has come up with a unique, ergonomic, super-comfortable and efficient handlebar design.
Daily, if not weekly, we product-hungry cycling public are inundated with innovative, new, better, faster, smarter ways to go about our sport.
Lately we've seen a new GPS bike computer, its aero design said to slash more than 12 seconds off a 40km time trial; a new frame from a major manufacturer, so light it's bordering on illegal to race, and cycling sunglasses that repel water, dust & dirt! Late last year there was the release of Future Shock, from Specialized – a revolutionary headset cushioning system, quickly embraced and instantly accepted by all manner of enthusiasts.
Upon first seeing a revolutionary new handlebar design, dreamt up in the bedroom and designed in the back shed of keen South Australian rider Daz Haynes, the following thought came to mind.
'If this was designed, developed & marketed by one of the major players of the bike world, as those above revolutionary products were, everybody would want one.'
Unique, Common Sense Design
The EyroPro carbon road handlebar, to me at least, is one of those items. This unique & common sense design offers more comfort, more grip positions and better aerodynamics than traditional bars.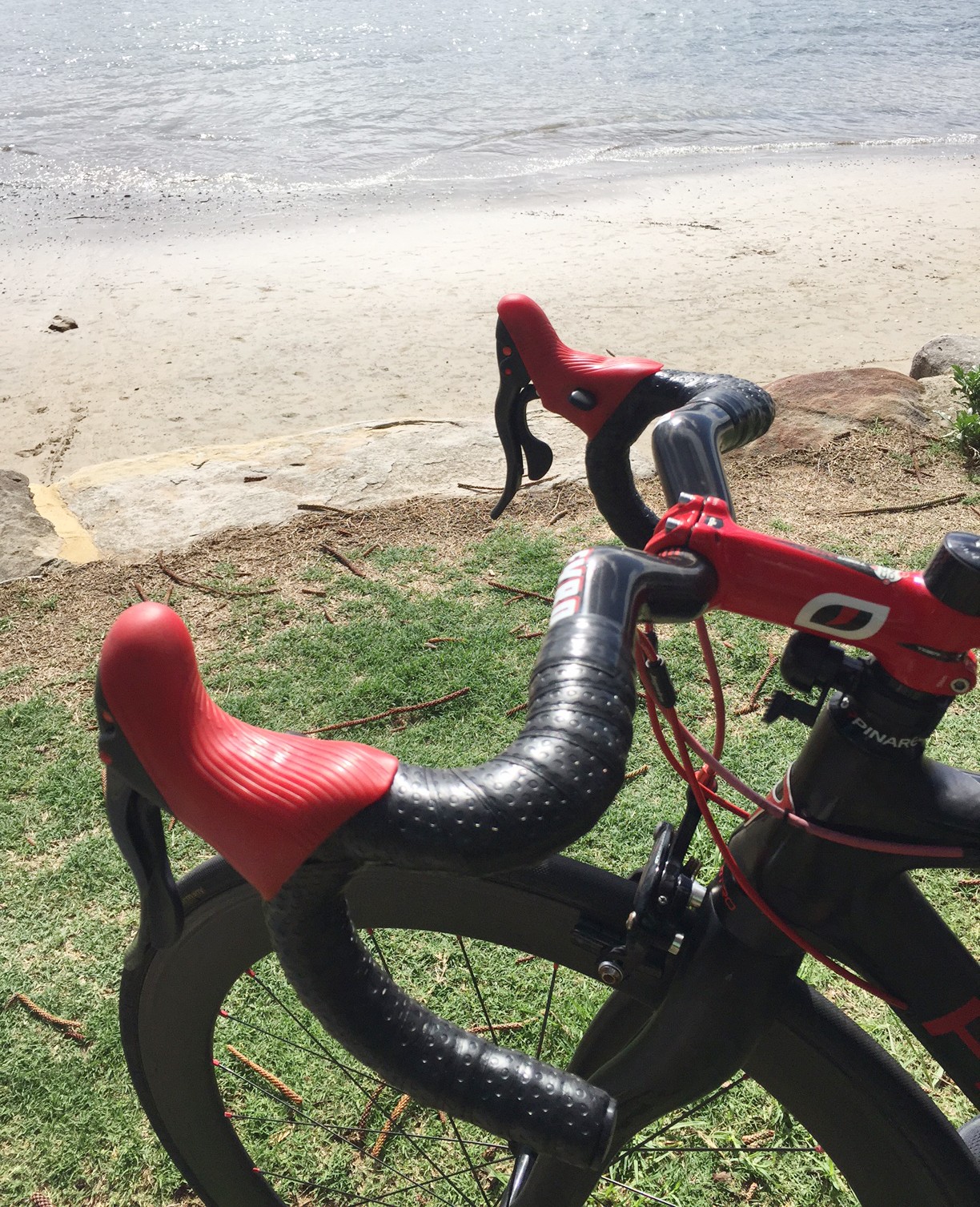 The design raises the rider's hands and arms to a slightly more centred top tube position. Think for a moment how you hold the top of your bars – note how your elbows are forced out, slightly away from the body.
Straighter Arms, Increased Comfort
Through an integrated angular, top tube design, EyroPro assists in keeping the riders' arms straighter. This, the maker says, brings better aerodynamics, better breathing, improved control and less long-term joint and shoulder pain.
Testing the bars, I quickly and easily adapted to the hand position and found it extremely comfortable, particularly when riding short, sharp local climbs.
Hands on the top tubes, climbing some 'Urban Alps' of 15 to 20 degrees in gradient, I felt a more clear and open airway and, although not a scientific test, the bars did seem to assist my climbing.
Over the other side of town to some long, national park descents and the bars offered solid rigid control. They were a vast improvement and way better feel than the traditional alloy bars that came standard with my ageing Pinarello Quattro.
"When gripped, the EyroPro naturally align the riders arms," says inventor Daz Haynes.
"Climbing, descending or even launching a sustained attack, the bar provides the rider with three additional hand positions to the traditional shaped top tube. I designed the bar to provide the most optimum hand positions for the top tube. Research demonstrates a more central hand grip position provides the least wind drag compared with riding in the hoods or drops."
Having extensively tested and fine-tuned the design, Haynes proudly guarantees a user will suffer less wrist and shoulder pain, that's so often associated with long rides.
Although they don't offer the traditional look of a handlebar, they certainly do provide an exceptionally comfortable, efficient and a controlled ride. At 42cm in width, they are manufactured with top-quality, uni-directional T700 carbon fibre. They've been thoroughly ISO strength-tested, and designed within UCI handlebar regulations.
EyroPro are available in a matt and gloss finish and can be purchased direct from the designer. They retail for $270 (plus delivery) and come with a 30-day money back guarantee. For further details visit EyroPro.