"I think I'm one rider who's capable of doing two good Grand Tours in one year, and 2010 is the year to find out."
This is what Cadel Evans said to my face at the start of the 2010 racing season. Having departed Davitamon-Lotto on somewhat acrimonious terms and now emblazoned with colours of a relatively new team on the block, BMC Racing, the then 32-year-old, who four months earlier became the first Australian world road champion, decided to try something new.
Kicking off his season with the Tour Down Under, something he had not done since 2006, Evans, after finishing second overall at the 2007 and 2008 Tours de France, decided he would attempt the Grand Tour double. Not just any Grand Tour double, either, mind you – but the Giro-Tour double, something not accomplished since 1998, when Marco Pantani, his system awash with a heady cocktail of performance-enhancing drugs, became the seventh person to do so.
"It's something we've certainly considered a lot and planned a lot," Evans told me. "2010 for me is (about) the Tour of Italy and the Tour de France, and (this race schedule) therefore brings my preparation a lot further forward in the season. For that reason, to have intensity, racing earlier in the year, isn't such a problem, and actually helps you get ready for races like the Tour of Italy – and it's why we're here at the Tour Down Under.
Just so I'm clear, I said to him, you'll be racing to win the Giro, then – it's nothing to do with preparing for the Tour?
"No – last year, I did a good Vuelta after the Tour. [Evans came third overall at the 2009 Vuelta a España after finishing in 30th place at the Tour.] Previously, I had a bit of preconceived doubt (about riding two Grand Tours in one season) but last year, I proved to people that matter to me – me and my coach (Aldo Sassi) – that we could do it."
Down Under went well. On the climb of Old Willunga Hill, Evans, accompanied by Alejandro Valverde and his Caisse d'Epargne team-mate Luis Leon Sanchez, along with a young Slovakian by the name of Peter Sagan, instigated what looked like the race-winning break on the queen stage of the race. No sooner had he slipped into the position of virtual race leader on the road, however, that he just as easily slipped out of it, and while Sanchez had enough to hold the peloton at bay to take the stage, his companions succumbed to the clutches of the sprinters' teams.
Cadel would finish sixth overall, 21 seconds behind winner Andre Greipel.
Back in Europe, a spate of good form followed in spring. Third overall at Tirreno-Adriatico, winner of La Flèche Wallonne and fourth in Liège-Bastogne-Liège, Evans appeared set for a strong showing at the Giro; a race he last competed in eight years previously, when he almost won the race in his debut Grand Tour, only to collapse spectacularly just four days from the finish in Milan. "The Giro in 2002, it was my first year on the road full-time," he recalled to me in 2010.
"I was racing pretty much as a neo-professional, and had the leader's jersey in the last week of the Giro. Not many neo-professionals do that in their first three-week tour. And the main thing that led to my collapse was I was crossing over from another sport; I was changing my physique, and I had to work so hard in the off-season from being a mountain biker to being a road rider.
"We're talking top-level world championships, World Cup mountain bike to three-week tours. It's a pretty big, extreme, step to take. And I had to work so hard over October, November and December to change my physiology – which you can't do in three months… That probably also cost me a lot in that Giro. That (change of training) served me (well in) all the races up to that Giro, and all the way up to that last climb… I got pretty close (to winning)."
Wearing the race leader's maglia rosa after two stages; winning an apocalyptic, mud-splattered seventh stage to Montalcino that is now etched in folklore; good but not great (in large part due to a fever contracted on another epic stage, this time to L'Aquila) in the decisive final third week, Evans, who came away with the points classification, had reason to be satisfied, even if he didn't make the podium.
Cadel would finish fifth overall, 3'27 behind winner Ivan Basso.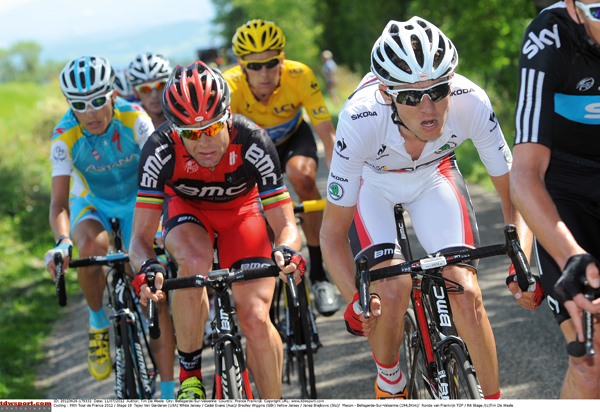 Along with defending champion Alberto Contador and 2009 runner-up Andy Schleck he went in as one of the favourites for the Tour. On the eighth stage to Morzine-Avoriaz, despite crashing heavily on his elbow the previous day, he rode himself into the maillot jaune. But the next morning, on the Tour's first rest day, scans revealed a hairline fracture of his left elbow, and on the ninth stage, Evans would plummet from his previous lofty heights to lose more than eight minutes, dashing any hope of another podium finish, let alone victory.
Vowing to fight on, albeit only by pure grit, the evening before the Tour's second day of rest in Pau, on 20 July 2010, I scheduled an appointment to see him.
By then, Evans was 24th overall. A good half-hour down on race leader Contador, who would go on to win his third Tour, only to lose it in the courts in February 2012 to Andy Schleck for testing positive to banned drug clenbuterol, for which he offered the 'contaminated steak' defence; at the time it sounded as plausible as Floyd Landis' 'one too many Jack Daniels' or 'vanishing twin' theories for his positive testosterone ping at the 2006 Tour.
"The season started beyond my expectations, initially," began Evans, when I first asked him if he felt he'd done the rainbow jersey justice.
"And then (at the) Giro and now the Tour, there's just things beyond my control, stopped me from being better… But y'know, I've been at the front, winning a stage at the Giro and then wearing yellow (at the Tour). Being at the front was where I wanted to be and where I planned to be, but then temperature and fever (at the Giro) and a broken bone (at the Tour) were not things that I anticipated, things that I didn't plan for, and things that I didn't experience before."
It was here Evans told me he didn't tell his teammates he had fractured his elbow because he didn't want to demoralise them in any way: "I didn't want to bring them down. It wasn't like I was holding back a big secret – I don't know if they would've wanted to know or not… I just (wanted to) concentrate on the task at hand; defending yellow isn't that easy, and defending it to Paris, that's already a big task. I didn't want to make it (an) any bigger task than it already was."
However by the end of the ninth stage to Saint-Jean-de-Maurienne, where he wept inconsolably on the shoulders of his teammate Mauro Santambrogio, after his Italian friend nursed him up hill and down dale for much of the day, he was forced to reveal the true extent of his injury.
With just four stages remaining in the 2010 Tour, his only ambition was to get to Paris, which, given his handicap, was akin to a Grand Tour victory in itself. "This is the third week of the Tour and if you're not going good, you're not going good," he stated matter-of-factly.
"So, obviously, to finish but not to finish, but to respect my team and all the work they've done and this whole project that we've had. In November last year, BMC going into the Tour de France was a bit of a… Not many people took us very seriously, but it worked out, I always believed in it, and thanks to the people that did believe in it and respect for that. Some people have said we shouldn't have been invited to this Tour de France… I'm grateful to (race director) Christian (Prudhomme) for believing in us as well, and quitting isn't going to pay my respects."
Then popped the question I really came here for.
'Realistically, how many chances do you think you have left to win the Tour de France?'
"Certainly, I think two or three would be… conservatively, I'd say two. I think my results and world ranking leading into the Tour indicate that I'm still riding pretty well. And this new environment and the whole new project and this BMC thing have certainly given me a fresh lease… A fresh start and renewed motivation and renewed enjoyment in racing."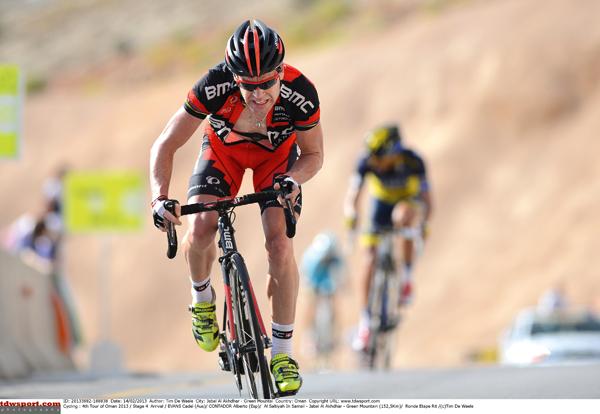 Cadel would finish 26th overall, 49 minutes and 48 seconds behind Andy Schleck.
2011? Well, every Australian cycling fan knows what happened in July that year…
So, with the 2011 Tour in the bag and aged 36, if Cadel is still being conservative, which is generally his wont, then the 2013 Tour would be better ridden at the service of the protégé who upstaged him the previous July, Tejay van Garderen. Last year, the American finished fifth overall behind Sir Bradley Wiggins, 11'04 down on the recently knighted Brit, and came away with the maillot blanc, otherwise known as the best young rider classification, while his erstwhile leader and defending champ finished a further two places back, another five minutes in arrears.
It was later revealed Evans was hampered by a virus during much of 2012 which has since been excised, and at this year's Tour of Oman, his first stage race of the season, he finished strongly in third overall, behind Chris Froome and Alberto Contador, his likely two chief rivals at this year's centenary Tour.
It was an auspicious start but that said, Froome and Contador were a level above on the climbs and while the former pair – not to mention van Garderen, too – have steadily improved in successive races, Evans appears to have regressed. In March's Tirreno-Adriatico he finished 22nd overall, some 10 minutes behind Vincenzo Nibali, who pointedly beat Froome and Contador. Later that month, at the two-day Critérium International, which he won the previous year, he finished tenth-last, 18 minutes behind Froome, while van Garderen stood on the podium with the Kenyan-born climber and our own Richie Porte.
Then, just a day before the month was up, the BMC Racing Team dropped a bombshell: it was announced Cadel Evans would be riding the Giro d'Italia.
According to the March 30 release, the 'plan' for Evans to compete in the Giro, if one can call an act of spontaneity a plan, was 'proposed' to him earlier in the month. "I could stick with my normal program that I do every year or try this different approach – which may be too much, but certainly enough. I have always wanted to race again at the Giro, but after I raced it in 2010, I didn't get to the Tour fresh. I'm not saying that the Giro and the Tour together is too much. The illness and injury I had in 2010 made it impossible to judge."
Remember, folks, this is coming from a man who plans his season as, if not more, meticulously and with equal or greater prudence than any of his peers. This from a guy that, on the day he took the maillot jaune at the 2010 Tour, said he "came out of the Giro very tired" and who required "a good period of recovery afterwards because I was pretty fatigued", which in part led to him dropping the Giro from future Tour de France plans henceforth (until this year, that is).
And this from a guy that, on 20 July 2010, as he crawled on hands and knees just to finish the Tour de France, told me that even though he won La Flèche Wallonne that April, thought it may have adversely affected his final week form in France – "sometimes it has been a bit of my own doing because I can be good there (in the Ardennes Classics), and I come good there, (so) I often arrive at the Tour a little bit more fatigued than the others". Consequently, the Ardennes races were dropped from his 2011 and 2012 Tour campaigns.
"I am not coming to the Giro just for training," warned Evans, but nevertheless maintained the Tour remained his number-one priority.
"The team will put everything into the Tour de France. My situation is a bit strange because there are not many riders who perform better with two Grand Tours than one in their legs. In my situation, with the racing I missed last year, I need and I feel comfortable with this program." Added their head sports director John Lelangue: "When (Evans) did both in 2010, he did good two performances and he has proven in the past he can do both the Tour and the Vuelta a España. So three weeks of racing, in what is a nice Giro for him, will be the best way to prepare well and be ready for the month of July."
With millions of Euros of sponsorship dollars at stake, not to mention the team's reputation, can BMC Racing really afford to not to hedge their bets with an in-form van Garderen?
I don't think so.
Let's be honest here: the last time the Giro-Tour double was attempted was in 2011, when Contador demolished the field in Italy (courtesy of 'Beef-Gate', his title has since been revoked, passed onto Michele Scarponi) – but even the finest stage race rider in the world couldn't come back to his best by July, eventually finishing fifth to Evans, some four minutes adrift (a result also annulled by virtue of his backdated two-year suspension from the Court of Arbitration for Sport).
Clearly, BMC management are growing skittish.
As subtly as they can, they're telling Evans that his chances of winning another Tour are slim. They know that, we know that, and deep down, he knows that. Their golden egg for July is now van Garderen. Should Evans happen to rediscover some of his 2011 form during the month of May, my advice would be to go for it, and shove all his eggs into the Giro basket. For what awaits in July is notably more mountainous than last year with a good chunk less time trial kilometres. He can still be a 'super-domestique' there, and help Tejay vie for the Paris podium.
It's a harsh world, the life of a professional athlete. You're only as good as your last race, and so far this year for Cadel, his last races haven't been anything to write home about. His days as a bona fide Tour de France contender appear to be over. Thankfully for Australian cycling fans, Richie Porte is coming out of the shadows, post-haste, and is looking very much the real deal.
Twitter: @anthony_tan