The 2023 edition of Eurobike, the world's premier cycling show, enjoyed record numbers of visitors and exhibitors with tens of thousands filling the huge Frankfurt trade halls for the annual event.
The scale and size of the trade fair is difficult to comprehend, and to properly see all relevant exhibits in three days would be impossible. It would be like speed dating on steroids, with more than 1600 exhibitors showcasing all manner of cycling-related products and services from just about every country on Earth.
The third Eurobike event we've been to, and the first since 2019, it has been heartening to see a huge resurgence in the number road bikes and road-related equipment on show. At the last Eurobike we attended, at the expo's previous home of Friedrichshafen, e-bikes virtually stole the show. This year road, gravel and adventure cycling are back with a vengeance, as we'll see in our first of ten takeouts of this year's Eurobike.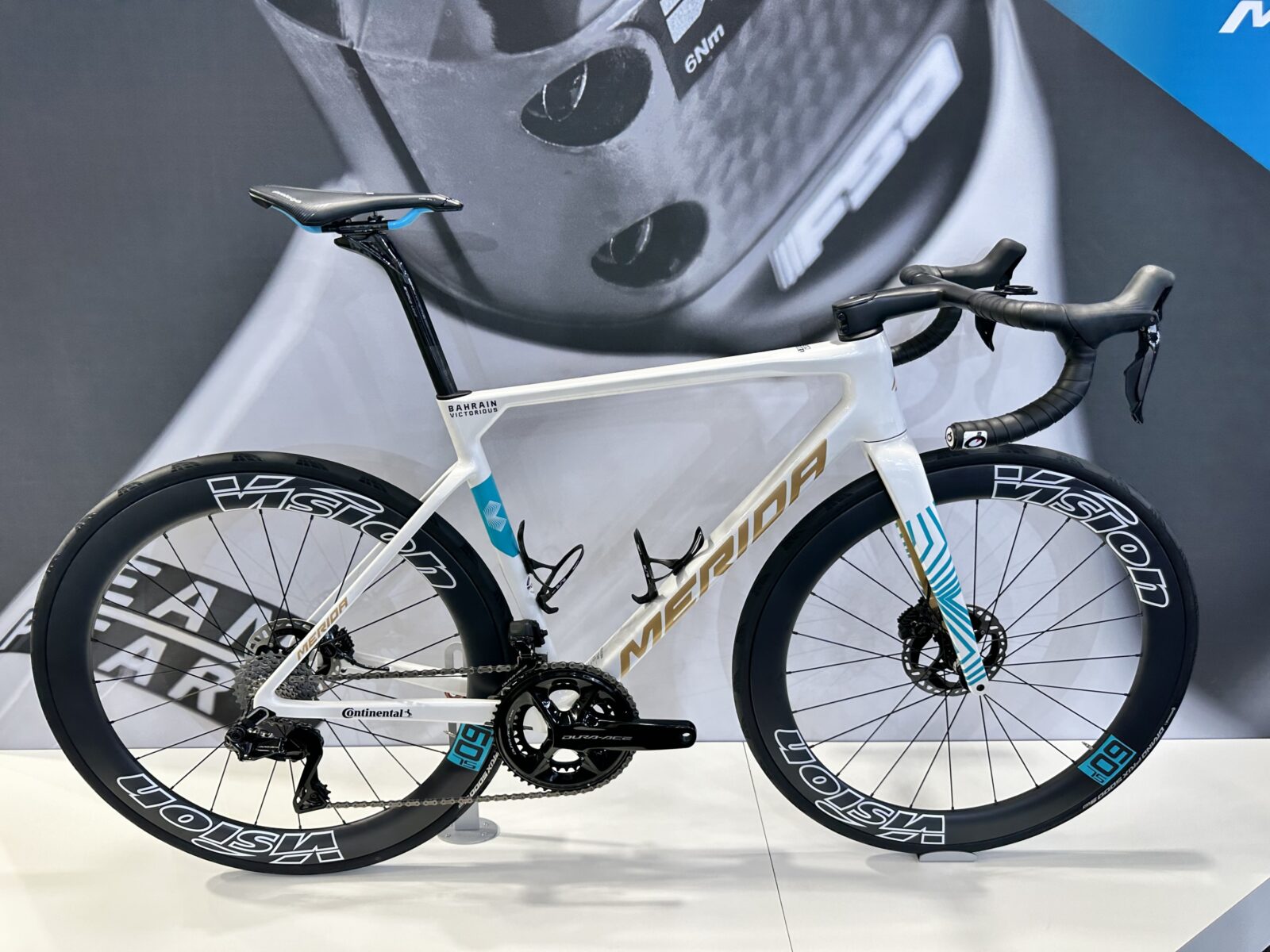 Road Is Back, Baby
Apprehensively approaching the main trade halls on Day 1 of the show, it was heartening to quickly start seeing shiny new road bikes on display. And not just scattered roadies amidst the rows and rows of e-bikes, but a wide range of pure roadies – from micro manufacturers through to the main industry players. A notable exception to this is Trek, Giant and Specialized who tend to focus on trade shows other than Eurobike, however several of these brands' bikes were on display or being used to showcase gear throughout the expo.
Talking road, bike bling has been cranked up to the absolute max! Take a look at the recent Reels on the Bicycling Australia Instagram and have your say in our 'Hot or Not' series.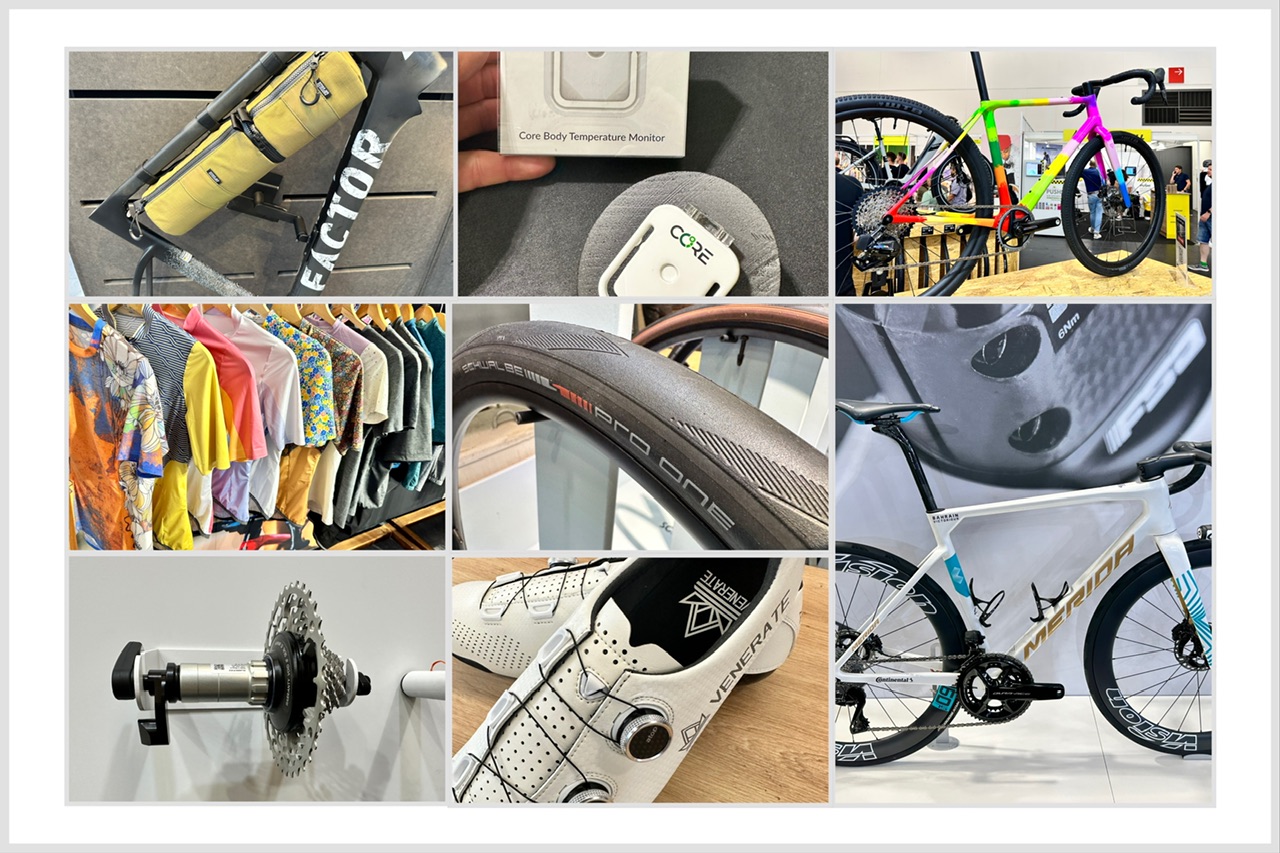 G,G,Gravel
A few years ago gravel wasn't exactly mainstream. It was kind of the quiet, shy, introverted cousin of road. Jump forward to 2023 and gravel is the 'it' word. At Eurobike 2023 there's no end of new gravel tyres, bikes, parts & accessories, helmets, sunglasses, shoes and apparel. Speaking to numerous people about the rise and rise of gravel, the consensus is riders want more freedom, quieter and more remote destination options and a lot more versatility from their bikes.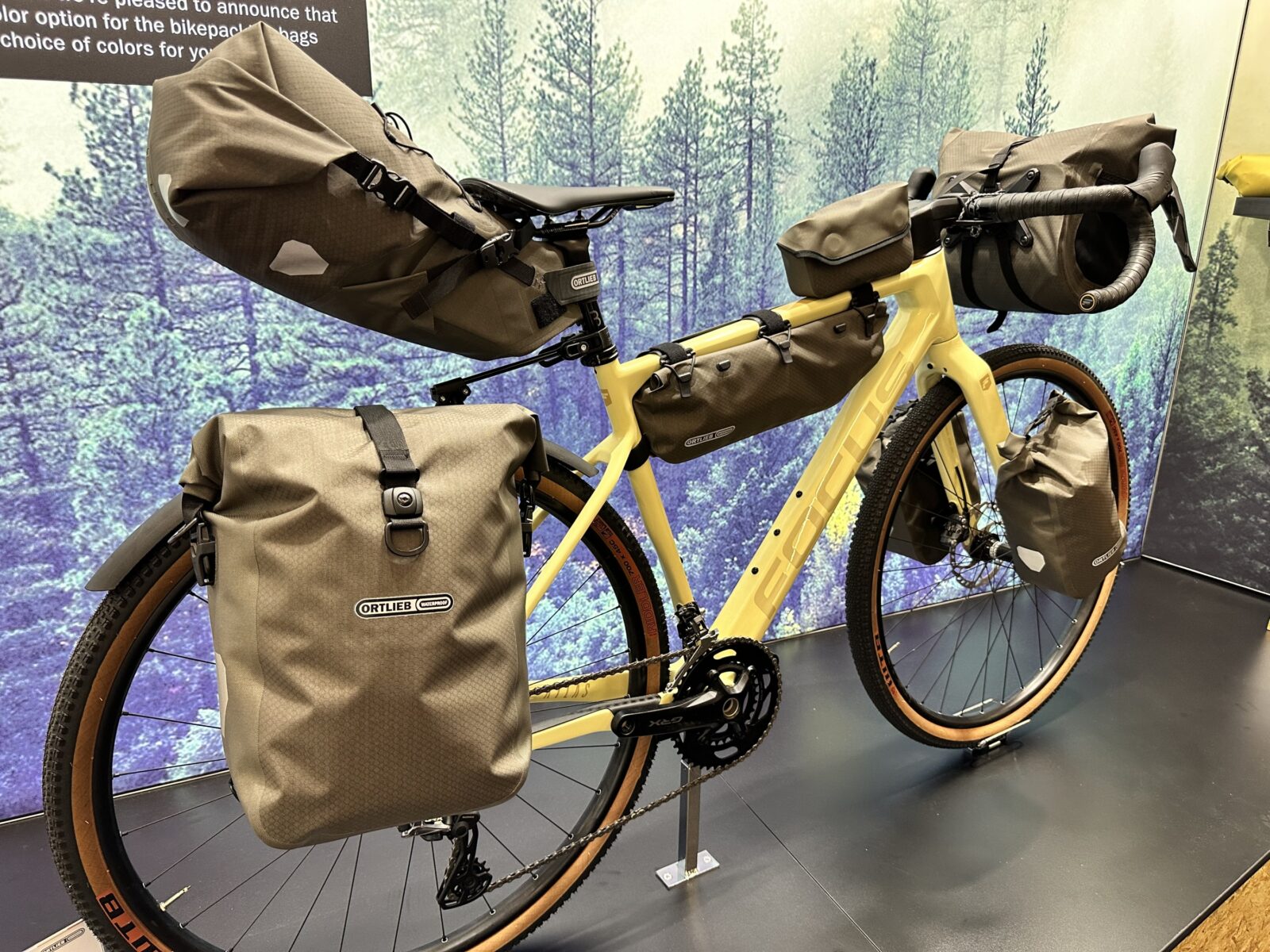 Bikepacking and Adventure
Thinking of setting up your bike for a weekend (or weeks on end) of adventure? The good news is there have never been so many options so far as seatpost, frame, top tube, handlebar and various frame bags go. Bikepacking has never been more popular, with all manner of drool-worthy short, mid and long-distance adventure bikes on show.
Keen to learn more about bikepacking or see how popular it is? Check out the #bikepacking hashtag on Instagram and you'll see more than two million posts. Yep, it's safe to say it's booming.
Tyre Tech Evolving
A 220gr road tyre would be considered impressively light, but Schwalbe have blown that figure right out of the water by partially announcing some major new tyre tech. Displayed behind a sheet of glass, the company's Aerothan tyre is said to weigh 165gr in size 28mm, and is based on similar tech to their thermoplastic polyurethane (TPU) Aerothan inner tubes. Schwalbe says the tyre has incredibly low rolling resistance and is currently being tested and ridden by two pro teams.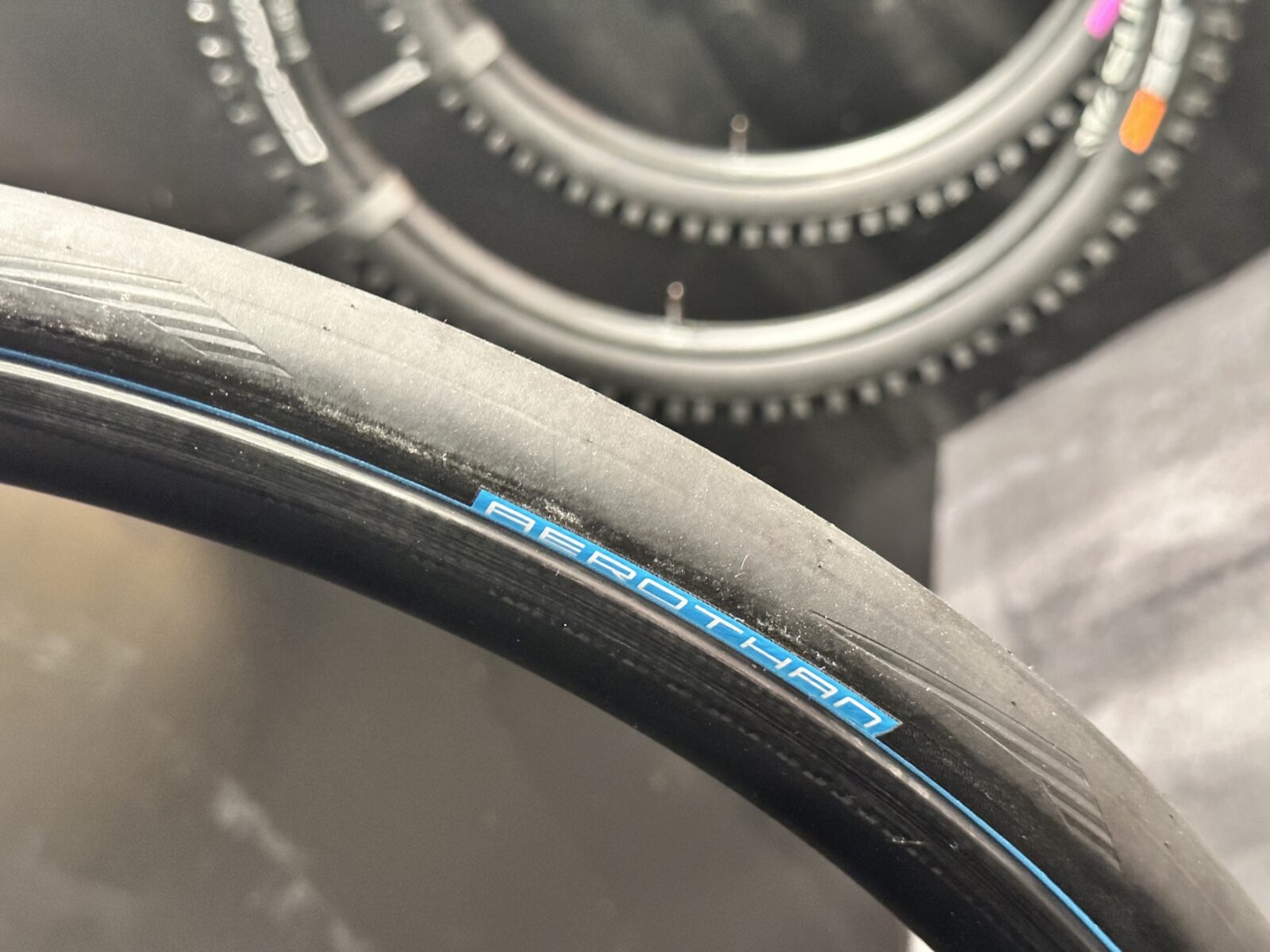 As an aside, retired pro cyclist Andre 'The Gorilla' Greipel happened to pop by the Schwalbe stand while we were there. We saw a Schwalbe rep give him two of the blue-banded tyres before his speedy exit a few minutes later. Whenever these tyres are officially released – and we're hearing anywhere from 6 to 18 months – it'll be good to know they've been tested by the Gorilla.
Bright & Custom Colours Are The New Black
Remember a couple of short years ago just about every bike was black. You could pretty well ask for a bike in whatever colour you wanted, so long as it was matt black, gloss black, or a mix of the two.
Jump forward to 2023 and hardly any bike brands are brave enough to put a black bike out the front of their expensive Eurobike floor space.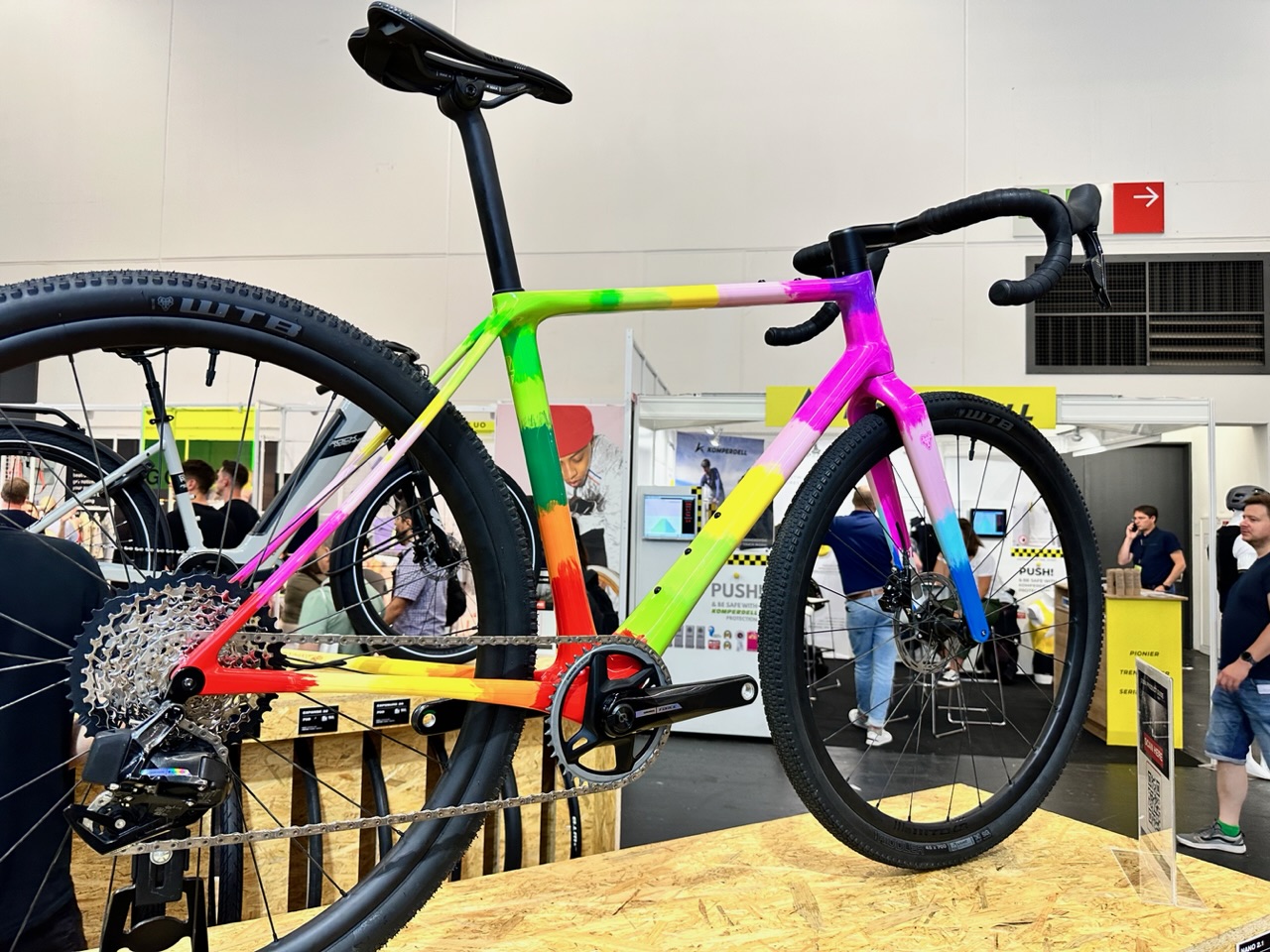 These days (thank Eddy) it's all about colour. And not just colour, but multiple colours – fades, blends, robotic spray painting machines that can quickly customise any frame with any artwork that tickles your fancy. A Banksy Bianchi, Picasso Pinarello, Turner Trek, Cezanne Cervelo? Anything is possible and black is so two zero two two.
reCYCLING And Environmental Issues
Over the past few years more and more of the major bike brands have been addressing environmental concerns, and rightly so. Selle Royal (parent company of Fizik and a host of other brands) have embarked upon a bold used-saddle recycling program. And global tyre giant Schwalbe have pretty well based their new branding on reCYCLING and 'reCYCLISTS doing good'.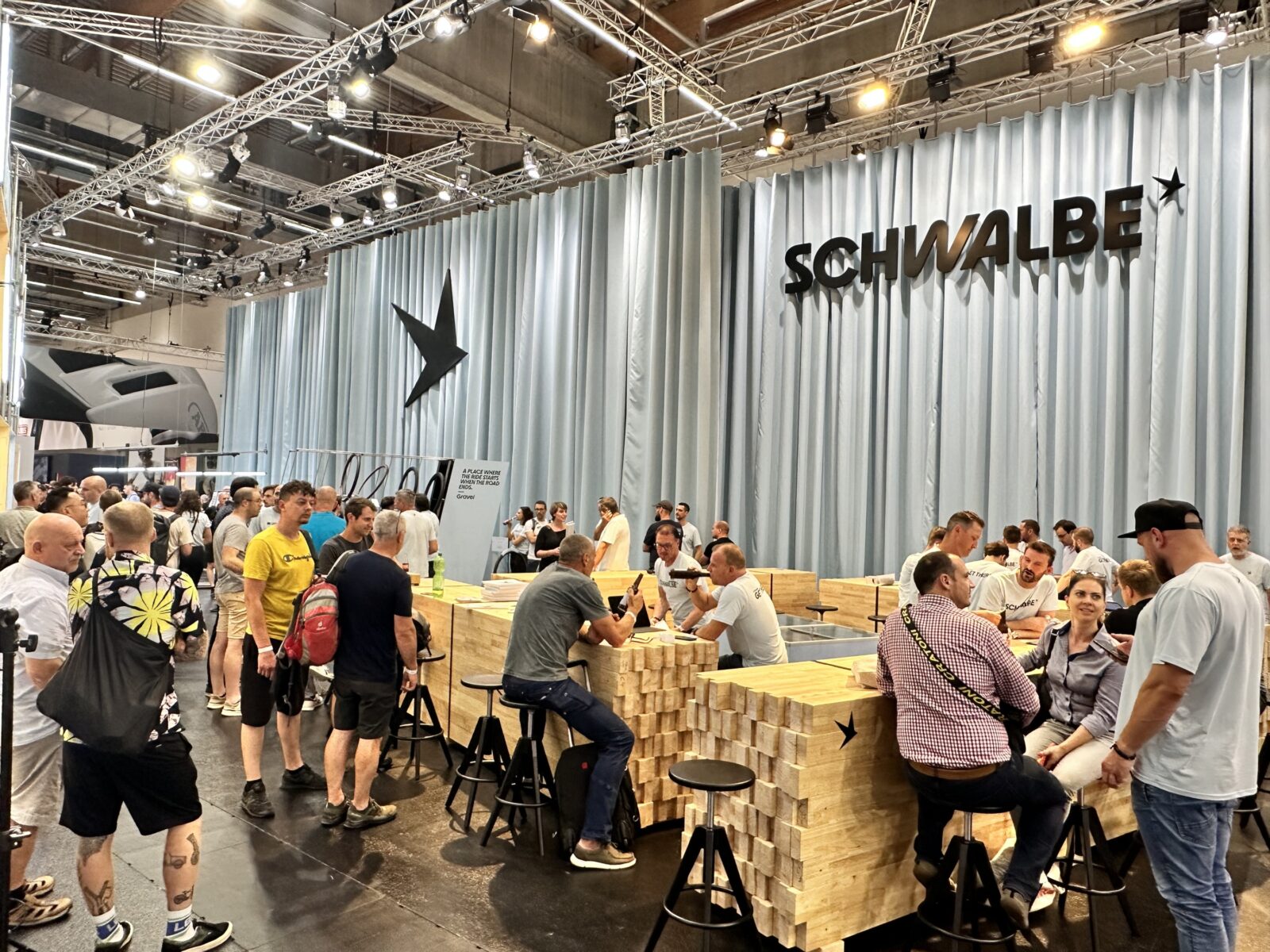 Schwalbe are going big on several critical points including the social value of bikes over cars (a benefit of 30c/km for a bike compared to the cost of 20c/km for a car), and the fact a car driver spends on average 41 hours a year searching for a parking space, while a bike rides spends 0 hours. And the fact that the average car trip is a distance of just 5km! For more on this visit www.get there.Schwalbe.com
Is That A Battery In Your Downtube (Or Are You Just Happy To See Me?)
E-bikes are becoming way less distinguishable, we've had to look twice (or even thrice) at some of the bikes to see if they were electric assist or good old-fashioned pedal only. A lot of these subtleties are due to smaller and more efficient electric motors – the compact and lightweight Mahle X20 rear hub drive being a classic example.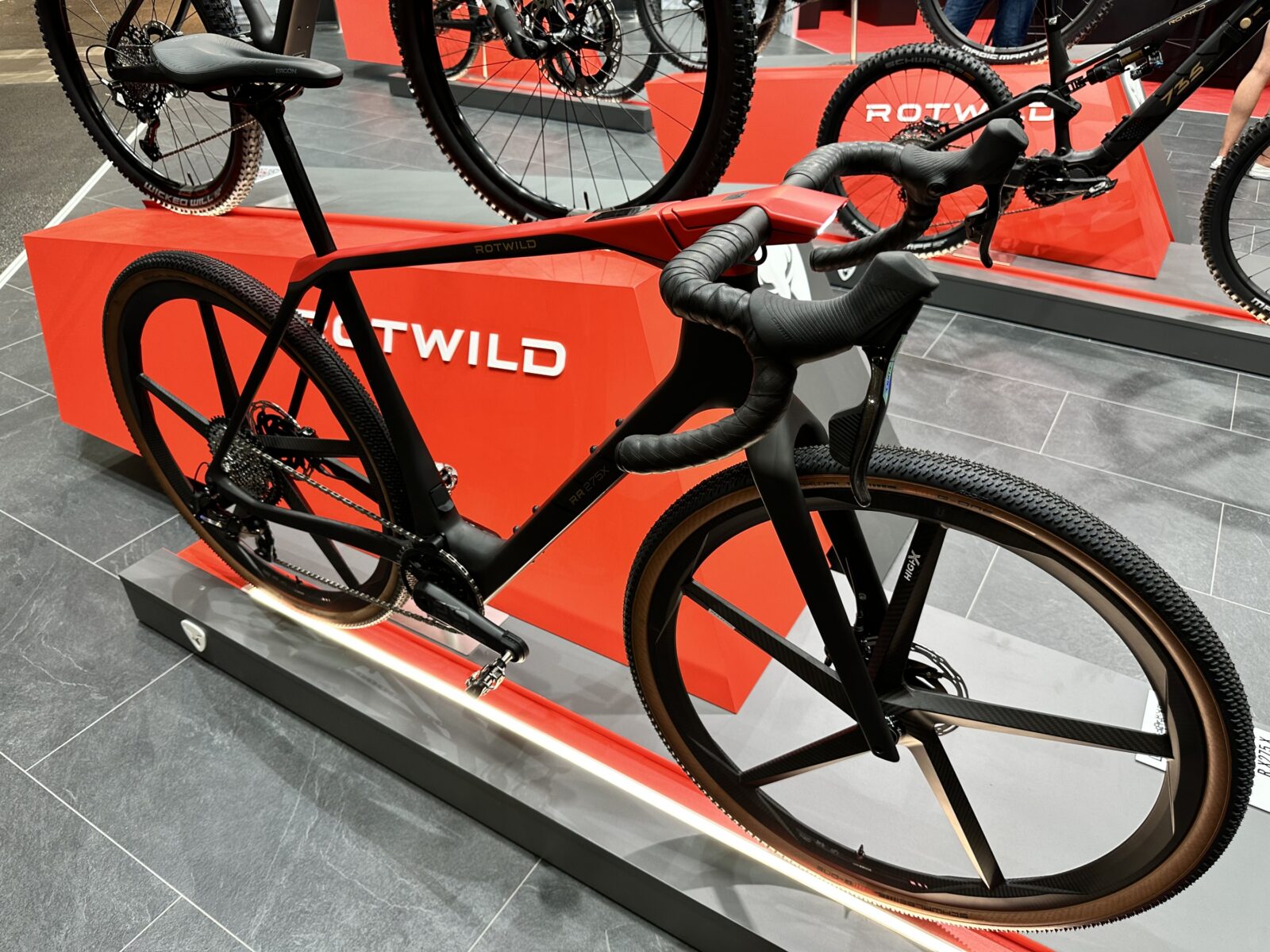 Batteries are also getting smaller, more efficient, able to be charged in less time and being smartly and neatly concealed in downtubes. Spare or additional bottle cage batteries remain popular – the e-bike and particularly e-road / e-gravel space is surging ahead. And it's heartening to see the emerging trend of incorporating front and rear lights into framesets and handlebars.
High Quality, Low Quantity And More Unique Kit
There have never been so many cycling apparel companies and cycling kit options for riders. Eurobike has helped showcase many smaller brands and manufacturers, boutique brands that riders are actively seeking in their search for unique, non-run-of-the-mill kit.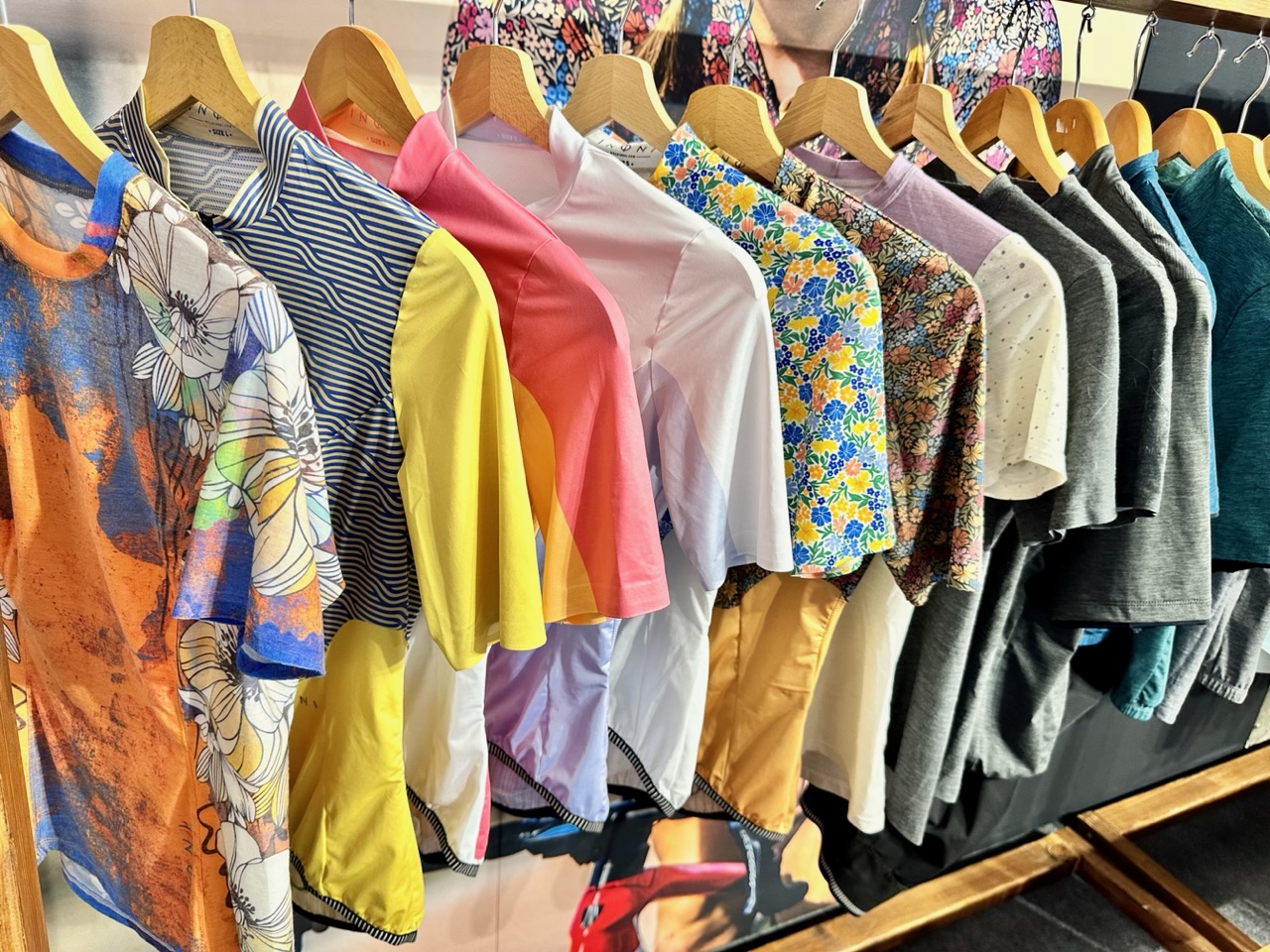 Many brands are coming up with newer, fresher, on-trend designs more often. This is especially the case with several brands we've seen from Poland, Spain and Portugal. Bright European summer styles that bode well for a more colourful Christmas, kit-wise, for Aussie riders.
A Chainless Future?
The bike chain has been a critical part of bike design since around 1880 … it's safe to say it's the strongest link between past and present. Still in its infancy, at Eurobike we saw a demonstration of the Free Ride system, the rider's pedal power is converted to electricity.
This power through wires to power the electric motor which then turns the wheels. Is it efficient? Well not as good as the chain which is around 95% efficient. But at 70 to 80% efficiency it's a solid start.
Lighter Frames, Wheels & Tyres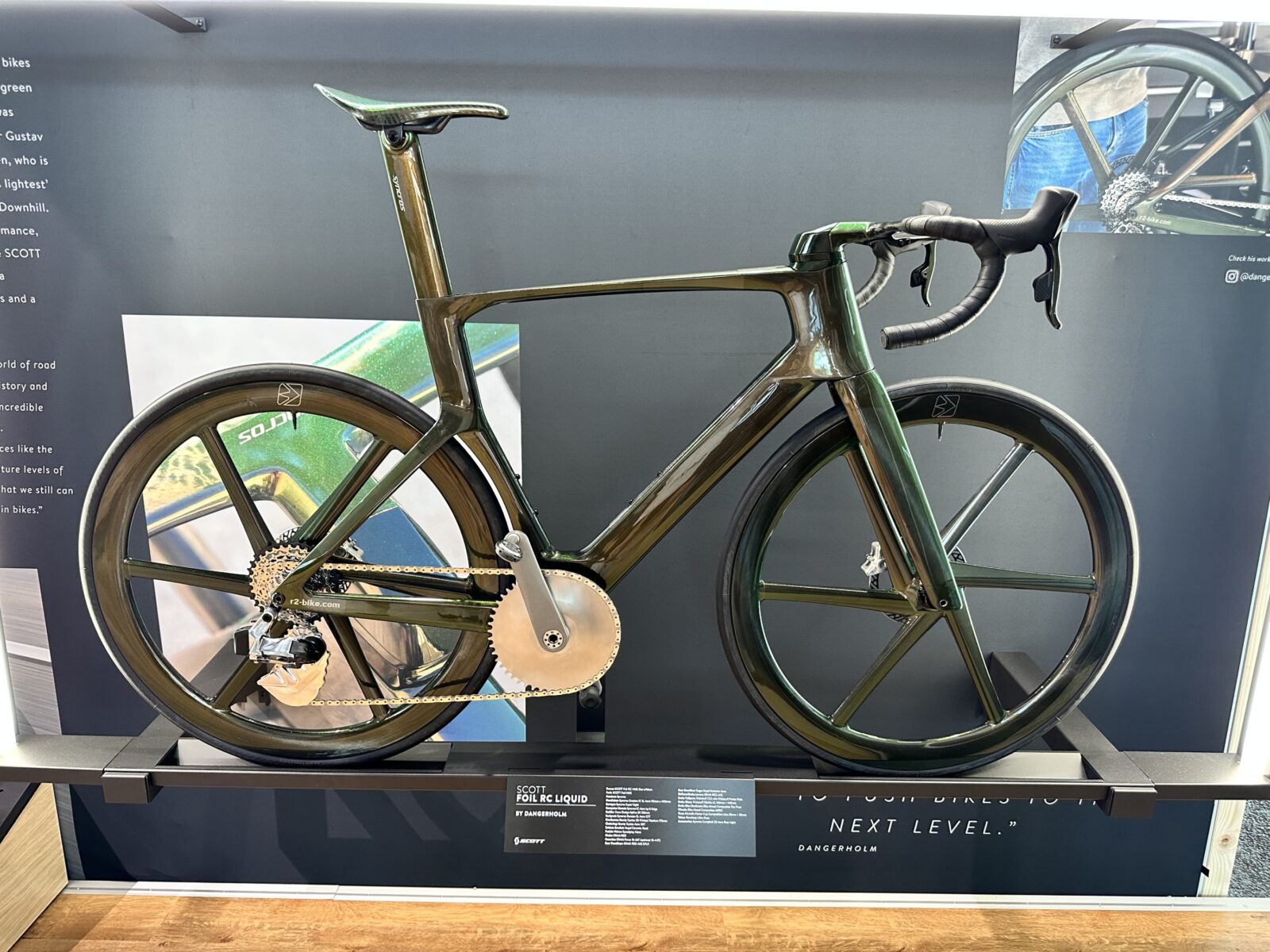 Other than those 165gr Schwalbe Aerothan tyres mentioned above, weight continues to be shaved off many of the world's better-known bikes. Under strict embargo until mid-July, there's an incredible 700gr aero climbing frame coming from a major manufacturer. And also high-end 1120gr wheels that will be loads more affordable than anything 100 or more grams heavier. Five spoke wheels such as those on display from Factor and Corima seem to be gaining popularity – for those who used to ride a BMX with Tuffs … it's kind of like back to the future.
Summing Up
After three intense days of absolutely all things bike at Eurobike 2023, we can safely report the cycling and urban mobility industries have never been stronger. Writing this from a table alongside the demo area/test track (see the image below), there's a constant stream of new, freshly refined road, gravel and adventure bikes along with urban commuters, mountain bike, scooters, delivery & cargo bikes plus all manner of other two-wheeled transport solutions.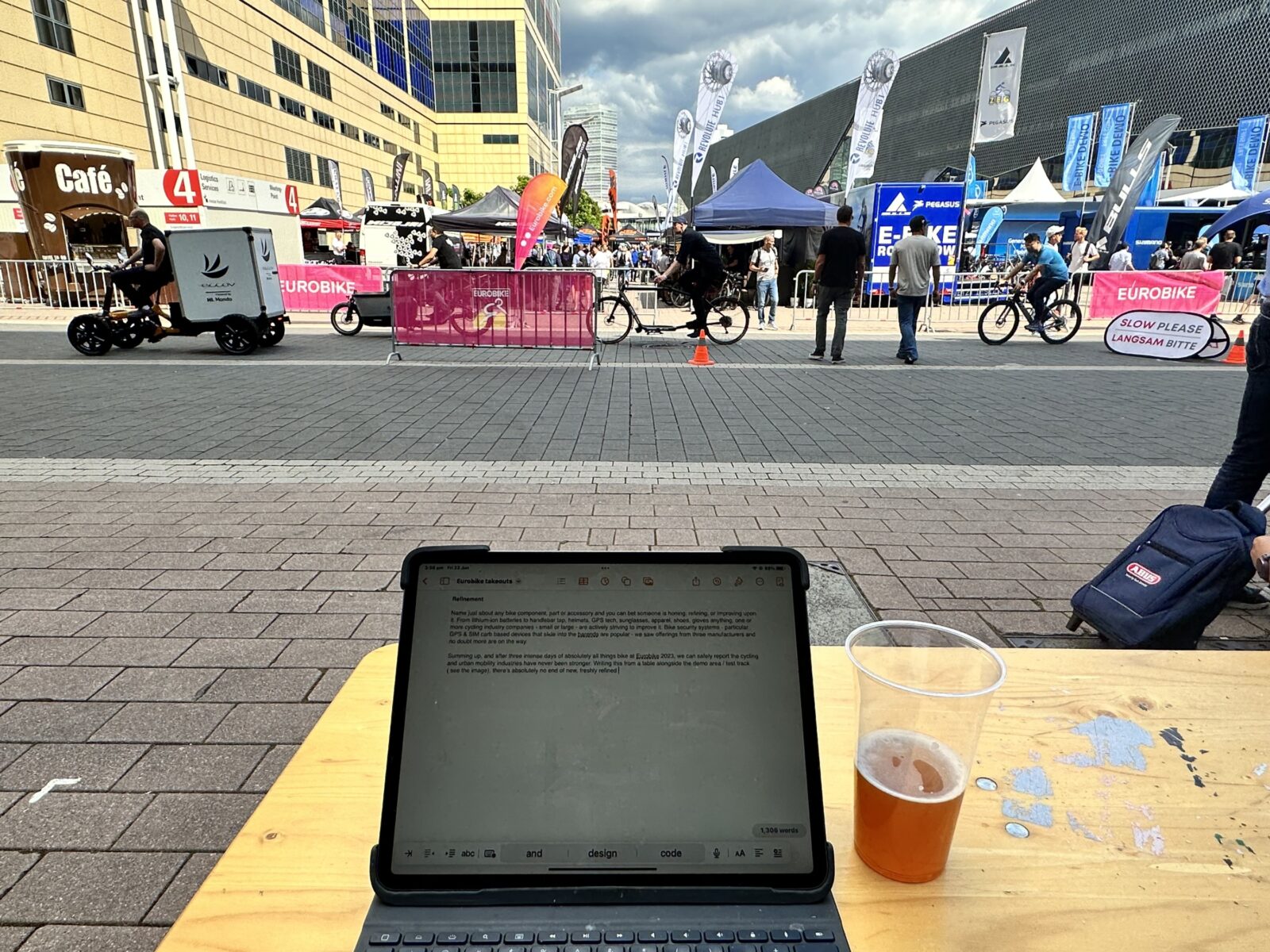 Name just about any bike component, part or accessory and you can bet someone is honing, refining, or improving upon it. From lithium-ion batteries to handlebar tape, helmets, GPS tech, sunglasses, apparel, shoes, gloves anything, one or more cycling industry companies – small or large – are actively striving to improve it. Bike security systems – particularly GPS & SIM card based devices that slide into the barends are popular – we saw offerings from three manufacturers and no doubt more are on the way.
Eurobike '23 is more than cycling. It demonstrates the bike market has something for every rider. City, electric and cargo bikes are replacing the private car for everyday transport needs and are the perfect companion for linking up work, family mobility and leisure activities. It also demonstrates that the next generation of cyclists is being included and considered through lightweight, practical and sporty-looking kids bikes. Simply put, there's never been a better time to be into biking.