Premium Italian helmet manufacturer KASK has revealed a first look of its latest addition, a helmet to be known as the Wasabi.
A high-performance helmet designed to be worn year-round by road, gravel and cyclocross riders, the new model made its first public appearance at the Strade Bianche.
Featuring an adjustable airflow port that allows the wearer to easily increase or decrease ventilation depending on conditions, KASK say the Wasabi offers "optimal comfort and thermoregulation". This feature, combined with a Merino wool lining, Italian styling and a highly aerodynamic profile, makes the Wasabi an interesting addition to KASK's existing range of premium cycling helmets.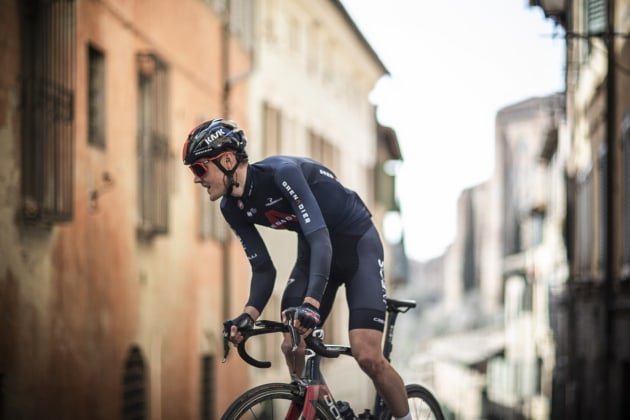 Following close collaboration with INEOS Grenadiers in the design and development of the Wasabi, eagle-eyed fans will have spotted the new model making an appearance by the team at the Strade Bianche on Saturday.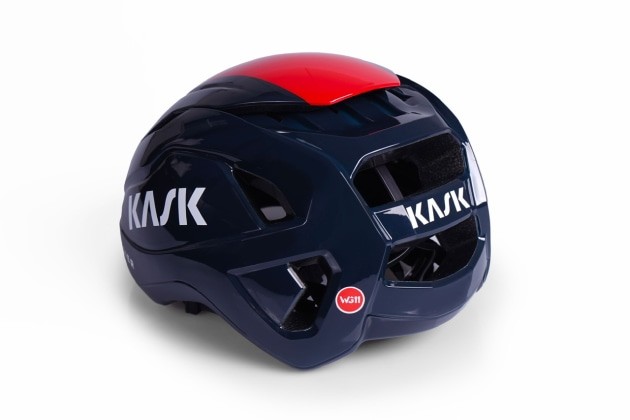 As the rest of the 2021 season unfurls, the Wasabi will accompany the likes of World Time Trial Champion Filippo Ganna, 2020 Giro D'Italia winner Tao Geoghegan Hart, 2019 Tour de France champion Egan Bernal and exciting new talent taking on multiple disciplines, Tom Pidcock, for the INEOS Grenadiers' upcoming pursuits – earning its credentials as a helmet fit for world-class riders.
Adjustable airflow, optimum aero
The Wasabi ensures temperature regulation via an adjustable airflow system. The centralised vent can be opened when conditions start to heat up, or closed when things cool down for a 1.5℃ internal temperature increase, when ridden at the same speed.
KASK say less than one watt is lost between the helmet vent being opened and closed at 50km/h.
"Wind tunnel testing confirms the Wasabi is one of the pro peloton's fastest helmets – second only to KASK's Utopia," said a company spokesman.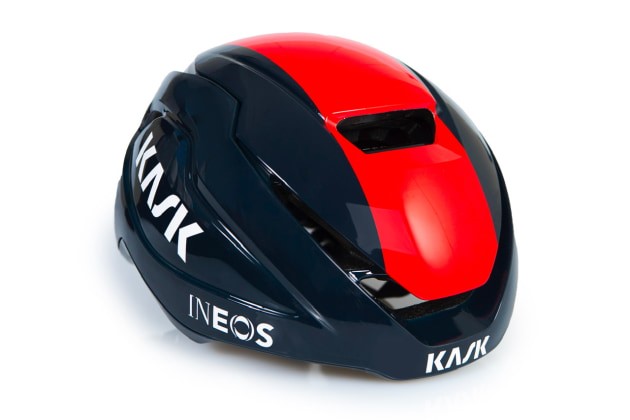 "Thanks to these impressive aerodynamic and ventilating features, coupled with a premium merino wool lining made by Italian wool mill, REDA for protection against uncomfortable temperatures, it is no surprise that the Wasabi is quickly becoming a firm favorite amongst the INEOS Grenadiers."
Octo Fit
The Wasabi comes equipped with KASK's Octo Fit head retention system – a mechanism that allows both vertical and horizontal adjustment for the perfect fit. Despite the helmet's advanced adjustable ventilation system, it weighs 290g in a size Medium.
Diego Zambon, General Manage at KASK said the Wasabi is the result of continuous and careful innovation.
"We are excited to introduce to our collection a helmet that is truly designed to be worn in all seasons and terrains," he said. "And we look forward to watching how its active ventilation and thermoregulating capabilities meet the demands of road cyclists, gravel and cyclocross riders everywhere."
Availability
The Wasabi will be available in sizes Small, Medium and Large. A full selection of colorways, availability and pricing will be announced soon.