Preface: This is being published with the permission of Mr Frewer's family out of his long-term appreciation and respect for Bicycling Australia. Other media outlets have published without the family's permission. This is presented with heartfelt respect for our friend Cameron's family.
One of Australia's most outspoken and passionate cycling safety advocates has lost his life after being hit by a car on Queensland's Sunshine Coast.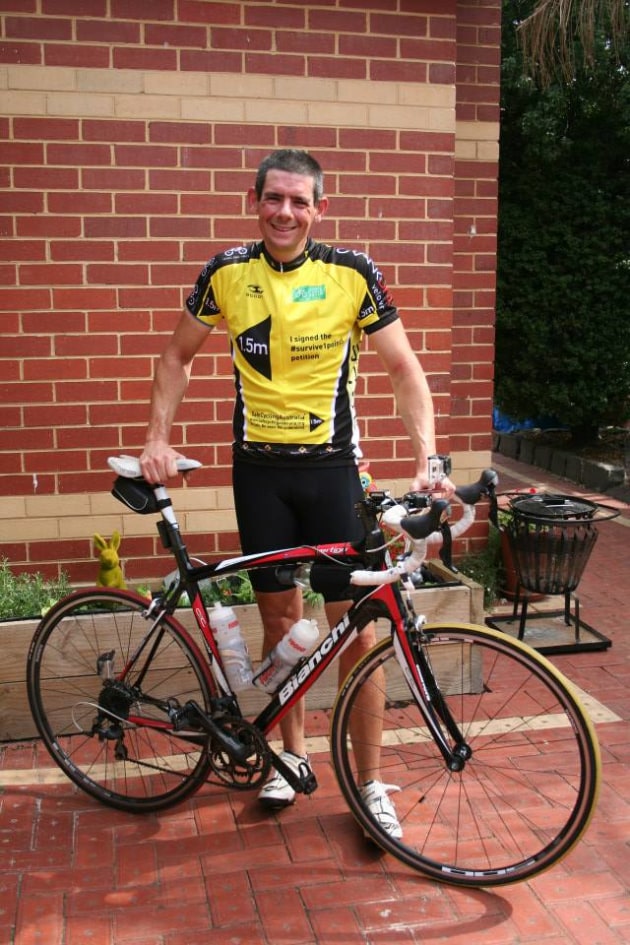 Cameron Frewer, proud father of three, founder of the Drive Safe, Pass Wide Facebook page, and tireless warrior for riders' rights, was killed early on Monday near Caloundra in Queensland.
Local newspaper the Sunshine Coast Daily reported 'A man in his 40s has died after being hit by a car while cycling at Meridan Plains this morning.
A Queensland Ambulance spokeswoman said multiple paramedic crews rushed to Caloundra Rd on the Bruce Highway on ramp about 6.05am and treated the man at the scene for critical injuries. The cyclist could not be revived and died at the scene.' The newspaper later described the aftermath as a 'horror scene'.
Passionate Campaigner For Riders' Rights
Frewer, a close friend to many here, has long-campaigned for cyclists rights and, in particular, for motorists to leave a minimum of a metre when passing vulnerable road users.
Never failing to ride with front and rear safety cameras, Frewer became infamous for filing countless numbers of close pass complaints to officers at his local Beerwah Police Station. He encouraged cyclists to record their rides and helped instruct on the best way to correctly file potential infringements.
Major Player In Advocacy & Safety
In a few short years Frewer became a pivotal and influential advocate for cycling safety, often fronted State and National media, and was a highly-respected voice among his peers.
Anne Savage, the CEO of Bicycle Queensland, was a close personal friend of Mr Frewer.
"Cameron was one of Australia's fiercest advocates on safe cycling," she said.
"I don't have the words to describe how I feel today. My thoughts are with his devastated wife and children right now. He fought every day of his life to make Australian roads safer for cyclists. This is the darkest of hours."
Proud Family Man
A proud and passionate family man, Frewer was a loving husband and father of three. Just yesterday he posted a heartfelt public message to his son who celebrated his 15th birthday.
A gut-wrenching, almost sickening piece to write, Cameron Frewer was a friend of the author, a regular Bicycling Australia online contributor and pivotal member of the cycling fraternity. His legacy will stay with us forever, we will always ride for him, and may change occur in his name.
More to come.