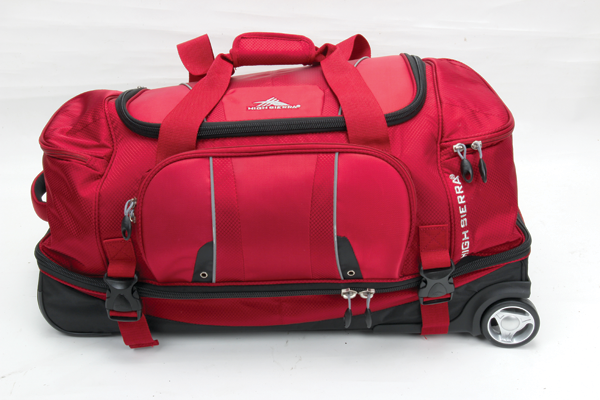 Part of the Samsonite company, High Sierra has been making luggage for over 30 years. Their Endeavour range includes backpacks and duffel bags like the 87cm Endeavour reviewed here. Capable of holding 82 litres the bag is good for a couple of weeks' casual travelling; i.e. you'll need a separate suit bag as well if you have more formal engagements planned.
The bag is extremely tough and resistant to scuffing and abrasion, made from 300 and 500 denier fabric. After seven flights fully loaded, it looks brand new. The zips are oversized and easy to slide even under pressure and the wheels suitably rugged so they'll stay attached through some rough treatment.
The addition of wheels to a duffel bag somehow seems at odds with my notion of 'a duffel'. I tend to picture a duffel bag as a large, heavy-duty knockabout sports bag, slung over the shoulder and hauled through stormy weather and adverse terrain… bizarrely enough a rusty fishing trawler forms part of the apparition.
Still, the idea of a soft bag sits well with me; as compact as the volume of your gear, and easy to fit into luggage compartments. I had the bag loaded to its limit with about 20kgs of clothing and bike gear—probably more than it should be expected to handle. The bag was chock full but with some help from the compression straps the zips continue to work fine. There are a couple of large handy pockets in the ends of the bag to cope with laundry or shoes and there's also partition that separates the top from the lower half of the bag. Two main openings give access, one 'D' shaped zip at the top and another large zip that runs around both sides and the front near the base.
The extension handle and wheels certainly work with the refined look of this bag and make easy work of carrying quite a lot of gear. The Endeavour is a welcome change from the drab black and grey containers out there and the ruby red colour makes it easy to spot on the baggage retrieval system they've got at Heathrow. It's good quality and good looking, perhaps too sophisticated a piece of luggage to be called a duffel.
SIZE: 87 X 44 X 39cm – 3.9KG
CAPACITY: 82L
RRP: $ 239