Jet Black's indoor cycling suite is designed to compliment virtual training, so how does it stack up?
There have been many significant changes to the sport of cycling over the past 5 to 10 years, and I'd go out on a limb to say indoor online training has been the biggest development.
Sure, stationary training has been around for almost as long as the bike itself. Ever seen the image of a rudimentary bike with a the drive system moving a painted mural of a country scene on a giant paper scroll?
Smart training, the ability to ride, train or race against others all around the world, has no doubt been one of the biggest technological jumps the sport has ever seen.
But one issue with stationary training is the near sedentary nature of the fixed bike setup. Although it's barely noticeable, real-world, outdoor cycling offers far more lateral or side-to-side movement than we'd think. Return from a good ride, with a mix of climbs, descents and flat to undulating country, and you'll feel the effects of the ride not only in your legs, but through your core, arms, wrists and shoulders as well.
Indoor trainers are a game-changer but they lack that lateral movement. The other negative with indoor trainers is the pressure on the sit bones from that fixed and predominately stationary position. Until now.
Sydney-based Jet Black Cycling have been producing a range of indoor trainers and accessories for many years. Their Volt has evolved to be one of the leading electromagnetic smart trainers available, and has established itself as one of the better machines—plus one of the best value—on the market.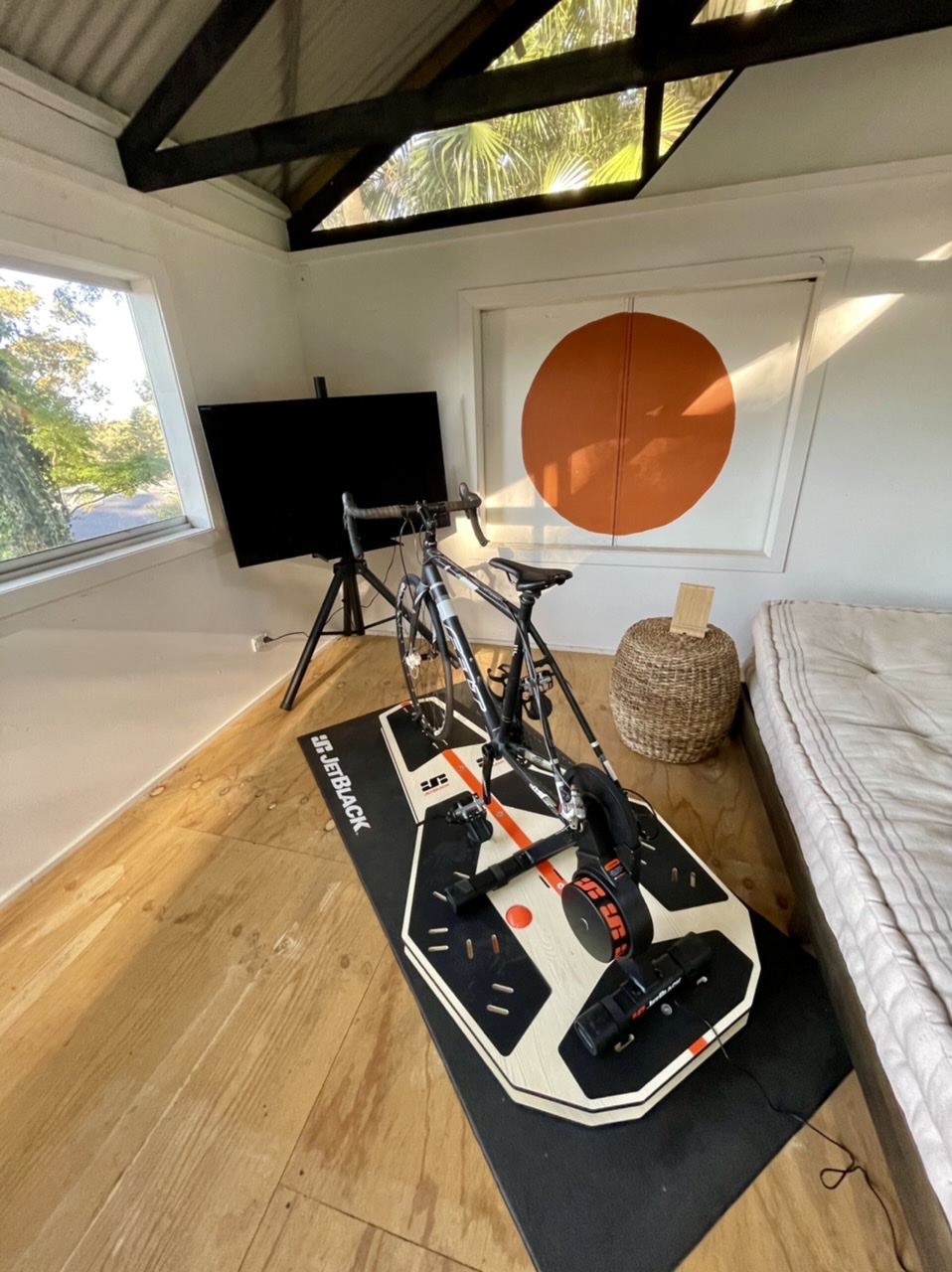 Never content to rest on their laurels, Tony Simmons and the Jet Black team are impressive operators. Getting them on the phone can be a task in itself. Visit their warehouse and offices and you can't help but be energised by their enthusiasm and excitement, so far as new products and in-house R&D goes.
The Jet Black indoor training ecosystem brings all of the above time, technology and energy together, with the company now offering a full suite of products and accessories for the growing smart trainer market.
The aforementioned Volt trainer is the centrepiece of the range, with other items complementing its performance and adding to the overall experience. These include a rocker plate, front-wheel turn plate, trainer-specific TV stand and floor mat.
With a notification alerting me to the fact the delivery had been made, it was exciting to head home and see a towering stack of Jet Black boxes inside the garage.
Unboxing and assembly was a relatively straightforward affair, taking around two hours from start to finish. Full schematic instructions and tools were included—so there's no need to add to that here.
Fully assembled, how does it ride?
First up, the rocker plate offers a far more realistic road feel and activates your core as you ride your favourite indoor training platform. The rocking action, which is variable and adjustable through two inflatable orange balls (yes, the mini pump is included) dramatically assists on-bike comfort by decreasing pressure on the sit bones.
"…..Indoor trainers are a game-changer but they lack that lateral movement, that natural rock a rider exhibits when out on the road…"
We found these improved ergonomics to have a dramatic effect on overall comfort when 'riding' the indoor trainer. The side-to-side rocking action felt natural, realistic, and as close to actual real-life riding as you'll get.
What was particularly noticeable was that full-body workout feeling post-ride. Rather than having the majority of weight and pressure on the sit bones for the duration of the exercise session, you can feel it through your core, arms, shoulders and of course legs.
To the front turn block. A very simple invention and addition, but slightly raising the front wheel off the ground and allowing the ability for slight left / right movement, again improves the overall indoor experience and adds an element of realism to the ride. This action, although ever so slight, is relayed through the arms and again prevents stiffness or excessive pressure due to lack of movement for an extended period.
Made of sound-absorbing, high-density neoprene foam, the Jet Black Trainer Mat brings the whole ecosystem together for a slick, professional and well-integrated setup. It will help protect the floor from sweat or even grease or oil from your drivetrain, and, quite frankly, we wouldn't train without an under-bike mat.
Finally to the TV stand, a particularly innovative offering. Probably the world's first indoor trainer specific TV stand, this is a solidly built and very sturdy accessory designed to hold a monitor of up to 65 inches. Ergonomically designed, the stand is designed around the height and neck angle of a rider either on the drops or in the hoods. It is height adjustable, has a handy tray out front, and a tripod stand to help with perfect positioning.
Overall, the set up—and particularly the rocker plate—offers a far more comfortable and enjoyable indoor training experience.
We felt way less pressure in the sit bones, wrists and shoulders, and ultimately rode more comfortably for a longer amount of time. And that's got to be a good thing!