At Bicycling Australia we want to help our readers ride better, train more effectively, eat to be more nutritionally sound, choose the right gear and generally get as much as possible out of their cycling experience. That's why we have approached the top guys and girls racing in and for Australia today and asked for their tips. This edition, Karen Forman Thornton checks in with NRS leader Ruth Corsett and Jack Haig riding at the top of the NRS for teams Pensar and Huon Genesys .
Bicycling Australia: What are you doing right now?
Jack Haig: Racing the Tour of Gippsland (BA-he came 12th on GC)
BA: What's your age?
JH: 19
BA: Where is home for you in australia:
JH: Bendigo, Victoria
BA: And your home club?
JH: Bendigo Cycling Club as well as the Bendigo Mountain bike club
BA: Who are you riding with apart from the club?
JH: Huon Genesys and TORQ Nutrition
BA: Are you single?
JH: Single
BA: Did you come from a cycling family? If so tell us about it?
JH: No, but my family has also been fairly active manly in track and field athletics
BA: How did you get into cycling?
JH: I have always ridden a bike whether it was to get to friends' places or to go to school and when we moved to Bendigo we found that there was a mountain bike club and I did my first race there and that's where it all began.
BA: What is it you love about cycling? Why do you do it?
JH: I really like exploring new places and cycling has giving me many opportunities to explore and its one of the reason I like mountain biking so much. Also being able to always push myself and try and make improvements all the time.
BA: What were your career goals before you decided to focus on cycling?
JH: I was really interested in photography during school as well as outdoor education. Both of them were my best subject during year 12 and I was offered a spot in uni to study outdoor education but deferred to focus on cycling. Before I started cycling seriously I would have taken one of those options.
BA: How important are cycling clubs and club racing?
JH: Cycling clubs are where everyone starts and the club racing is where you learn how to race. Without them there wouldn't really be a very big cycling/racing scene.
BA: What are your best runs on the board so far? You seem to be talented across a couple of cycling disciplines!
JH: Yeah. I try to get out on my mountain bike a fairly bit even though I am focusing more on road racing this year. I was national U23 mountain bike champion this year, and I won stage one of Battle on the Boarder (an NRS event) and also the GC for that event, plus I won Stage one of the Tour of the North West (NRS).
I was second in the Oceania U23 Mountain bike championship, second on GC in the Tour of Toowoomba, third of GC in the Tour of the North West, third in the national under 23 road race championships and third in the Oceania under 23 road cycling championships.
BA: So, after such a successful year, what are your next moves/goals? What races will you do?
JH: I want to be able to go to the 2014 Glasgow Commonwealth for mountain bike racing and after that I want to be able to come back to doing more road racing and trying to make it to a Pro Tour team.
BA: Do you have a coach? If so, what's the main training tool you use?
JH: I am currently coached by Mark Fenner who runs FTP training. Mark and I work really closely with each other to make custom programs using a power meter to train for events that I have targeted.
BA: Are coaches only for pros and NRS riders?
JH: I think that it is fairly important for any rider that is looking to improve their cycling to have a coach because it really helps to give you some direction in training as well as the confidence knowing that at the end of all the hard work there will most likely be a reward of improvement.
BA: What brand of bike do you ride?
JH: The Huon Genesys team is sponsored by Avanti bikes and I chose to ride the Quantum road bike and the Crono time trial bike.
BA: Our readers will want to know what drives it!
JH: The team is also sponsored by SRAM so all the bikes are running SRAM Red as well as Zipp wheels. The team mostly uses the Zipp 404 wheels and for the hillier stages we use Zipp 202 wheels.
BA: And if you could use your own?
JH: I use the equipment because it is supplied by the team but even if it wasn't supplied I think I would still be using the same equipment. Personally I would choose something that is really light, but also fairly aero. Next year Avanti will be bring out the Corsa SL bike, which should be the ideal bike with a really good mix of both.
BA: Who looks after the mechanics of your bikes? Do you do it yourself? Do you trust others to do it for you?
JH: When I am at home, I do all the work on my bikes and like to know how everything works, but when we are away racing, Neil and Damo who help the team out do all the work on the bikes.
BA: Is living and racing overseas on your list of goals?
JH: I would really love to live overseas. I spent four months traveling around America and Europe last year mountain bike racing, but never really stayed in one place for a long time. But I kinda wish I had the opportunity to make a base for myself and learn about all the little hidden away places that you normally don't get to see when you're passing through.
BA: What are you looking forward to?
JH: Doing some more mountain bike racing next year.
BA: What are you dreading?
JH: Racing as a team leader for a Pro Tour team at the Tour De France
BA: Goals for this year? Next season?
JH: This year I would like to be able to win the NRS overall and for next season to be able to go to Commonwealth Games for mountain biking.
BA: Who are your main rivals and how do you plan to get around them?
JH: For the NRS overall probably Nathan Earle, who is actually my team mate, so I wouldn't be disappointed if he ended up winning it. It will come down to who is more constant with results. Commonwealth Games will depend if some of the mountain bikers who have gone to the road come back to mountain biking and give it a crack, but probably Dan McConnell.
BA: What do you do for training on a typical day?
JH: Get up have some breakfast, look at my emails and training program for the day, head out normally on my own if I have some efforts to do or with a group if I just have to ride my bike. After the ride I will come back and have a TORQ recovery shake while I upload my data to Training Peaks so Mark Fenner (my coach) can look at it. Get some food and try to get a nap in before dinner then a stretch and some core strength work before going to bed
BA: Just going back to the NRS, what's your NRS experience?
JH: I am actually no longer leading the NRS. Nathan Earle had a really good Tour of Gippsland and overtook me for the lead. This year is the first time that I have ever done a decent amount of NRS racing. Before I have always been away doing mountain bike stuff or was too young for the NRS. I have really enjoyed the series so far. The races at the start of the season really suited me with Battle on the Border and Tour of Toowoomba being some of my early season goals. I think the level of racing has really stepped up in Australia and having tours with longer and harder stages has helped that, I think.
BA: Do you think the NRS is a good thing? Why?
JH: The NRS is really good to have! It gives people like me the opportunity to learn about racing and how to race with in a team environment. You also just need to look back over the last couple of years and see all the people that have moved on to racing with Pro Tour teams out of the NRS.
BA: Any thoughts on where cycling is at in Australia, especially compared to other countries?
JH: One of the problems we have is that we are so far away from Europe, which is where there is the top level of competition. But with Asian racing becoming more and more popular with bigger teams, I think it will help road cycling grow with more opportunities for Australian teams to head across and do UCI races there.
BA: What makes you ride better? Food? Rest? Training? Goal setting? Your parents?
JH: Probably my coach and lots and lots of hill reps and ergo session. Also getting lots of sleep and eating right helps all the hard work on the bike sink into the body and make improvements.
BA: What's more important – the training/preparation or the bike and gear?
JH: A good example of having the best bike and gear but not having spent time training and preparing is people doing time trials. They might have the best of the best equipment but spent no time on aero position or the training, so no matter how good their equipment is they aren't going to do well. I think it is more about having a good combination of both, but if I was to focus more on one of them it would be the training and preparation over the gear you have.
BA: Any tips for Bicycling Australia riders who want to rider better?
JH: Getting a coach and a power meter is something that really helped me improve and even everyday cyclists will find both of them very helpfull. But for most people just by riding more on a regular basis they will see improvements.
BA: Have you had any injuries bad enough to keep you off the bike?
JH: I have been really lucky and never really had a bad injury that has kept me off my bike while I have been doing cycling seriously. When I was younger and doing a bit of BMX stuff with friends I broke a couple of bones, but it didn't really faze me because I was still at school and still had heaps of stuff to keep me busy.
BA: Are you worried about the drugs in cycling issue?
JH: No, not really. I think cycling has taken massive steps forward in the fight against doping and drugs and now it's very hard for people to get away with it. I would like to think that 100 per cent of cyclists are clean, but there are always going to be couple of people out there who try and push the limits of being 'clean'. Luckily they are getting caught out a lot more now days.
BA: What are you going to do when you stop cycling? Doing anything to prepare for that now?
JH: Like I said before, probably something in the sport science area or maybe product development and testing, but to tell you the truth I don't really know and I am trying to figure it out now. I wouldn't mind doing some part time study but I haven't really found anything that has sparked my interest enough to go through with it.
BA: Got a cycling hero?
JH: Not really.
BA: Anything else to add?
JH: Just thanks to everyone that has supported me and helped me out along the way it has been greatly appreciated.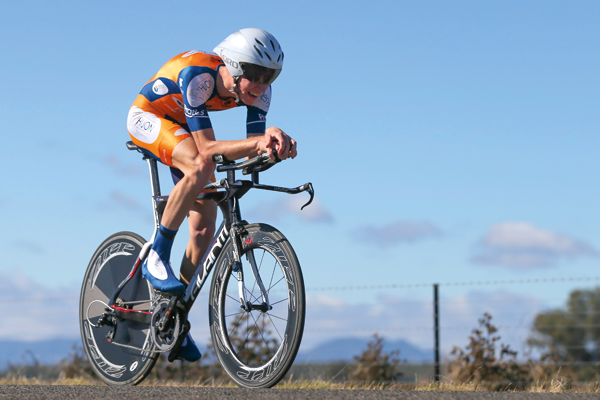 Images courtesy Mark Gunter. http://www.markgunter.com.au/