Wout van Aert is not only one of the most talented, exciting and successful riders of his generation, but also the most humble, personable and fascinating to listen to.
The special guest at a Cervelo Australia dealer function, the Monday after countryman Remco Evenepoel won the 2022 World Championships in Wollongong, van Aert spoke honestly and candidly with event compare, podcaster & retired pro Mitch Docker.
Hosted by Cervelo Australia's Graeme Moffett, a who's who of Australian cycling was in attendance including Wollongong 2022 Race Director Scott Sunderland, leadout legend Mark Renshaw, Olympian Nettie Edmondson, retired pro Graeme Brown, Matt Bazzano, GM of Shimano Australia (a partner in the event), Beardy McBeardy and a host of others.
Taking questions from the audience, enjoying fun, games & banter with Mitch Docker, signing green jerseys and a Cervelo S5, Wout openly discussed all manner of topics from the Wollongong Worlds to winning the Green Jersey at the Tour de France to his early successes in cyclocross. What follows are highlights of the interview with Mitch Docker – who's 'Life In The Peloton' podcast can be heard here.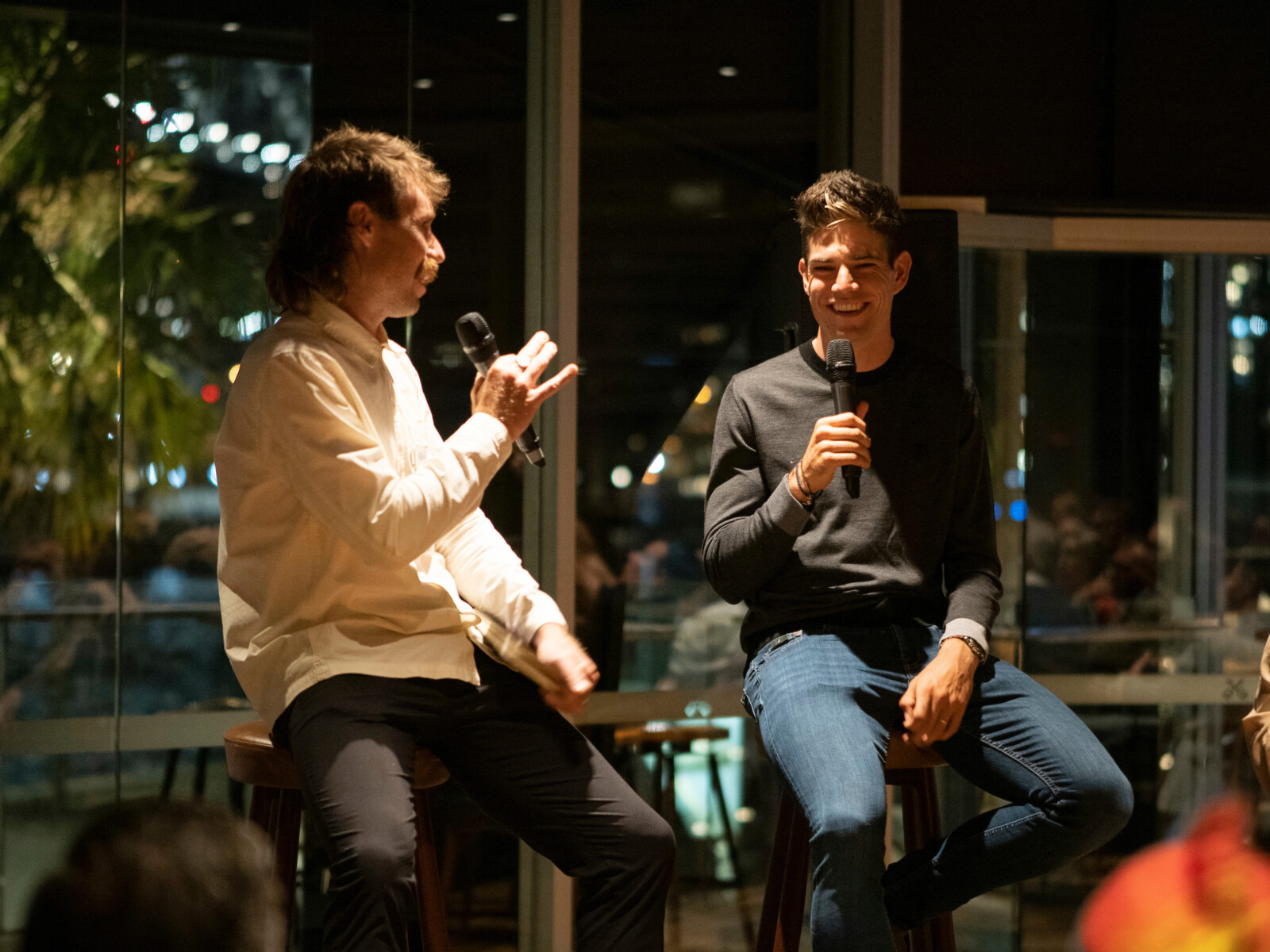 Mitch Docker: Wout, you said after the Tour de France that the Worlds were your next major goal. How did you deal with the build-up and expectation of such a major race?
Wout van Aert: After the Tour I was super tired, I rested for the first week and it was hard to start training again. From then on, I felt progress again, I actually was feeling like my best level again. On Sunday, on the last two laps of the climb, I was feeling strong and riding with guys who are really good performers. Looking back, I am really happy with how I prepared. There was actually a lot less pressure than last year, having the Worlds on home soil. Over there we had to talk about the race wherever we went. For the team, here in Australia, it was quite relaxed and I really enjoyed it as well.
MD: What is it like living in Belgium, growing up as a cyclist and nowadays having everyone recognise you wherever you go?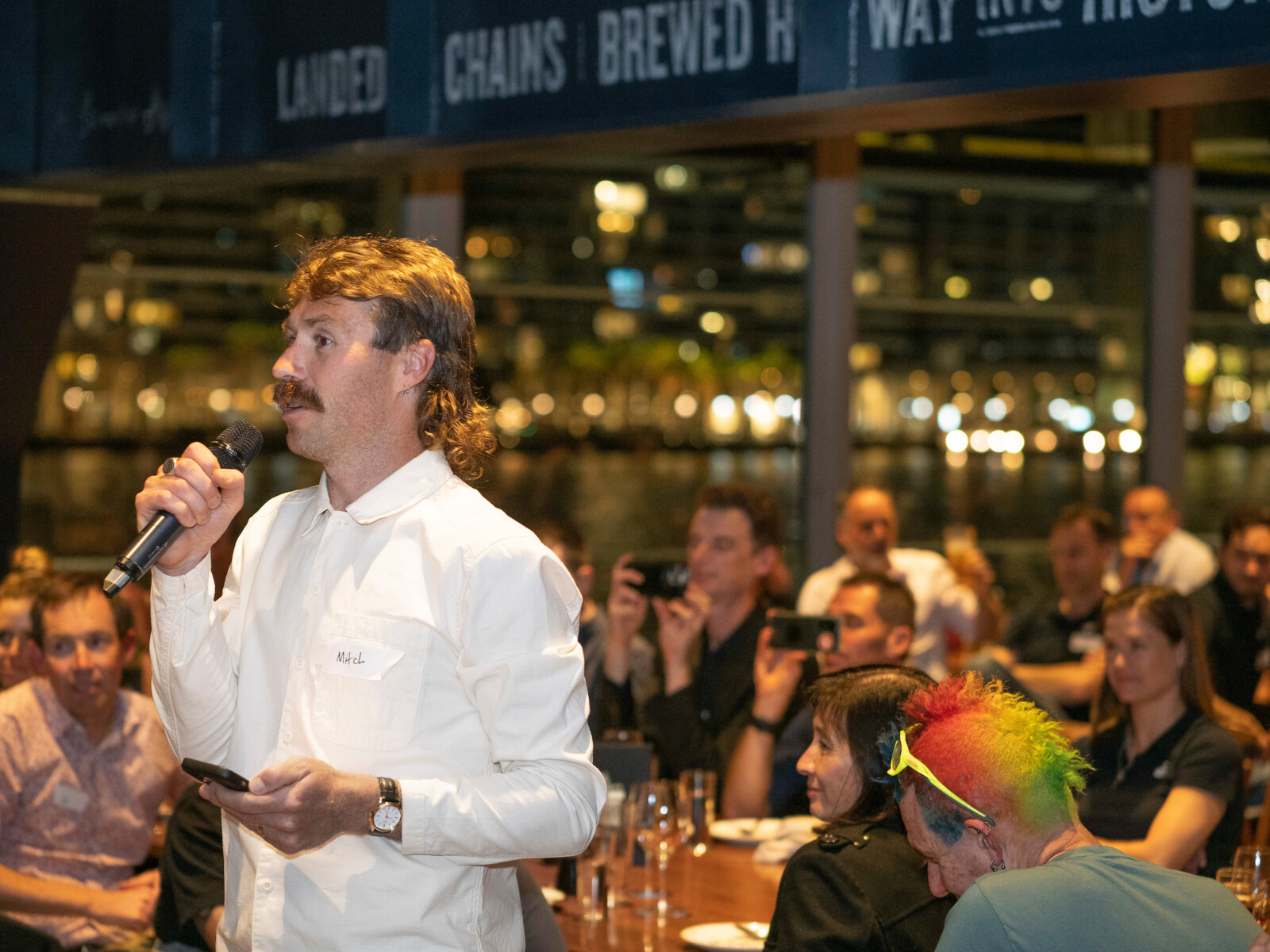 WVA: As a Belgian, cycling is everywhere. We're a small country so basically every village or small town we have a professional living there. In Cyclocross I was 19 years old when I won my first big race as a professional. From there I got recognised pretty well everywhere. It was hard to get used to, but it eventually became part of my life.
MD: Are you walking down the street and people recognise you?
WVA: Yes, some people just want a picture for Instagram. Others are big fans and we have an interesting talk. Let's say it's the week of the Tour of Flanders or something, I try to avoid going to the supermarket because I know it will not be pleasant for me to walk around in there.
MD: Why Cyclocross? Why did you choose that to start with and not road?
WVA: Me and Mathieu van der Poel are probably the first races to combine CX and road. Where I grew up, I just wanted to become a cyclocross professional, I wasn't even thinking of becoming a professional on the road. We have 10 million people living in Belgium and it's not rare to have 1 million viewers watching a live cyclocross race. Next to soccer, it's the next biggest sport – it's super popular.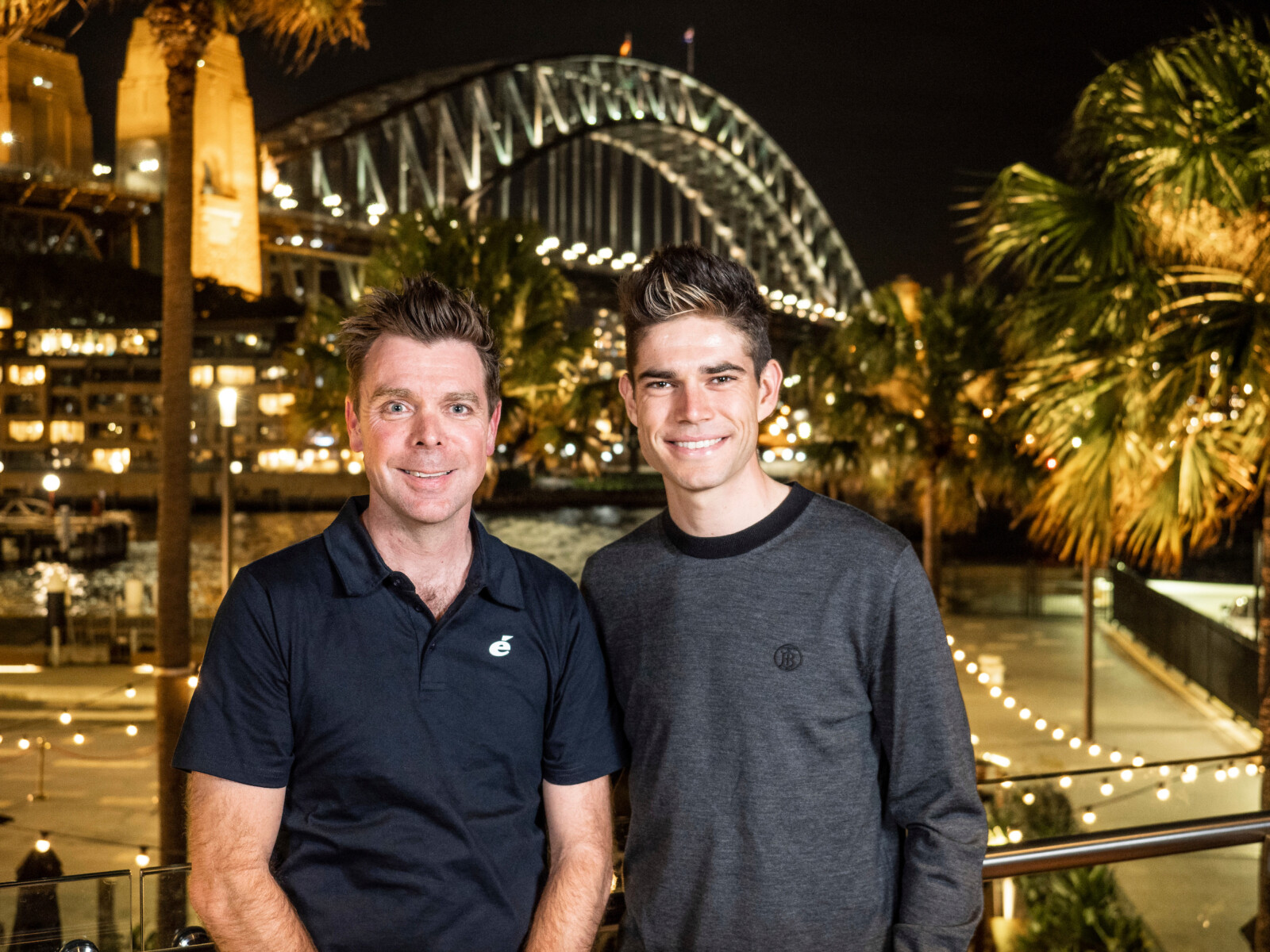 MD: Tell me about your transition into road, and were you ever intimidated by the WorldTour? I certainly felt intimidated by it, but did you?
WVA: Yeah, for sure. I remember my first big race was a week before StradeBianche. I basically tried to prepare myself in two weeks and was racing against guys who had been preparing the whole winter. I was really nervous, but having won a few 1.1 races – just below WorldTour – that helped.
When I have a challenge that seems impossible, I always get the best out of myself. That's also what happened there. I finished third in my first Strade Bianche (having later finished 3rd again, then winning the race in 2020, Ed).
That was a few big steps at once, and from there on it all changed and road racing became more important to me.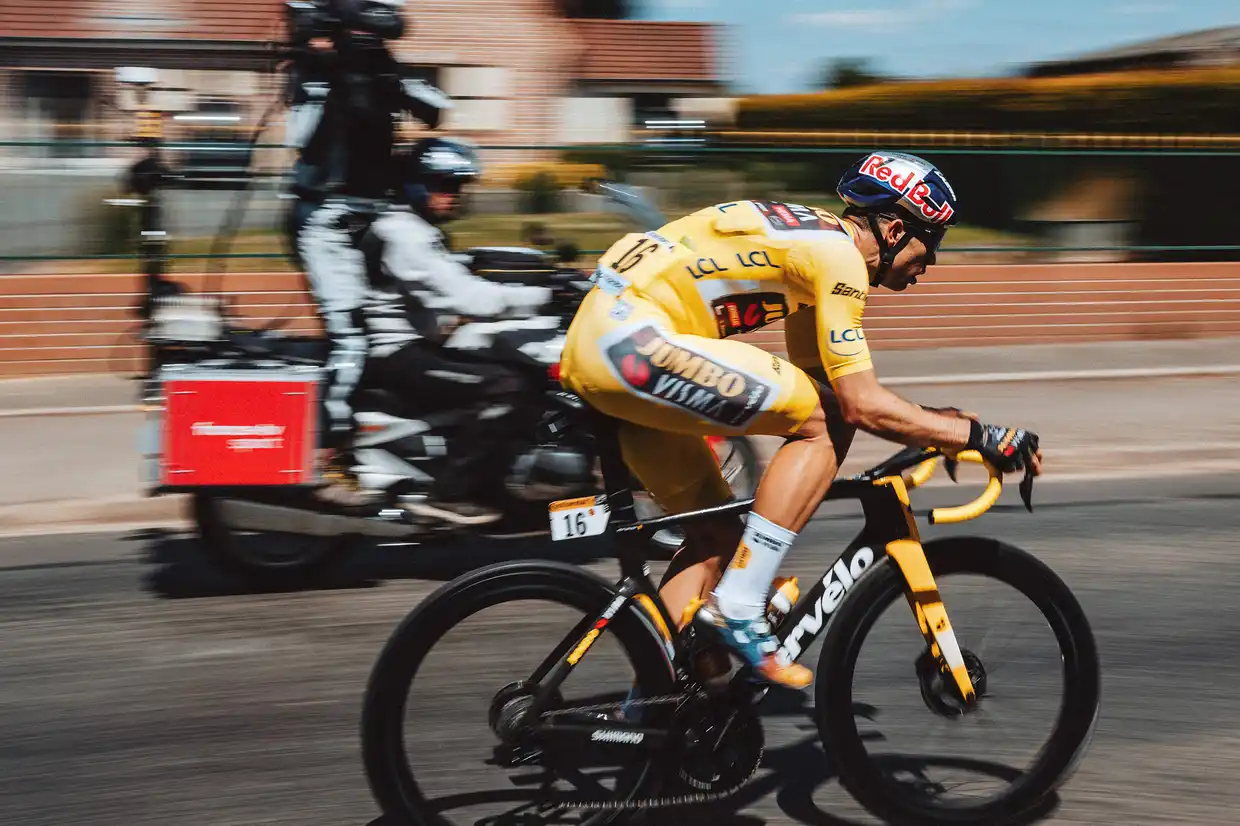 MD: From then was it something you really wanted to do, race road?
WVA: Yes, but I was not thinking about the Tour de France, I was thinking about racing the Classics in Belgium. I tried to combine cyclocross and road, but it was too hard. Then my team, Jumbo Visma, took me to an altitude camp in May 2019. After that, they asked if I wanted to do the Tour de France. It was a big surprise as it really wasn't my interest at that point. But at the Tour de France I immediately won a stage (Stage 10, July 15, 2019).
MD: Before we talk the Tour, take us back to a wet Paris-Roubaix in 2021. Was that similar to riding & racing cyclocross?
WVA: No, I really didn't like it because with cyclocross you feel like you have control. The tyres are made for slippery conditions. In Roubaix it feels more like riding your bike on ice. I remember being scared like hell and happy when the cobbles were over. I hope for the next ten years it's dry.
MD: Moving to Paris-Nice earlier this year, with Jumbo Visma finishing first, second and third on stage 1, with Roglic, yourself and Laporte … can you talk us through that and what is it like riding with the Jumbo Visma team?
WVA: Regarding the team management, how we now race probably started after Rabobank pulled out. We started with a low budget, and instead of trying to buy one really good rider management used the money for team construction – a real culture developed, and we've grown from there. After Jumbo came, there was more money, and of course teams need that as well. Step by step the team improved. Among all riders there's a real focus on doing everything together – our hashtag – and every team now has a hashtag – is 'winning together'.
Doing something like that in Paris-Nice, I was even happier being a part of it than winning it myself. It's really nice to cross the finish like that, and one day it comes back. We said to Roglic he would win a stage of Paris-Nice, and later on he led me out in the Tour de France a few times. It just works like that and everybody in our team feels the same way – that's why we are successful.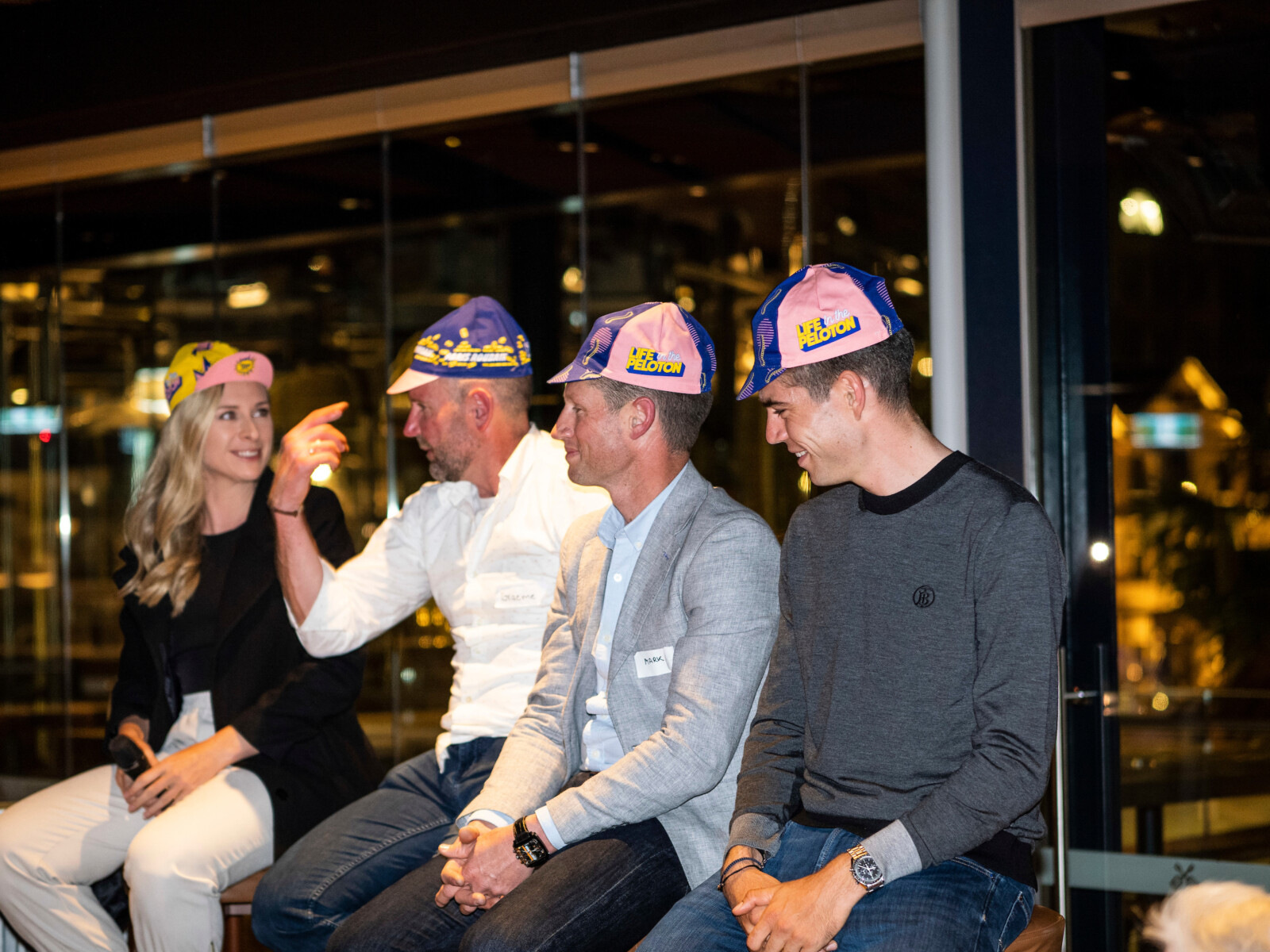 MD: We've seen changes over the years, from riders who could only sprint, only TT or only hill climb … Not you, you're a truly versatile rider. One day you're sprinting against Cavendish, next day you could be TTing against Ganna, then even going up KOM's for polka dot points. Is the just the competition and racing side of things coming out?
WVA: Yes, I think so. I always see opportunities, probably a lot more than some other guys in the bunch. In my opinion, some guys already limit themselves with the thought 'I can't'. I like to think differently to that, sometime it works, sometimes not. As I said before, I am inspired by doing things that seem impossible.
MD: Let's talk about Stage 6 of the Tour this year. You decided to embark on a solo breakaway. It was like 'I've won it every other way …' First, tell us what happened on Stage 6 that day.
WVA: Yeah, it was a really big fight to have a breakaway that day. I think after 80 or 90 kilometres of flat out racing we finally got away, but only three guys. I was still wearing the yellow jersey and was up the road with Quinn Simmons (Trek-Segafredo) and Jakob Fuglsang (Israel-Premier Tech). The story behind was a little bit different. Before the Tour we made a plan to really put it in for Stages 6 and 8 as they had really tough finishes. We wanted to control these stages to get a lot of points for the Green Jersey. Stage 6 was the day after the cobbled stage where we had a lot of bad luck and Primoz was really banged up with a dislocated shoulder and everything. In the morning I was like 'I'll try to be in the breakaway.'
But being in the break in the Yellow Jersey, alarm bells were going in the bunch. I ended up having a really hard ride but no prize.
MD: How about the overall victory, what was it like being in a team that wins the Tour de France. Unfortunately for Primoz Roglic it hasn't happened, but Jonas stepped up and did it! How does it feel, your team with the Yellow Jersey, doing the champagne parade?
WVA: That feels amazing. When I was racing cyclocross I also watched the Tour de France. I remember seeing the winning teams and the champagne. Being there was a dream moment, especially because the past years we've always tried to win it with Primoz and we had bad luck, we had disappointments. And this year everything seemed to come together in the last week, we were in control. Everyday the stress of making the stages become more so. It was a really special feeling going toward the final time trial – I only believed it when it was done. So for sure being part of the team, that was very big.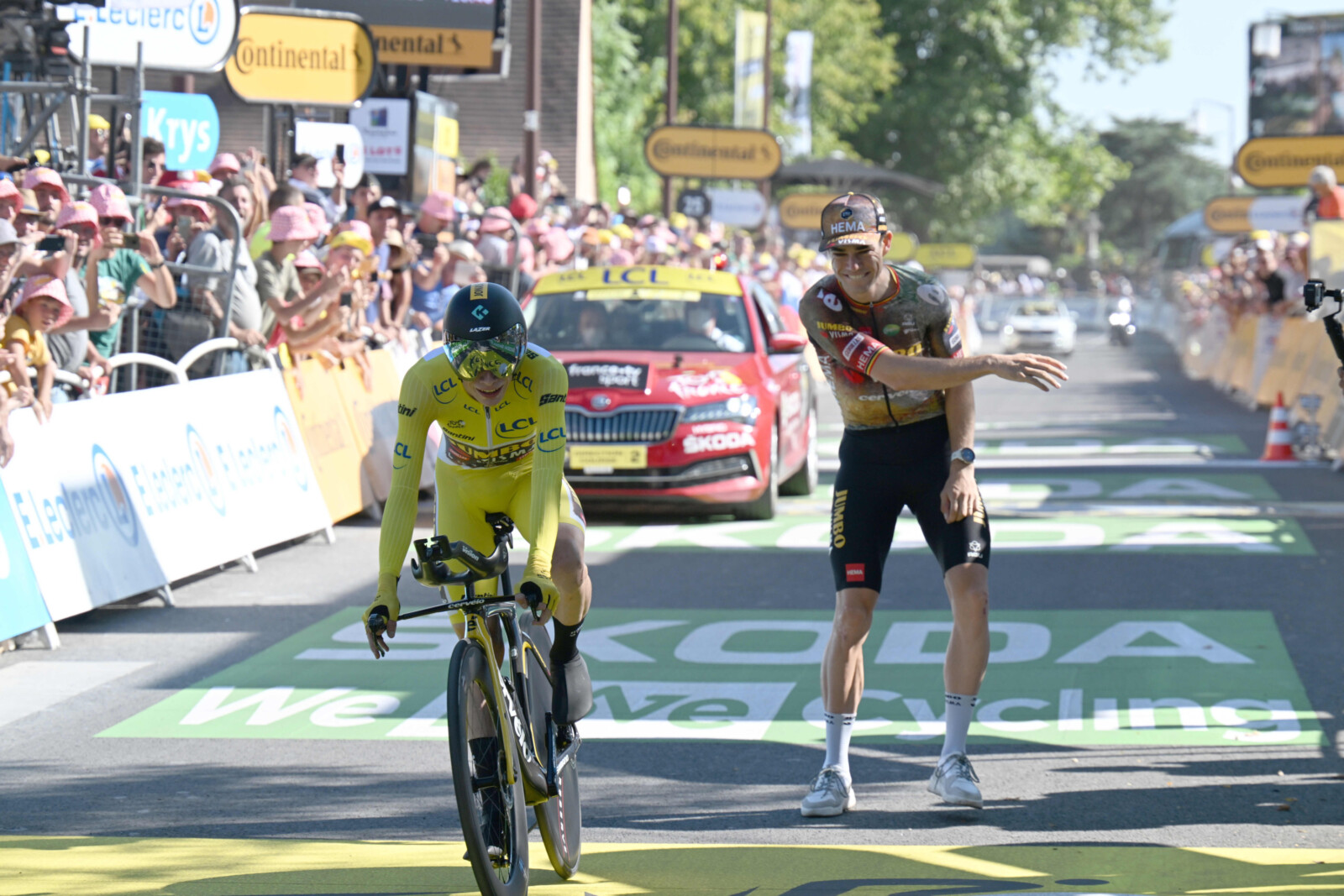 Quick Q & A With Wout
MD: Do you ride tubeless or tubulars in CX?
WVA: I still ride old school tubulars. You can run such low pressure without the tyre coming off the rim. With tubeless, with cyclocross these will take hold. Everyone will have them on the road, I believe, and in gravel it like that, plus with mountain biking.
MD: Socks, over or under your leg warmers?
WVA: Under, for sure.
MD: Sunglass arms under or over helmet strap?
WVA: Over the helmet strap … these are no-brainers.
MD: Race suit or knicks and jersey?
WVA: Nowadays a race suit. In a mountain stage I prefer a seperate jersey.
MD: Cross winds or mountains?
WVA: Cross winds.
MD: Training or racing?
WVA: Racing.
MD: Best & worse roommate?
WVA: Since Covid, we've been sleeping a lot of the time alone. But I can't really pick anyone who was difficult to room with. Ok, Tony Martin was hard to sleep with. I stayed with him only one race, he was eating gummies all the time, and watching a series on TV – it was really hard to fall asleep (much laughter from the room!)
MD: Favourite rider right now?
WVA: I think, Pogacar.
MD: Cobbles or gravel?
WVA: Gravel … it's a nice change from training.
MD: Best moment in a race.
WVA: I really like the sensations going into a bunch sprint, when it gets nervous and you have to fight for your position. The concentration is 110%, you're focussed on everything happening and the rider next to you. It's the first think I think about – I really like it.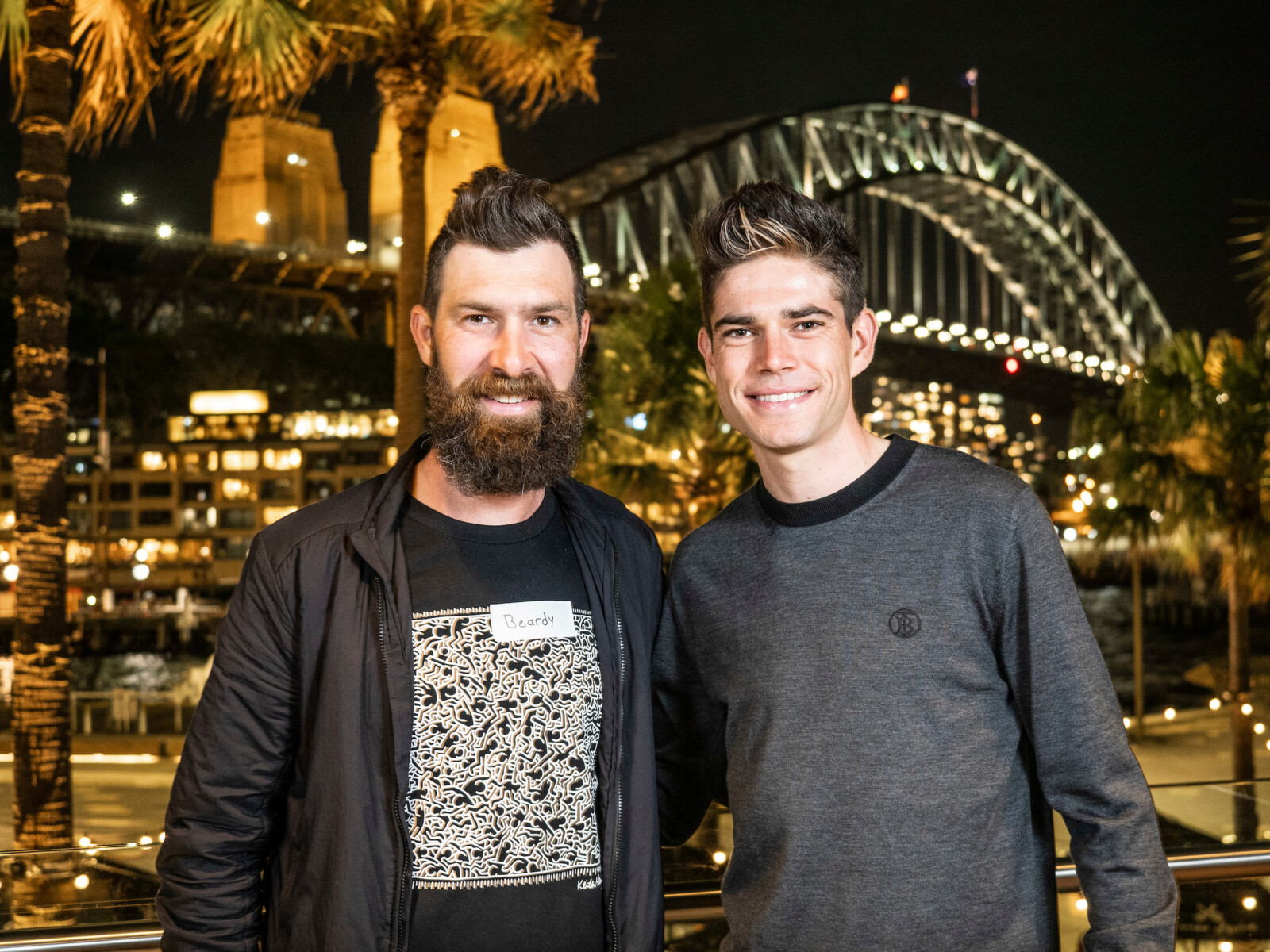 MD: Worse moment in a race?
WVA: A bad day, or when you decide to save energy and ride in the grupetto … I really don't like it. They go easy to the finish, their only goal is reaching the finish. It really feels like you could've finished but you still have to ride for two hours and everything hurts double .. I don't like it.
MD: If you could only have one bike forever, what would it be?
WVA: Nowadays I would buy a gravel bike. Especially because you can buy an extra pair of wheels with narrower tyres and you have a proper road bike – it's a bike you can do everything with. You can even ride with really wide tyres and it's almost a mountain bike.
With thanks to Wout van Aert, Mitch Docker and Cervelo Australia for inviting Bicycling Australia to their post Worlds dealer function. And here's to many more victories and successes to Wout van Aert.
Subscribe to Mitch's 'Life In The Peloton' podcast here.