Two hundred and sixteen kilometres, nearly five and half kilometres of ascent
and 5,000 riders. Welcome to the Gran Fondo Campagnolo.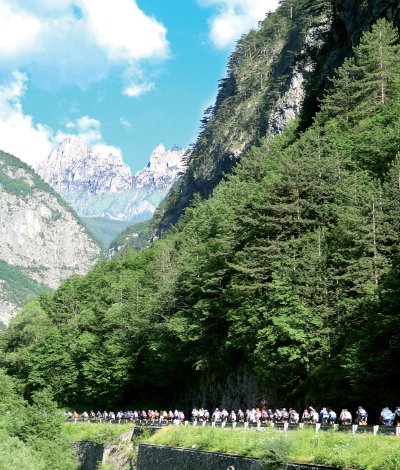 Most of us like to think we're not bad at climbing. Obviously some of us can climb better than others but I guess we all like to brag to non cyclists. "Oh yeah, I ride up that mountain from time to time. It's not as bad as it looks. Second gear in the car you say? Well, yes I suppose it is a bit steep, but once you get into a rythmn…"
But if you fancy yourself going uphill, we've got an event for you. The Gran Fondo Campagnolo takes place every year in Feltre, Northern Italy. A Gran Fondo is the Italian version of a cyclosportive. It's a combination of a participation event and a race. A bit like a marathon. Every competitor has a timing chip and there are cut off times. The real racing however is right at the front of the race. Most of the other competitors are either trying to achieve a personal best time or just trying to make it to the finish.
The Gran Fondo Campagnolo is stunning in many ways. Stunning from a scenery perspective and stunning by its very difficulty. So difficult in fact that competitors are given 13 hours to complete the 216km event. That means you must ride at an average speed of 16.5kph if you want to come in before the cutoff. Average speed 16.5, it sounds easy doesn't it? But during this 216km you have to ride over the Forcella Franche (992m), Passo Duran (1605m), Forcella Staulanza (1775m), Passo Valles (2032m), Passo Rolle (1970m) and the Passo Croce d'Aune (915m). Once you've ridden over all of these, you'll have lifetime bragging rites.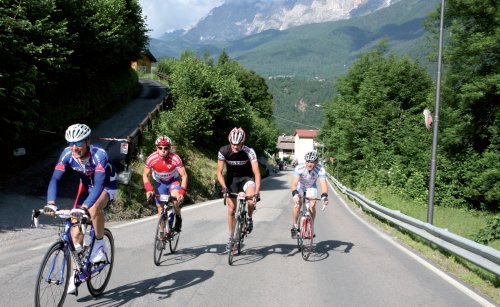 If you enter the Gran Fondo Campagnolo, first port of call will be the Feltre Ice Rink where there is an expo and you can register. Many major brands such as Pinarello, Colnago, Fulcrum and of course Campagnolo are represented. In your goody bag you will find numerous offerings including a free jersey and bib knicks. The organisers also put on a carbo dinner for all competitors.
The race itself is held on the Sunday but on Saturday there is a mini Gran Fondo for families and kids. It's a wonderful sight to see so many children at an event like this. In 2008 I believe over 1,500 kids entered the Mini Gran Fondo. Can you imagine that happening in Australia? Some of these kids really know their stuff, the top riders, the best gear and some of them are fast little buggers too!
The morning of the Gran Fondo was sunny with a forecast of showers later in the day. It's hard to pack 5,000 riders into a small town like Feltre, but they do it. The start line extends back over a kilometre. It must be awful starting on the back row. The female riders are given the front position and the male riders behind them are seeded. This isn't as difficult as you may imagine because each Italian entrant to the Gran
Fondo must belong to a cycling club. Traditionally the start pace is pretty quick as people jockey for position, usually around 50kph. But the pace slows dramatically once the riders enter the hills. For the first 35km the scenery is farmland and rolling before the road turns left and winds its way through the valleys with the mountains towering up on either side. Sometimes it can get a bit crowded here, especially when the road runs through single lane tunnels that are hacked into the side of the mountain. After this the pain begins.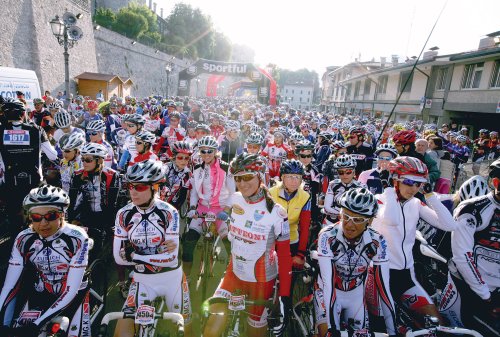 The climb to the Forcella Franche is not too bad. It starts at 560m and climbs to 992m but as it is the first climb your legs will be protesting. This is where the big bunches begin to break up. It will also be starting to warm up now and the downhill to Agordo is over far too quickly. Then you climb 1100m in 15km up the Passo Duran and after that, the 900m climb over 10km to the Forcella Staulanza. If you're thinking you need a rest, this is the place to do it. There are feed stations here and it's a good place to re-hydrate and rest your aching back on the grass. The food is real food too, not gels. On the table you will find bananas, large jam tarts, big chunky sandwiches and other delicacies. Try to force some down even if you don't feel like it, because this is one event where you need as much fuelling as you can get. Don't stay too long though because it's easy to get cold and let the time run away. All going to plan, you should now be refreshed and raring to go. Ahead of you now is 25km of fantastic downhill. But there are two problems. The first is the view, which is stupendous, of the major Dolomites ahead. The best natural architecture in Europe it has been said. They would be beautiful if you didn't know you had to ride up them. The second thing is that a 25km winding descent requires a lot of concentration. Don't be lulled into a false sense of security. One mistake and your race could be over.
Hopefully by the time you get to the bottom, some of those lovely tarts you've consumed will have started to digest because you're going to need them. The next climb goes for 20km and starts at 773m before reaching 2032 metres. This one just goes up and up and up. Every time you come round a corner there's another one facing you. If you're tired here and you only average 10kph then it will take you two hours to complete this climb. During the 2008 Gran Fondo, some people pulled out at the top of this pass due to exhaustion and also due to the snow, which began to fall heavily. While it may seem superfluous back in Feltre, you do need to pack a vest and arm warmers in your jersey pocket because the weather can get chilly very quickly. There's an inn here where you can buy coffee as well. It is guarded by a large St Bernard dog. After all, you're closer to Austria here than you are to Rome. It's important if possible to talk to the locals at these stations. Not only because they've given up their time to help you, but also because many of them know these roads backwards and can give you valuable advice.
A short descent and then back up over the Passo di Rolle before a 40km downhill to Ponte d'Oltre at 420m. Can you imagine a 40km downhill that loses 1500 metres? That would be nearly an hour of downhill. But the race organisers have one more bit of pain to come. You have to ride over the Croce d'Aune which at 1015m isn't too bad under normal circumstances. But after 190km, you'll know about it. There's a particularly nasty pinch just near the top.
From then on it's downhill all the way into Feltre. You swing left through an arch into the old town area and then as a last punishment, ride up a steep cobbled road to the finish line. Like the Etape du Tour, this event should be on every serious cyclists must do list. It really is a wonderful experience. The people are friendly, the scenery spectacular and the riding superb. Don't let life go by without riding the Gran Fondo Campagnolo.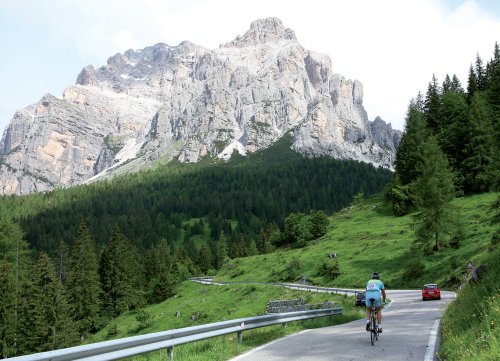 Planning to Go
If you want to do the Gran Fondo Campagnolo you'll need to organise yourself well in advance. There are many places to stay in Feltre but with 5,000 riders and their families, accommodation can fill up quickly. If this is the case, you can try staying at Belluno to the northeast. If neither of these options works, there is a huge amount of accommodation further north. Because the Dolomites are a ski resort, some bargains can be had in places such as Allege and Agordo. One bonus of staying here is that your family can watch you go past without having to stand around at the finish line for 13 hours. Alternatively, farmstays can be organised through the Belluno tourist office or try Googling.
is a good place to start.
You will also want a hire car. All the major car rental companies are represented in Italy and cars can be collected from the airport. Venice is the closest international airport to Feltre. You can also go on a tour. Many bicycle tour companies both in Australia and overseas have the Gran Fondo Campagnolo on their itineraries. Once again, Googling is the way to go.
Currently the official website for the 2009 event is still under construction. You can send an email to info@granfondocampagnolo.it If you have no luck then you can contact Campagnolo direct at
However, while Campagnolo back the race, they do not organise it.