Spanish manufacturer Orbea are the latest company to release their 2021 updated range and, like many other major players, weight savings, efficiency and wider tyres are the central themes.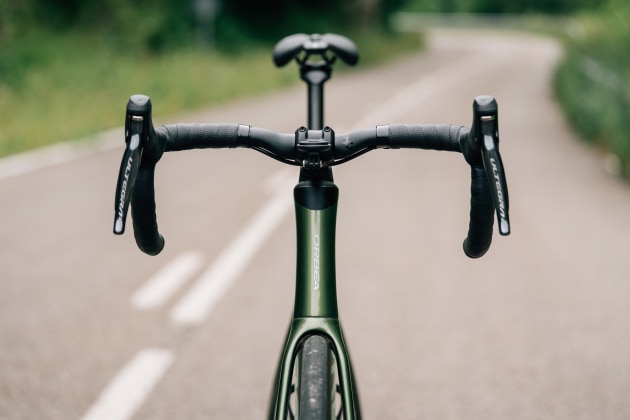 There's a claimed frame weight of 830grams on the premium model, the OMX, for an expected total build weight of around 7kg. The range features further aero refinements, concealed cabling, disc-only builds and 35mm of tyre clearance plus new quick release thru axles.
Optional Riser Handlebar
Orbea have also released an optional 'endurance' cockpit, a new handlebar featuring a 20mm rise with 5mm shorter reach.
"How can ergonomics help you ride further?" they ask. "Unlike a racing position that is focused on aerodynamics, a shorter cockpit and higher handlebar maximize rider comfort – and more comfort means longer rides."
Weight savings have been made due to new high modulus / high strength carbon to improve stiffness-to-weight ratios.
"Bladder molding with EPS forms and PU headtube and bottom bracket inserts stop wrinkling and unconformities in critical zones, allowing less carbon to be used while maintaining strength," say Orbea.
"The OMR frame utilizes rounded tube shapes that improve compliance and reduce weight, making the OMR ideal for riders seeking a smooth and efficient ride quality. The layup and dynamic structure of the new OMR frame give a compliance and vibration absorption 5% better than the previous Orca OMR and 10% higher than the Orca OMX."
The Orca OMX frame weighs 830g (size 53) with a world class stiffness level, and the new OMR frame tips the scales at 1030G (size 53).
Further details including the Australian model range, availability & pricing will be posted soon.