Do you ride with Strava? Many riders use the GPS-based tracking and cycling data app that's become a significant part of our sport over the past decade.
Strava is the go-to training partner and ready reference guide for millions of riders across the world. It's also a fast-growing social community and great place to catch the latest cycling news & updates – more than 4900 riders are now members of the Bicycling Australia Strava Cycling Club.
One of the joys of Strava is it's simplicity – it's a cinch to start then finish a ride with just a couple of taps of a screen. But look a little deeper and you'll see far more features than those on the face of your phone.
Here we take a look at ten ways you can get more out of Strava.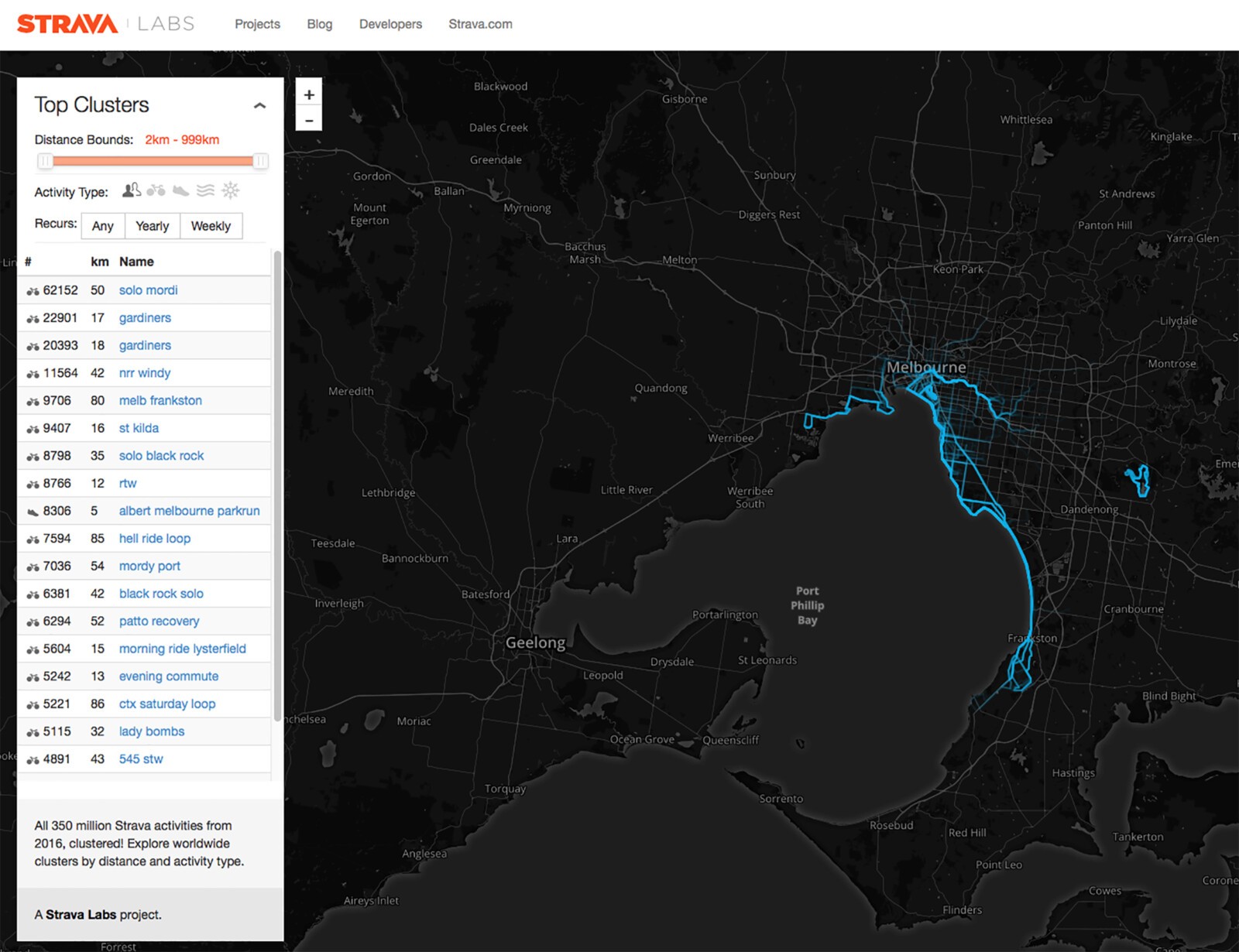 1 – Explore Strava Labs
There's more to Strava than meets the eye – much more. Next time you have a few spare minutes take a look at the extensive data available at http://labs.strava.com
On the Strava Labs page you can do the following & more –
Study heatmaps of your activities to that of the whole Strava community right around the world. This can be useful in exploring new areas, finding popular cycling routes or going over your Strava history. Great for reliving old memories or planning future sorties.
Re-visit your kudos history – given & received.
Explore Strava Flybys – Look back over your rides, see who you crossed paths with or passed + a host of other features.
2 – Join The Club
With literally thousands of clubs on Strava, virtual clubmates can discuss rides, compare progress, meet like-minded riders and, not only view, but set personal goals and challenges with data from the leaderboards.
Club members can compare their times against others and use the numbers to aim for PBs or club records.
There are more than 4900 members on the Bicycling Australia Strava Club – it is now the most popular virtual cycling club in Australia! We'd love you to become a member – it's free, easy, informative and fun. Just go to the clubs tab on Strava, search for Bicycling Australia and click 'join'.
3 – Use The Beacon
Those who pay extra for Strava Premium can use 'Beacon' mode. This offers the ability to share your location with up to three contacts via text message containing a URL. Beacon can be switched on and set up via the touch switch to the right of the home screen, just above the 'start ride' button. You may not want it on all the time, but it could be useful in case of emergency.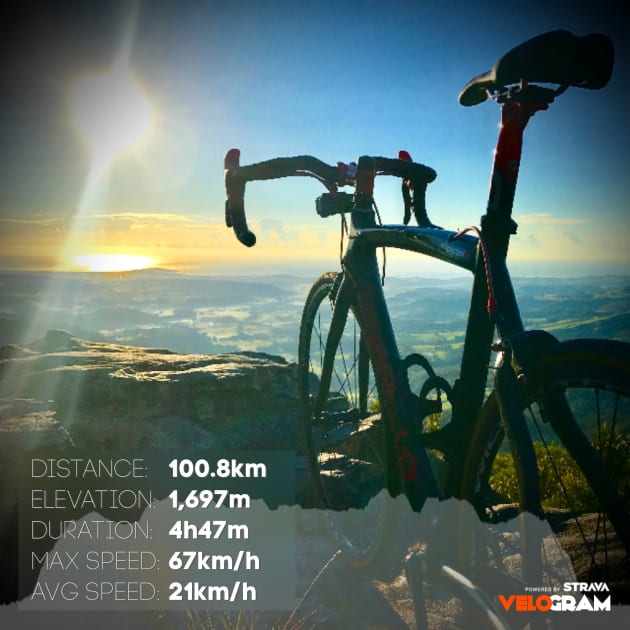 4 – Supersize The Experience
The popularity of Strava has spurred a whole range of spin-off apps that offer an even deeper, more immersive post-ride experience.
One of our favourites is www.relive.cc, which gives a 20 to 30 second animated view of your ride over a 3D map. Relive includes top speed, highest altitude and any images taken along the way. Best of all, it's completely free.
Another favourite is 'Velogram' – this app (pictured right) offers the ability to create a stylised image from your ride with ride data overlayed on a background photo.
5 – Set Your Privacy
While some might be keen to brag to the world where they've been by bike, they may not be so eager to show exactly where they started and finished the ride – particularly if it's a home address. While the phone app offers access to some privacy settings, log in via a laptop or desktop for more including 'privacy radius' mode.
6 – Use It As An Odometer
We all know about N+ 1 right? The number of bikes all keen riders should own (the current number plus 1). Each off your precious bikes can be listed on Strava so you can accurately track how many kilometres each bike has done. This can also be used to to record tyre life, chain replacement or kilometres between servicing.
.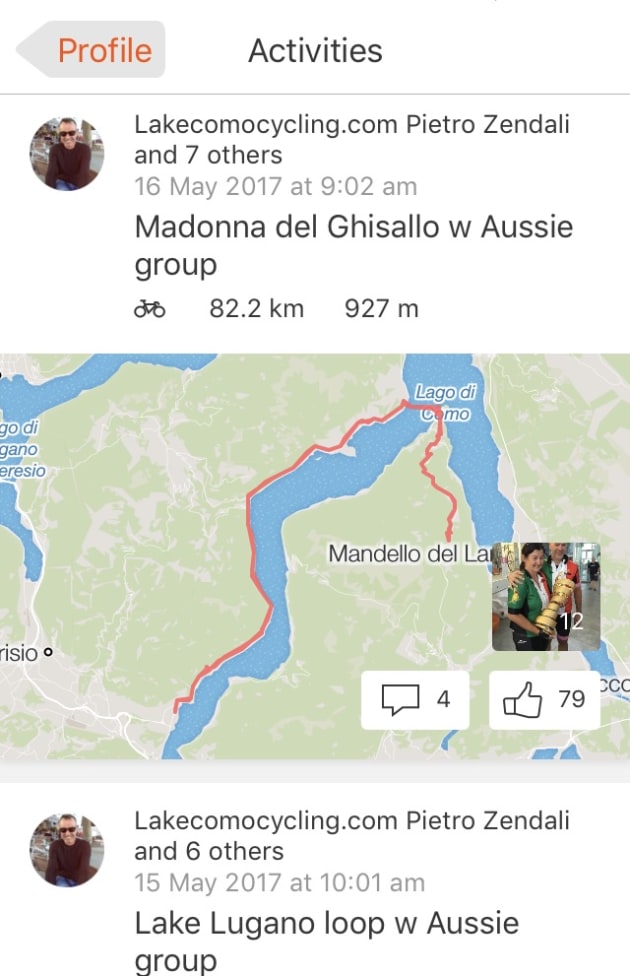 7 – Plan Rides, Trips & Holidays
Just like the saying 'watts don't lie', nor do recent photos and Strava updates. Many cycling tourism operators use Strava as a way to boost and promote their businesses.
Thinking of an interstate or overseas cycling trip? Research your destination via the platform and you'll find all manner of information. Some of the more savvy tourism operators and ride guides post their rides including photos and a brief write-up. Take a look at the example (pictured right) from Italian operator Lake Como Cycling – a great way to research overseas trips when we can travel again!
8 – Follow The Pros
Want to see what the pros are up to between races or major events? An ever-growing number of them post their rides to Strava and seem only too happy for you to keep track.
Chris Froome is fascinating to follow, the four-time TDF winner is often open and familiar with fans. Andre Greipell, Nathan Haas, Mark Cavendish, Rachel Neylan, 'Slipstream' Sarah Gigante and Annemiek van Vleuten are all awesome to follow.
Warning – serious ride envy may follow, but it's a great way to be inspired, encouraged and amazed by others.
9 – Tag Your Commutes For Cycling Advocacy
Ever noticed that you can tag a ride as a 'commute' on Strava? This information is collated and used in the company's 'Metro Project'. Data is provided to local planners and authorities to "help improve infrastructure and safety for cyclists, runners and pedestrians". Rest assured, your tracks are safe. Strava provides this information in anonymous aggregate form, they say it's impossible to trace.
10 – Explore Strava Local Segments & Guides
Last, but certainly not least, Strava Local Guides offer detailed ride information for around 90 cities around the world. Take a look at https://www.strava.com/local and dream … So many places to ride, so little time.
What do you enjoy about Strava? We are keen to hear your comments!