Picture the following scenario: your alarm goes off at 4am and you get out of bed, bleary eyed and force down as much low GI cereal as you can that early in the morning. Across the hotel room stands your bike. You spent all of the previous evening checking over it, making sure everything works the best it can. You load on the chamois cream, pull on your knicks, jersey, gilet and arm warmers for the cool start, even though you know it will get warm later.
You open the hotel door, leave quietly so as not to wake the family and pedal slowly towards the village. On one side of you a gentle breeze ruffles the surface of the lake. On the far side of the lake, the lake you will soon ride around lie snow capped mountains, the rising sun making their peaks glow a brilliant orange. You grab a double espresso and muesli slice on the main street, and double check your bidons. Your jersey pockets bulge with fuel bars, a banana and spare tubes. You take your place about 100 metres from the start line and around you there's another 8,000 riders. So where do you think you are? Italy, Spain, France? Wrong! Try a bit closer to home, because you're actually in New Zealand!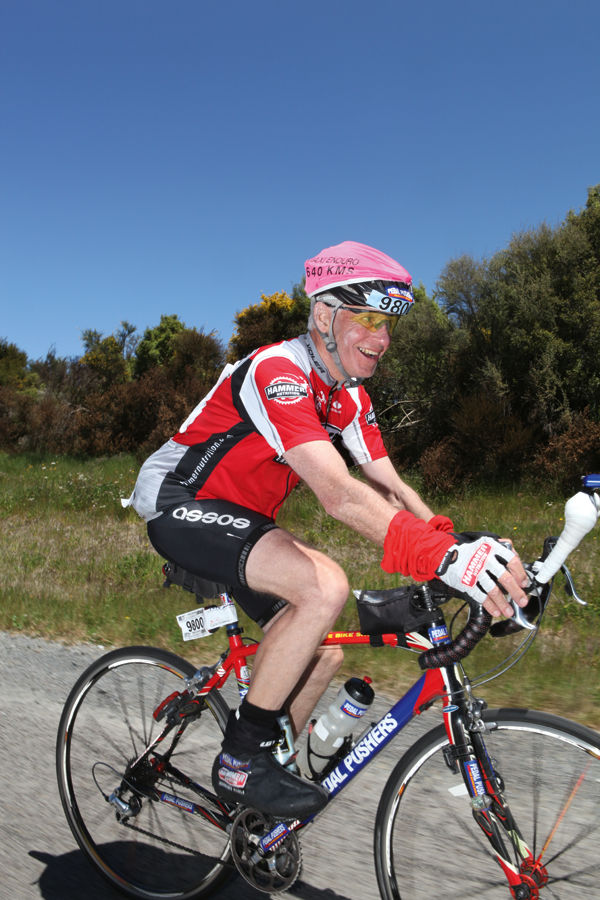 The Taupo Bike Challenge is New Zealand's largest bike event, attracting riders from all parts of the globe. The course itself is deceptively simple, a small matter of 156km beginning in the main street of Taupo, one lap around the lake and back into town. However, that 156km involves over one and a half kilometres of vertical climbing, strong headwinds and extremely dead blue-chip tarmac. Make no mistake, this is one tough course.
Back in 1977, 26 riders, led by one Walter de Bont, decided to ride around Lake Taupo to raise money for charity. At the time this was considered something of a laughable undertaking. By 2008, those 26 riders had grown to a peak of 12,000. Even now the event regularly attracts between 9,000 and 10,000 entrants. And every year at the start you can see Walter, now silver haired, taking his accustomed place upon the starting platform. We took the opportunity to talk to Walter to find out what it was like that first day, 37 years ago.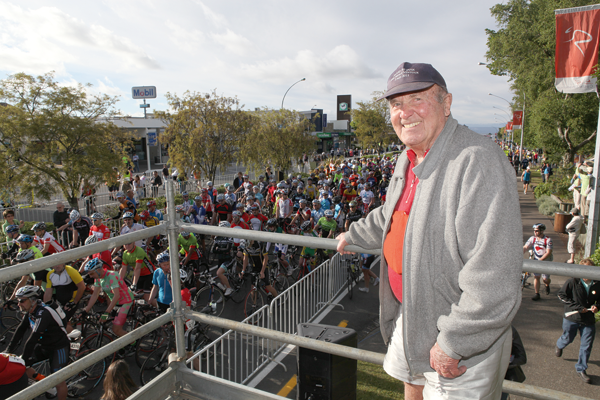 Walter: "It was 1977. There wasn't anybody to see us off at all. People thought it was a joke. We were raising money for charity but there were no spectators, nobody!"
Bicycling Australia: And did everybody finish?
Walter: "We all finished and it's the only time in any of the events since then that there's been 100% finishers. After that, numbers were rising very slowly, but then people started to sponsor us. It took about five or six years but then the word began to get out. It jumped from under 100 riders to 500 riders. And from then on it never looked back. Today we're at eight and a half thousand."
BA: And what was the weather like on that first day?
Walter: "The weather was good and that's probably one of the reasons we all finished. We were not racing in any way. We had food stops and a chat and so on. We weren't in any hurry to finish. A couple of the young ones were though and like any ride, there's always someone who wants to come first. That year it was young John Richardson, an old pupil of mine. He didn't wait to stop, he had a drink and off he went. He was the first winner. You could say he made history."
The Taupo Bike Challenge is the final event of Taupo Bike Week, although strictly speaking the two events are separately organised. The challenge is owned by the local Taupo-Muwana Rotary Club. All funds raised from the event are handed to them and then onto the local community. One of the major beneficiaries of the funds are @Heart, an organisation which provides functional and emotional support for New Zealand kids, teens, adults and families affected by childhood heart conditions. An economic impact report in 2009 and found that the event brings in $4.6 million into the local economy over a two day period. That's huge for such a small community and the Taupo bike week, which is run by Great Lakes Tourism, adds to that. Taupo Bike Week has a number of events including the National Pump Track Championships, Bike Polo, an Expo and a series of hard fought crit races on Friday evening.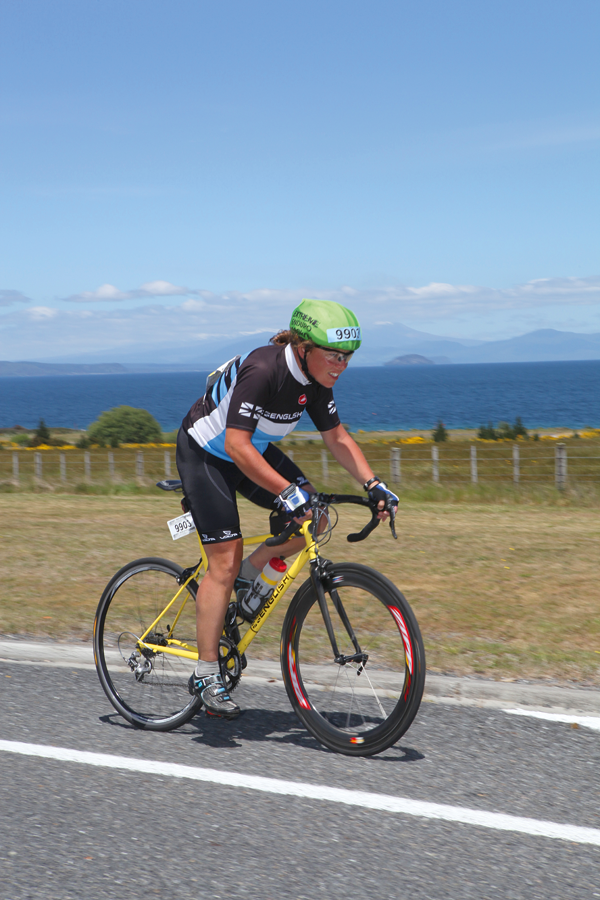 For 2014 The Challenge will be working more closely with GLT to try to make the event more accessible for overseas riders. Lake Taupo Cycle Challenge Communications Officer Hayden Dickason explains:
"This year out of 8,500 riders we had about 328 internationals prior to late registrations. They came from 18 different countries, though the majority of course were from Australia because it's a nice, easy trip. But we also had riders from the States, Brunei and the UK. We've been recognised by the UCI and we're part of their Golden Bike Series, one of only six worldwide. That recognises that we're one of the best six recreational rides worldwide and that helps with the brand. I think we're the second largest ride behind the Cape Argus in South Africa. There's three in the southern hemisphere, The Cape, us and Melbourne's Around the Bay in a Day."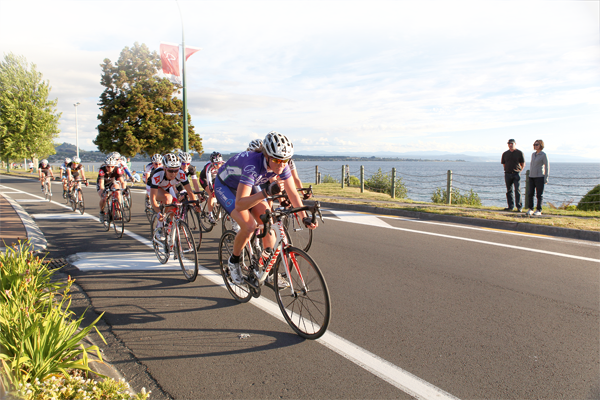 Bicycling Australia: So how do you think you can get more Aussies to head across?
Hayden: "We're working to get some packages together for Australians to come across. Flights, accommodation, transport etc. That's the plan. One trouble with Taupo is that it doesn't have an international airport, but Rotorua is under an hour away and you can fly in and out of there direct from Sydney. What we'd really like is a special plane especially for Australians to come with Air New Zealand. That would be great!"
Not Just a Race
One of the great things about the Taupo Bike Challenge, admittedly like many cyclosportifs, is that it lends itself to recreational riders and racers alike. It does have the elite men and women's categories, but it's predominantly non-competitive. Obviously many people are competing against each other or against the clock, but then there are others who are just after the challenge, ticking off a bucket list so to speak.
All up there are 12 categories for you to enter. On Wednesday the event kicks off with the Extreme Enduro competitors (otherwise known as The Nutters) who do 1,280km, which is eight laps around the lake. Then there's the four-lap riders who start on Friday morning. They do 640km and there's also the two lap competitors who begin on Saturday morning, about 1am. Each of the Enduro competitors go the whole time without stopping, although they're required to take compulsory 20 minute rests each lap. Perhaps unsurprisingly, there were just five riders this year in the eight-lap category, but they certainly got the biggest cheers!
The more normal distances also have different variations. The most popular is the Solo Challenge where you ride the full 156km. But you can also enter as a team in any combination between two and four riders. There's a Tandem Category which is surprisingly large, a Women's Only start group, an Early Starters Group for people who feel they will take a long time to complete the distance and also the Heart Kids who ride the final five kilometres to the finish. The two ideas here are to relieve the pressure of expectation for the non-serious riders and also to give all riders a chance to be back in town for the presentation and the entertainment. It covers most types of rider and gives the event a nice, inclusive feel.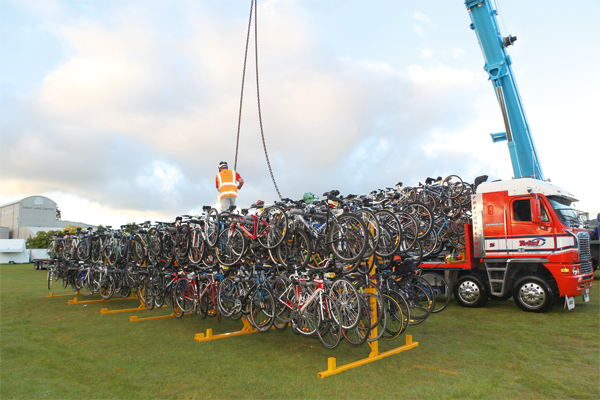 Into the Wild
There's no doubt that Taupo is a spectacular place to ride. Even without the Challenge it would be a wonderful place to visit. The combination of snowy mountains and temperate rainforest is classic New Zealand. To the north of the town, rolling farmland provides some terrific riding. There's also a network of world-class mountain bike trails and the region has plans for many more. I was taken out to a particular track that had just been completed and it was one of the best trails I've ever ridden. Soon that trail will hook up with another one currently under construction, making a network of nearly 80km of single track. Mountain bikes can be hired in town from a couple of the bike shops. They weren't rubbish bikes either; Specialized Epics no less.
To the south of the lake you'll find Tongariro National Park. Lord of the Rings fanatics will recognise this as the area used for Mordor in The Return of the King. The mountains of the park are often in your sights as you ride the challenge, giving you something to take your mind off your legs, for which most people are grateful. You might think that a ride around a lake would be reasonably flat, but not so. As I mentioned before, you'll find over a kilometre and a half of vertical climbing, though fortunately, the majority of this is in the first 80km.
Weather also plays a big part. During our visit you couldn't have asked for a better day. Bright sun and blue skies. Historically though, it appears that getting an early start slot is a good thing because the wind, should it pick up, will often come out of the south. If you can get past the southern end of the lake before it gets strong you'll have a tail wind for the ride home. This can give you a huge psychological boost, particularly on the two final long hills at Buli Point and coming back into town at Wharewaka.
The Taupo Bike Challenge ticks all the right boxes; a challenging distance, spectacular scenery, plenty of non-cycling activities to make a great family holiday and no huge long-haul flights to get there. The town is wonderfully friendly, has some great eateries (I can personally recommend the Tapas Wine Bar) and many accommodation options. Even the Queen stays in Taupo when she visits New Zealand! So check out the website (cyclechallenge.com) and start planning your trip now.
Getting There and Away
Taupo has its own airport and Air New Zealand fly there from Wellington and Auckland. The plane however is like a mini bus with wings (you can even watch the landing over the pilot's shoulder) so it isn't easy to bring a bike unless you're the first to book. A better option is to fly direct to Rotorua. Air New Zealand fly 737 planes there several times a week. Taupo is just 45 minutes' drive from Rotorua and three hours' drive from Auckland.
Fascinating Fact: Lake Taupo is actually the crater of an extinct volcano. Or is it extinct? During Bicycling Australia's visit Mt Ruhapehu erupted, threatening to cancel the event. Things settled down but a plume of smoke was constantly visible from its cone. Of course this set the doomsayers to wondering if Taupo really was extinct? Imagine a volcanic crater 150km in diameter…