With five stages of the 2023 Tour de France remaining, it's fair to say the 110th edition has been one of the most thrilling, exciting and memorable in years. From Philipsen's phenomenal sprinting, to Mark Cavendish's unceremonious exit, to Jai Hindey's day in Yellow, and then of course the epic battle between Pogacar and Vingegaard.
The action, dialogue and debate hasn't been confined to the teams and riders racing the roads of France, with just as much local discussion focussed on the commentary, namely the SBS broadcast and GCN+ livestream.
We've been watching GCN+, through a VPN like many others, and I personally consider this to currently be the world's leading Tour de France broadcast coverage. 
Free to air wise, Australian-based viewers have one official option, the nation's legacy TDF broadcast partner, SBS. 
Australia's broadcast home of cycling for decades, SBS's coverage has dramatically changed over recent years, particularly after the well-publicised departure of Mike Tomalaris and Robbie McEwen in late 2021/early 2022.
Following his exit from SBS, Tomalaris left broadcasting to focus more on his personal cycling, MC'ing, hosting tour groups and charity work. He was also awarded France's National Order of Merit for services to cycling and French tourism.
Meanwhile, Robbie McEwen was very quickly snapped up by GCN+ where he's quickly established himself as one of the world's best-known and most insightful cycling commentators.
Australia Geo Blocked
When GCN+ announced their 2023 TDF coverage, they stated the coverage would be 'Available live and on-demand in Europe and Asia-Pacific excluding China, Japan, New Zealand and Australia.' A bummer for many, but understandable given SBS pay for the AU coverage rights and have done for years.
But soon after the Tour started, numerous Australian-based viewers noticed the geo-block was not in place, and for the first two weeks of the Tour many fans enjoyed the option of tuning into either SBS or GCN+ coverage, or a mix of both.
This came to a sudden stop after Friday night's Stage 13, and as of Saturday, July 14, Australia was blocked, as originally stated and intended.
Many viewers noted that the geo block seemed to coincide with an increasing level of dissatisfaction with the SBS coverage of the Tour de France and the overwhelming number of people discussing GCN+ access options. For example, a recent post on the Bicycling Australia Facebook page was met with well over 90% of respondents expressing concerns and unhappiness over the SBS coverage.
SBS's Position
We put several questions to SBS, asking if they were aware the GCN+ feed was not geo-blocked and did they request the block be enforced? We also asked for their thoughts on the growing level of dissatisfaction with their coverage, and if comments and feedback have been removed from SBS Sport socials, as suggested by many people online.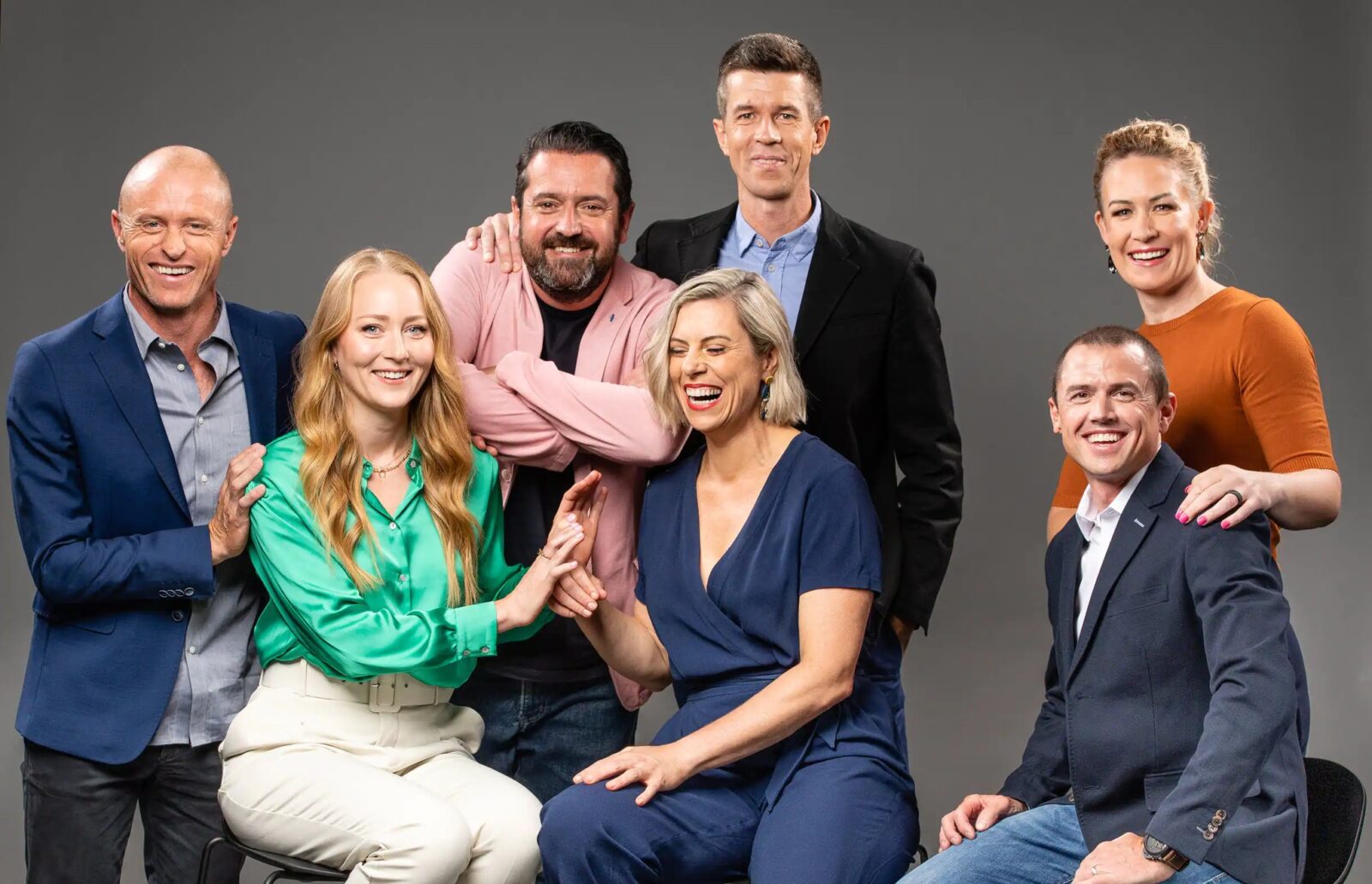 Being a predominantly public-funded broadcaster, we asked 'Ratings wise, how is this years or year-on-year TDF coverage going and whether SBS cycling coverage is growing in Australia? In addition, we asked where the network stands on the use of Virtual Private Networks and does SBS support freedom of choice among viewers?
In response, we received a short statement from SBS's Corporate Communications Manager and it reads in full –
'I can tell you that SBS is the exclusive Australian broadcast rights holder for the 2023 Tour de France, broadcasting all stages of the races live and free to local audiences. 
We expect other media outlets and digital platforms in Australia and elsewhere to respect commercial agreements entered into by SBS.'
GCN's Response
We also asked GCN+ about the geo block being initially open then hurriedly closed, and here's what they said in a statement.
'Unfortunately we don't have rights to the Tour de France in Australia, although we are aware that due to a technical error there were periods when some of our Australian viewers were able to watch certain stages from this year's Tour. For a full list of available races in Australia please check the details here: https://help.globalcyclingnetwork.com/hc/en-gb/articles/360015567100-Australia We will continue to provide extended highlights from each of the stages."
Please note any affected customers can contact GCN+ Customer Services at support@globalcyclingnetwork.com.
Also if it helps, here's a recap on the coverage rights GCN+ do have in Australia for the TdF and other key events coming up:
GCN+ has both short and extended (26-minute) daily highlights of the Tour de France (so audiences can watch every moment at a time that suits them). 
Additionally, GCN+ will also have live and on-demand coverage of every stage of the Tour de France Femmes avec Zwift 
Cycling fans in Australia can also look forward to more events on GCN+ including Il Lombardia and La Vuelta along with the live coverage from the UCI Mountain Bike World Series and Cyclocross season and a selection of almost 200 exclusive cycling documentaries.'
Viewing Options Over Remaining Stages
So, with five stages of the 2023 Tour de France remaining, and with this edition one of the most enthralling in memory and destined for the history books, what options do Australian-based fans have?
Viewers can either watch the remaining action via legacy broadcaster SBS, or install a VPN and tune into the GCN+ / Eurosport coverage.
What Is A VPN & Are They Legal?
Simply put, VPN stands for Virtual Private Network. When installed – a simple process we'll explain in a moment – the user connects to the internet through the VPN, rather than directly via home or public wifi.
This means that when you connect to anything on the internet the VPN encrypts your location, identity, and any other data that may identify you. Completely legal in Australia, the use of a trusted VPN comes with many other advantages including protecting your privacy, your browsing history, passwords, online banking information, utility accounts, social media trails etc.
How Do I Install A VPN?
Very easily. Simpler search for a trusted VPN provider, read reviews from legitimate websites, select the best option, download, purchase (or login for a free trial), and wholla, you're in.
When online – and most default to 'on' during setup – a small VPN box will alongside your wifi signal bar to indicate it's in use.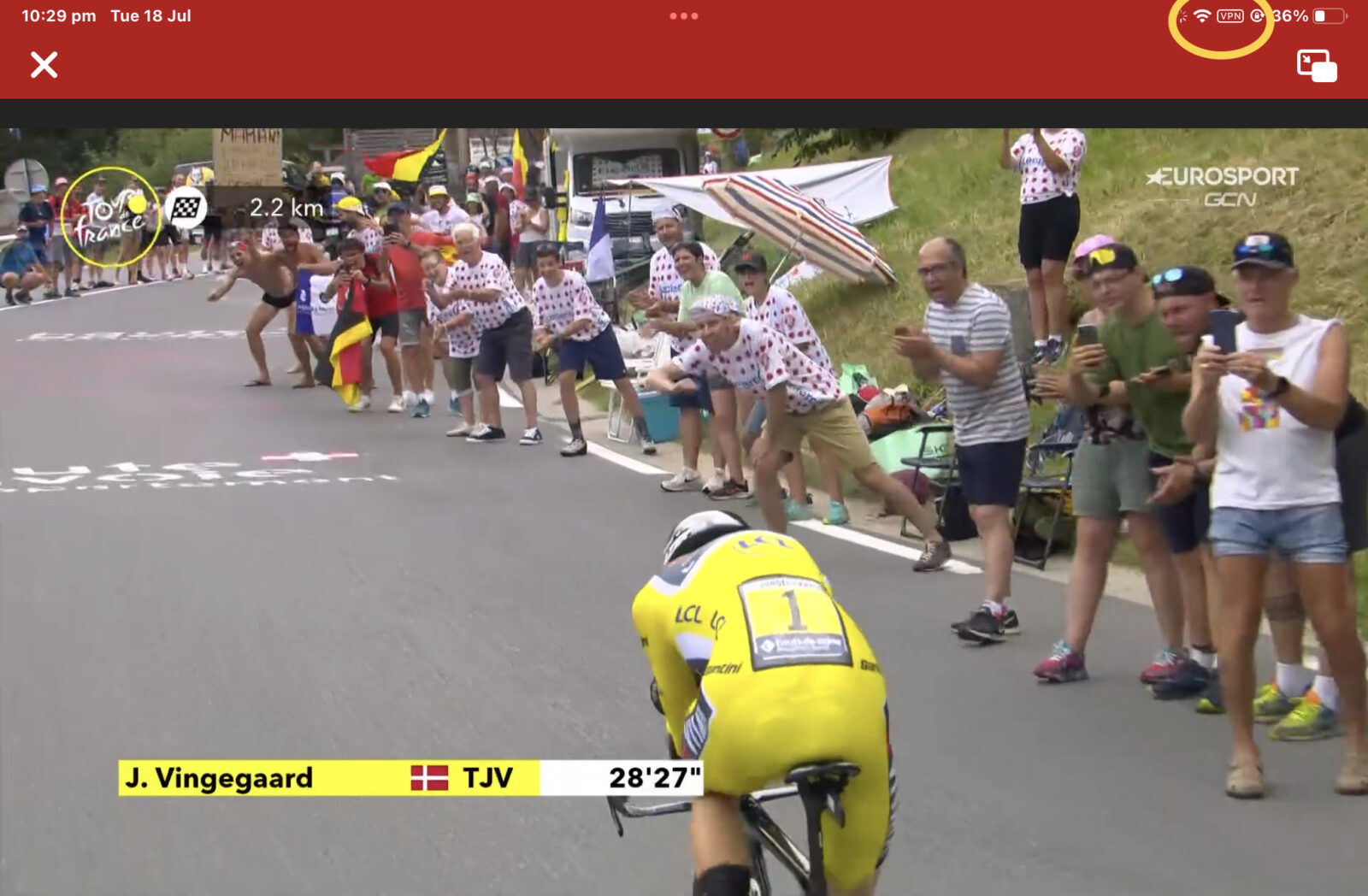 Options-wise, there are more and more VPN providers out there with some of the more popular ones being Express VPN, Nord VPN, Proton & Surfshack.
Cost-wise, we're currently using Express VPN and paying just under $10 per month for it. No, we're not affiliated in any way, but find it an absolute bargain considering its security, data protection advantages and numerous other benefits.
Over to you: How are you watching this year's Tour de France and what are your thoughts on the race and coverage to date? We are keen to hear your feedback, have your say below.