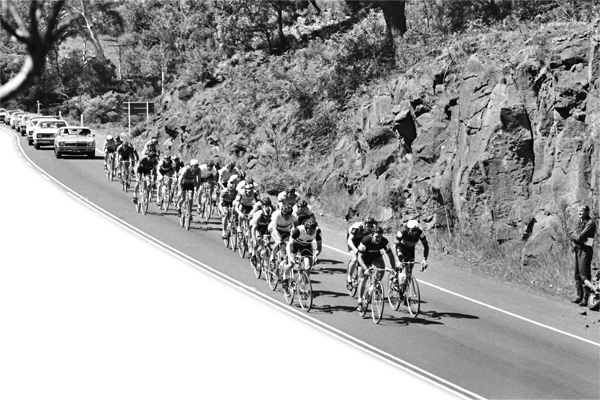 You know the game. The one where your Europeans pals poke fun at Australia's history. Or, to be more precise, the apparent lack of it. Agreed, the only castles you'll find on our shores are of the fibro, weatherboard or double-brick variety. But even so, apart from the fact that such Northern Hemisphere aspersions ignore over 45,000 years of rich indigenous culture it simply isn't true, even in modern terms. Especially when it comes to road cycling.
Snuggly cocooned away in their hand-knitted Molteni jerseys eating pomme frites and mayonnaise in Belgium, sipping beaujolais on the roadside of hors catégorie cols in France, or munching biscotti with their macchiatos in the piazzas of Italy, many self-styled cycling aficionados are more than a little surprised to learn that preceded only by La Doyenne – the Monument otherwise known as Liege-Bastogne-Liege (circa 1892) – Australia boasts the second longest running professional one-day road race on the planet: the Melbourne to Warrnambool Classic.
If you really want to upset your European cycling friends, you might also like to remind them the world's oldest track cycling event is also Australian: the Austral Wheelrace, first staged at the MCG in November 1887 and still run by Cycling Victoria each February.
Melbourne to Warrnambool, or the 'Warny' as it is affectionately known, is old. In fact, it's so old it pre-dates even the ubiquitous velophile himself, Phil Liggett, arriving on the scene way back in 1895. The most recent edition, the 98th, took place last October and was won by Sam Horgan of Budget Forklifts.
Older than Paris-Roubaix. Older than Flanders. Older than Lombardy and Milano-San Remo. Older than the Giro. Even older than the undisputed jewel in the UCI crown, the Tour de France. By the time Tour founder Henri Desgrange was heralding his first champion, Maurice Garin, on 19 July 1903 the names of no less than seven Melbourne to Warrnambool winners had already been etched into the history books. In fact, the race has the curious honour of actually being older than the country in which it takes place; Melbourne to Warrnambool first took place almost six years before Australian Federation in 1901.
The curiosities don't stop there, however. Perhaps appropriately for an iconic Australian sporting event, Melbourne to Warrnambool didn't begin to sell newspapers like so many other races at the turn of the 20th Century. Rather, it is said to have started out in that most Australian of ways; the result of a bet or, more likely, a challenge to set a record time between the two Victorian cities.
With some irony, whilst it didn't begin to sell newspapers the Warny did end up being sponsored by one from 1953: The Argus, a daily newspaper based in Melbourne.
Whilst difficult to corroborate conclusively after so many years, it is widely-accepted by cycling historians, such as the remarkably knowledgeable George Nelson and Ken Mansell, the race was inspired by the feats of a landlubbing bike shop proprietor from Melbourne, Don Charleston.
The story goes that having already ridden to Warrnambool on his trusty boneshaker, Charleston had originally intended to give his legs (and, no doubt, derrière) a rest and catch a ship home in mid-March 1895. However, when confronted by horrendous seas at the Warrnambool Pier it seems he had a change of heart; and decided to instead ride back to Melbourne in the form of a timed record attempt. According to records published in Wheels to Warrnambool 1895-1978 by Bill Wines, he departed Warrnambool at 6:15am and, having checked in at numerous post offices along the way to verify the legitimacy of his journey, arrived home in Melbourne nearly 13 hours later. Quite a day's ride.
Perhaps not surprisingly for a time when the safety bicycle – including the hugely popular drop-frame model for women – was a zeitgeist of Australian society, Charleston's marathon exploits captured the imagination of the whole community. This reportedly included RMK Gollan, a prominent Victorian cycling identity and editor of Australian Cyclist, one of the leading cycling publications of the day. Gollan first reported on Charleston's journey on 14 March 1895. But it was a follow-up issue that is believed to have truly set the wheels in motion, when he wondered if a searching one-day race might be staged along similar lines to Charleston's original ride.
Less than seven months later, Gollan's suggestion became a reality as fifty riders registered for the first daunting race into the unknown on 5 October 1895. Organised jointly by the Melbourne Cycling Club and the League of Victorian Wheelmen it was officially known as the Scott-Morton Road Race in honour of its inaugural sponsors, Thomas Scott and Robert Morton from the Raleigh Bicycle Agency.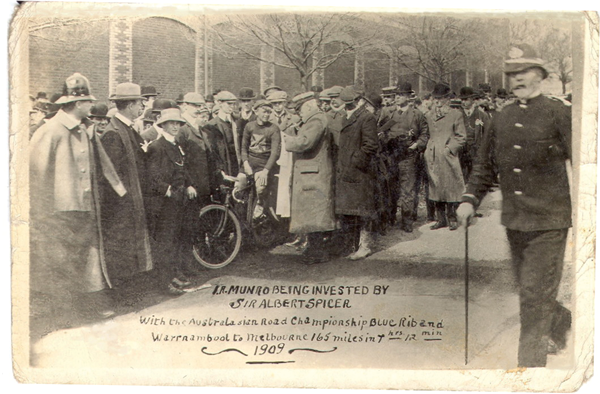 On the day itself, however, cold feet had well and truly set in as less than half of those who'd pre-registered showed up at the start line in Warrnambool. In a quirk of history the first race actually ran west to east. Mind you, riders didn't have to wait long for the first genuine Melbourne to Warrnambool; that occurred just two months later on 14 December 1895, although it wouldn't be officially recognised until many years later when the League of Victorian Wheelmen elected a new president in 1949, Sam Downton, who was determined to address anomalies in results from the formative years of the race.
But back to 5 October 1895. To ensure the riders finished that first race during daylight hours, the limit or 'Third Class' riders rolled out of Warrnambool in darkness at 3am – no doubt relying upon rudimentary carbide or lead-acid battery lamps to navigate their way – with Second and First Class riders departing at 4am and 5am respectively. Most of the field consisted of local cyclists from Melbourne, Warrnambool and Geelong. One rider, E Jewell, made the trip all the way down from Maryborough in Queensland whilst scratchman W Kux hailed from Germany.
Continuing the pre-race attrition rate, of the 24 official starters only seven actually finished the course – led home by the inaugural race winner Andrew Calder on his Humber bicycle. Calder started the 165-mile course two hours ahead of the four scratchmen who included none other than Don Charleston and Jim Carpenter, who would return the following year to claim both fastest time and line honours in 1896.
Clearly a more than capable wheelman, there can be little doubt Calder was well looked after by the handicappers in that first race. Despite leaking 20 minutes to repair a puncture near Geelong, he still won by the cycling equivalent of the Flemington straight: 31 minutes in an overall time just shy of 11 hours 45 minutes. For Calder's troubles he received a gleaming new Raleigh bicycle. Most of his rivals simply withdrew and caught the train back to Melbourne.
In something of a harbinger for the trust issues that continue to plague world cycling, to maintain the integrity of the race in the early years, officials required all participants to dismount and sign in their time as they passed through Camperdown and Geelong en route to the finish.
On bikes with no gears and bearing little technological resemblance to the carbon steeds of today – "Most of the machines used were from 24 to 28lb in weight, with wood rims and pneumatic tyres," reported The Advertiser – the pioneering riders were pummelled by the notoriously exposed conditions of Victoria's rugged south-western coastline; conditions for which the race has become synonymous over the years. Despite the course being ambitiously described in pre-race literature as having "portions of road surface like a billiard table" the early riders in fact had to contend with diabolical road conditions along a track which is today known as the Princess Highway; a far cry from the well-surfaced and professionally marshalled roads traversed by today's riders in the Subaru National Road Series.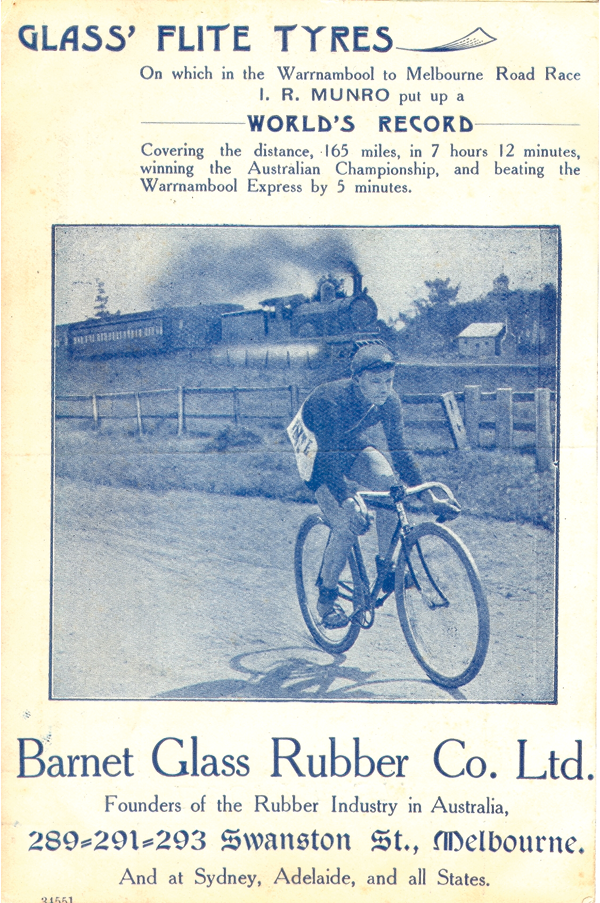 This is not to say the Warny has become easy. Anything but. Still one of the longest and most unforgiving events on the Australian road-racing calendar, it's so tough you get a medal – referred to as a 'Time Medallion' – just for finishing. With an honour roll boasting Olympic Gold Medallist Dean Woods, Tour de France Stage winner and Maillot Jaune wearer Simon Gerrans and Sport Australia Hall of Fame Inductee Sir Hubert Opperman, who won the Blue Riband for the fastest time on three occasions in the 1920s, it's arguably the most prestigious Australian domestic race of them all, rivalled only by Grafton to Inverell and, of course, the National Championship itself, currently held in Buninyong near Ballarat each January.
Like most races with a vintage pedigree, today's Melbourne to Warrnambool is a very different beast from the original event. Officials have tinkered with both the course and the format over the years, to the extent that those brave original riders might have some trouble recognising it. Sometimes the changes have been by choice as promoters and officials strive to improve race conditions for riders, teams, spectators and sponsors. On others, however, it's been more by way of ultimatum from the various local authorities whose borders the race touches each October.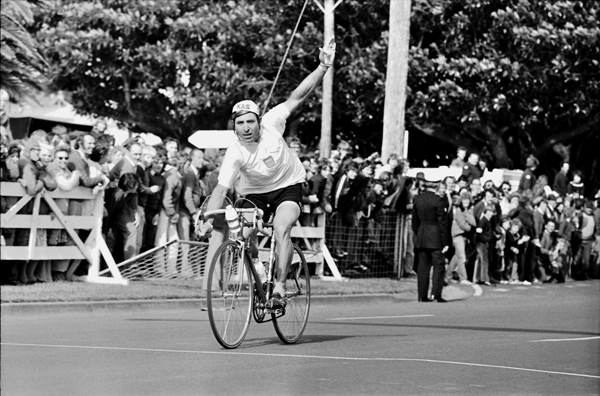 Some of the more significant changes include the 32 times the race has actually been run the other way – that is, west to east with the start in Warrnambool – including the very first race. But perhaps the most fundamental change took place more than a century later, in 1996. The very fabric of the race was altered forever that year when, not without controversy, the Warny became a mass start scratch race instead of the unpredictable and uniquely-Australian handicap it had been since its inception in the 19th Century.
John Craven of Caribou Publications remembers the controversy well; 1996 was the first of his company's 17-year involvement as race directors of the Warny. "After 100 years the race really was on its knees," he recalls. "The local committee were terrific and hugely dedicated people (the Warrnambool Citizens' Road Race Committee is the custodian of the event), but they'd just about run out of steam. I had a few friends on the committee at the time and they asked if we'd get involved. I agreed, but on the condition there had to be some major changes."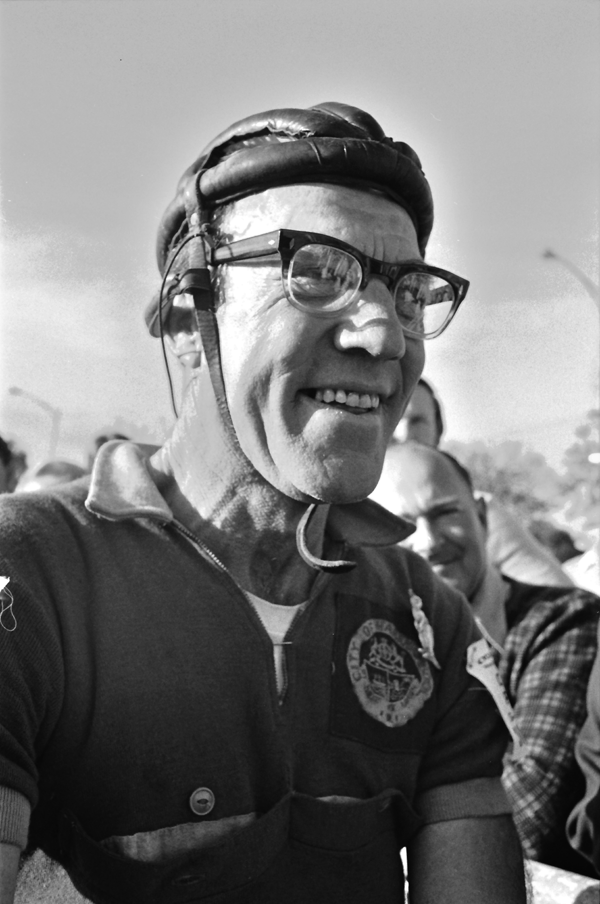 The most significant was switching the format immediately to a scratch race, something the experienced Craven knew would be unpopular but had to be done to ensure the long-term future of the event.
"There were almost punch-ups in the street. I was pretty safe living in Geelong, but in Warrnambool there were several heated exchanges with local riders harassing committee members at the pub," says Craven. "I never let it get to me though, it had to be done. Besides, the more they grizzled the more publicity we got."
Jokes and pugilism aside, Craven has no doubt the race's future was bleaker than a Flemish winter. "Melbourne to Warrnambool was on the verge of being shut down entirely," remembers Craven of the race he still affectionately dubs his 'problem child'. "The limit was out to 1 hour and 20 minutes. The first wave of riders would be in Geelong before the scratch riders had even started – it was a massive drain on police resources to manage so much road, something had to give."
There was another reason for switching to a scratch race, however. "Whilst Melbourne to Warrnambool had always been a great Australian race, cycling was changing and we needed to get it on the UCI calendar," says Craven, pointing out the race was indeed granted UCI status a year later in 1997. "There was no way that would have happened if it stayed a handicap." Craven and the Committee also realised there was little chance of enticing top international riders to travel halfway around the world only to throw themselves at the mercy of parochial handicappers.
Even without the concerns of the UCI and Victoria constabulary, however, Craven also had several of his own. "When we became involved the race started in the Bourke Street Mall in the centre of Melbourne. It travelled over the Westgate Bridge and followed the highway pretty much all the way to Warrnambool." This made it a very direct route. But hardly a safe one. "I remember thinking, we could get ten guys killed if we kept doing that, we had to get them off the highway."
Several course changes were adopted over the ensuing years, the direct result of rider safety and traffic concerns, culminating in perhaps the most significant of all in 2010, when the official starting point was shifted to Werribee on Melbourne's south-western fringes following escalating concerns about inner-city road closures. "It was sad for many people that it came to that, but no great surprise," says Craven, suggesting there was little option. "The police simply weren't going to give us a permit."
For a number of years leading up to the Werribee move, route changes actually saw the Melbourne to Warrnambool become the longest one-day race in the world, trumping even Milan-San Remo at a tyre-width under 300km. It now sits at 256km, still an epic one-day journey by any definition, and typically takes the leaders between six to eight hours to cross under the finishing kite on Raglan Parade, Warrnambool.
Its ride through history has been far from smooth, and as several of its peers continue to experience – most notably the ill-fated 2013 Goulburn to Sydney Classic – the challenges facing elite road racing in Australia are still very real. But with Centenary-edition celebrations just around the corner in 2015, there might just be cause for optimism. A more settled route, the continued growth of the National Road Series and Cycling Australia's direct involvement in the race (CA assumed organisational control in 2013) all suggest the Warny might just be stabilising for the first time in, well, a long time.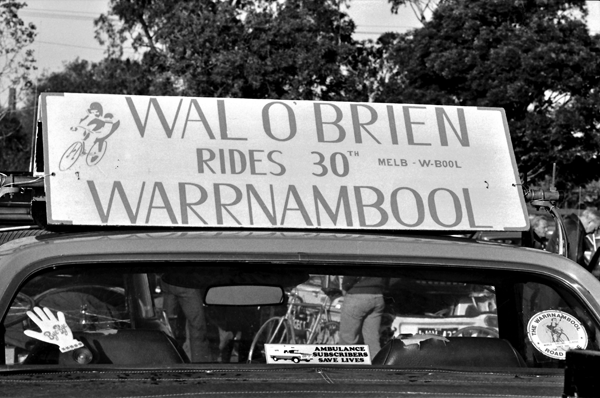 Will it be resilient enough to survive another 100 years? Who knows? But, invoking the spirit of Dan Charleston, you wouldn't bet against it.
The Oiginal Super Mario:
Mario Giramondo, Dual Melbourne to Warrnambool Champion
Arguably the most famous son of the Coburg Cycling Club in Victoria, an honour he shares with Iddo 'Snowy' Munro (who reportedly beat the steam train from Warrnambool to Melbourne in the 1909 race), the late Italian-Australian Mario Giramondo competed in Melbourne to Warrnambool a remarkable twenty times, including overall wins in the 1970 and 1975 editions. In a career that also featured major race and stage wins across Australia, Italy and other corners of Europe, Giramondo's daughter, Connie, recalls Melbourne to Warrnambool was always the race for her father. "It was like the Melbourne Cup for cyclists each year; growing up it was a huge highlight for the whole family."
One of the best known and most respected Australian cyclists of his era, Giramondo believed it was important for a rider to not only perform well, but look the part – perhaps not surprising given his proudly Italian roots. "He always competed in a crisp white cycling jumper for good luck," recalls Connie fondly, "Hand-knitted by his very own sportswear company no less, not many other riders could claim that!" (Giramondo founded Giramondo Cycles in the 1950s with his wife Maria who still oversees the family business.)
Racing long before the advent of organised feed zones and energy bars, Giramondo's made-to-order jerseys had extra pockets sewn into the front as well as the back to accommodate additional food and drinks for the epic journey to Warrnambool. His pockets were typically bulging with Maria's home-made rice cakes – essentially a secret recipe of eggs, rice, water, sugar and sultanas – packed with carbohydrates.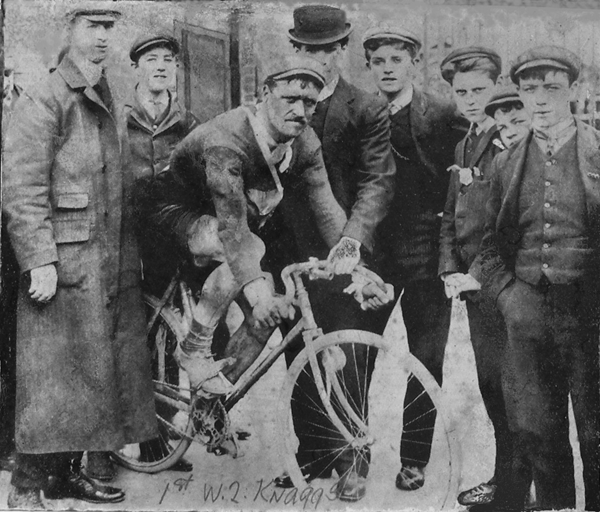 "Towards the end of the race Dad would always unload anything he had left to shed weight," Connie remembers. "He'd pull back to us in the family car – we always followed the riders in the race convoy – and dump the contents of his pockets through the window, which we quite gladly devoured ourselves." So whilst Mario suffered through those final agonising kilometres each year, his family ate like kings.
In a riding career with more peaks than the Victorian Alps, it's fair to say Giramondo's finest hour as a cyclist came in 1975 when he won the Diamond Jubilee edition of Melbourne to Warrnambool, despite hitting a spectator's dog with just 250 metres to go on Raglan Parade. With his wheel buckled, he still somehow managed to nurse his broken machine across the finish line, winning by little more than a bike length as his rivals closed rapidly. He received a commemorative diamond ring for his victory that day; a ring still worn proudly by Maria today.
"It was just amazing to see and hear the crowds cheering for Dad that day, not just because of who he was but also how he won," smiles Connie. "It was like the finish at the Tour de France, but in Warrnambool instead of Paris!"
Five years later in what proved to be his final ride in the Warny, Giramondo competed strongly once again in 1980 and, under different circumstances, might just have won his third title. Prior to the start Giramondo requested an official 'move out', feeling he'd been harshly treated by overly-cautious handicappers. Yes he was a dual Champion. But, as he argued unsuccessfully, he was also 48 years old.
The 1980 race was ultimately won by an amateur, John Hine, who started in the 30-minute bunch just one group ahead of Giramondo on the road; ironically the very same group Mario had asked to be moved into. But it wasn't to be.
Shedding an even more remarkable light on his performance that year, Giramondo was to die tragically from liver cancer just four months later in February 1981. Whilst his illness was unknown to him at the time of the race, it was almost certainly there. Yet, incredibly, he still might have won.
Over thirty years since his passing the Giramondo name lives on in Australian and Victorian cycling, as does Mario's legacy thanks both to the family business and a long line of talented Giramondo progeny. His son Agostino raced Melbourne to Warrnambool himself on many occasions in the 1980s and 1990s, including once in the very same race as his late father when he was just 16. Today, Agostino is Directeur Sportif with Drapac Professional Cycling, one of the most successful protagonists in the Subaru National Road Series in recent years, and winner of the 2010 Melbourne to Warrnambool with Rhys Pollock and again in 2012 with Dutchman, Floris Goesinnen.
Giarmondo's grandchildren include State representatives on both road and track, with their bloodlines always drawing plenty of attention. "Everywhere we go, Dad's name is still mentioned," says Connie proudly. "Even when my kids are racing the announcers will still bring it up: 'Grandfather Mario Giramondo, dual winner of Melbourne to Warrnambool.' It's nice, really nice."
Ken Mansell, Cycling Historian with the History and Heritage Committee for Cycling Victoria, points out that Giramondo's conqueror in 1980, John Hine, will be forever indebted to legendary British female track and road cyclist, Beryl Burton. "The promoters had arranged with great fanfare, and no doubt considerable expense, to bring Burton to compete in the race that year," says Mansell. "On her arrival in Australia they were horrified to discover the seven-time world champion was still resolutely amateur – and were forced to hastily open the doors of the Warny to all comers, paving the way for Hine to compete in the race, which he duly won."