Not even a WorldTour professional at the previous Tour Down Under, Jay Vine arrived with a bang at the 2023 TDU and won the race. Now closing in on his first start at the Giro d'Italia, we look back at the Jay Vine story.
The path to the top level of global cycling, the WorldTour, appears to have transformed in recent years with Aussie rider Jay Vine leading the way.
In late January 2023, the male and female winners of the most recent two WorldTour races – the Women's Cadel Evans Road Race and at Men's Tour Down Under – were both reigning E-sports World Champions. Those two riders? Loes Adegeest of FDJ-Suez and Jay Vine of UAE Team Emirates.
Dutch rider Loes Adegeest is 26yo, has just started her first season at the top level of the sport, and indeed, beat in-form veteran Amanda Spratt in the final sprint of the Deakin University Elite Women's Race in Geelong.
A former speed skater, Adegeest's journey to her first WorldTour victory has been far from conventional and the year ahead is very exciting for the rising Dutch star. We will have more on Adegeest over on the Bicycling Australia website soon.
From E-Sports To The Giro
With a similar backstory to the 26yo Adegeest, 27yo Jay Vine was the 2022 male E-Sports World Champion after winning the UCI-sanctioned, Zwift-based competition. In January this year Vine said he would not be defending his E-Sports Rainbow Jersey – fair enough considering his phenomenal summer of cycling and hectic race schedule with superteam UAE Emirates.
"The start of the 2023 season, winning the Australian Time Trial Championship and then the Tour Down Under, has been a dream," Vine said in his typically understated manner.
"It has seen me realise goals I've set and worked hard to achieve, and continue the wild journey professional cycling has taken me on so far.
"The 2022 season has also brought surreal moments including being crowned E-Sports World Champion, proudly taking home the Rainbow Jersey."
"Combining road racing with E-Sports has been important to me, to honor my development pathway through cycling as well as the privilege of representing Australia alongside my wife Bre,"
"But for now, this balance will have to shift towards my professional road racing, and as such I won't be able to defend my Rainbow Stripes – my commitment is needed at UAE Team Emirates."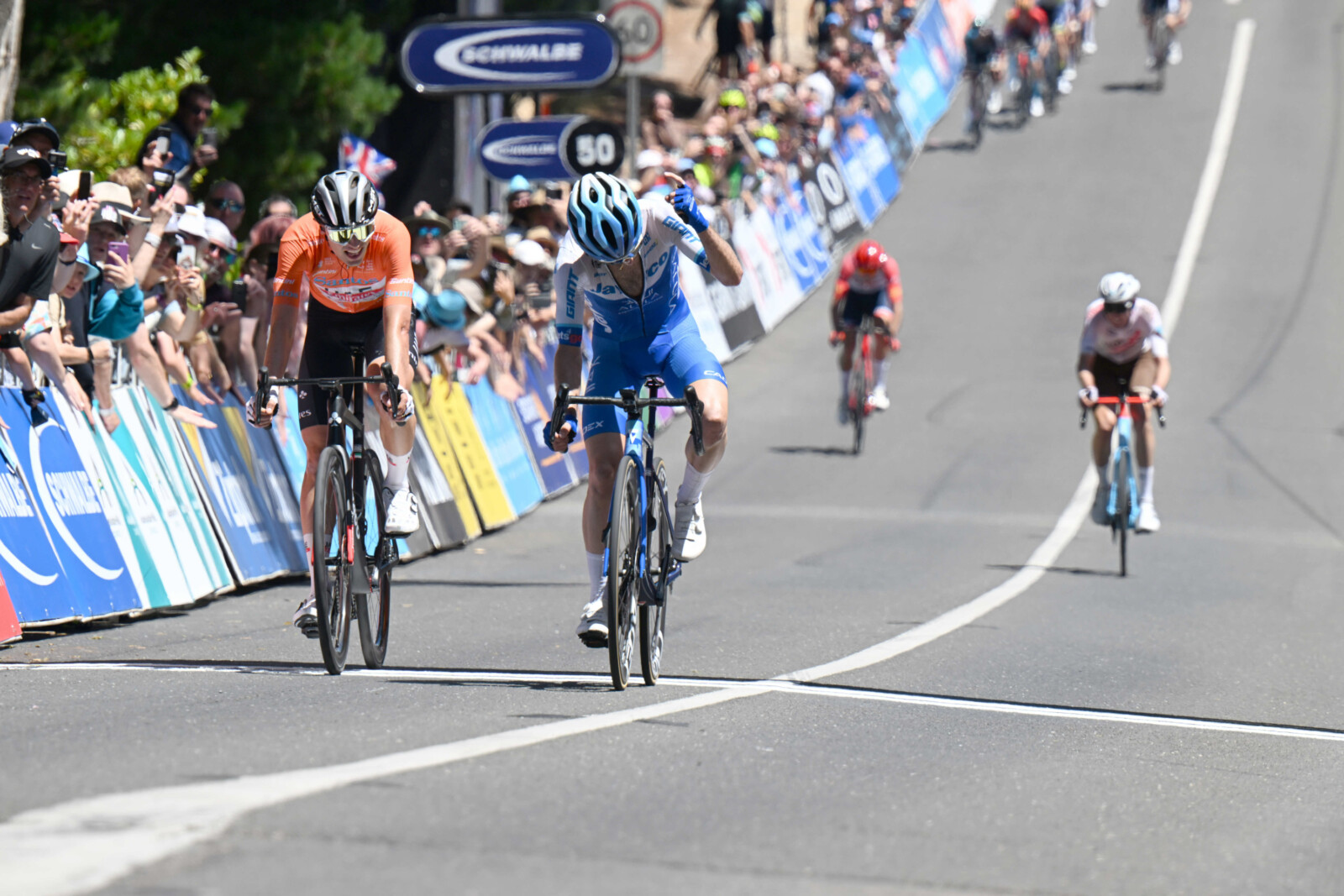 Focus, Direction And Planning
Jay Vine started season 2023 in a similar fashion to his 2021 entrance to the WorldTour – with focus, direction, brains and a firm plan. But if 2021 kicked off with a bang, 2023 started with a sonic boom.
Within a 12-month period he had secured a Rainbow Jersey (E-Sports), a National Jersey (2023 Australian Time Trial Champion at Buninyong), and the revered Ochre Jersey of the Santos Tour Down Under.
To think he wasn't even a WorldTour professional the last time the Tour Down Under was held in 2020, and the previous winner of the race was Richie Porte, and you start to realise the Jay Vine trajectory.
Jay Vine – the story so far
After winning the 2020 Zwift Academy, Vine signed with WorldTour team Alpecin-Fenix. Together with Bre, the pair moved from Canberra to the pro cycling epicenter of Girona in northern Spain.
One of his first major races with the team was the 2020 Tour of Turkey, a huge step up from being first rider home at Bicycling Australia's 2017 Bowral Classic, then signing with Nero Continental and enjoying a solid 2020 Herald SunTour result against big name WorldTour professionals.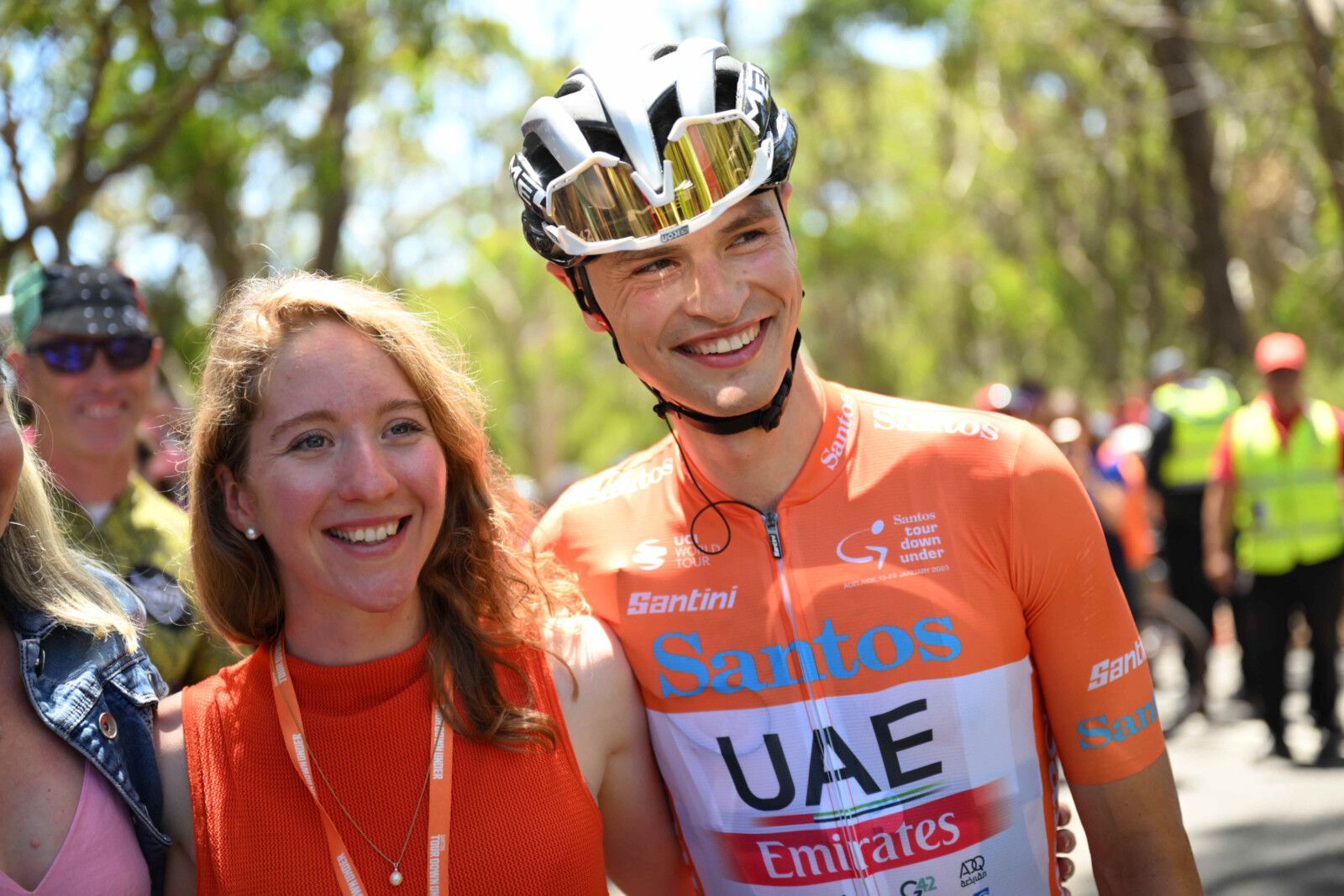 Jump forward to the 2021 Tour of Turkey and Vine proved the previous year's result was no fluke. Again finishing 2nd overall, he firmly put his mark on the race and went on that year to ride his first Grand Tour and score a top 3 stage result, Stage 14 of La Vuelta.
In 2022 Vine returned to La Vuelta, clearly hungry for a higher step. And sure enough the boy from Canberra delivered – he won two of the toughest mountain stages of the race, six and eight.
To the present day with 'superteam' UAE Emirates, Grand Tour selection is way more an absolute certainty than wishful thinking. Announcing he is focusing upon the '23 Giro d'Italia, he hinted his best form was yet to come.
"To be able to have my first overall GC, my first race with my new team in my home country … it's indescribable," he said.
"The last guy to win this was Richie Porte," Vine continued. "He was an idol of mine, and to be standing here two years after he was here is pretty special. I'll remember this forever."
"This is just the start of my build for the year," he said after the final stage. "We will see what happens in the next few races."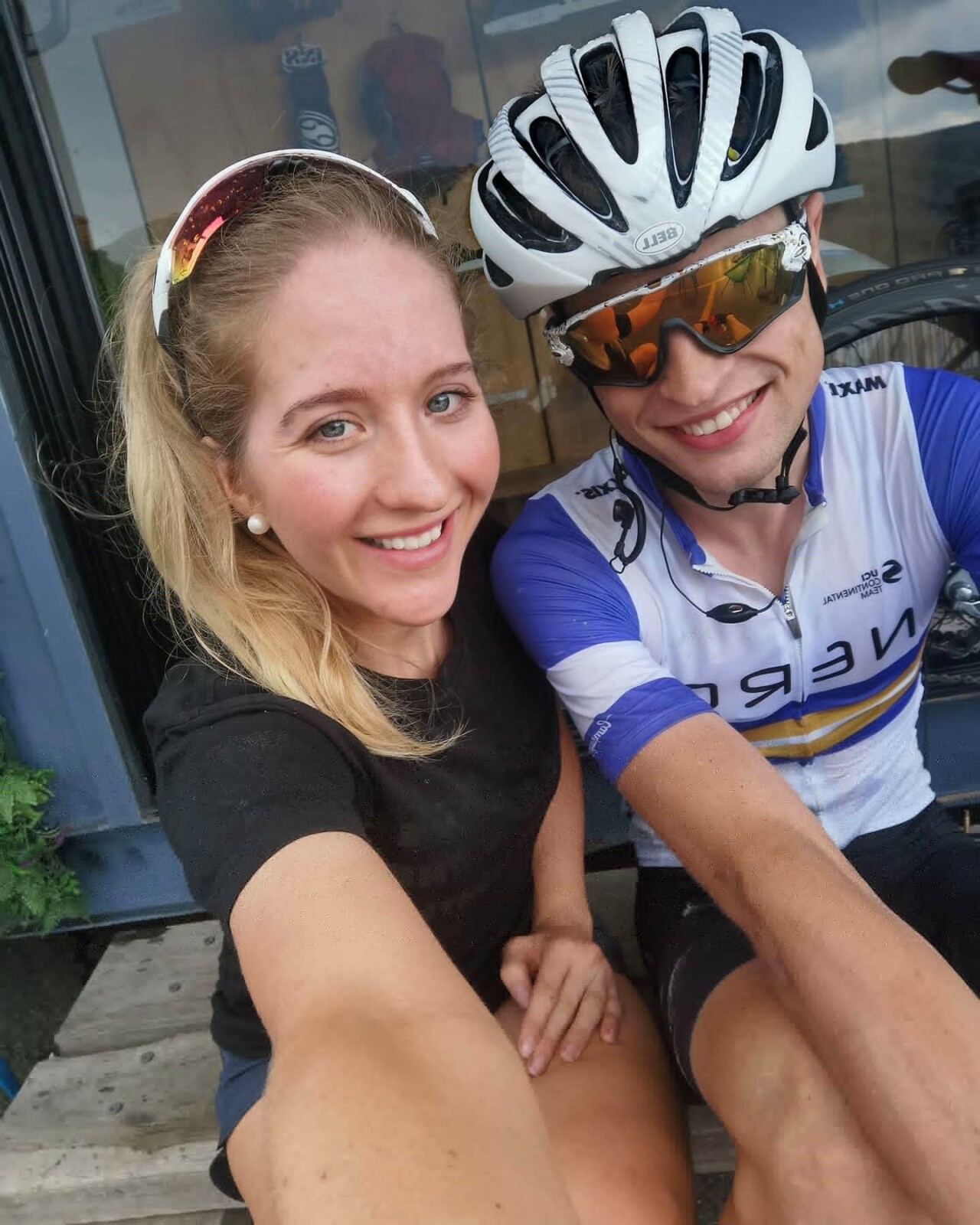 Jay's Top Team
Jay's wife Bre is not only his closest confidante but a critical part of his success. An accomplished rider in her own right, Bre also represented Australia at the 2022 E-Sports World Championships.
We spoke extensively with Bre during Tour Down Under week and she explained how the couple work together.
"We have talked the stages through and he always has a good plan," she said.
Sitting on the top tube of her bike – a Colnago V4Rs – Bre told us she'd been busy riding Adelaide and "doing lots of course recons".
"Stage 3 and 5 have been the two rides I've been doing more consistently," she explained.
"Mainly to get a vibe of each course so we can later talk about it later. I pass on details about points we think he can go for it."
And of course, stages 3 and 5 were where the race was won, Jay making his pivotal move on the Corkscrew, and then maintaining his lead over nearest rival Simon Yates on Mt Lofty.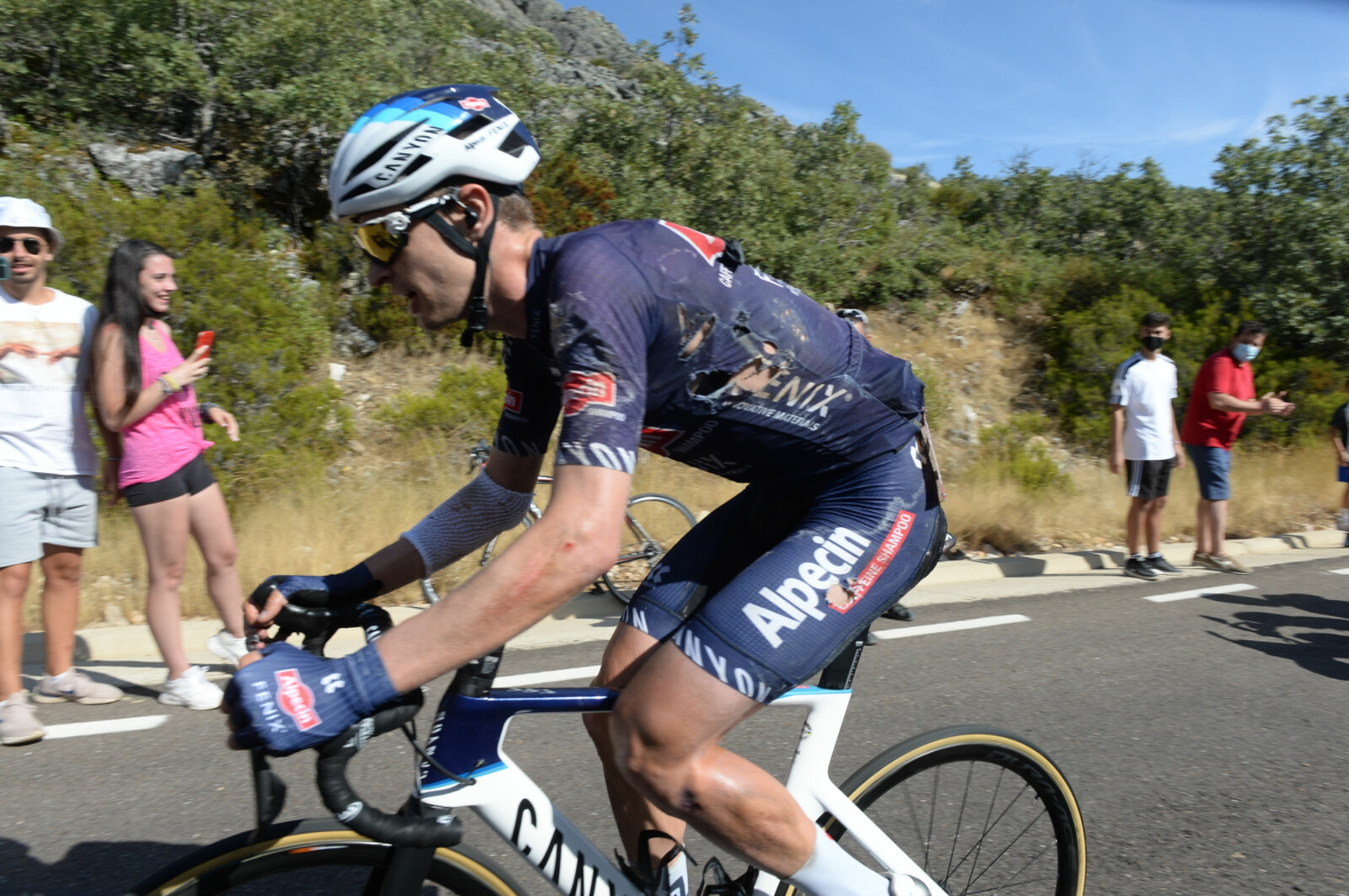 On the TDU win and season ahead, she said despite all the attention Jay was keeping a level head.
"Racing the biggest cycling names is daunting, but you can't have that overwhelm you," she told us.
"Our mindset has been 'this is a really promising start to the season and we should be excited for the future racing ahead.'
"We've taken some pressure off Jay, now he has two major results on the board, but in the same breath that has set the expectations quite high. So it's a rather unique balancing act. I think this has given us confidence moving forward, and has helped set the tone for the coming seasons with UAE." 
Jay Vine is expected to start his first Giro d'Italia on Saturday May 6. Bicycling Australia will feature full daily highlights on our website and socials.