25yo Dane Jonas Vingegaard has won the Tour de France, the Team Jumbo-Visma rider finishing safely on the Champs-Élysées to for his debut Tour victory.
Vingegaard also won the polka dot jersey for best climber while teammate Wout van Aert won the green jersey was awarded most combative rider of the '22 race.
Two time Tour winner Tadej Pogacar finished 2nd while 2018winner Geraint Thomas finished 3rd.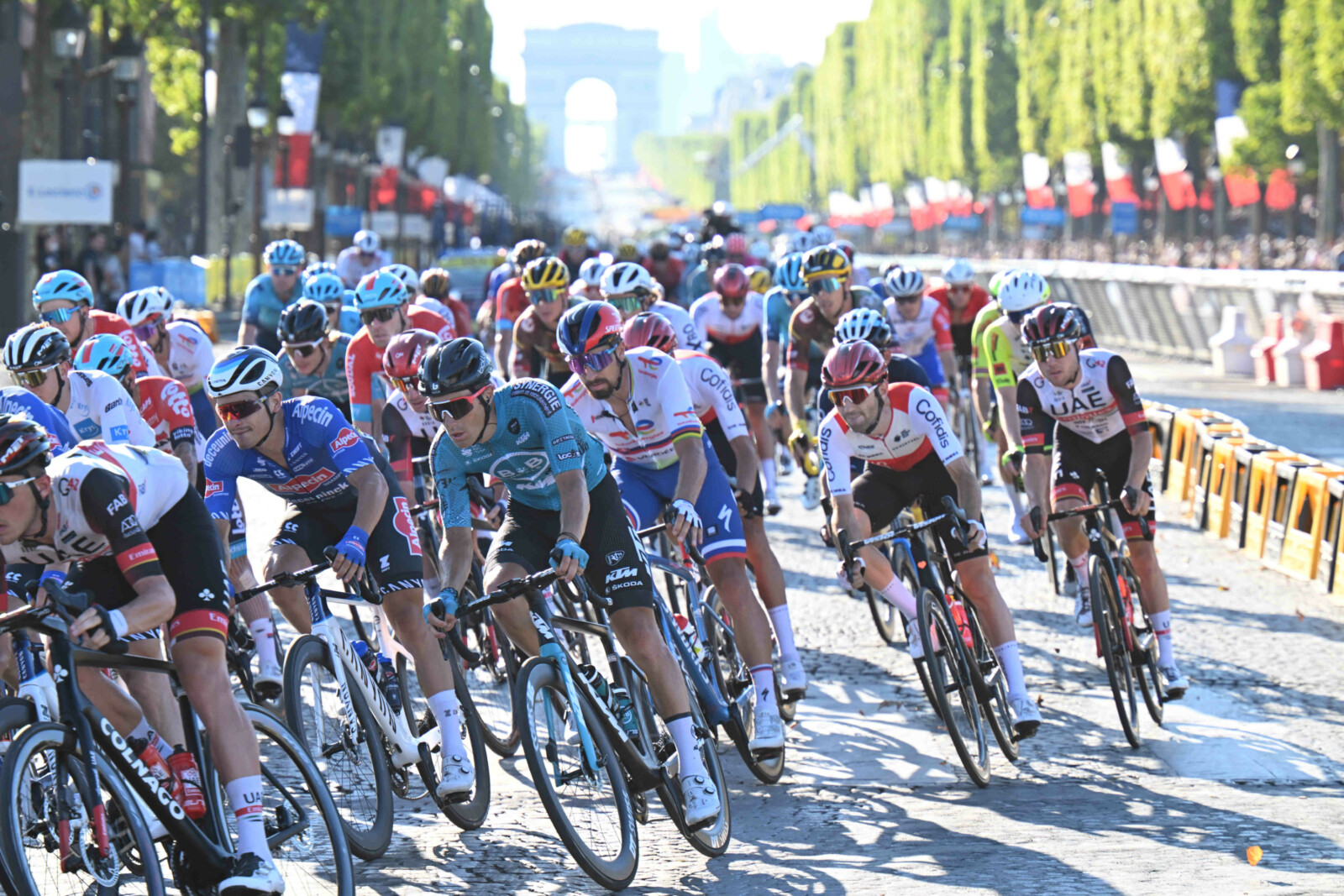 It was an emotional day for Vingegaard who came close in 2021 – and a reminder to those who haven't seen the Jumbo-Visma documentary 'Plan B' please do – it really puts the gravity of the win into context.
"This means everything to me", Vingegaard said in Paris after the historic win.
"It is the most prestigious prize in cycling, the biggest race in the world. It makes me proud that I can share this success with my family. We did a fantastic job as a team in the past few weeks. We will celebrate this. I thank every member of the team—both the riders and the staff. Since last year I believed I could win the Tour. The fact that my dream has come true is indescribable. This is the best moment of my life."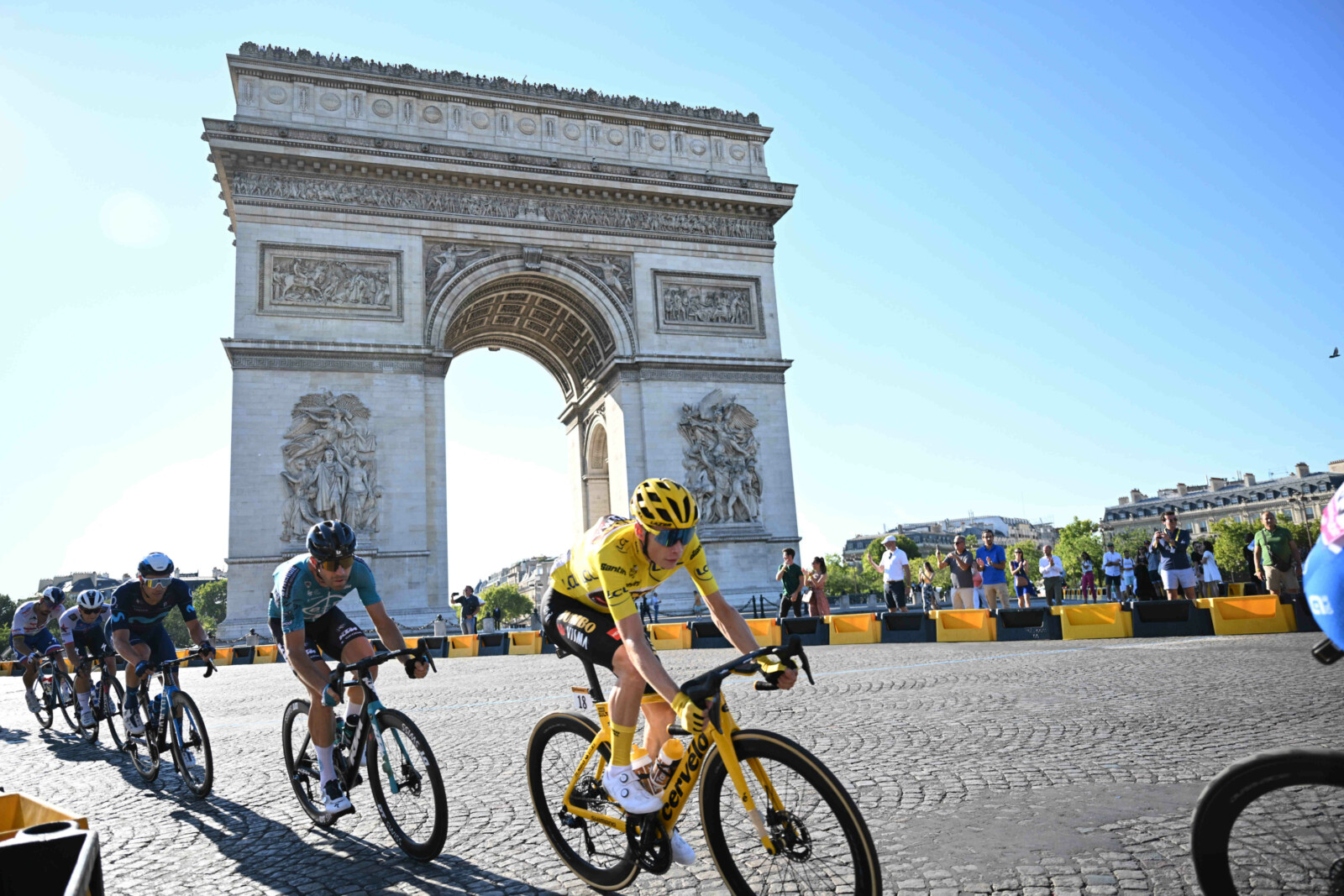 In another fairytale finish Jasper Philipsen won the final stage into Paris. Philipsen outsprinted some of the best in the world to win over Bike Exchange-Jayco rider Dylan Groenewegen with veteran Alexander Kristof third.
Top 3 Overall
1 Jonas Vingegaard 79:33:20
2 Tadej Pogačar UAE Team Emirates +00:02:43
3 Geraint Thomas INEOS Grenadiers +00:07:22
Stage 20 Jumbo Visma Domination Continues As Wout Wins Time Trial
Wout van Aert demonstrated he is a complete allrounder on the bike in winning the Stage 20 individual time trial at the Tour de France overnight.
Van Aert was the fastest over forty kilometres with yellow jersey wearer Jonas Vingegaard finishing second. It was the team's the third consecutive victory and the Dutch team now has six stage victories in this Tour.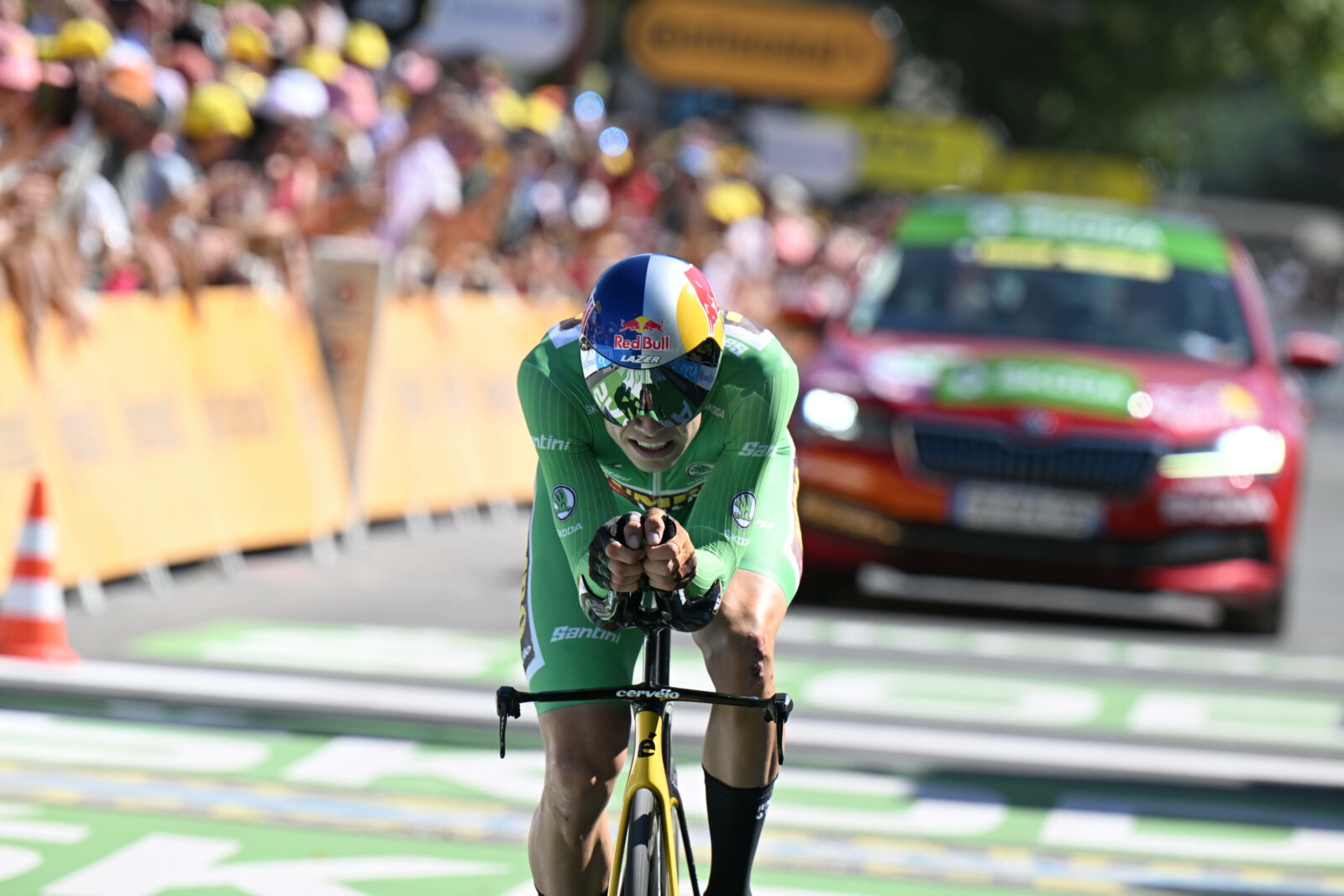 "This is unbelievable", Van Aert said. "These three weeks are beyond comprehension. We are riding with a powerful team. I thank the whole team and the entire staff from the bottom of my heart."
Van Aert, who has enjoyed eight wins this season, said the latest victory meant an enormous amount to him.
"We are making our dreams come true. Dreams for which we have been working very hard for so long. Today in the time trial, another dream scenario took place. I gave everything to achieve this. I think I organised my time trial perfectly. I live to win races. Jonas can bring the yellow to Paris tomorrow. It's really very special to be part of this team."
Top 3After Stage 20
1: Jonas Vingegaard
2: Tadej Pogacar
3: Geraint Thomas
Christophe Laporte Wins Stage19
Jonas Vingegaard and Wout van Aert may have been duking it out for many of this year's TDF stage wins, but teammate Christophe Laporte now also has a victory to savor.
Winning Stage 19 of the Tour de France in Cahors, the 29-year-old Frenchman rode away just before the line to finish solo and secure Team Jumbo-Visma's fifth Tour stage victory and the 31st of the season.
The top 3 remains unchanged with Vingegaard leading the race ahead of Tadej Pogacar and Geraint Thomas.
Stage 20 is a 40km individual time trial prior to the processional final stage into Paris on Sunday.
Jonas Vingegaard Wins Decisive Stage 18 On Hautacam
Jonas Vingegaard has won on the Hautacam, one of the toughest stages of the 2022 Tour and one many have said is the final decider.
Now three minutes ahead of Tadej Pogacar, it's highly likely Jonas will be crowned the '22 Tour champion.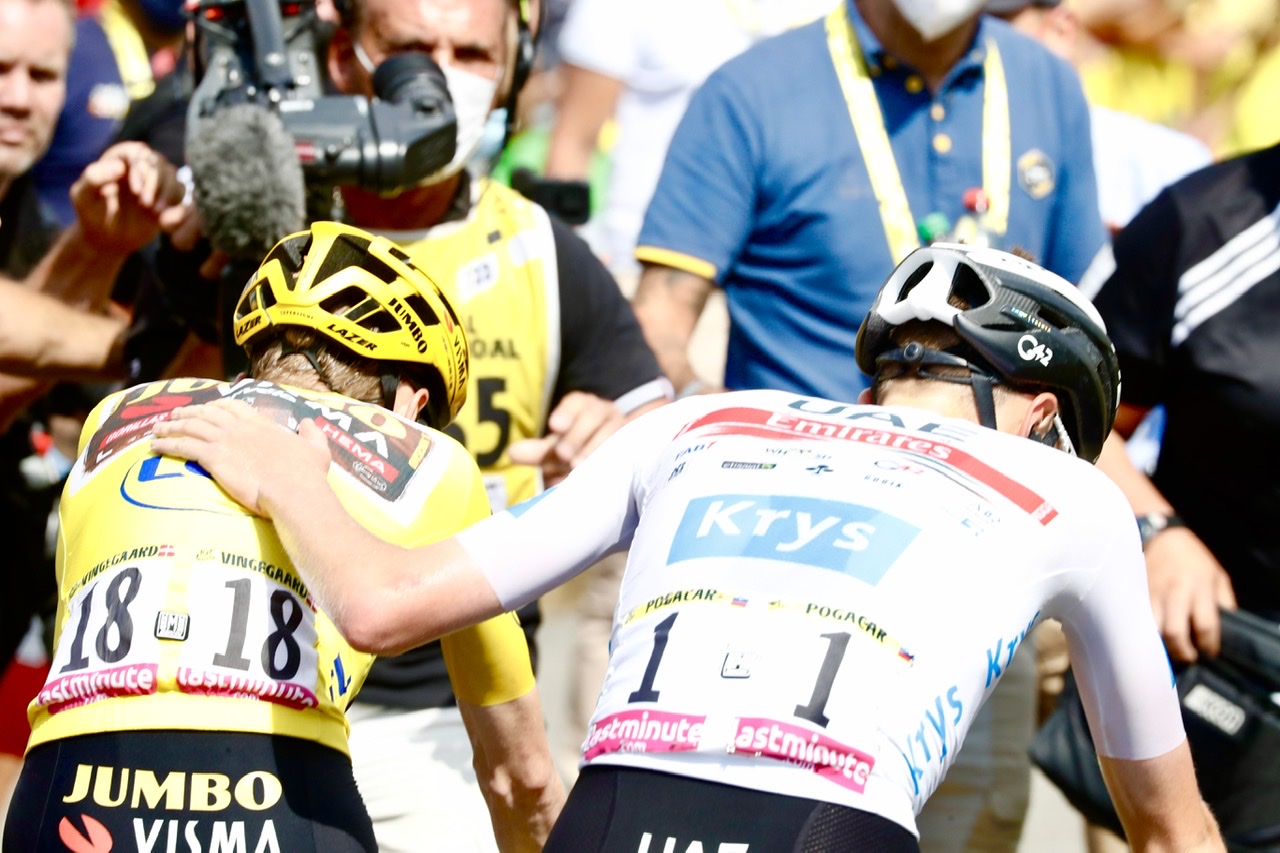 "This is unbelievable – I told my girlfriend and daughter that I wanted to win for them and I did. I am super happy", Vingegaard said.
"It was a tough day and I'm glad it's over. The team was super strong and I want to thank Wout, Sepp, Nathan, Tiesj and Christophe. I won thanks to them. Tadej was strong and made some solid efforts on the Col de Spandelles. I was afraid he would attack again on the final climb because I was at my limit. Luckily I had Wout with me who was able to make the difference."
Overall Top 3 After Stage 18
1 Jonas Vinegaard
2 Tadej Pogačar +00:03:26
3 Geraint Thomas +00:08:00
Pogacar Wins Stage 17 But Jonas Holds Overall Lead
Tadej Pogacar has won his 3rd Tour stage – the 130km Stage 17 with three Cat 1 climbs – however Jonas Vingegaard still holds a 2+minute overall lead.
Tadej attacked Vingegaard over the crest of the final clim for the win, with UAE teammate Brandon McNulty finishing third and being awarded most combative rider of the day.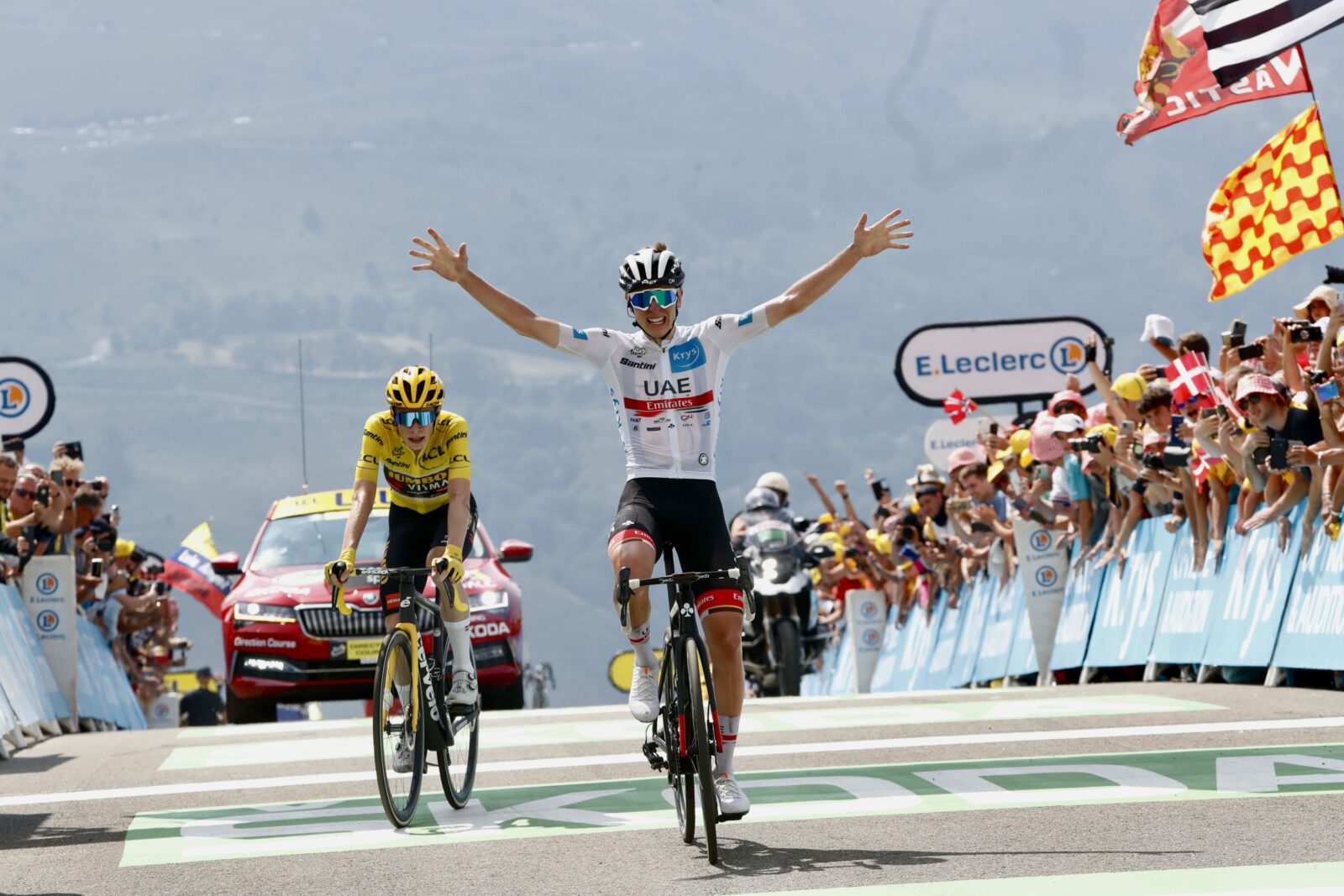 "The way the team rode today, we couldn't help but aim for victory," said 'The Pog' after the win. "Let's see how it goes tomorrow, but for the moment I'm very happy with this victory – in the final I gave everything, I knew I couldn't do anything other than win, I owed it to the team. Marc, Brandon and Mikkel did a great job and we were able to give each other strength. There is still an important stage tomorrow and I want to give my best."
Stage 18 will be the final Pyrenean stage – it's 143.2 km from Lourdes to Hautacam and includes three decisive climbs in the second half of the race.
Hugo Houle's Win For His Brother
Israel Premier Tech have enjoyed their second TDF stage win after Canadian Hugo Houle's victory in Foix. The victory comes after teammate Simon Clarke's Stage 5 victory, and Chris Froome's 3rd place at Alpe d'Huez on Stage 12.
The Canadian crossed the line with his arm raised in the air pointing to the sky, dedicating the win to Pierrik, his brother who was killed by a drunk driver ten years ago.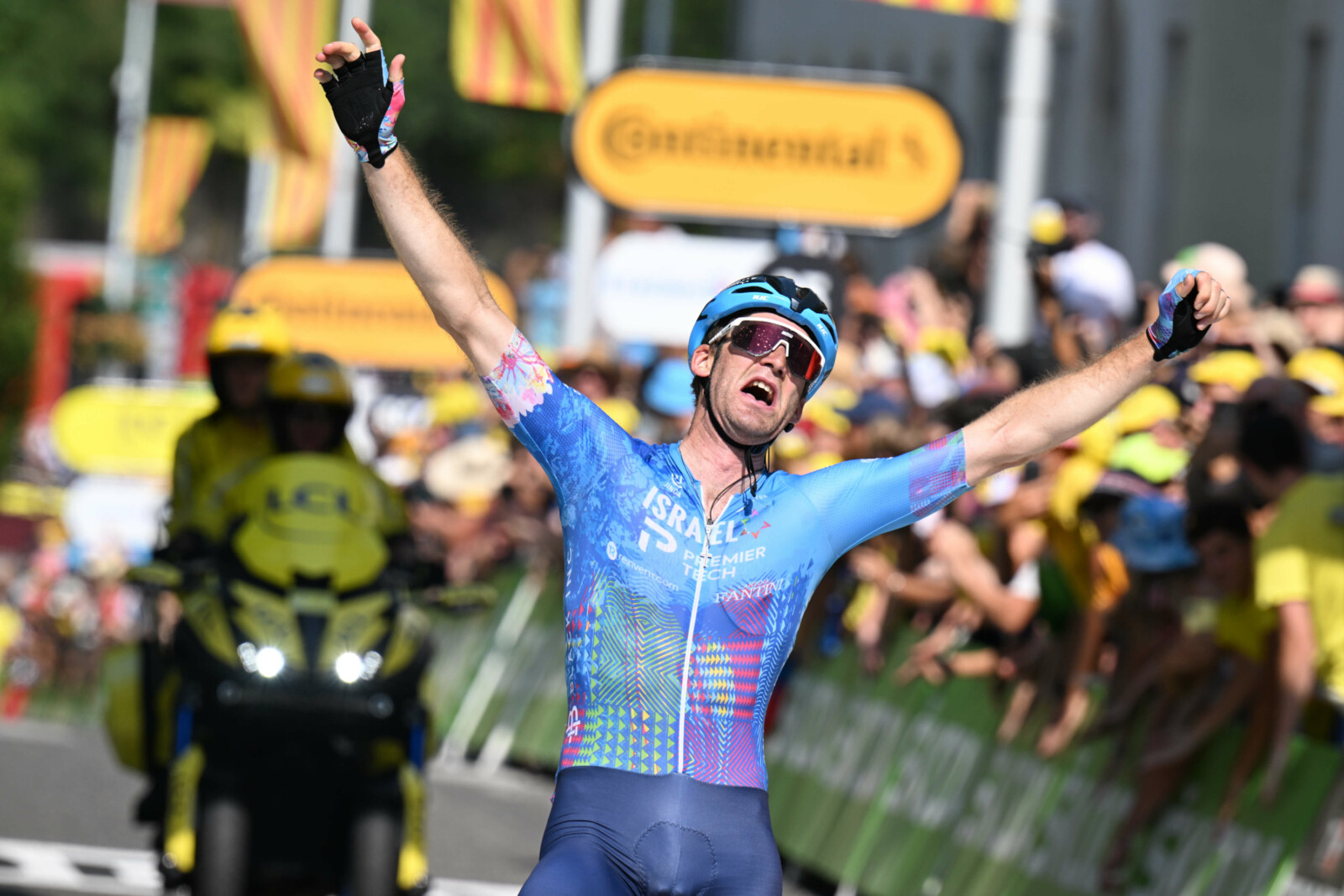 "I could not believe it when I crossed the line. I was just so happy. It was what I have been dreaming of for the past ten years. This one is for my brother," said Houle.
"You never know how it will turn out in the breakaway," he continued. "Sometimes you need some luck. I mean I was strong and everything went smoothly. I said 'Ok I am really tired but if I go up the road then it's easier for Mike'. Nobody wanted to commit and the gap was 40 seconds, then 30 seconds. And then it was just a time trial to the end, all or nothing."
Tonight's Stage 17 will showcase three category 1 climbs and is set to be a thriller as Tadej Pogacar tries to chase down Jonas Vingegaard's near 3 minute overall lead.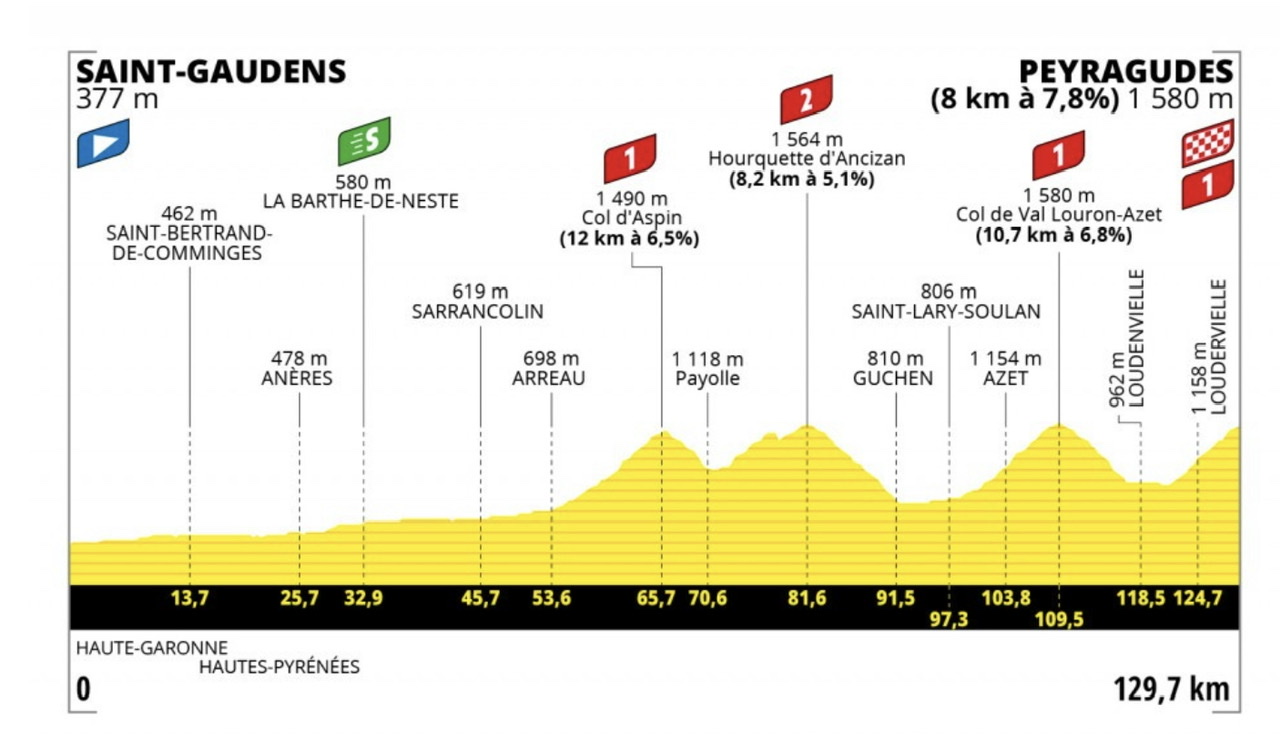 Jasper Philipsen Wins Stage 15 As Major Teams Suffer Losses
Alpecin-Deceuninck's Jasper Philipsen enjoyed his first major Tour de France win, the Belgian sprinting across the line to take Stage 15 honours.
In other major developments Jonas Vingegaard survived a crash and lost two key team-mates, Primoz Roglic befor e the stage and Steven Kruijswijk from a crash during it.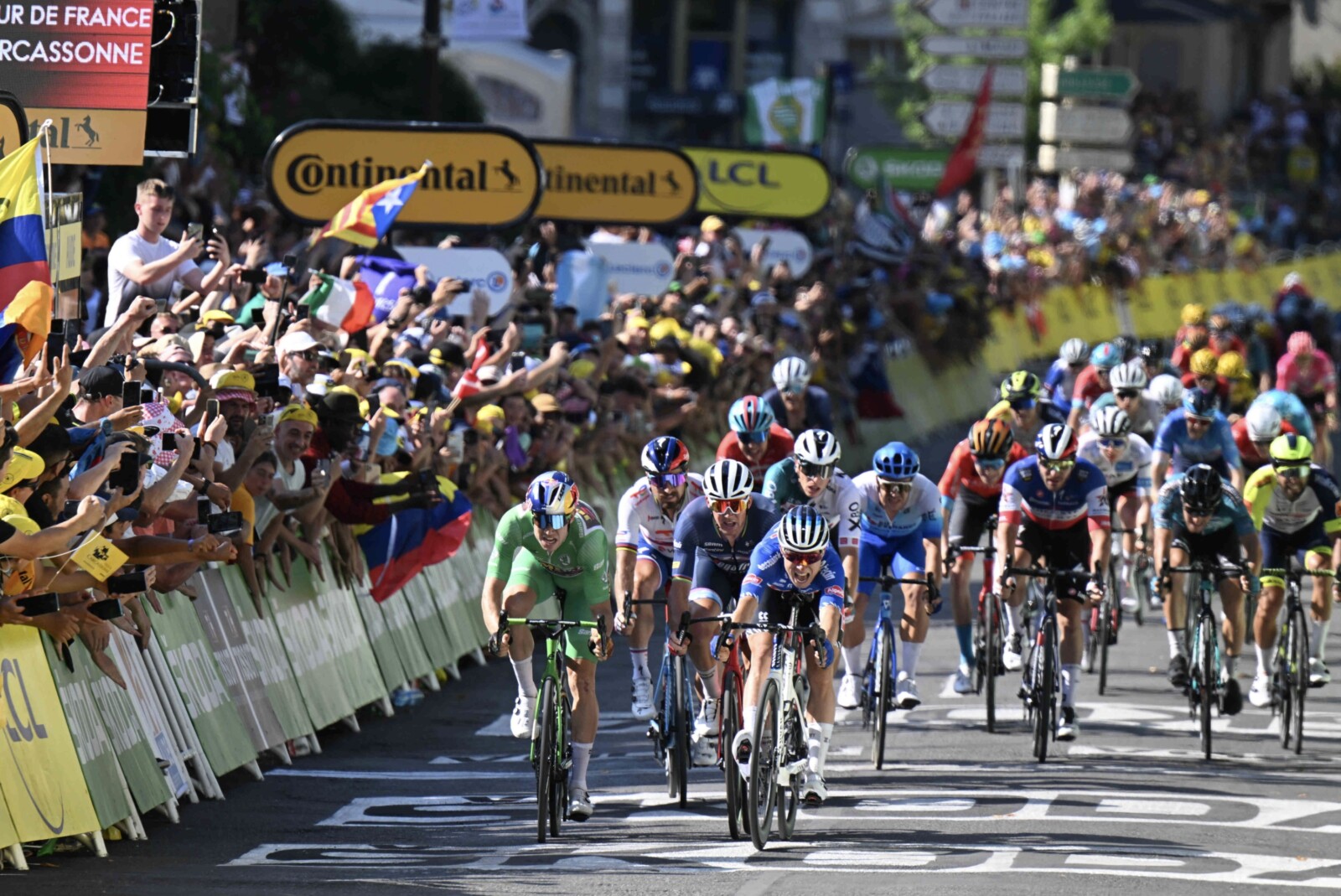 Vingegaard still leads the race by more than 2 minutes over Tadej Pogacar, with Ineos Grenadiers Gerain Thomas in third. In what's shaping up to be a thrilling final week of racing, Ineos have a full support team while Jumbo Visma and UAE Emirates have lost numerous riders.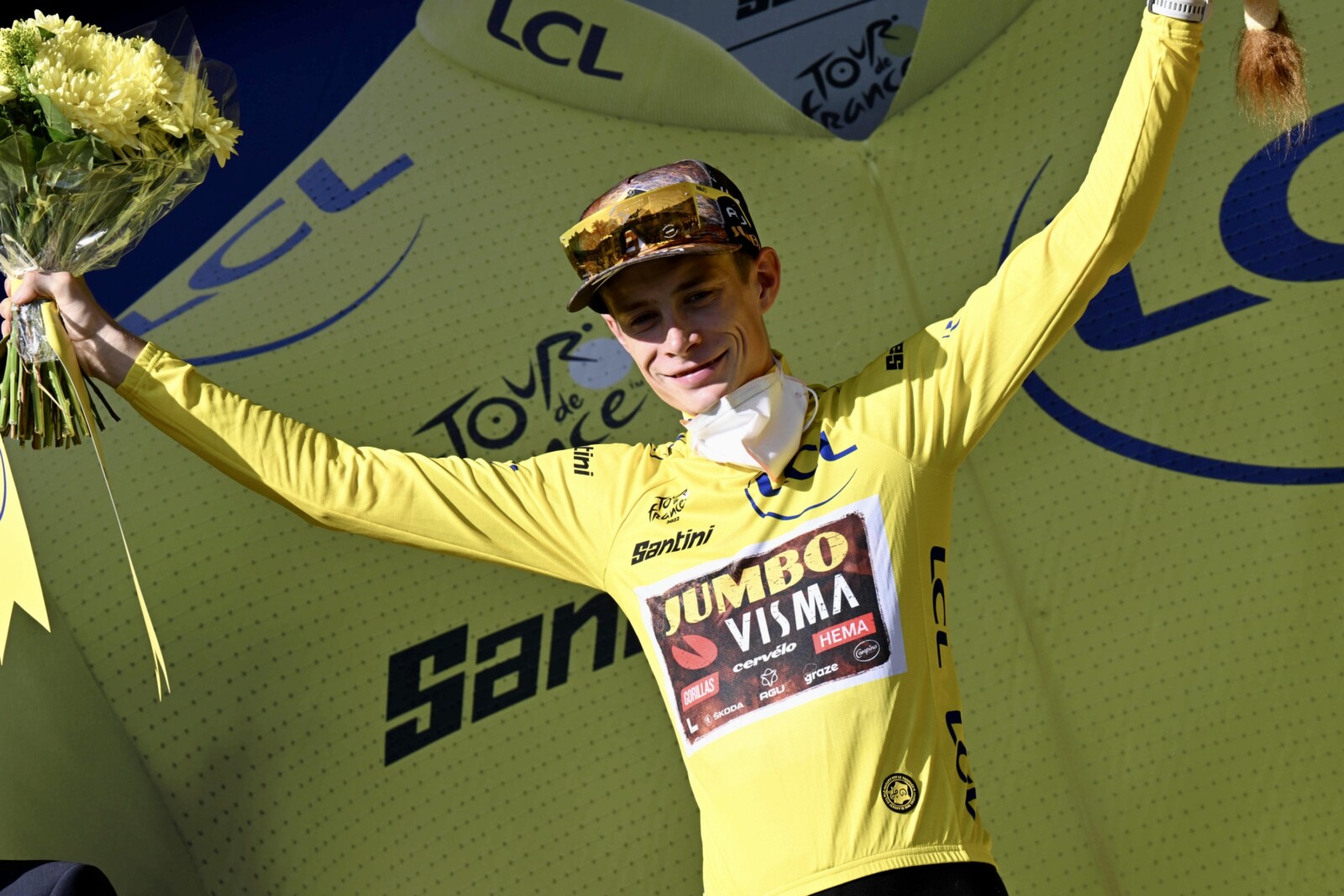 Monday's rest day seems perfectly timed, with much of France under heatwave conditions. The race heads to the Pyrenees on Tuesday for the 178.5km Stage16 from Carcassonne to Foix.
Michael Matthews Scores Stunning Stage 14 Victory
It is being described as Michael Matthews best performance of his career and was a truly spectacular win – Bling has won Stage 14 of the 2022 Tour in Mende.

The victory is the 4th at the TDF for Matthews and the second for the team in 2022 after Dylan Groenewegen's sprint success on stage three.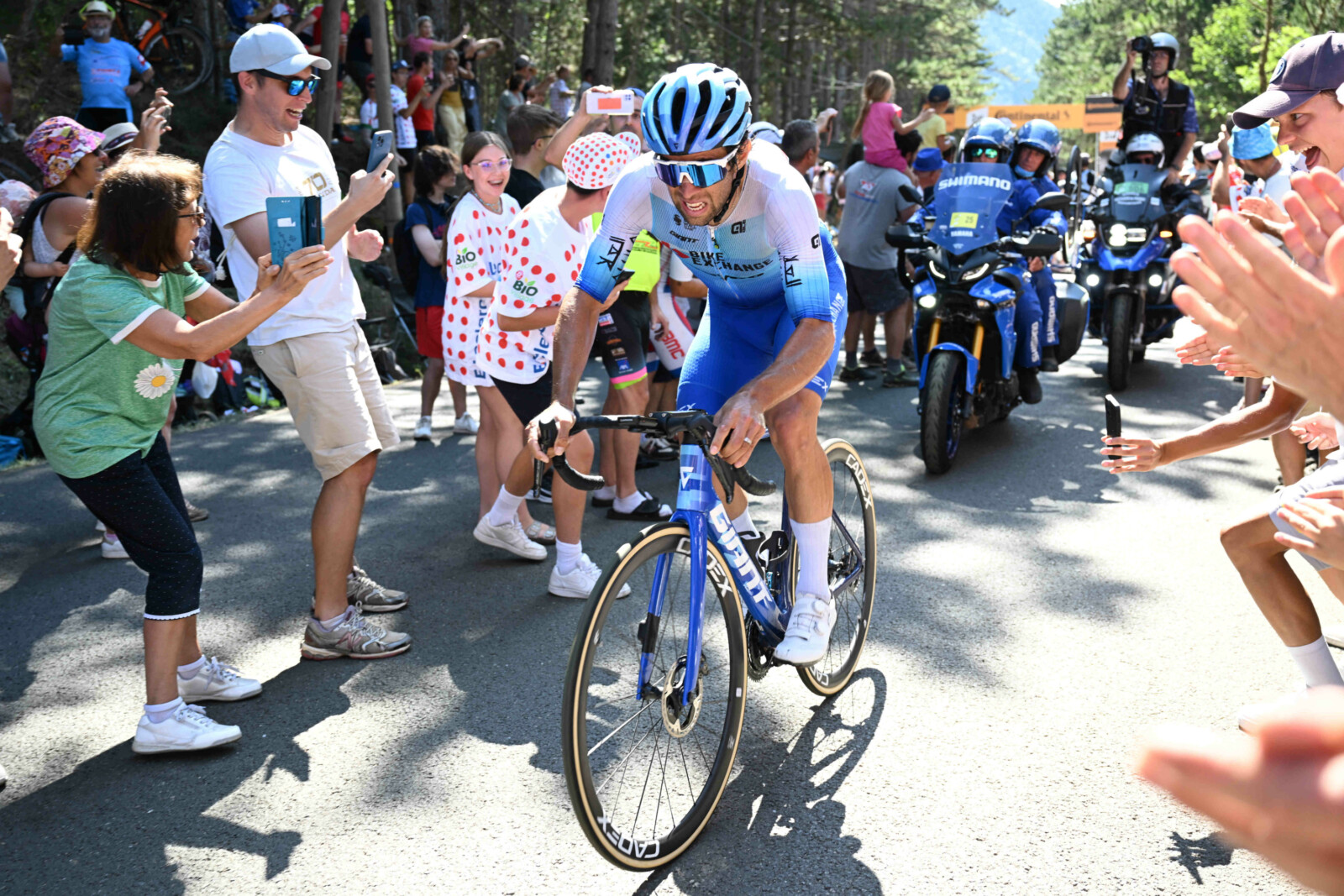 "I think this is pretty much the story of my career," said an ecstatic Matthews after the stage. "I've had so many rollercoasters, ups and downs. How many times I've been smashed down, to all the time get back up, this was for my daughter today."

'I think I just wanted to show everyone that I'm not just a sprinter, I can also ride like today and was just thinking of my daughter on that final climb, all the way up to the finish, and my wife, how much sacrifice they make for me to make my dreams come true. Today I showed them the reason why we sacrifice so much."

"After yesterday, I think that was a big opportunity missed. Yesterday was a really good stage for me, this three day block, from yesterday until tomorrow was what our team was aiming for in the second week.

Bling said Stage 14 knew would probably be his last chance to win at the 2022 Tour.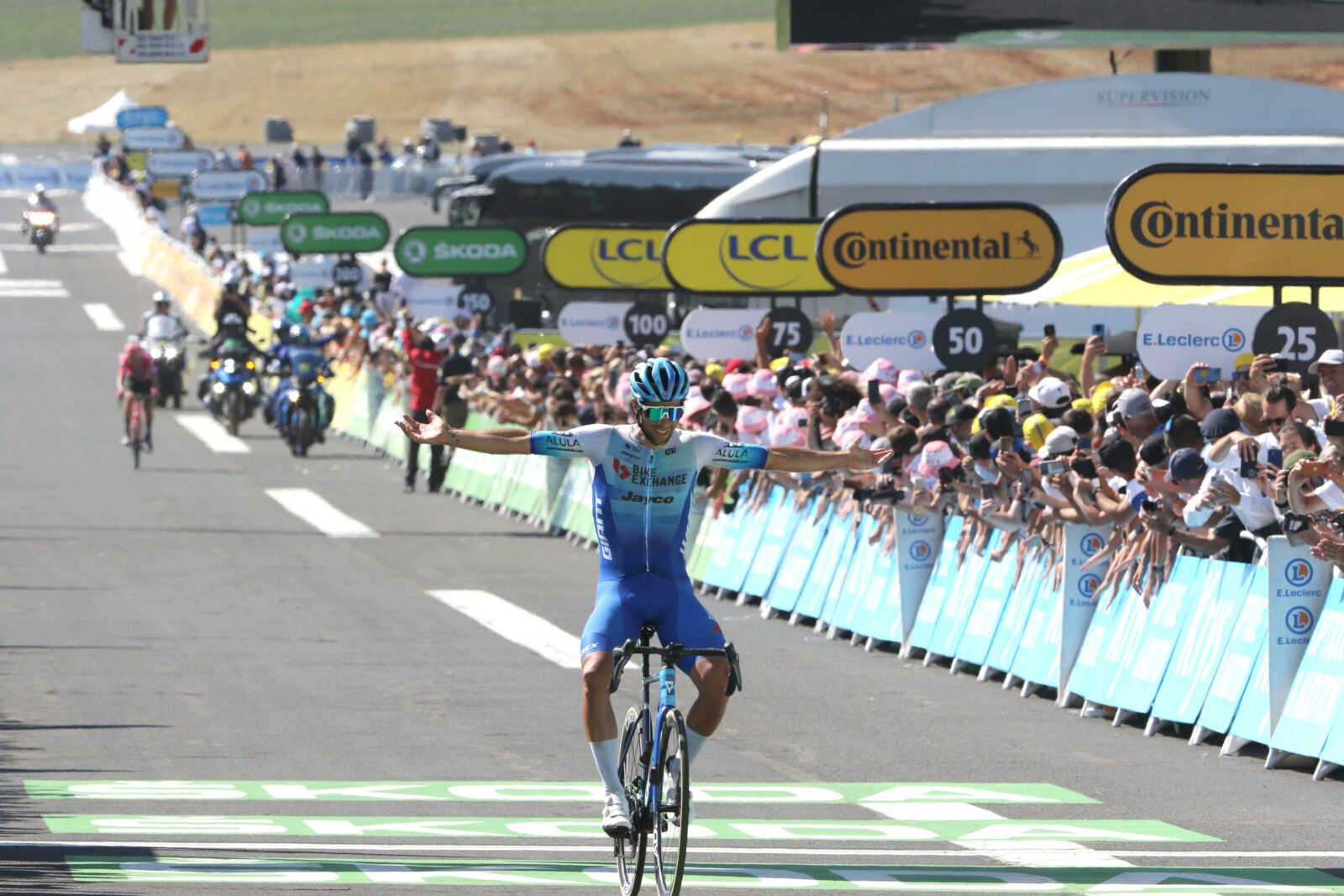 "Lausanne was a big opportunity, I came up second, then I was second to Tadej, second best again, so it is extra special to get the victory today."
Team Director Matt White it was a very special day and Michael thoroughly deserved the win.
"Today was very special on a few fronts firstly, things didn't go as planned yesterday so we had to turn things around and turn things around quickly," he said.
'What does it mean after three second places, I think for Matthews it is the most impressive ride of his career.

Stage 13: Mads Pedersen
Trek-Segafredo's Mads Pedersen can add a Tour de France stage to his palmares, the former World Champion winning the Stage 13 final sprint.
"It's incredible to finally take a win," said Pedersen after the victory. "I knew the shape was pretty good but it the last two weeks there were not a lot of chances for a guy like me, so to take the chance today and get rewarded… It's really nice, not only for me, for the whole team."
Sadly the day was not so good for Aussie sprinter Caleb Ewan who went down in a crash and has injuries to his knee and shoulder. Ewan and rival team Alpecin – Deceuninck were later fined for drafting back towards the finish line.
Jonas Vingegaard retains his overall lead of the race with an exciting mountain stage and uphill finish on Stage 14 tonight.
Stage 12 – 22yo Tom Pidcock Arrives + Chris Froome Makes His Comeback
The 2022 Tour is now widely considered to be one of the most outstanding TDFs of all time, and that theme continued with gusto on Bastille Day.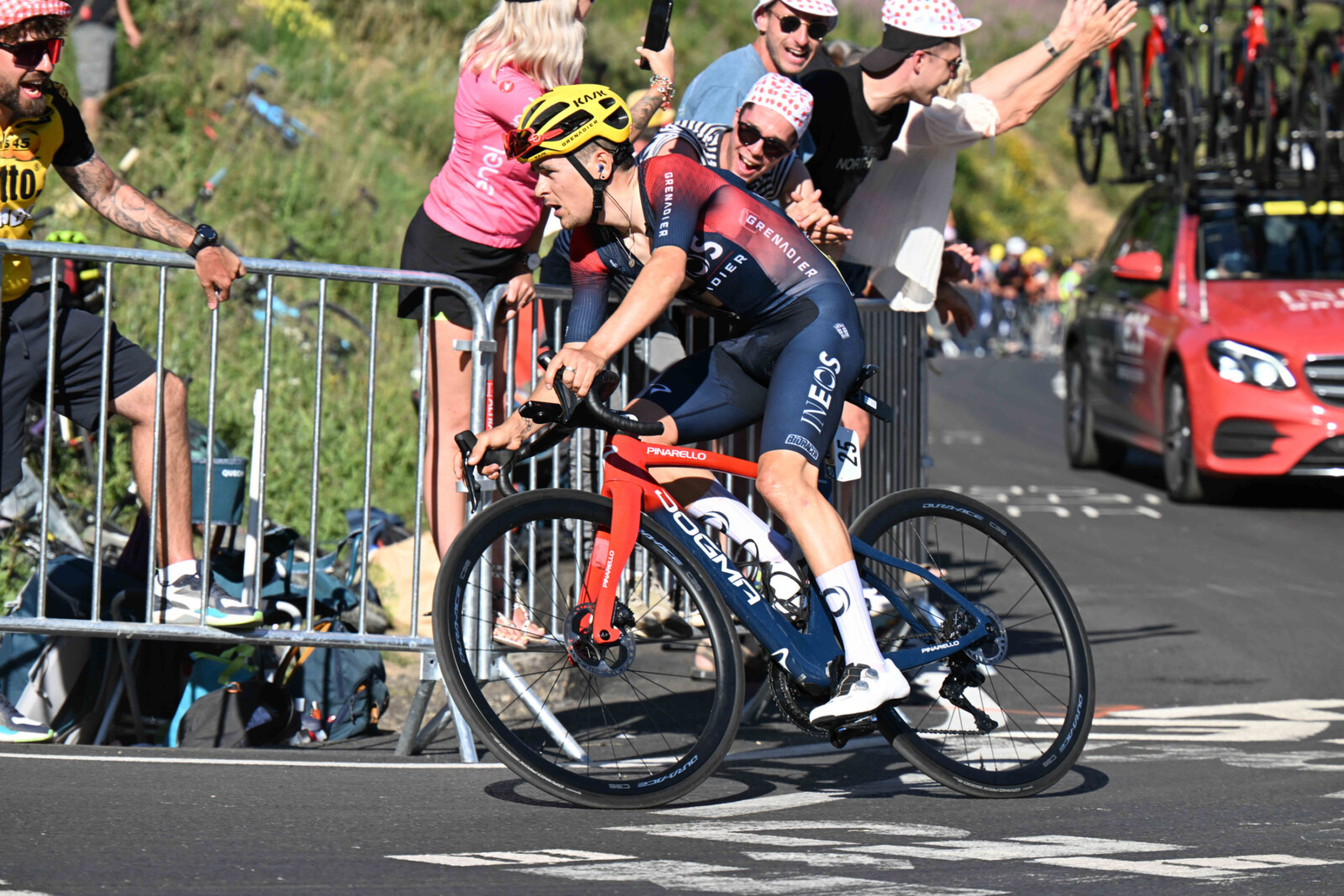 Chris Froome woke up thinking he was back 2015 (and rode accordingly – finishing in the Top 3), Jonas Vingegaard continued his new found dominance over Tadej Pogacar, and young Brit Tom Pidcock showed off descending skills that would leave Vincenzo Nibali in awe.
Winning the famed Alp d'Huez stage solo by 48seconds, 22yo Ineos Grenadier Tom Pidcock put in the most phenomenal performance and became the youngest rider to win on the Alpe at the Tour. It was also the CX & MTB star's first Grand Tour stage win.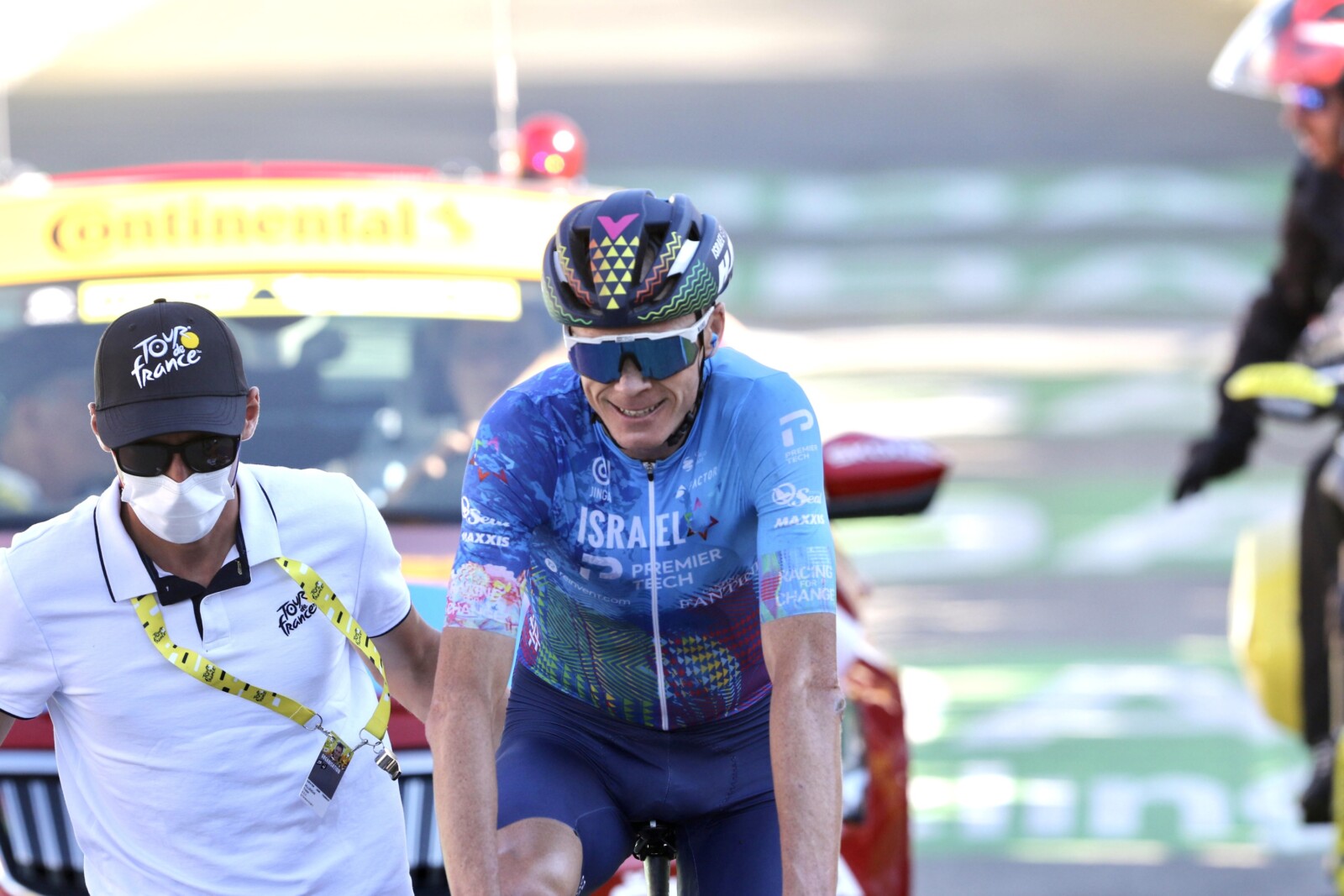 Blasting down the descent off the Col du Galibier, Pidcock bridged the breakaway and put in a classic performance with none other than Chris Froome.
"The idea was to get in the break," said 22yo Pidcock.
"I lost enough time yesterday that hopefully I'd be given freedom. If I'd gone up the Galibier maybe I wouldn't have got away, but on the descent maybe Jumbo don't want to risk chasing me. Also the gap was small enough to go across so it worked out perfectly in the end.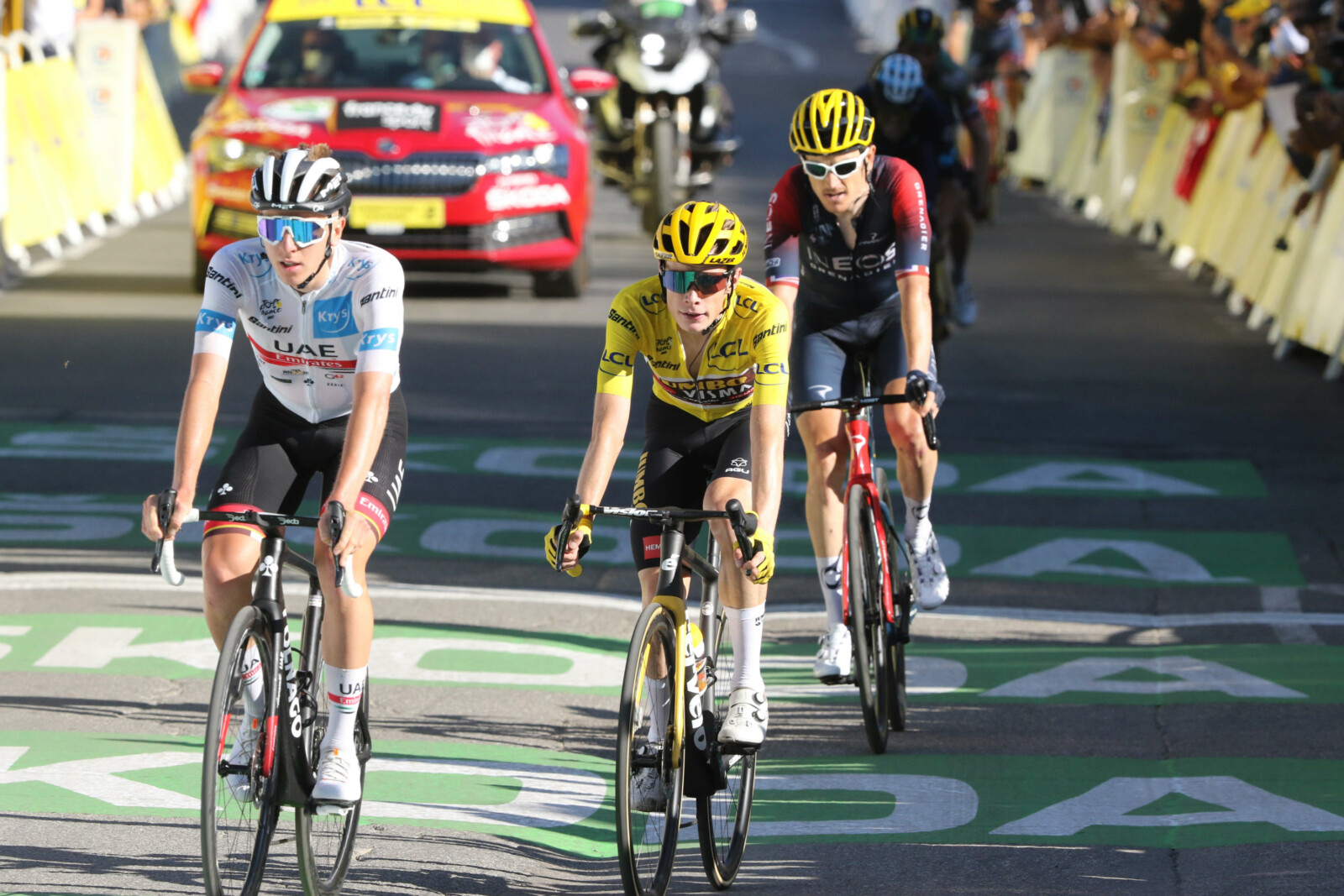 "That was certainly one of my best experiences in cycling. That was unreal. When you're literally slaloming through people's flags, fists and god knows what else! You cannot experience that anywhere else, in anything, other than Alp d'Huez in the Tour de France."
Stage 12 Top 3
1: Tom Pidcock
2: Louis Meintjes
3: Chris Froome
Stage 11: Pogacar Cracks, Vingegaard Takes Yellow Jersey
For those who haven't seen Jumbo Visma's YouTube documentary 'Plan B', please see it. The hour-long film, made during the 2021 Tour de France, offers a fascinating 'fly on the wall' style glimpse into the superteam. The brilliant and moving film also illustrates the groundwork for what happened at the 2022 Tour de France last night was laid well over a year ago.
Jonas Vingegaard was always going to be the main rival of the seemingly invincible Tadej Pogacar, and over the mountains of Stage 11 he made good of that slow-brewing threat.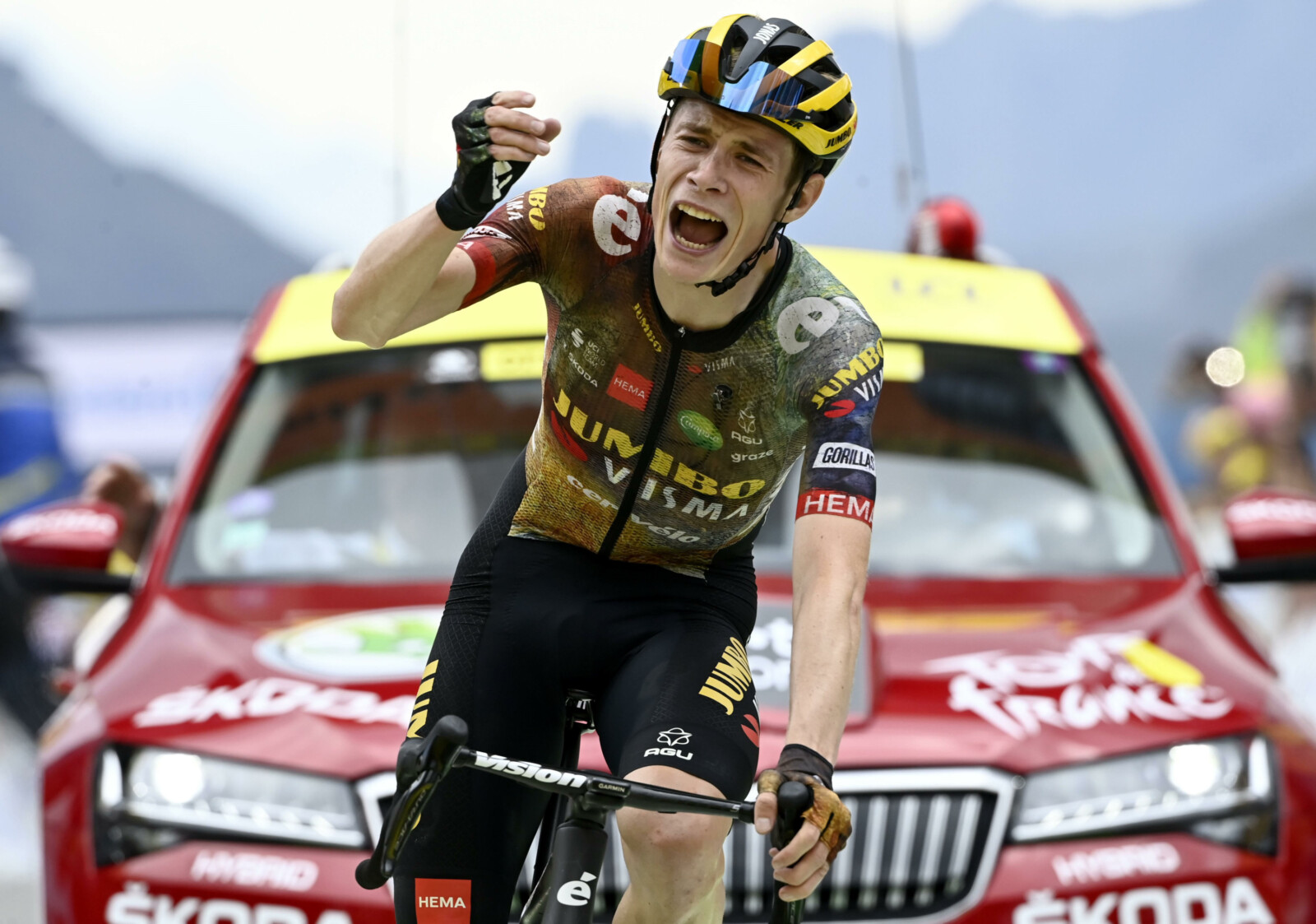 Now in the Yellow Jersey, 25yo Vingegaard has won his maiden Tour de France stage, is leading the race, and has the potential to achieve his childhood dream of winning the world's biggest cycling event.
"It's really incredible…This is what I dreamed of – a stage in the Tour, and now the yellow jersey. Incredible," he said after Stage 11.
"We made a plan from the start of the day. Obviously, you can see what it was: we wanted to make it a super hard race. We thought that was in my favour and in the favour of Primoz. I took a lot of time today but I would never have done that without my teammates – I really had to thank my teammates. They were all incredibly strong today.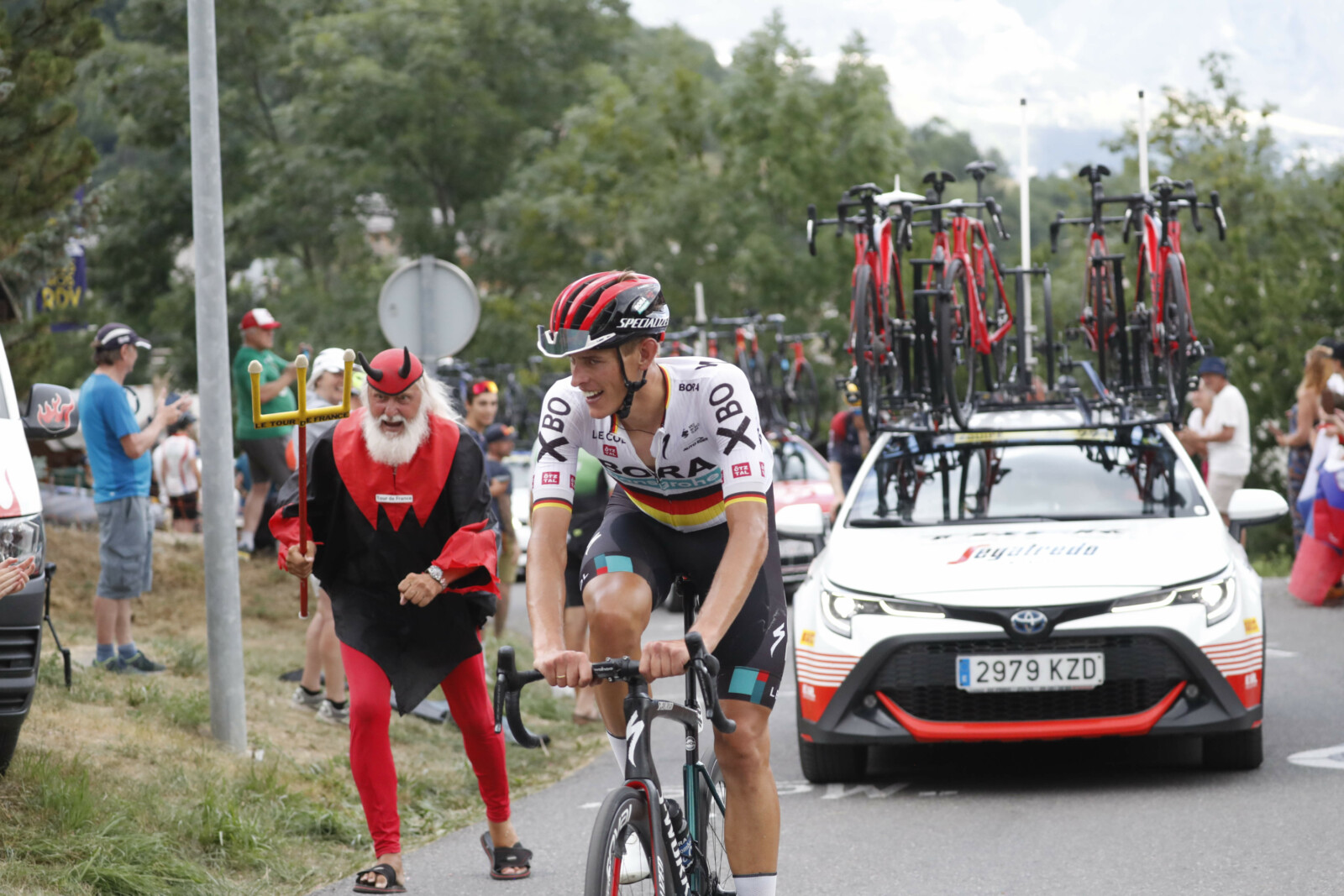 "On the Galibier, over the top, Pogacar was really strong and he dropped everyone else. I was a bit unsure if he was going full or not. Then on the last climb I was thinking that if I don't try, I won't win. Of course, a second place is a nice result on the GC – but I tried this last year and now I want to go for the victory, and that's what I did today. Luckily it succeeded and I have the yellow jersey – so I'm going to keep on fighting for yellow and Paris."
Top 4 After Stage 11
Vingegaard 41hr 29'59"
Bardet +2'16"
Pogacar +2'22"
Thomas +2'26"
Aussie Nick Schultz Comes Close To A Stage Win
He is riding his first Tour but Team Bike Exchange – Jayco rider Nick Schultz has come oh-so-close to a stage win – the 27yo finishing second in a photo finish on Stage 10.
One of the toughest stages of the race so far, Schultz crossed the uphill finish line alongside Magnus Cort.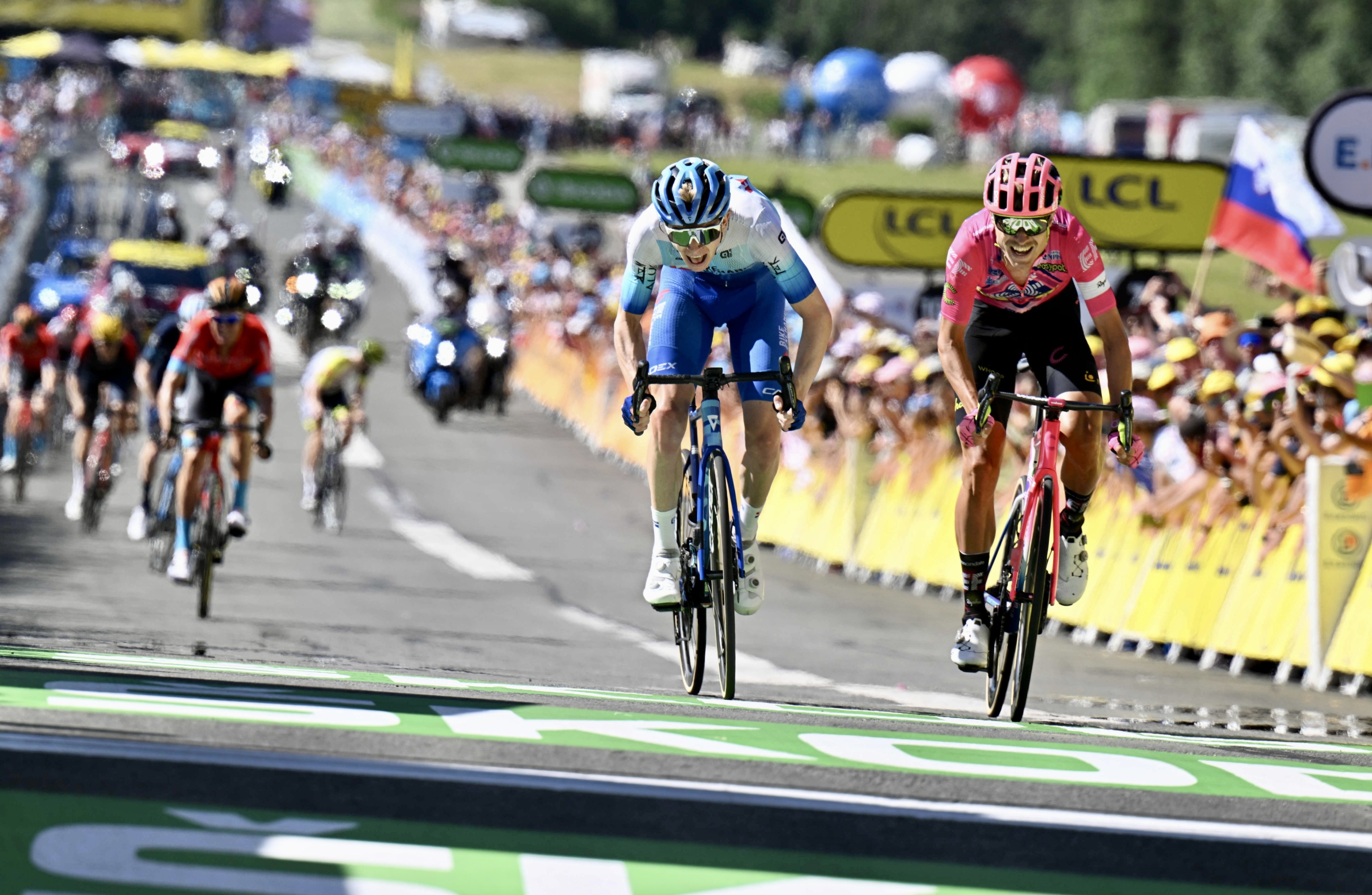 "I am really happy with second, but to be honest I am also really upset," an elated Schultz said after the stage. "It is not like every day you get to try and win a stage of the Tour de France. I will keep trying and see where we get to," he added

2022 Tour de France Stage 10 – Results
1. Magnus Cort 3:18:50
2. Nick Schultz (Team BikeExchange-Jayco)ST
3. Luis Leon Sanchez +0:07
Stage 9
Bob Jungels of the AG2R Citroën team took his first career stage win after a 50km attack at Stage 9 ofthe Tour de France.
"I'm just overwhelmed," Jungels said after the win. "I know this means a lot for the team. It's such a relief after many frustrating months and years. It's taken a long time to recover," he said, referring to recent sickness and surgery for endofibrosis, a narrowing of the arteries.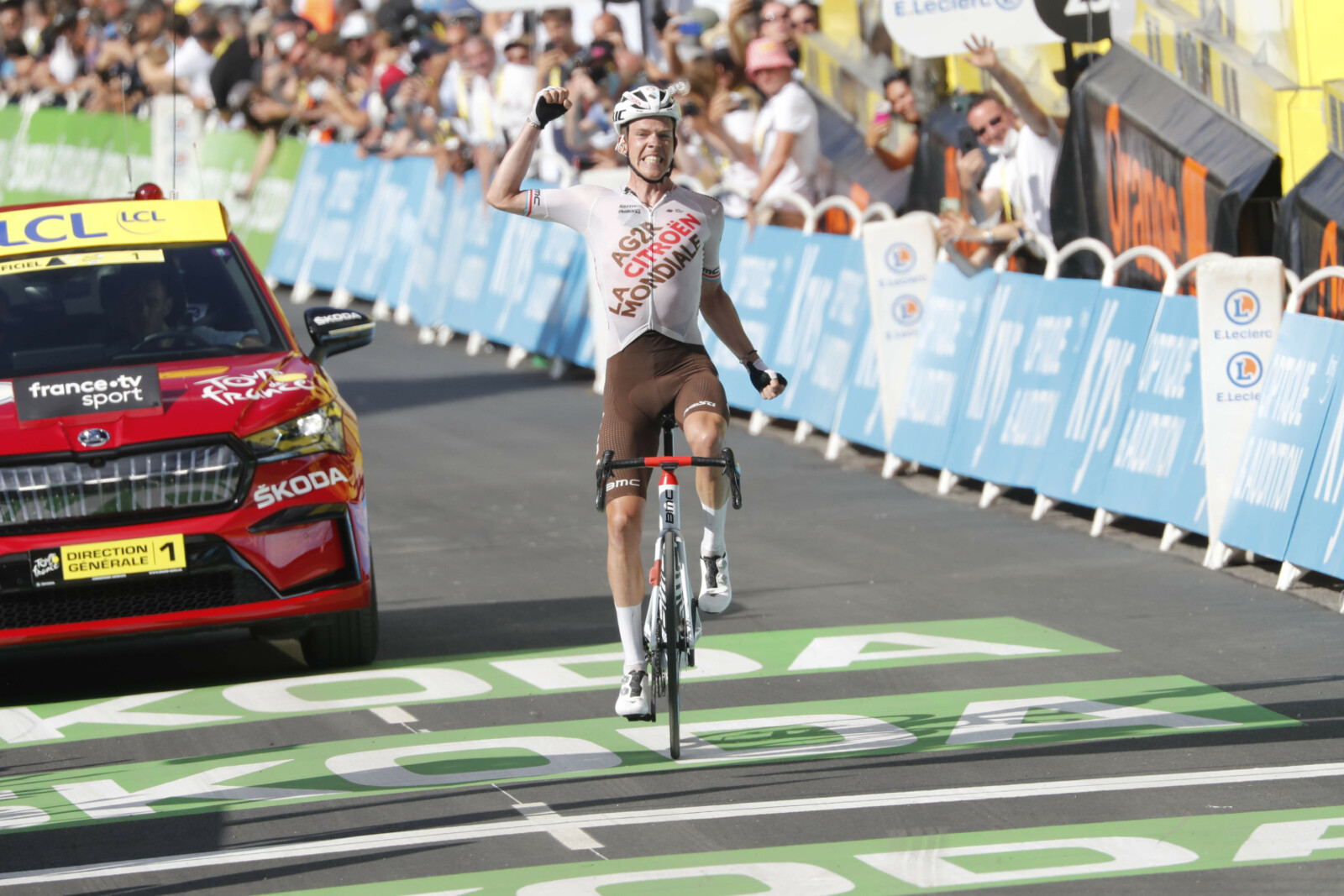 "This is huge, this is what I came here for after a couple of years of struggling, a very tough year last year with surgeries and everything. To take the victory this way, it's my style of racing and I'm super happy," concluded Jungels.
The first official rest day is scheduled for Monday with the hilly 148km Stage 10 on Tuesday.
Michael Matthews Second On Stage 8
He was runner up just two days ago on Stage 6 and has followed it upon Stage 8 – Michael Matthews had another agonising second place, this time in the uphill finish in Lausanne across the border in Switzerland.
Matthews finished second to Green Jersey wearer Wout van Aert with Tadej Pogacar third.
Up there with the two best all-round riders of a generation, it was another bittersweet moment for Matthews.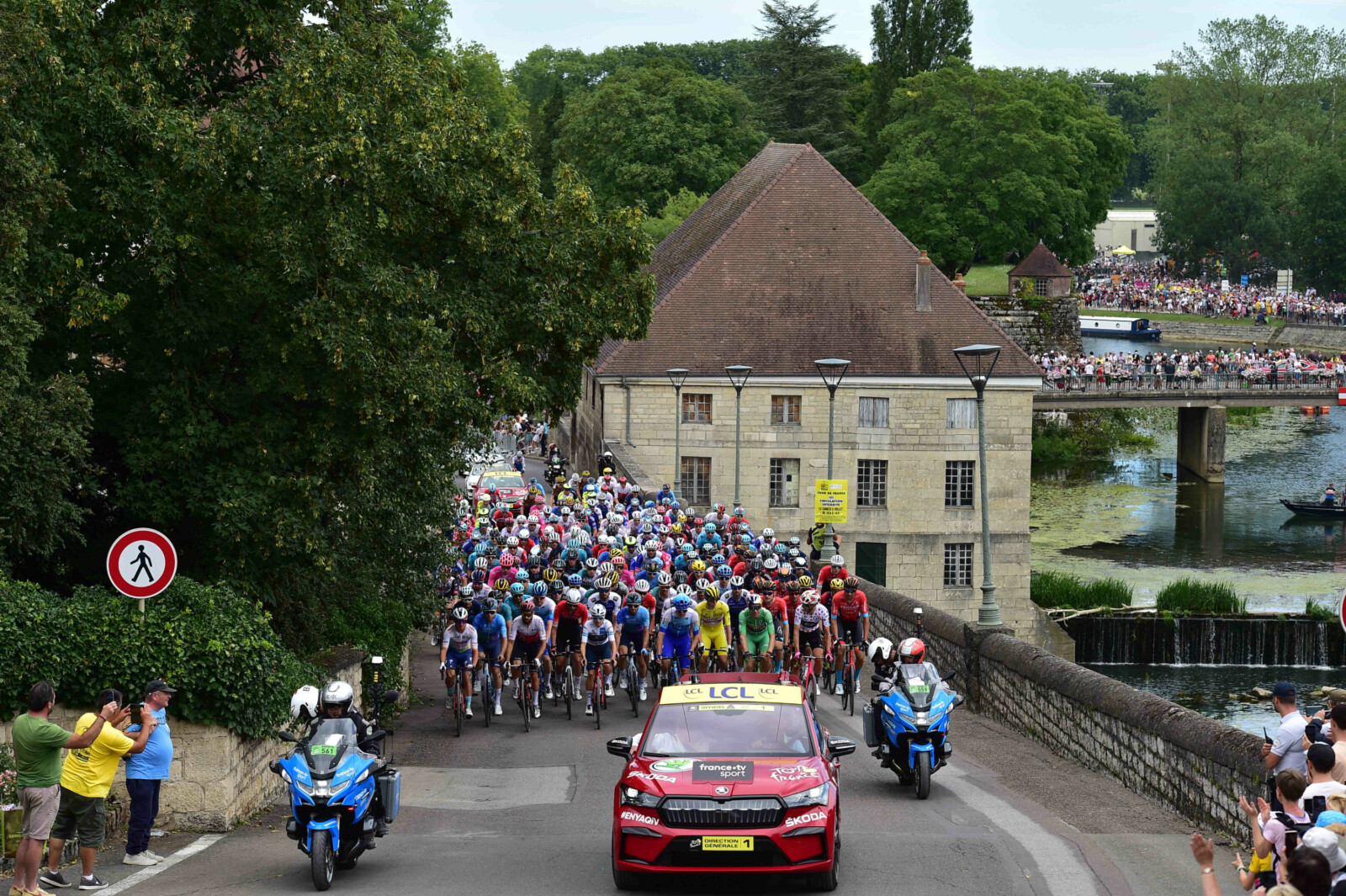 "I learnt from two days ago that I really need to start my sprint first, I gave it a shot from the front and started my sprint first but just got beaten by Wout [Van Aert] on the line," he said at the finish.
"I honestly don't think I made a mistake today, I did everything I could, there was just a stronger rider in the bike race today, so I wouldn't take anything back.
"I think it was around 200m to go, it looked like a lot of guys, Tadej [Pogacar] and Wout were boxed on the left a little bit, so I was hoping I could get a little bit of a jump, but I just wasn't quick enough.
"I did my best, the team rode a great race to lead me to where I needed to be, and it's second again, hopefully I'm knocking on the door of that win."
Stage 8 Top 3
1 Wout van Aert
2 Michael Matthews
3 Tadej Pogacar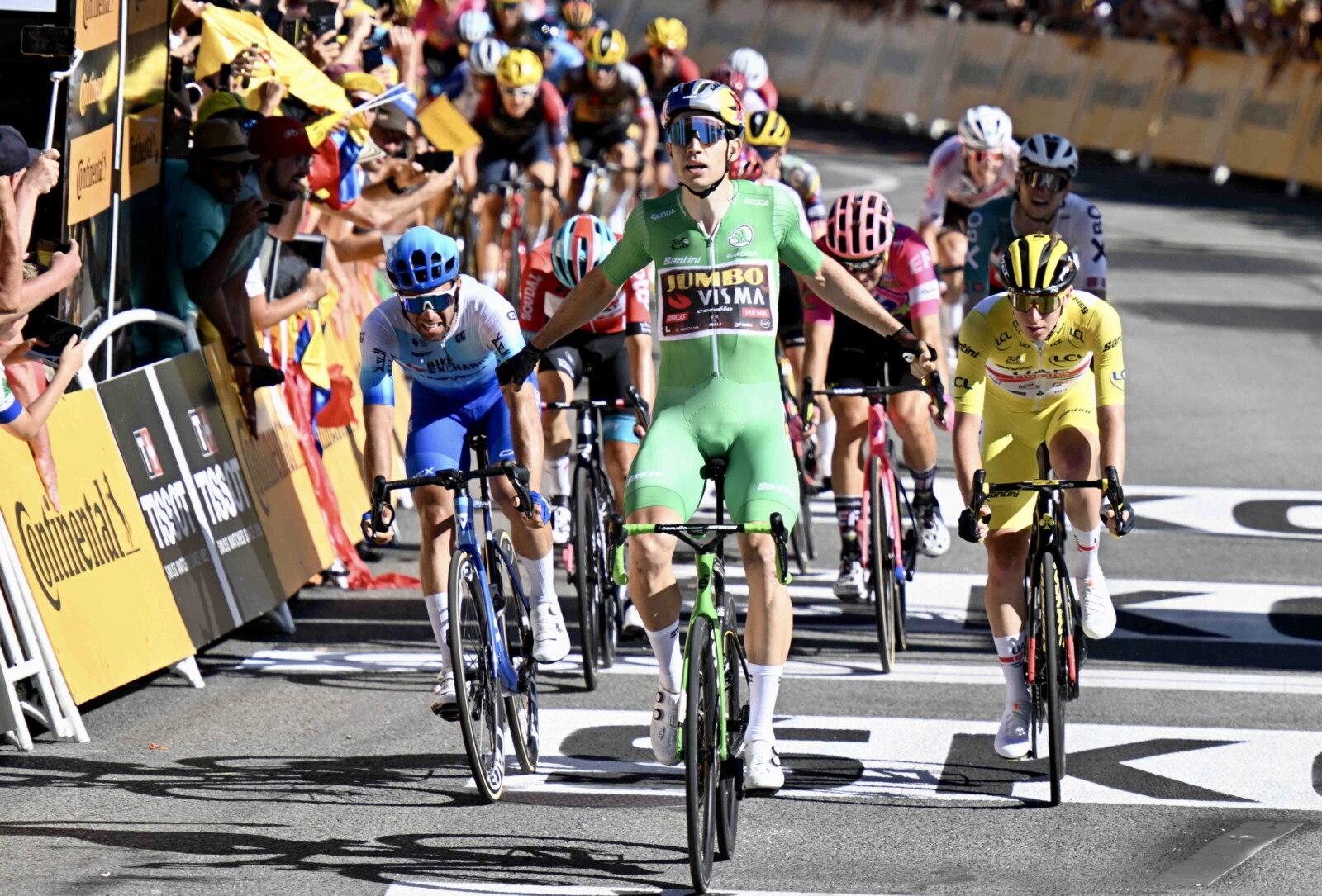 Pogacar Claims Stage 7 Win
Tadej Pogačar increased his advantage over Jumbo Visma's Jonas Vingegaard to 35 seconds after another stage win at the Tour, with 3rd placed Geraint Thomas (Ineos Grenadiers) now at 1'10 ".
"It was a difficult stage, especially in the last part of the climb, when Jonas attacked," Tadej Pogacar said after his second consecutive stage win.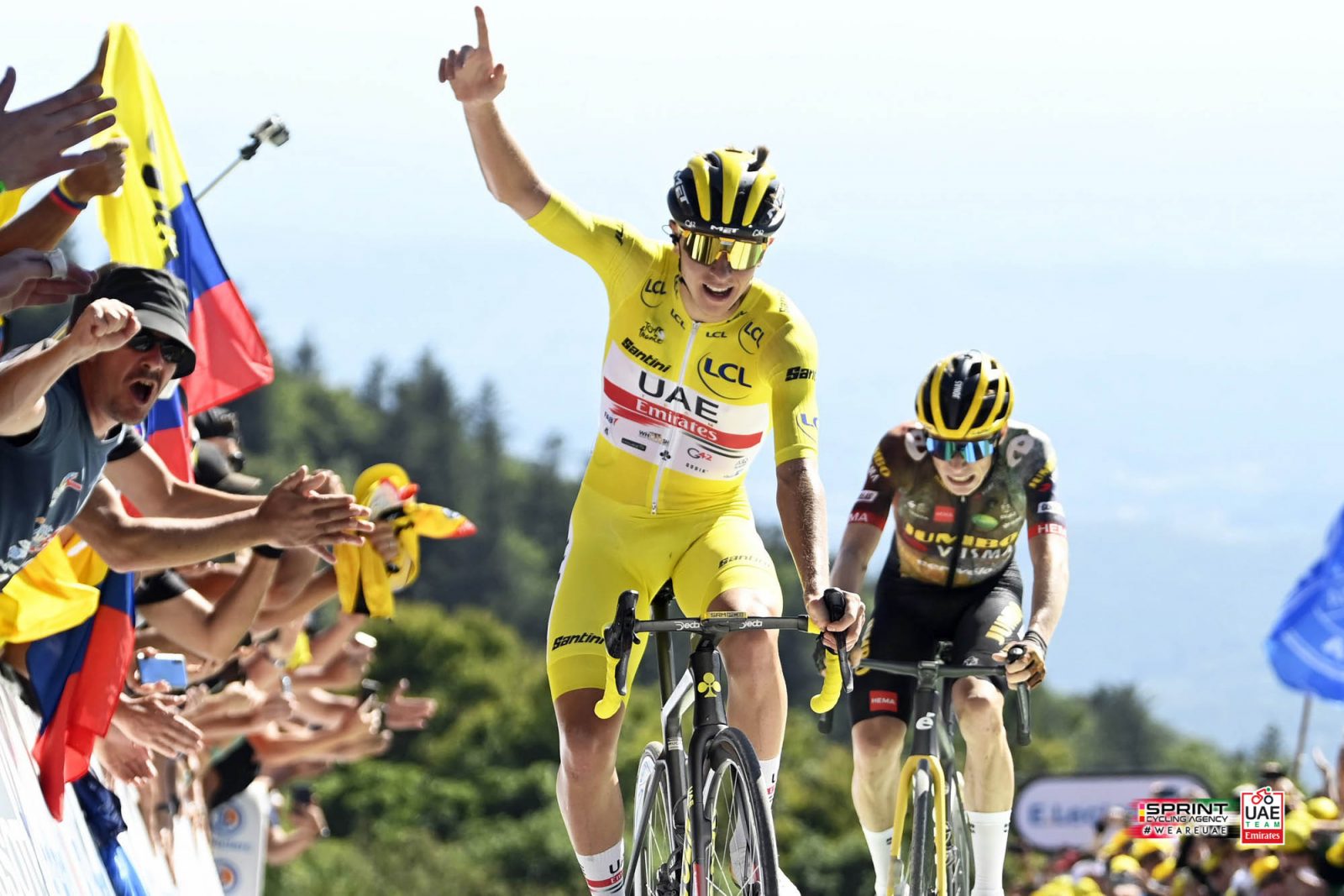 "The day was special, my girlfriend and my family were also present near the finish line: today we opened a foundation for research against cancer and I wore special shoes to underline this initiative, so I'm happy I got the most out of it."
He said the stage win had been on his list of goals for a long time, "ever since the route of the 2022 edition of the Tour was presented," he added.
The 186km 8th stage will start from Dole and will end with a 3rd category climb and two 4th category climbs. It's expected to be won by a rider in the breakaway.
Stage 7 results
1. Tadej Pogačar (UAE Team Emirates) 3:58:40
2. Jonas Vingegaard (Jumbo-Visma) s.t.
3. Primoz Roglic (Jumbo-Visma) +12 "

Stage 6: A Close Second For Michael Matthews
The Tadej Pogacar tide has turned with the two-time Tour champion now in the Yellow Jersey for the first time this year.
Narrowly beating Aussie Michael Matthews on Stage 6 of the '22 Tour, Pogacar has taken the race lead on the eve of the first proper climbing stage.
In a classic finish of the Ardennes, riders tackled the Cote Montingny sur Chiers, 1.6 kilometers at 4.4%, then Cote de Pulventeux, 800 meters at 12.3%, and finally the Cote Religieuses, 1.6 kilometers at 5.8%.
So Close For Bling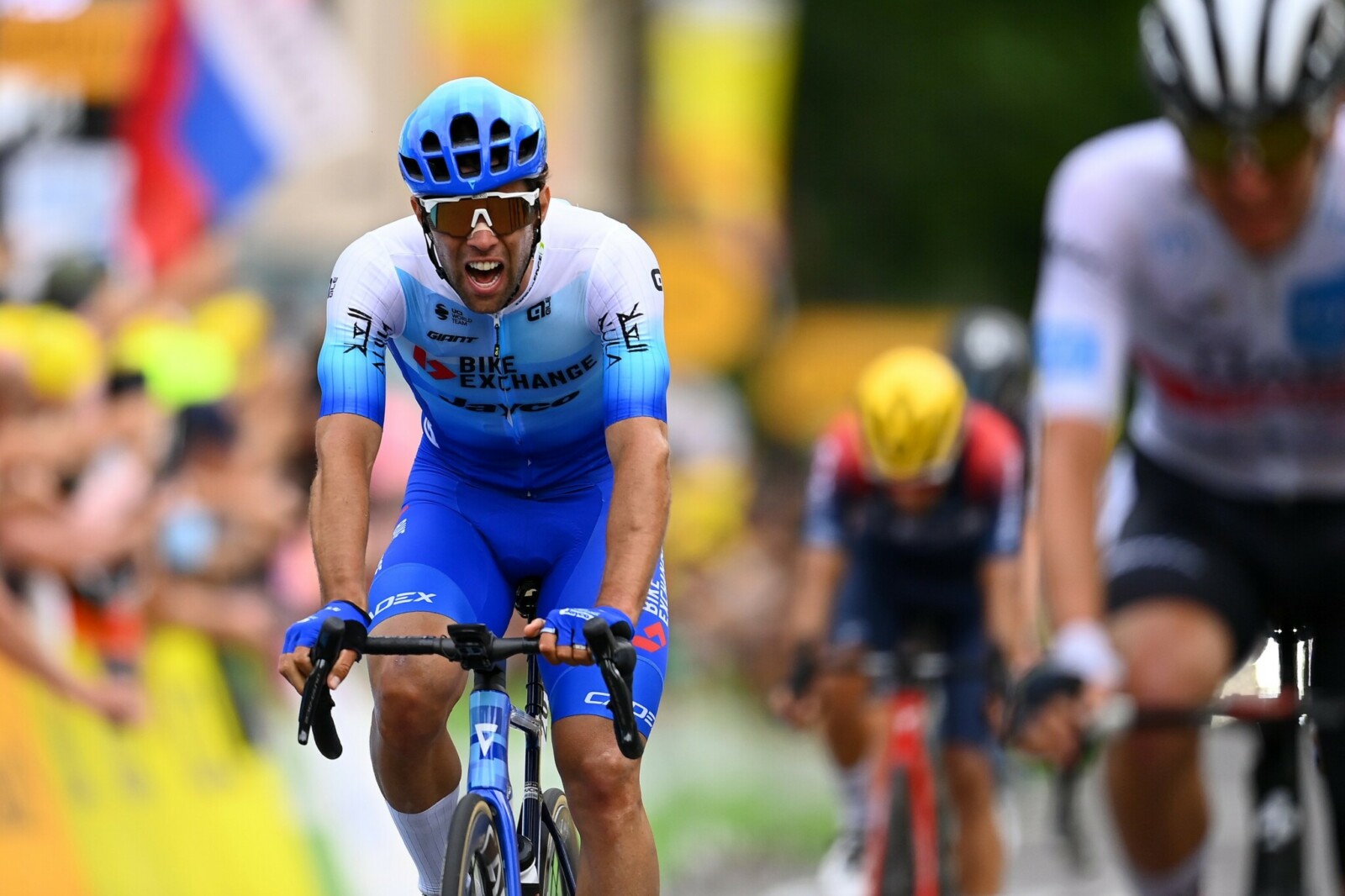 Giving it his all, Michael Matthews said he tried everything but Pogacar was too strong.
"It was hard out there and in the final, I just had to believe in myself and try to fight for that victory," he said.

"I knew the wheel to be on was Tadej's and I think it was Pidcock fighting me for the wheels I thought we were maybe at the front a little too early so I let him in, and he couldn't follow the wheel in the final and so Tadej got a gap and I had to try and run at him, but it was too late in the end."
After the stage a thrilled Pogačar said winning at Le Tour is more beautiful every time.
"Today was really tough from the start, with strong riders making moves and the whole group always pushing to reduce the gap. I didn't even know if we were going to make it in the end but, with the great team work, we managed to get to the front and I was well escorted to the top positions right in the final. After the fatigue of the last few climbs it was really hard to overtake everyone at speed, but obviously I had good legs. I am super happy with this victory and to be able to wear the Yellow Jersey."
Stage 7 is 176.5 km and starts from Tomblaine and arriving at the top of the Super Blanche des Belles Filles – the place Pogacar won his first Yellow Jersey in 2020.
Results Stage 6
1.Tadej Pogačar (UAE Team Emirates) 4h27'13 "
2. Michael Matthews (Time BikeExchange-Jayco) s.t.
3.David Gaudu (Groupama-FDJ)
Simon Clarke's Historic Victory On Cobbled Stage 5
Earlier in the year veteran Aussie rider Simon Clarke didn't have a spot on a team. Last night he won the toughest stage of the 2022 Tour thus far – Stage 5, raced over the brutal cobbles of Roubaix.
Clarke's first Tour de France stage win, and the first for his team Israel – Premier Tech, the 35yo was one of a select group of four riders who managed to keep ahead of the chasing pack.
"To be honest, to start with, I didn't think I had won," said Clarke. "I just threw the bike as hard as I could at that finish line. I still didn't believe it until I saw the photo finish."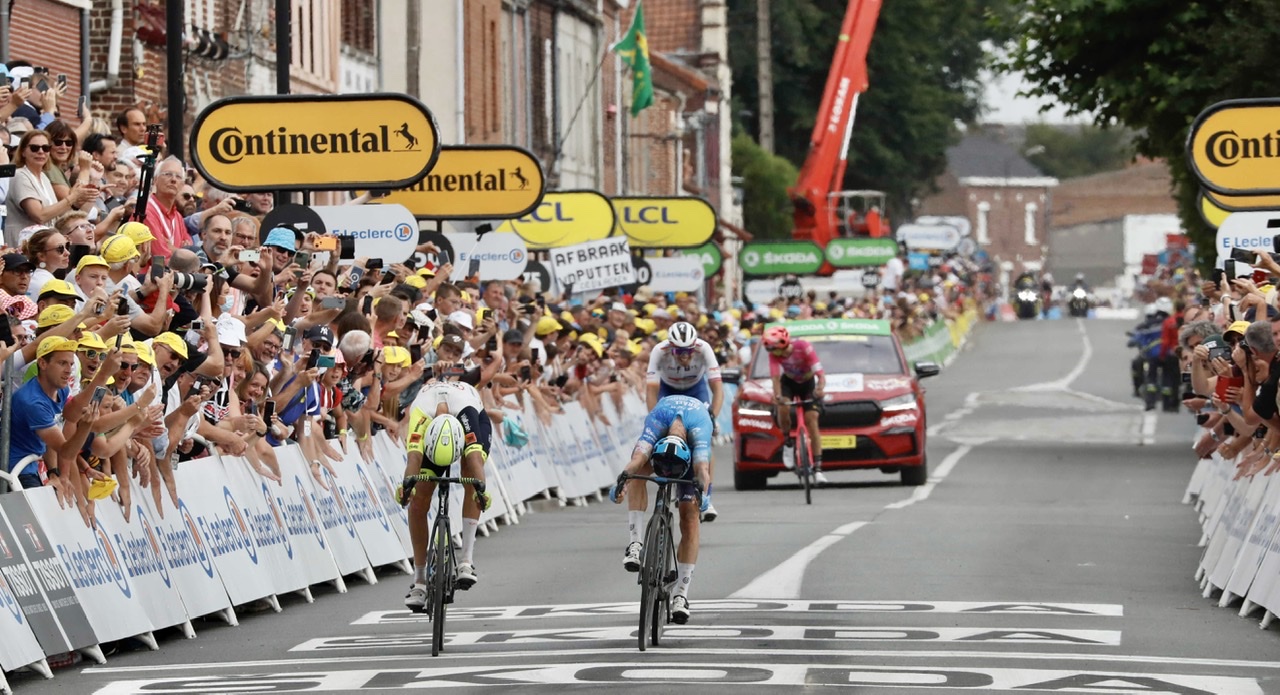 "What a day …" he continued. "I never expected to win a cobblestone stage. Especially because they only happen every four years or so. I am happy with any stage and just try to make the most of these opportunities. I came here to go in breakaways and today was the first day the team said "let's go."
Clarke said the group of four riders – that included Taco van der Horn, Edvald Boasson Hagen and Neilson Powless- thought they'd be caught as the time gap started to tumble.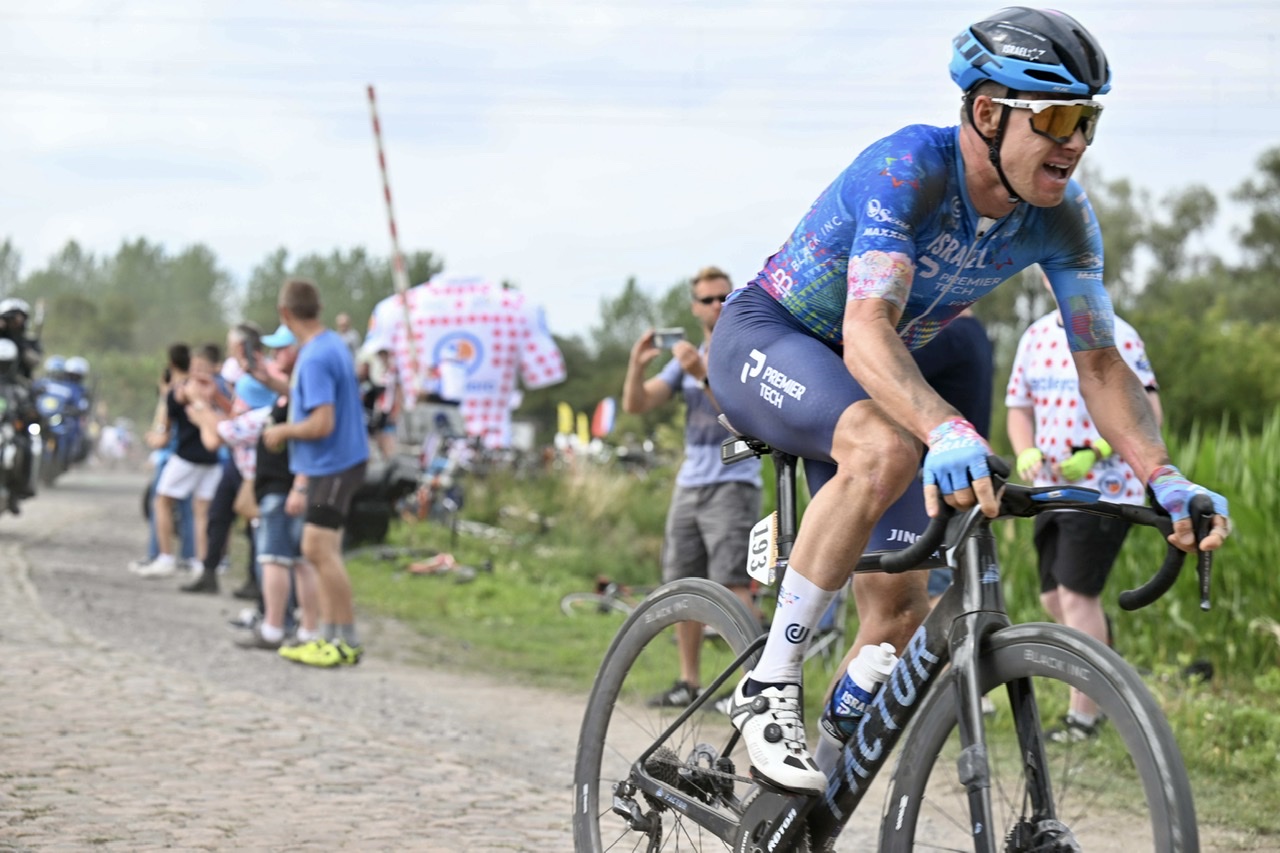 He said the magnitude and emotion of of his win – and the fact he started the year without a team, sunk in a short time after the podium presentation.
"What a rollercoaster this year has been," Clarke continued. "But sometimes you don't get the best out of yourself until you are put under extra pressure. I am an optimistic person and I try and always believe that things happen for a reason. This winter was a bit challenging but I found a solution and I promised to never look back and make the most of every opportunity and that's what I did today."
Wout van Aert's Stunning Stage 4 Solo Win
After a trio of second places, Wout van Aert has enjoyed a thrilling victory in his own right – the solo win of Stage 4 of the Tour.
Out front alone for the final 10km of the first stage back on French soil, van Aert later said "the yellow jersey gives me wings" after flapping his arms as he crossed the line.
"This is certainly one of my career's most stunning victories, winning in the yellow jersey is very special," he said.
'Fortunately, I can start in this beautiful jersey again tomorrow. We did some impressive things as a team today. This was a perfect day for our team."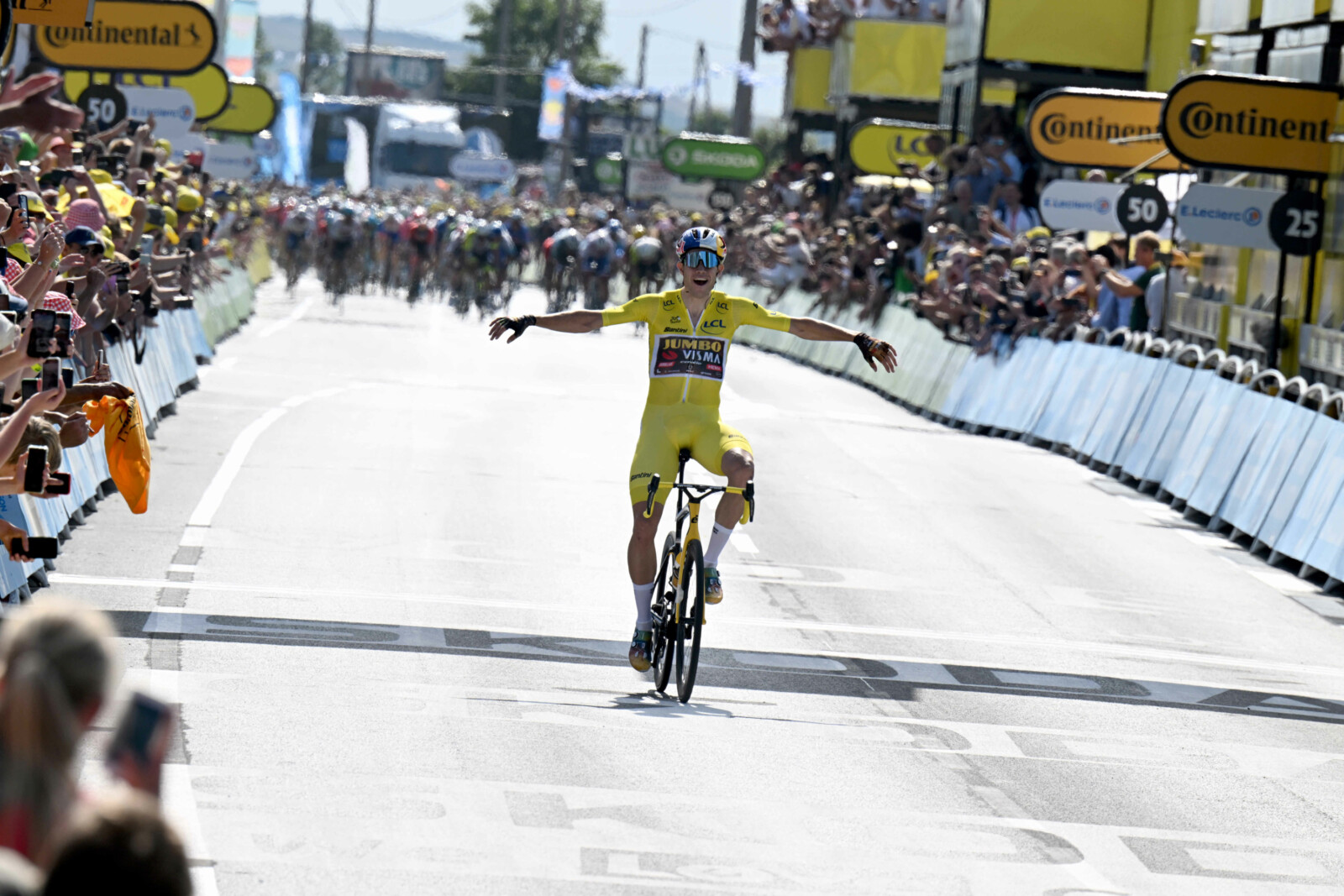 Van Aert goes into tonight's first cobbled stage in the Yellow Jersey, but also said Stage 4 had been good for sprint points.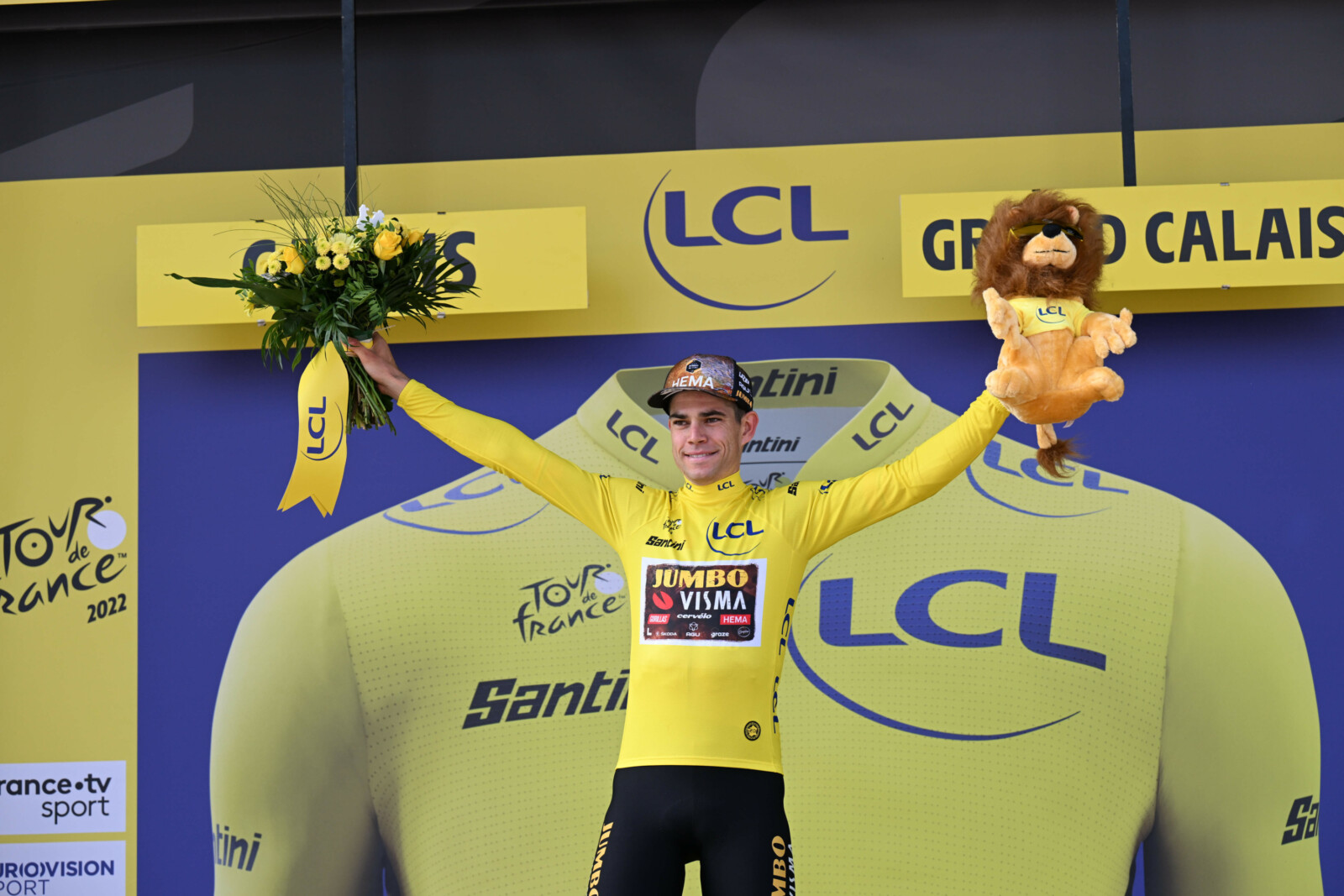 "That was a perfect opportunity for me to go for the stage win," he said. "This stage was important for the battle for green, because it was perhaps too difficult for the real sprinters, while fifty points were to be earned. I had to go over the limit and it was a fight for ten kilometres, but the result was great."
2022 TDF Top 3 After Stage 4
1 Wout van Aert 13hr 02min 42s
2 Yves Lampaert +25
3 Tadej Pogacar +32
Bike Exchange-Jayco Open The Account With Stage 3 Win
Team Bike Exchange-Jayco have enjoyed a stage win at the Tour de France with Dutch sprinter Dylan Groenewegen's victory on the race's final day in Denmark.
"I have to say thanks to my team, and to my family and friends to bring me back to the Tour in a good shape, it's beautiful!" said Groenewegen after the big win for the Aussie team.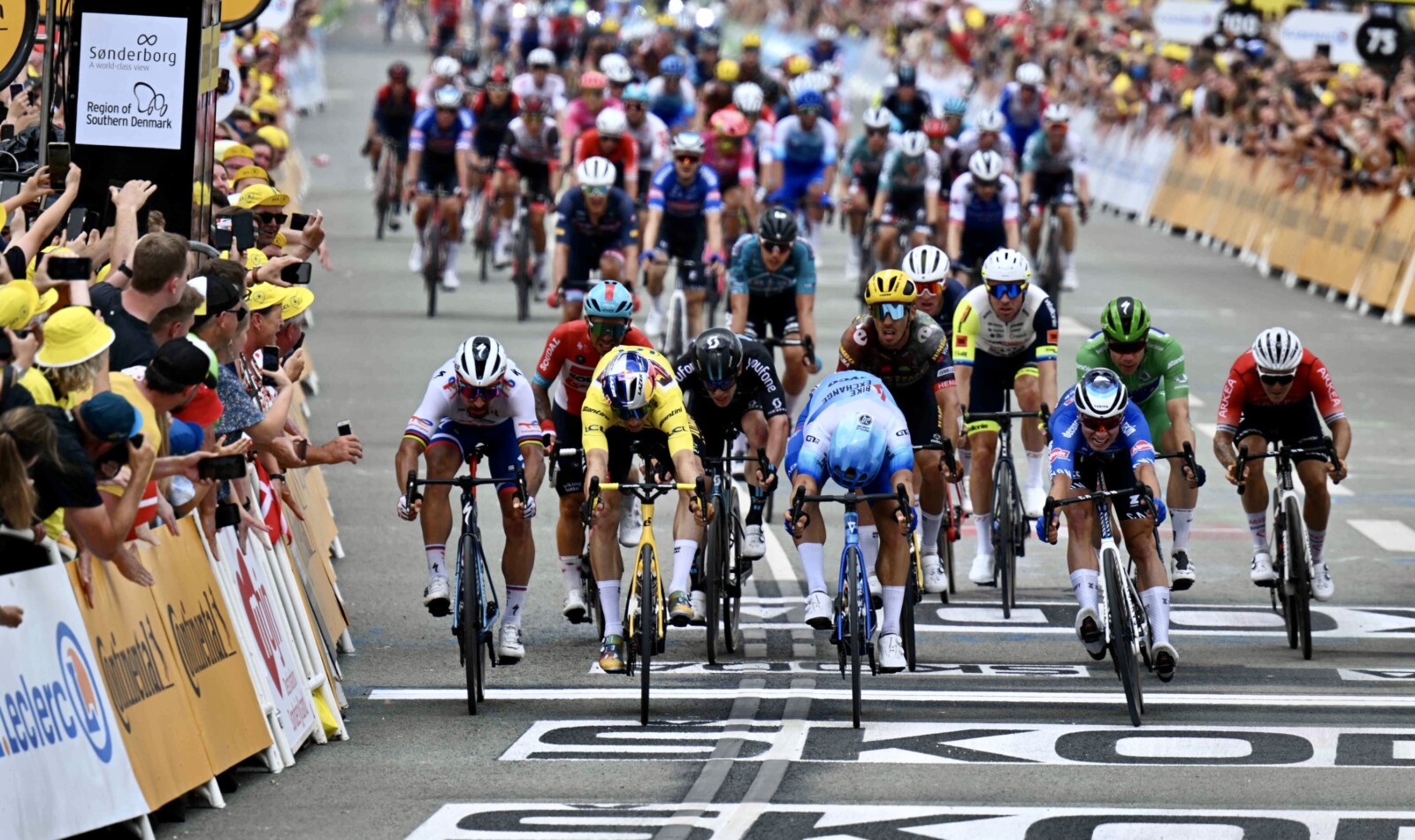 Sport Director Matt White said while the previous day didn't go to plan for the team, they remained focused.
"Yesterday didn't go as we wanted it to, but you've got to move on quickly – that's the secret of achieving anything in life and sport," he said.
"The boys didn't flinch at all after yesterday and they gave 100% commitment to Dylan. Obviously, we're really, really happy that Dylan could finish it off and win on the biggest stage in our sport. This means we've opened our account at the Tour de France.

White concluded by saying "it has been a big comeback for Dylan, it's never easy changing teams and he's worked very, very hard this year and we've got a really strong, committed group around him and you saw from the result today how committed they were, and they gave him every opportunity to win and he finished it off very, very well."
The Tour now moves 900km, from Copenhagen to the north of France with the riders enjoying their first rest day as the teams transfer. Tuesday's Stage 4 will cover a hilly 171km from Dunkerque to Calais.
2022 TDF Stage 3 Top 3
1. Dylan Groenewegen (Team BikeExchange-Jayco) 4:11:33
2. Wout van Aert ST
3. Jasper Philipsen ST
Stage 2 – Fabio Jakobsen Wins His First Tour Stage
Fabio Jakobsen has won his first Tour de France stage, a phenomenal feat considering the injuries that left him fighting for life at the Tour of Poland just two years ago.
Selected for the 2022 Tour over fellow team sprinter Mark Cavendish, the 25-year-old racked up Quick-Step Alpha Vinyl's second victory in a crash-marred stage that ended in Nyborg.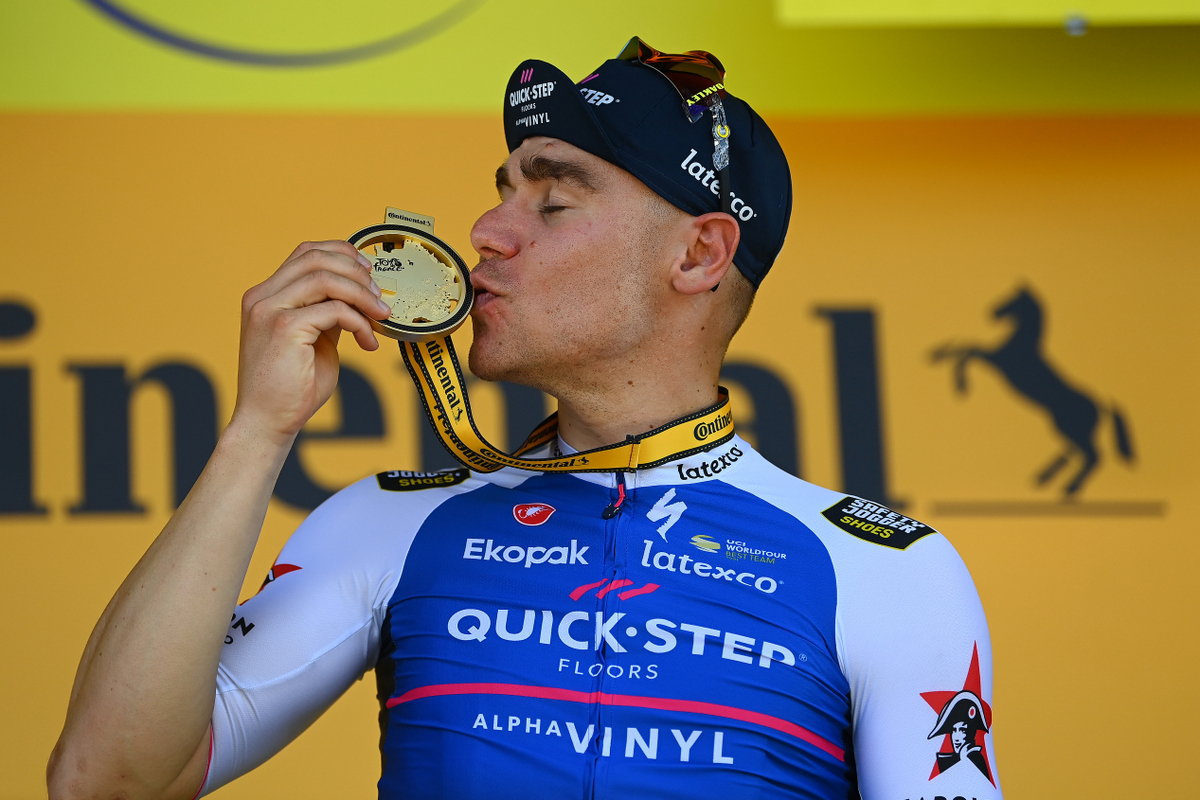 The entire Quick-Step team hit the front in the closing kilometers of the stage, with 'the Wolfpack' dominating the finale and Jakobsen waiting for the last 150 meters before sprinting clear.
"Getting here was a long process, one where I took it one step at a time," an exuberant Jakobsen said after the victory.
"Many people helped me along the way and have given me tremendous support. This win is for them, my way of saying thank you, so that they see it wasn't for nothing."
He went on to say "what happened two years ago is something that will forever stay with me, but I was fortunate to overcome it with the help of many incredible people. I'm happy I still enjoy riding my bike and racing, and luckily, I can still win. It's an amazing day, and that's why I want to thank everyone that helped me be here."
Wout van Aert was the other big winner from Stage 2, the Jumbo Visma rider is now in the Yellow Jersey.
2022 TDF Stage 2 Top 6
| | | |
| --- | --- | --- |
| 1 | Fabio Jakobsen – Quick-Step Alpha Vinyl Team | 4:34:34 |
| 2 | Wout van Aert – Jumbo-Visma | 0:00 |
| 3 | Mads Pedersen – Trek – Segafredo | 0:00 |
| 4 | Danny van Poppel – BORA – hansgrohe | 0:00 |
| 5 | Jasper Philipsen – Alpecin-Deceuninck | 0:00 |
| 6 | Peter Sagan – TotalEnergies | 0:00 |
Stage 1
The omission of Mark Cavendish dogged Quick-Step Alpha Vinyl in the lead up to the 2022 Tour de France, but the team put that behind them with an emphatic win and the first Yellow Jersey of this year's race.
Belgian rider Yves Lampaert stormed to victory in the opening Time Trial, a flat and rain-soaked 13.2km sprint through the streets of Copenhagen. Pipping riders of the caliber of Filippo Ganna, Wout Van Aert and Tadej Pogacar, Lampaert road a rocket fast TT to claim the coveted jersey.
"It's incredible, I didn't expect this and I don't understand how it happened," he said, seemingly shocked, after the stage.
"I was thinking of a top 10, those were my expectations at the start, but somehow I managed to beat the best riders in the world. I'm just a farmer's son from Belgium, so this is something I would have never dreamed of."
"My mind is exploding," concluded a teary-eyed Yves after the biggest victory of his career.
The race proper, the first all in road stage, kicks off with the 202km Stage 2 from Roskilde to Nyborg tonight.
2022 Tour de France Top 5 After Stage 1
| | | |
| --- | --- | --- |
| 1 | Yves Lampaert – Quick-Step | 15:17 |
| 2 | Wout van Aert – Jumbo-Visma | 0:05 |
| 3 | Tadej Pogačar – UAE Team Emirates | 0:07 |
| 4 | Filippo Ganna – INEOS Grenadiers | 0:10 |
| 5 | Mathieu van der Poel – Alpecin-Deceuninck | 0:13 |