Looking to buy a new bike don't have the big bucks? Fear not! The increase in technology over the past few years means you no longer have to spend a fortune to get a quality steed.
As cyclists, most of us have a tendency to always look at the most expensive bits of kit as being the best. Almost all of us would find that paying $7,000 for a bike is quite acceptable. We might not have the money, but it doesn't shock us that a bike would cost that much. In short, we can see the value.
Arguably however, the best value in recent years has been in the under $3,000 market. There's been bikes in this zone that many of us dearly would have loved to own several years ago. Azzuri Bikes, just to pull a name out of my head, had an electronic shifting carbon road bike last year for just $2,899! And they're not the only ones. Many manufacturers are achieving similar value and we, the consumers, are the ones who are reaping the benefits.
So what does this all mean? Well, firstly if you're someone who likes expensive bikes, it means that your dollar is buying more and more value every year. I actually had someone apologise that the test bike they sent me "only had mechanical Dura-Ace on it". Can you believe that? But even more importantly, it also means that the cheaper end of the market is getting some pretty good bikes. I say importantly, because this is the area that people entering the sport will most likely shop. It's also the area where the keen cyclists with single incomes, mortgage and three kids will shop. Any monetary savings that can be achieved for these groups has to be a good thing.
So how good are these sub two grand flyers? Well, I can tell you, they're very good indeed. My first serious bike cost $3,800. Apart from having Ultegra, I don't believe its performance is any better than these bikes. My current bike has an ex Tour de France frame and a mix of parts on it. The Giant Defy in this test weighs exactly the same. Unbelievable. Each of these bikes has a quality frame as its core. And attached to that is a mixture of parts. More and more manufacturers are making their own components, particularly bars, stems and posts. This does two things; it means they can keep the overall costs down and it means that the same quality will appear on the cheap bikes as the expensive. It's a win-win.
Also, when you're purchasing from a major manufacturer, you know that they do a lot of research and development at the higher end of the spectrum. And often, that development will trickle down into the cheaper bikes. Again, it's a win for us.
This is just a small sample of the bikes on the market under $2,000. Almost every manufacturer will have one. Maybe the next time you're thinking of a purchase, this should be the area to look!


Giant Defy Composite 2
Giant's defy Composite 2 is a brilliant example of a budget bike that out performs its price. It's carbon fibre frame uses the same dimensions as the company's top of the line Defy models that have been used at times in the Spring Classics by Team Rabobank. It also, sensibly carries SRAM's Apex groupset. Apex, courtesy of its wide gear range manages to cross the gap between beginner and experienced riders. The shifting is clean and precise yet still allows you to ride up the steepest of hills.
The rest of the package uses Giant's own in house brand, all of which work nicely, particularly the tyres and handlebars. When riding this bike you'll think that you're on a much more expensive machine.
Giant Defy Composite 2
Frame: Giant Composite
Groupset: SRAM APEX
Wheels: Giant PR-2
Saddle: Giant Defy
Bars and Stem: Giant Connect
Weight: 8.22kg
Price: $1,999
Distributed By: Giant Bicycle Company www.giant-bicycles.com


Felt F75
When you look at Felt's F75 it's hard to believe that it's an aluminium bike. The super high gloss of the paint work has to be seen in the flesh to be believed. Turn up to the bunch ride on this machine and no one would suspect that it's a $1,749 bike. The heart of course is the superlight 7005 aluminium frame. Despite carbon's dominance of the bike market, aluminium technology hasn't been sitting still. This frame is custom butted, uses a BB30 bottom bracket and forged dropouts. Importantly it also uses the 1 1/18-1 1/2 inch headset that is more common on thoroughbred race bikes. This size of headset and head tube allows for very precise steering.
The parts mix is also interesting, Prologo saddle, reliable Shimano 105 and Mavic wheels. FSA cranks provide a point of interest and the Vittoria Rubino tyres, while not fast, are serviceable. All up, the F75 is a very impressive package.
Felt F75
Frame: Superlight 7005 Aluminium
Groupset: Shimano 105
Wheels: Mavic CXP 22
Saddle: Prologo Kappe Aero
Bars and Stem: VS Aluminium
Weight: 8.87kg (Size 56cm)
Price: $1,749
Distributed By: Southcott Pty Ltd www.feltbicycles.com


Merida Scultura Comp 903
Merida have been making splendid bikes for many years and are now entering the professional ranks as sponsor for the Lampre squad. The company likes to think outside the square and if you're looking for a bike that isn't run of the mill, this could be the one for you. First up is the carbon fibre frame, which is painted an interesting silver with orange highlights. This makes a refreshing change from the plethora of black, red or white bikes in the market. This frame is identical to the one used on the more expensive Scultura 905. Also of note is the massive head tube, which at 1 1/18- 1 1/2, combined with the down tube gives a very, very, stiff front end.
Merida have also managed to keep costs down by spec'ing their own brand bars, stem, seatpost and brakes. They've also chosen the vastly improved Shimano Tiagra groupset with sensible compact front chain rings. This allows them to cross over between beginner riders and experienced riders who want to ride big hills. A comfortable saddle and Shimano's R500 wheels round off the package nicely.
Frame: Merida Carbon Fibre
Groupset: Shimano Tiagra
Wheels: Shimano R500
Saddle: Merida Pro SI
Bars and Stem: Merida Anatomic Road
Weight: 8.65kg (57cm)
Price: $1,899
Distributed By: Advance Traders www.merida.com.au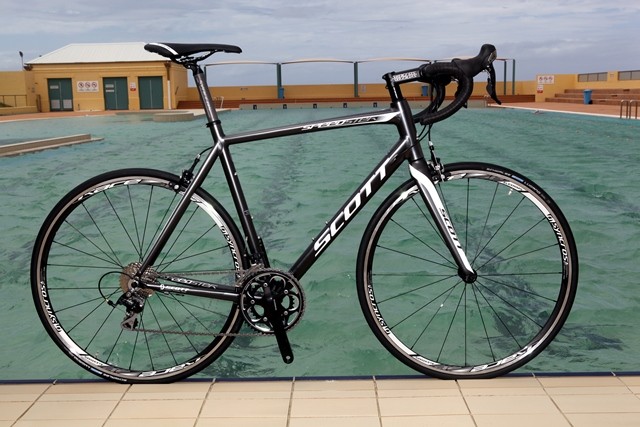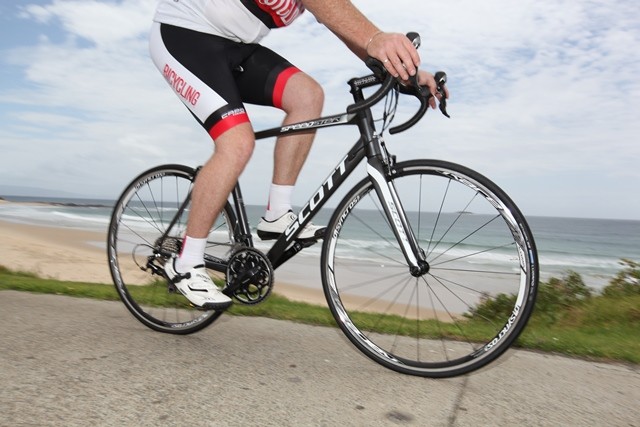 Scott Speedster S20
Stealth is the word for the Scott Speedster S20. The all black combination of the aluminium frame and the Shimano 105 groupset ensures you'll fly under the fashion radar. The $1,699 price tag belies this bike's performance and while it is the heaviest bike on test, it still feels nimble on the road. This can be attributed to the stiff bottom bracket and Schwalbe's Lugano tyres.
The geometry of the frame is great for all day riding, as is the comfortable saddle. Similarly, the stem and bars punch well above their weight. The same can be said for Shimano's 105 groupset which has benefited from Shimano's technology trickle down policy. The Speedster shows just how good less expensive bikes have become.
Frame: 6061 Double Butted aluminium
Groupset: Shimano 105
Wheels: Alex Race 28
Saddle: Syncros
Bars and Stem: Syncros FL/FR20
Weight: 9.23gk (57cm)
Price: $1,699
Distributed By: Sheppard Cycles www.sheppardcycles.com