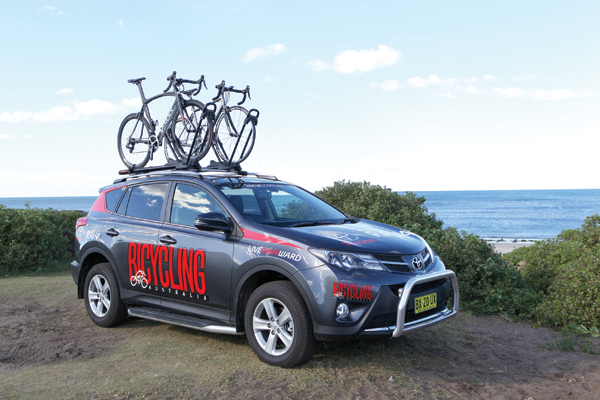 The Yakima Highroller is a simple and easy to use rooftop system for transporting bikes. The system clamps to virtually any profile of crossbar, though we used the Yakima Whispbar crossbars attached to the roof rails of the RAV4. The Highroller can be mounted to the crossbars in under five minutes with just some simple wing nuts to secure them front and back, hidden behind snap on/off plastic panels. Attachment is surprisingly easy, which is great; though as you put the rack on it becomes clear that removing the racks, complete with your bike still attached could also be quite quickly achieved for a determined thief. To make things more difficult for light-fingered fiends you can use the integrated cable lock around your bike's frame and also the rails of the vehicle. The Highroller can take wheels from 20" up to 29", and bikes up to 22.7kg and any style of axle is no problem.
One of the major benefits of the Highroller is that is secures your bike entirely by the wheels so there's no clamping onto or marking of the bike's frame. The front wheel is locked between two slender tubular arches that swing into position fore and aft of the front wheel. The rear arch is wound forward with a large knob clamping the wheel against the front arch. The rear wheel is tied down with a tough plastic ratchet strap. Once in place the bike is held firmly and doesn't move in any direction.
I liked the look of the Yakima setup; the racks are a stylish piece of gear finished in black and red and they fold down to be very discreet and streamlined when not in use. The Whispbars also are a tidy solution fitting neatly between the rails of the car with no excess overhang. This might not suit those with greater utility in mind e.g. the ability to carry hardware or building materials which would require wider crossbars, but for our purposes they work well and look good.
Roof top bike racks do bring the concern of inadvertently smashing your bikes into overhead obstacles like shopping centre car parks or your home garage, whereas a towball or rear-end mounted rack, while getting in the way of a tail gate or boot and bringing hassles around number plate visibility, will eliminate that risk of overhead damage. There's also some level of physical capacity required; being strong enough and tall enough to lift the bike high enough to clamp it in place—and this is accentuated when the vehicle is tall like an SUV or van.
We also tried Yakima's 340l Skybox; a large luggage compartment for the roof. Like the Highroller it mounts in a flash to most crossbar profiles, though this time with four heavy duty quick release clamps inside the box (so they can be locked out of reach) The lid cleverly opens on either the left or right and has a keyed lock on both sides. It's made of ABS plastic; tough and strong, and lighter than fibreglass. Sleek and good looking the skybox's aerodynamic shape and glossy finish is designed to minimise drag and wind noise. Increase in fuel consumption was negligible during the review period. This is an issue you need to consider, though if you need to increase carrying capacity it's probably going to be a choice between something like this or a trailer which will also raise your fuel cost.
The 340l version is huge and holds a lot of gear, 340 litres of it to be precise, great if your stuff has overflowed the boot and is about to overtake the back seat. It's long enough to take 215cm skis, fishing rods, and soft sports style bags fill the space well, stowing all your gear securely and out of sight. Our RAV4 has fairly narrow rails and the style of Whispbar we chose sits between the rails, but there is just enough room to fit the Skybox and one Highroller. We had the box installed through some heavy rain storms and it didn't show any sign of leaking.
This is a really convenient short-term storage and transporting solution, great for occasional camping trips or family getaways. It's easy to install and remove so while it does increase your fuel bill marginally while in use, it's easy enough to attach and load up whenever you need it.
High Roller $299
Skybox 340L $749
Whispbar $329
Distributed by Yakima Australia www.yakima.com.au