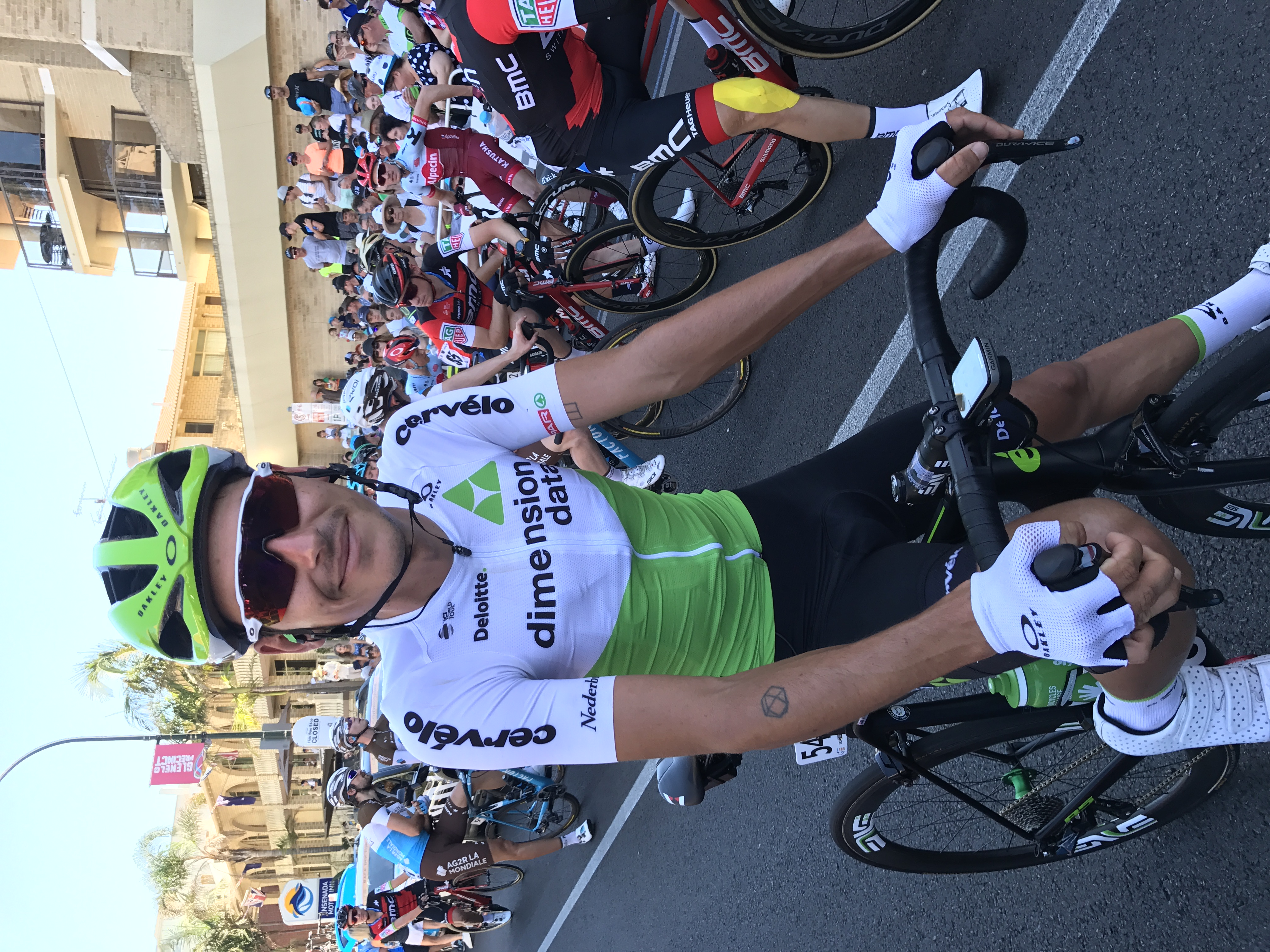 "I literally sent it straight from home – it's probably still covered in dirt and mud," Lachlan Morton said with a laugh from the Santos Tour Down Under Stage 3 start line in Glenelg.
Straddled over his R5 race bike and about to embark on the shortened 120km stage to Victor Harbour in 40-degree heat, Lachlan was referring to one of his other bikes, a Cervelo C5.
"I've been surprised by how much you can do off road on it," continued Lachlan, who, when back home in Australia, trains out of his home region of Port Macquarie on the New South Wales mid north coast.
From Road To … The Beach!
"The C5 more or less handles like an all-round endurance road bike," he said. "Then at home I can also get out on the beach on it, ride some single track and basically take it anywhere."
The beach! We hope Cervelo are not reading this.
"It's such a versatile all-rounder," he continued. "Here in Australia there are obviously a lot of roads, and a lot of out and backs where I train. But with the C5 I can ride out and make a big loop – it pretty much opens up twice the possibilities when I'm out there training."
"Yes – it is surprisingly light," Morton said. "On the road I pump the tyres up and ride with the group, and later let them down a bit and take it anywhere – it's a really nice all-rounder and opens up a lot of interesting possibilities."
The bike features Cervelo's unique 'Squoval' (square / oval) tube shapes, a FI'ZI:K Antares VS saddle, is equipped with DI2 Ultegra with Shimano 8070 hydraulic discs, Mavic Allround Elite wheels and will accomodate up to 32 mm tyres. With 28mm tyres this impressive all-rounder weighs in at just 7kg in medium. RRP is around $9500.
This bike was on display and a popular feature at the Focus / Cervelo stand at the 2018 Santos Tour Down Under Village. While Lachlan was out racing in the stifling heat, thousands visited the stand with many seen drooling over this versatile all-rounder.
For further details visit your nearest Cervelo dealer or see https://www.cervelo.com/en