The Bianchi Aria E-Road is part of a new era in road cycling – the electric assistance era. Nicola Rutzou recently enjoyed the enviable task of testing one of these celeste stunners.
The Bianchi Aria E-Road is part of a new era in road cycling. Some call it cheating, while others are in favour of a bike category that allows more people to enjoy road riding. Either way, the Aria E-Road is an impressive machine with plenty of Bianchi's street cred, with the added bonus of some electronic assistance.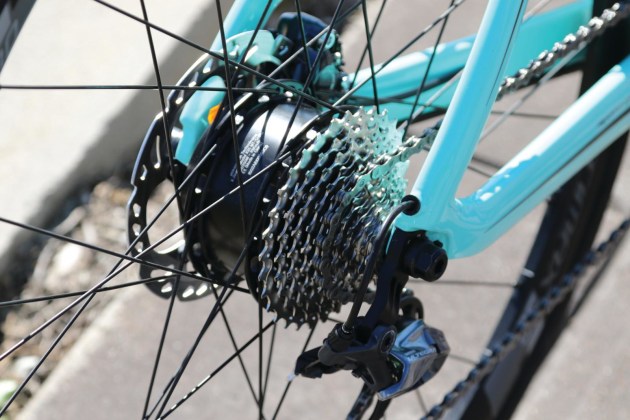 When I arrived at my local cafe to meet up with my usual riding bunch, they flocked around to admire the glossy Celeste Bianchi paint job, and then one by one realised that this bike had something they weren't expecting. The first question was unsurprising – how much does it weigh? In response, I invited them to pick it up and see for themselves. They were universally impressed with its 12.3 kilograms, which is saying something when most of them ride bikes around the 8-kilogram mark.
A Place In The Market
The friend who was most impressed and was pretty much ready to buy it on the spot was my mate who has recently been told by his cardiologist to take it easy on the bike and not get his heart rate above a certain threshold. He's in his mid-sixties and has been riding a road bike for years, and is struggling with this new decree. He could instantly see that the Aria E-Road would give him that little boost he needs, particularly on hills to allow him to ride with his friends and keep his heart rate at the required level.
Rides like a road bike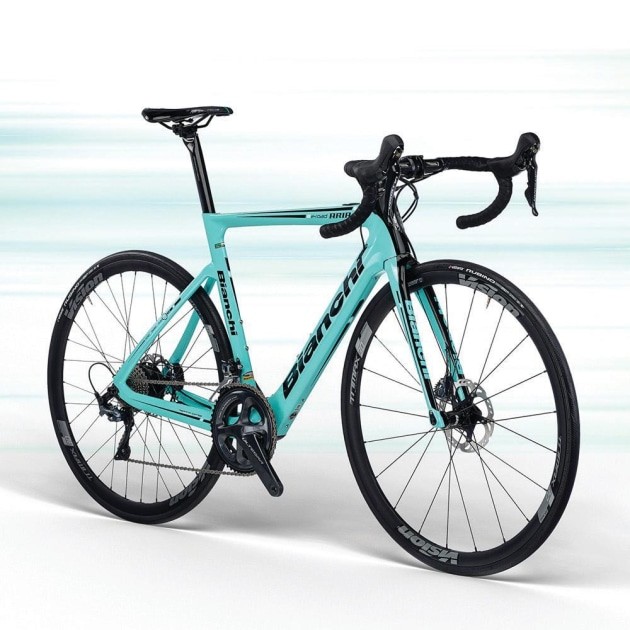 The Bianchi Aria E-Road is based on the aero road bike of the same name. I suspect Bianchi chose this particular frame because it's a bike built for speed and they wanted to make this e-bike fast and sleek even when the assistance level is set to zero.
I'm pleased to report that it really does ride like a road bike, albeit a slightly different feel because of its extra weight but nonetheless, like a racing machine. It corners well and goes up and down hills with ease. The only time I noticed the extra weight in the rear was when I stood up while climbing and noticed an unfamiliar feeling in the rear of the bike. On reflection, I should have dialled up the assistance level which would have precluded the need for me to stand up on the pedals.
Three power levels
There are three power levels – Eco/Green, Comfort/Orange, and Power/Red which are set at 30 per cent, 60 per cent and 100 per cent assistance respectively as standard. However the companion App which works with both Android and IOS allows you to change these to suit. When I tested the bike it was set at 25 per cent, 50 per cent and 100 per cent.
In Eco mode, the bike felt like another rider was gently pushing me along with their hand on my back so it's a good choice when you want just a little assistance.
In Comfort mode, it gave a little bit more particularly when riding slightly uphill on an incline rather than a hill.
It's in Power mode that I really noticed the difference. It gave me a feeling that I was being towed along by an invisible rope. I tested it on some of my local ascents and it handled them with ease. I actually overtook a couple of friends who I'd normally struggle to stay with on a hill, and they were surprised at the ease with which I achieved it.
When I skipped back to no assistance from Power mode I certainly noticed the difference but as long as it's done on flat terrain or even slightly downhill I soon adjusted and enjoyed the feeling of putting a little more effort back in.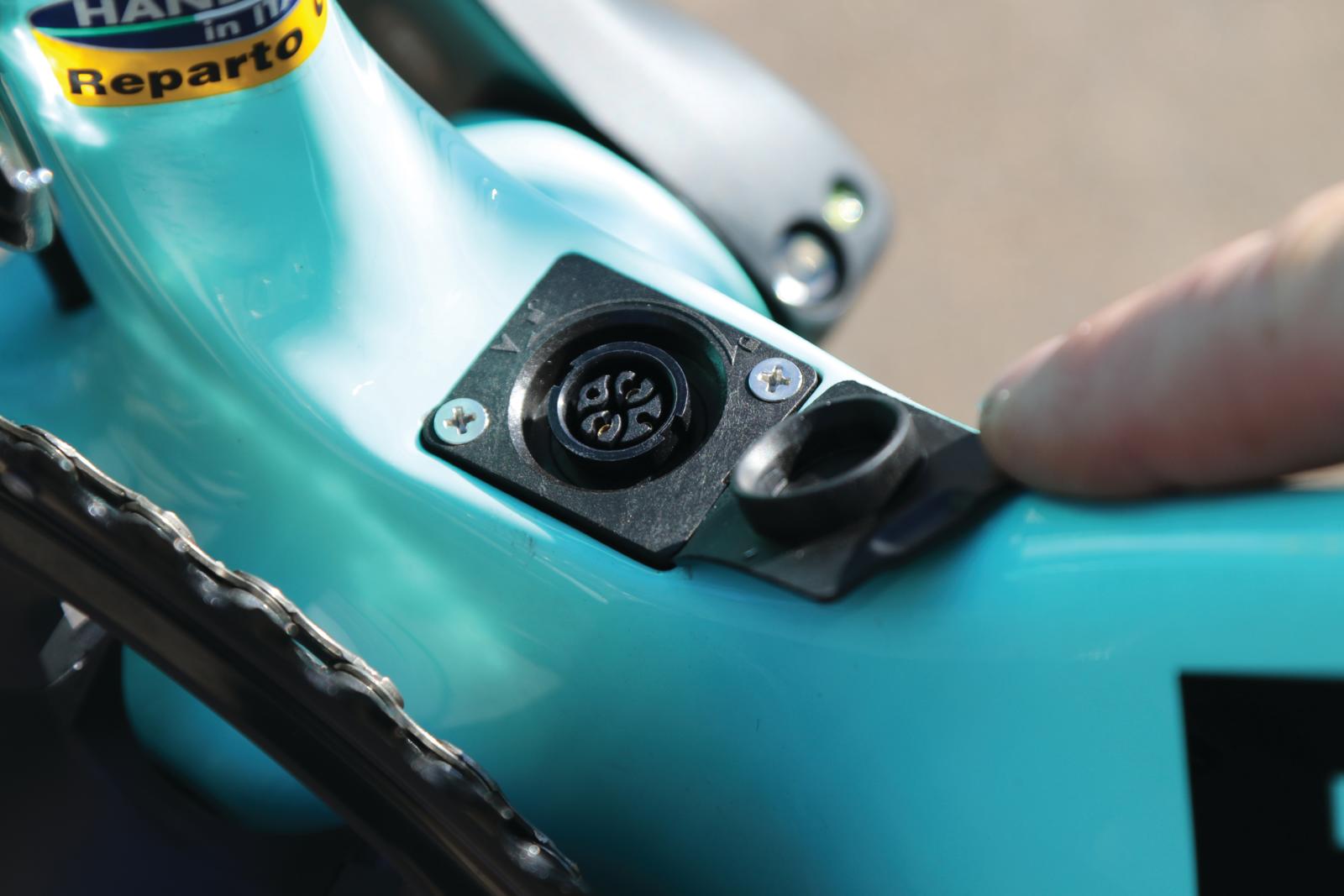 How does it feel?
I've previously test ridden a number of other e-bikes including a cruiser style and mountain bike and both of those had a surge feeling when you first take off because they offer a high level of assistance. The Aria E-Road only has that surging feeling if you take off in Power mode, with the other modes you barely notice the help but it's working quietly in the background.
I enjoyed the assistance when I was taking off on traffic lights or stop signs, particularly when it was uphill and there was traffic around. It certainly allowed me to move off more quickly and made me feel more confident alongside the cars. The same occurred when I was riding on narrow suburban streets riding uphill where car drivers have difficulty in passing. I could ride that much faster and keep myself safer in the process.
…The friend who was most impressed was pretty much ready to buy it on the spot…
Integrated seamlessly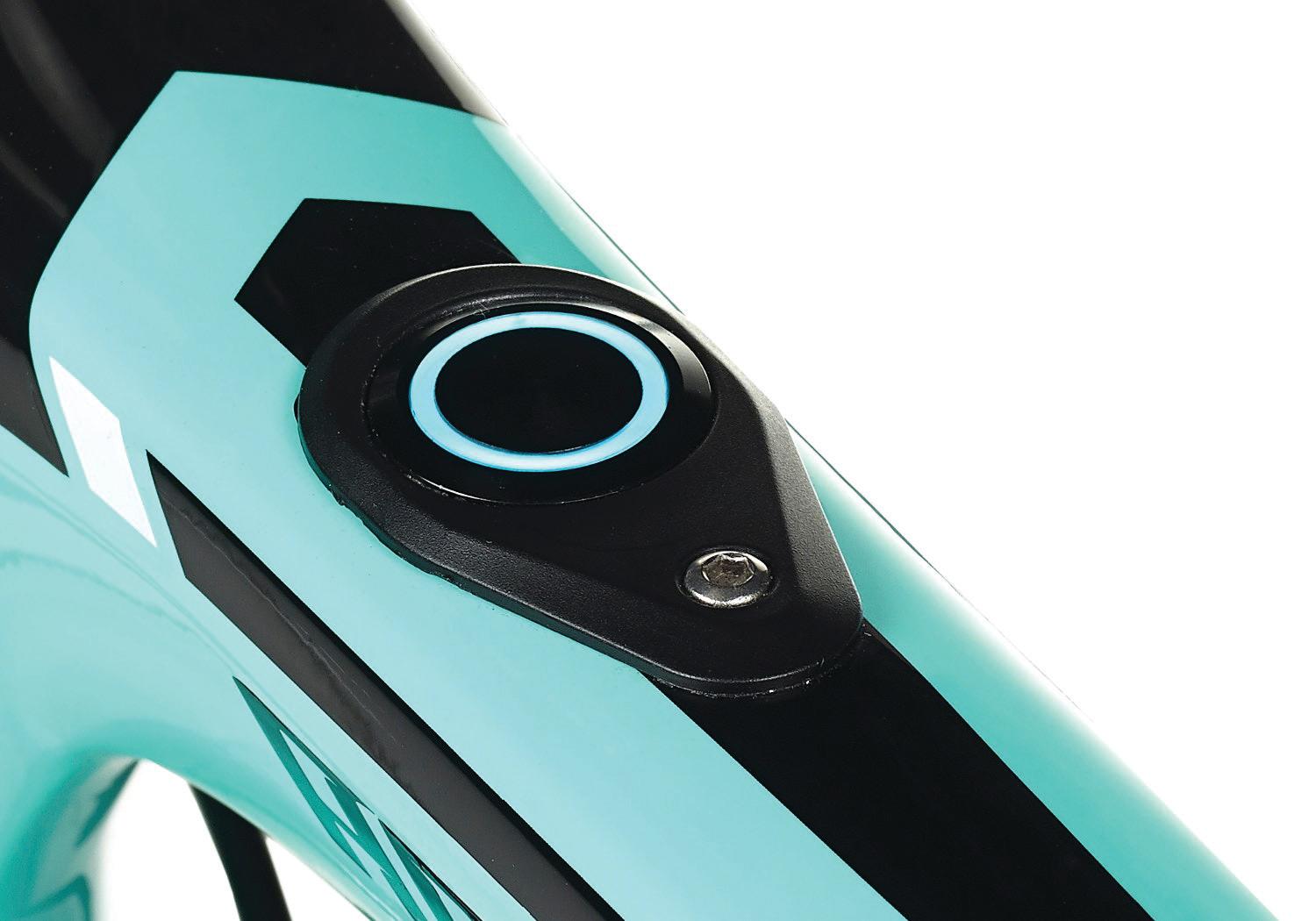 The assistance system is controlled by a button-mounted flush with the top tube near the headset so it's easy to operate while you're riding. It took me a little while to get the hang of scrolling through the three power options but once I'd mastered it I found it pretty straightforward. Simply press the button once to turn it on then where the LED-lit ring shines white. Press and hold it and it turns green (Eco), orange (medium), red (full). It's also visible in bright sunshine.
The same button is also the battery level indicator: white is 100 to 75 per cent; green 75 to 50 per cent; orange 50 to 25 per cent; red 25 per cent; and flashing red is less than 10 per cent.
The Aria E-Road is also Bluetooth enabled which allows you to view a number of bike functions in conjunction with the Ebikemotion App on an IOS or Android phone which shows battery level, distance travelled, altitude, average speed, cadence, gradient, and current speed.
Reliable groupset 
and wheels
The Ultregra groupset and disc brakes make it a very smooth ride, and the disc brakes give a very firm braking feel, particularly when descending with the extra weight on board. All the electronic wiring of the bike runs internally, sealed away from the elements and danger, completing the Aria E-Road's aero aesthetic.
The groupset is complemented by Vision disc wheels that roll well and Vittoria 28mm wide tyres match the bike well with a nice firm grip on the road.
What about the range?
The other big question that I found other riders ask is about the range or the distance you can travel before the battery runs out of juice. I found it to be pretty good on a 90-minute ride where I experimented with the different assistance levels and used only about 20 per cent of the battery. The phone app allowed me to keep a close eye on this while I was out.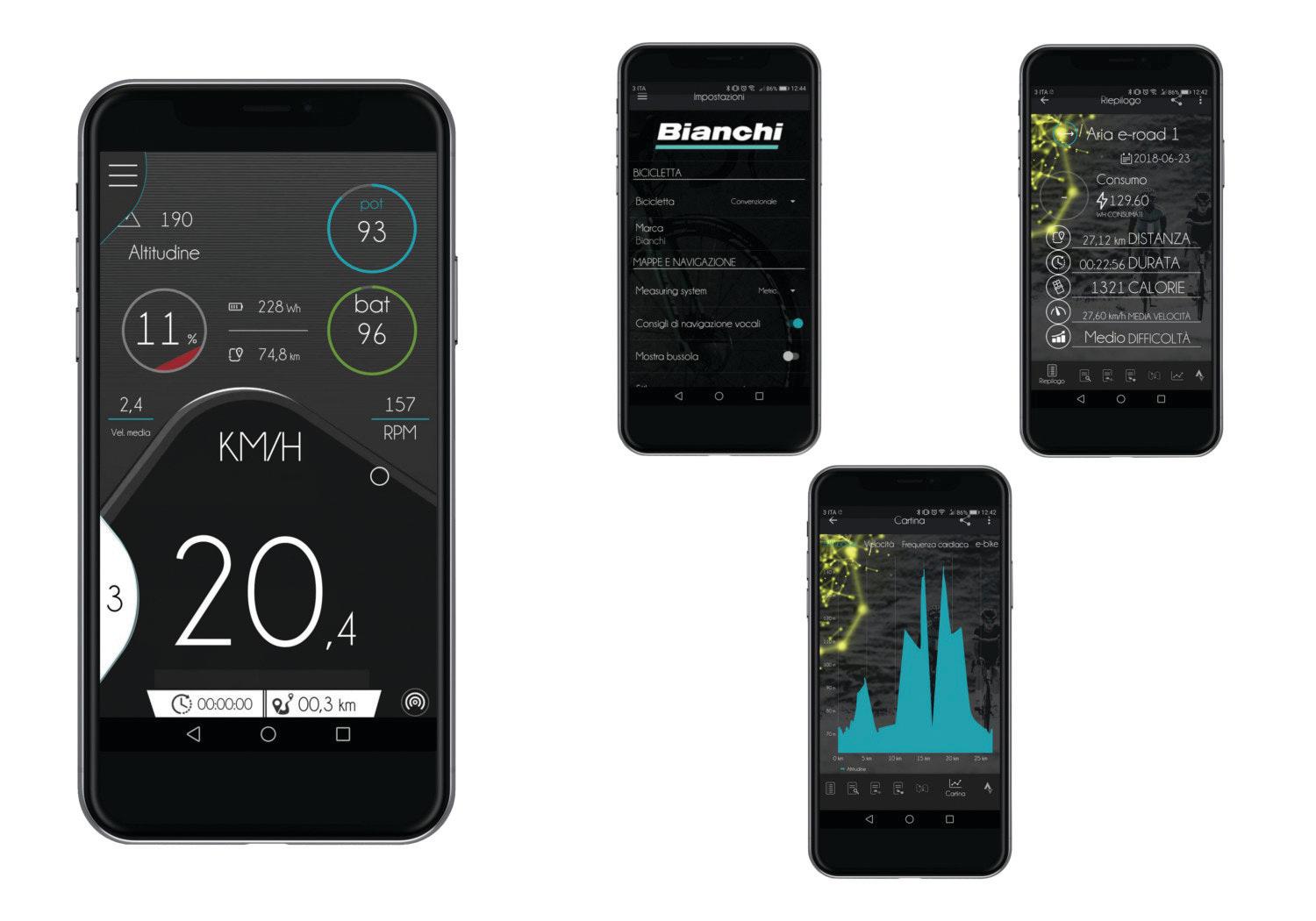 The suggested range figures that were provided by the local Bianchi distributor were:
Eco mode set at 25 per cent – 80 to 100 km
Comfort mode set at 50 per cent – 50 to 70 km
Power mode set at 100 per cent – less than 45 km.
But when looking at these figures you need to understand that most riders will not use the assistance 100 per cent of a ride. Like me, most will spend part of a ride in the different levels including zero assistance. Owners of this bike will find out what works best for them and adjust the assistance levels to suit their own needs.
Integrated motor 
and battery
The motor is discreetly located in the rear hub while it's powered by a slim, 40mm wide 250W battery, positioned inside the downtube of the Aria E-Road frame. The weatherproof charge-port is located discreetly in the upper surface of the down tube, near the junction with the seat tube, for a simple plug and charge operation via any household mains electricity supply. I'm also told there will be external batteries, that fit in a standard drink cage available in the future that will increase the range of the bike.
Summing Up
A new era in road riding which will be great for older people who want to keep riding, people with health conditions like heart issues, and commuters who want to minimise the sweat.
Performance
Rides like a regular road bike and ticks all the performance boxes when cornering and descending. It comes into its own when ascending, allowing all riders to enjoy the joys of road cycling.
Finish
Everything you'd expect from Bianchi with a glossy celeste and black paint job, matched with quality, reliable components like the Shimano Ultegra Disc Groupset and Vision wheels.
Overall
The new Aria E-Road aero carbon bike, engineered with Bianchi's Inner Power Drive system, has the look and feel of a traditional, high-performance, race-bred road bike, with integrated electrical assistance only when you need it.
Specifications
Sizing (*tested): 47, 50, 53*, 55, 57, 59, 61 cm
Weight: 12.3 kg
Frame: Aria E-Road Disc Carbon
Fork: Bianchi Full Carbon Disc
Stem: Bianchi Reparto Corse alloy stem
Handlebars: Bianchi Reparto Corse Aero Compact bars
Seatpost: Aria Full Carbon Aero
Shifters: Shimano Ultegra ST-R8020 2 x 11 speed
Front Derailleur: Shimano Ultegra FD-R8000
Rear Derailleur: Shimano Ultegra RD-R8000 GS 11 speed
Cassette: Shimano Ultegra 11-32T
Crankset: Shimano Ultegra FC-R8000 52/36T
Chain: Shimano Ultegra 11 speed
Brakes: Shimano Ultegra hydraulic disc BR-R8070
Rotors: Shimano SM-RT86, 160mm
Bottom bracket: Shimano SM-BB72-41B
Saddle: Selle Royal Seta S1, steel rails
Wheelset: Vision Trimax alloy disc with Ebikemotion motor unit rear hub
Tyres: Vittoria Rubino 700 x 28c
Motor: Ebikemotion X35 system, 250W rear hub motor unit, 250Wh integrated battery, and iWOC One remote control
Pricing: $8,499