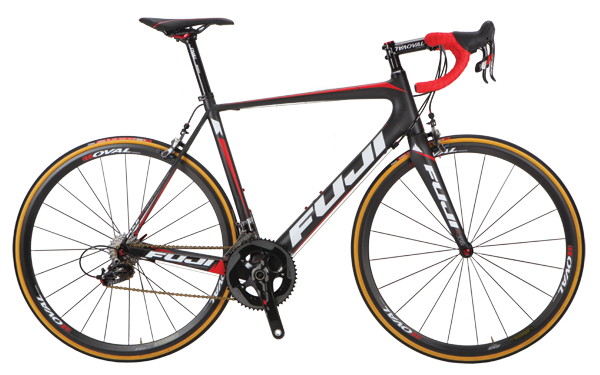 Despite their 113 year history, Fuji has not seen the level of attraction of some younger and now larger bike brands. However they have been on the rise in recent years with a revamped range of seriously credible racing bikes.
Fuji is a Japanese brand now based in America. It was not surprisingly named after Mount Fuji, a symbol of strength that impressed the founders of the brand, and so the snow-capped mountain is depicted in their logo.
Fuji's 2014 Altamira SL, their top of the line model, is an impressive sight straight out of the box; the burly front end tapering back along the top tube to a narrow waist at the seat post, the matt-black carbon frame, red bar tape and bold Fuji branding. It certainly turns heads in the bunch and gets remarks on the road. The Red 22 groupset, Oval carbon tubular rims, oversized down tube and super skinny seat stays promise a high performance ride. And then you pick it up! Fully built this 58cm bike is just mind-blowingly light at only 6.18kgs.
The Altamira SL platform has been in production since 2011 receiving only minor changes each year since. Light and stiff high modulus C15 carbon is used on the SL and 1 series Altamira frames. This high modulus carbon has a density of 1.8g/cm3 and a tensile strength of 590kg/mm2. Ok, what does that mean, and it's tough to compare against other frames—but as an arbitrary measure, think of a strand of C15 carbon as thick and long as a flat blade spoke. That skinny black c15 stick—weighing around 1.5 grams, will suspend over a tonne of mass. Sounds impressive but your frame members are in compression as well as tension, and subject to other forces like knocks and bumps which can cause failure in super stiff carbon. (This topic of comparing various carbon grades will see more explanation in a coming issue.)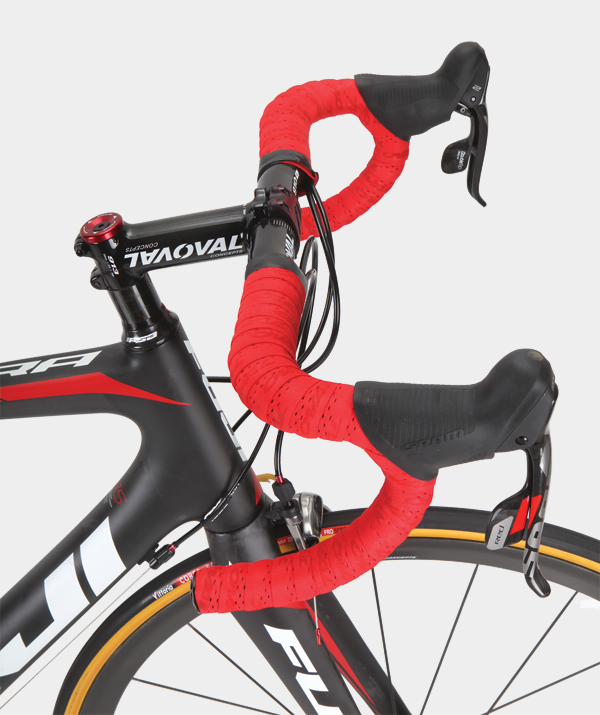 Fuji incorporate inflatable in-frame bladders in their layup process (they call the process High Compaction) to eliminate excess resin and creases in the layup. This reduces overall weight and optimises resin flow throughout the carbon fibres to maximise the stiffness and strength of the resulting frame.
Aimed squarely at road racers this bike will suit riders looking for an all-around competition platform that will excel on the climbs. Their SST1.1 model shoulders only a small weight penalty for the extra strength bestowed upon it courtesy of its ribbed down tube and slightly beefier seat stays. The SST will please heavier or more powerful riders through increased power transmission and sprinting response, whereas the SL is more of an all day racer and climbing machine. Indeed the Altamira frame clearly has some racing cred, currently being raced professionally by Pro Continental Teams NetApp-Endura and Team Champion System.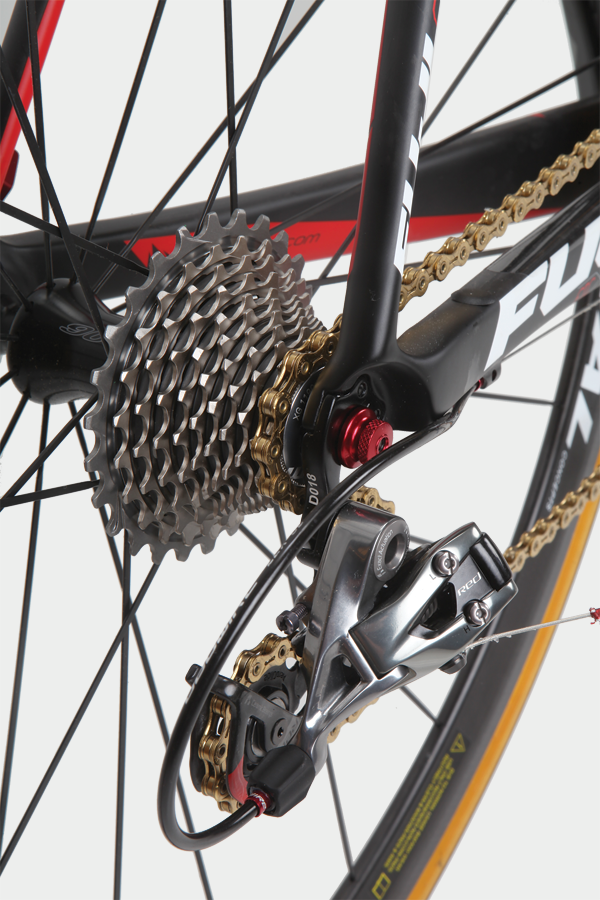 For the Altamira to fulfil its design brief it must achieve three key goals. Minimal weight, (tick that one off) stiffness and comfort. Stiffness to optimise pedalling efficiency and steering performance. Comfort to reduce fatigue and enable extended periods of riding by eliminating the harsh ride and vibrations those big hi-mod tubes will deliver.
Beyond suitable materials Fuji derives these requisite ride characteristics by employing the usual aspects of physical design. The frame uses BB86 press fit bottom bracket to get those crank axle bearings as far outboard as possible to optimise stiffness. They also use a tapered steerer and oversized downtube and chainstays to keep the frame steering truly and pedallling efficiently during high pedalling loads.
As for those super skinny seat stays (there is no SSSS label by the way) they do play their part along with the tubular tyre and wheel package in delivering a comfortable ride. The buzz of rough rural blue metal roads where I ride faded considerably under this bike. Descending too, on the Altamira will make you smile. The mix of that long 120mm Oval stem, Fuji's stiff monocoque fork, oversized tubes and 73.5 degree head angle make for a direct steering and confident ride. The braking on those downhills though, especially in the wet, may add a nervous twitch to that smile. But more on that later.
The Altamira is stunningly light. As soon as you pick it up you know this is something special. Even just throwing a leg over it you literally can feel the low inertia of the bike. The Altamira is a climbing machine, light and nimble, it makes going uphill as good as it gets; this is one of the best climbers I have had the pleasure to ride. Even beyond the engineered physical attributes of this bike, the sheer lightness of it will make you climb better. Climbing specialists will love it, as will the gravitationally challenged. If you regularly ride a bike of say 7.7kgs, try lugging 1.5kgs of extra weight next time you ride and see what it feels like when you offload! Making the move to such a lightweight machine will surprise you.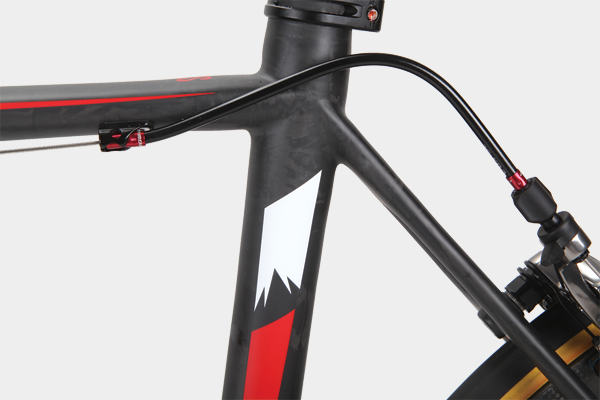 Alongside the SRAM RED22 drivetrain and FSA headset, all the auxiliary components; the stem, post, saddle, handlebars and even bar tape are from Oval Concepts, quality components at the lighter end of the spectrum. The Oval saddle though sporting a cut-out and carbon rails was an outlier for me in terms of comfort, whereas the compact bars and sueded tape were a pleasure to ride.
The Oval Concepts 32mm tubular wheelset is an intriguing choice as standard spec for this bike. Laced with double butted Sandvik aero spokes with internal nipples for extra rim strength and spoke support, 20 front / 24rear they weigh just 1,330g (claimed) per pair. Another quality feature is the six pawl rear hub that delivers double the engagement of most competing wheels. They are reasonably stiff and have a great feel on the road; lively and quick to accelerate.
Braking on a carbon rim is often the subject of debate but stopping in the wet is another issue altogether. Braking in the dry on these carbon rims, for all their benefits in terms of low weight and smooth rolling, is below average if you consider alloy rims in the comparison. I found it took only a short while to become accustomed to the rate of slowing with these wheels—I found just like using two feet on the brake pedal in your car, squeezing the levers harder does bring better results, go figure, but they just don't stop as quickly as an alloy track wheelset. The last day of testing was the only wet weather riding I had on the Fuji, and I am glad for it. When the rims are wet the pads take a while to heat up and scrub off the water before they start to pull you up. Again it's a matter of choice, and if you're prepared to cope with slower braking the wheel do have some positive traits. Overall it was a matter of recalibrating and getting on with the overall, most impressive ride.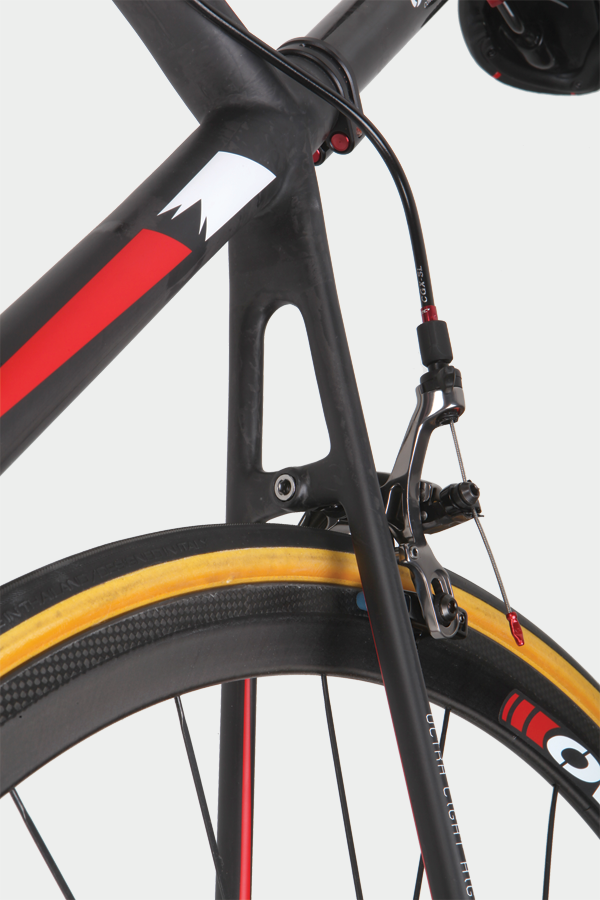 The extra cost (circa $200) of having the tubular tyres installed (if it's not absorbed by your dealer at the point of purchase at least) is a detractor that will raise its head each time you get a flat. Even if you glue them on yourself, the glue will cost you a pretty penny.
However the real question here is "what do I do when I get a flat while riding?" Flatting out in the boondocks with tubular tyres would not be a happy moment. Having said that making 'that' phone call to my support crew back home barely crossed my mind throughout the course of the last month's riding; I've been too busy trying to wipe off the smug smirk that riding this bike has installed on my face.
Summing Up
Quality
A beautifully designed and finished frame matched with top shelf components. Full marks for quality.
Performance
The Altamira is a high performance bike, raced in the Continental Tour. Its minimal mass will make you climb like a pro, while the race geometry and this seat stays make for a bike you could ride fast all day.
Value
The Altamira comprises a high quality and stiff racing frame, carbon race wheels, and top end components. Losing that last kilo to bring a bike's weight down to low six kilo mark adds considerably to the price. But even at 6.18kg there's a lot of bike here for your $7,499.
Overall
Fuji has a frame here of which they should be very proud. The Altamira SL is a great looking, high performing, and lightweight road bike. It's a pleasure to ride; climbing, especially is a treat. The tubular wheels do pose a question, but on more than one occasion I found myself considering the Fuji as a contender for next purchase.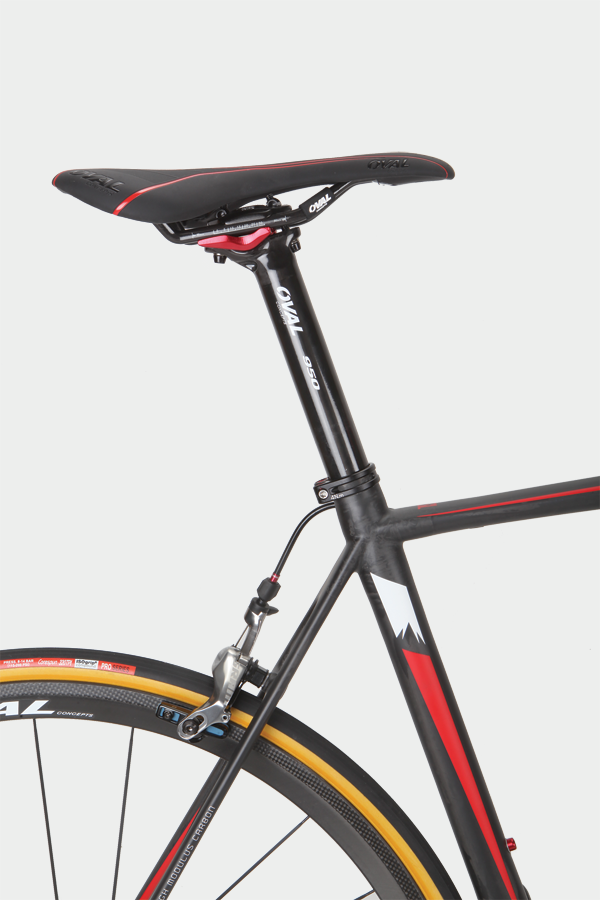 Specifications
FRAME: C15 ultra high-modulus carbon,
FORK: FC-330 carbon monocoque w/ tapered carbon steerer & carbon dropout
CRANKSET: SRAM Red22, 53/39T
BOTTOM BRACKET: SRAM Red press-fit BB86 ceramic bearing
FRONT DERAILLEUR: SRAM Red22, braze-on mount
REAR DERAILLEUR: SRAM Red22, 11-speed
SHIFTERS: SRAM Red22 ErgoDynamic, 22-speed
CASSETTE: SRAM Red PowerDome, 11-26T, 11-speed
CHAIN: KMC X11SL Ni-Ti plated, 11-speed
WHEELSET: Oval W932, full-carbon tubular, 32mm rim
TYRES: Vittoria Corsa Evo SC, 320 tpi, 700c x 22mm, tubular
BRAKE SET: SRAM Red
BRAKE LEVERS: SRAM Red22 ErgoDynamic
HEADSET: FSA Orbit C-40,
HANDLEBAR: Oval R910 SL carbon, 31.8mm
STEM: Oval 913 7050 alloy, 31.8mm, +/- 6 degrees
TAPE/GRIP: Oval 300 suede-padded tape
SADDLE: Oval R900 w/ carbon rails
SEAT POST: Oval 950, carbon 31.6mm x 350mm
Weight: 6.18kg
Price: $7,499
Distributed by: Oceania Bicycles