Bikes, bikes and more bikes. When it comes to bike candy on show at this year's Tour Down Under in and around Adelaide, it was an absolute day-in / day-out smorgasbord for two-wheel tragics. From the latest 2023 models ridden by the pros, to the various steeds of the tens of thousands of fans who rode to many of the stages, and of course the countless builds on display at the Bike Expo in the Tour Village.
But one particular bike, a black and yellow beast with the most incredible backstory, seemed to steal the show.
From a distance this standout Cervelo may have looked surprisingly understated, but look a little closer at the name decal, then glance at the nearby life-sized poster of Marianne Vos winning a stage of the 2022 Tour de France Femmes, and the story starts to unravel.
Yes, it is the Cervelo S5 Vos made history on when she won Stage 6 of the Tour de France Femmes and became the first woman to win a stage while wearing the Yellow Jersey.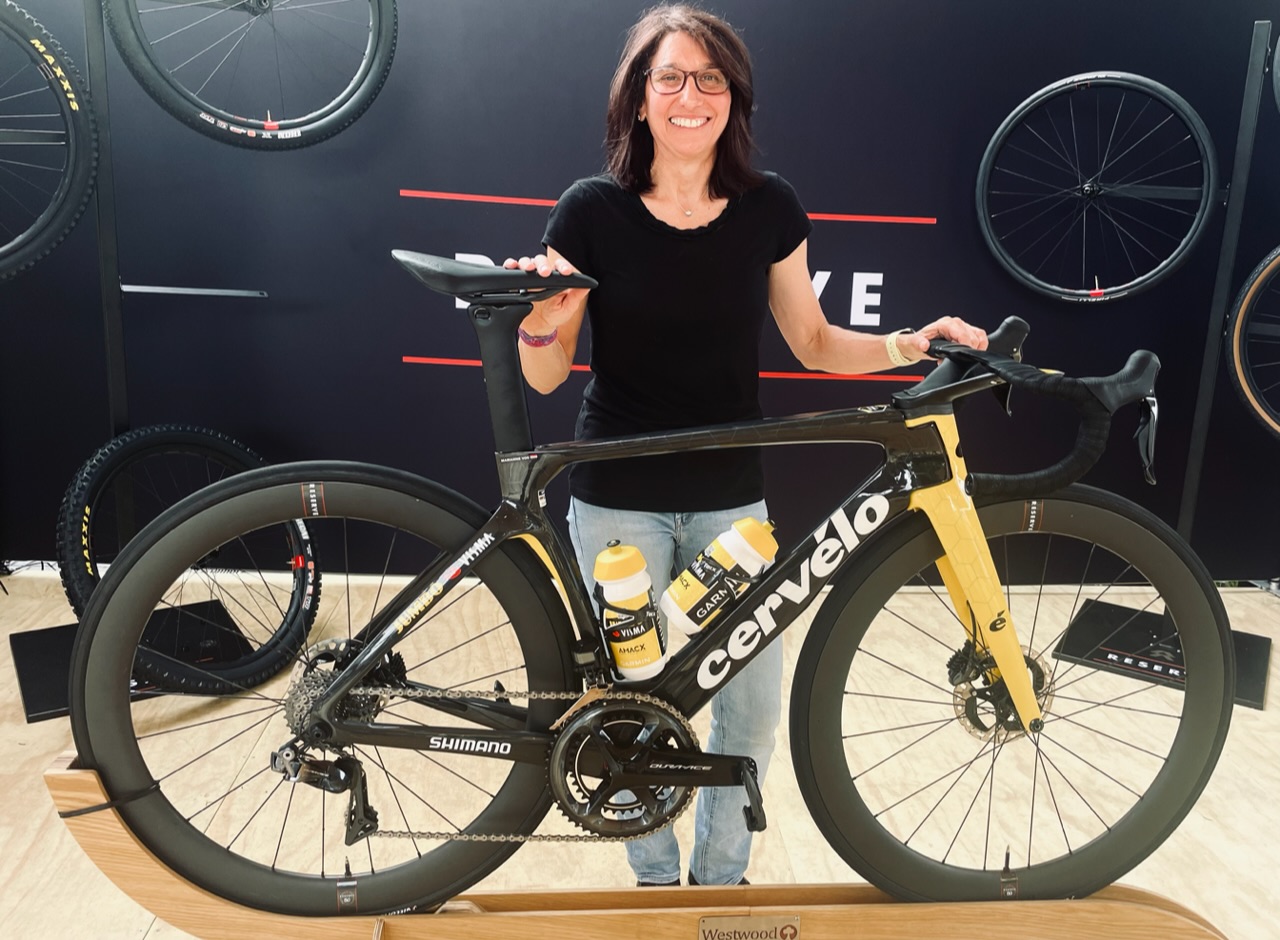 Now owned by keen cyclist Jill, at the Cervelo stand at the Tour Down Under we found out just how she became the proud custodian of the iconic bike.
"Well, I'm a big Jumbo-Visma supporter," Jill told us. "I love women's racing, men's racing and the team. In one of the Jumbo-Visma newsletters I saw they auction off team bikes after each year to assist with funding their development team. Last year I put in a bid for one of the bikes but, due to the time difference, lost to the final bid. This year I tried again, and made sure I was online for it. I really wanted Marianne Vos's bike!"
Jill enthusiastically went on to say "As you know, Marianne is the GOAT of women's cycling … she's the greatest of all time and I've been following her ever since I took up the sport about 15 years ago. To have something of hers meant a lot to me. As it is her bike, I just needed to have it."
Size-wise, it's identical to Jill's other bike – yes, also a Cervelo S5 – that is 51cm.
"She actually rides 38cm handlebars which are narrower than mine," she said. "But I'm looking forward to riding those bars. And they did put yellow bar tape on after the TDF stage win, but changed it back to black during the season."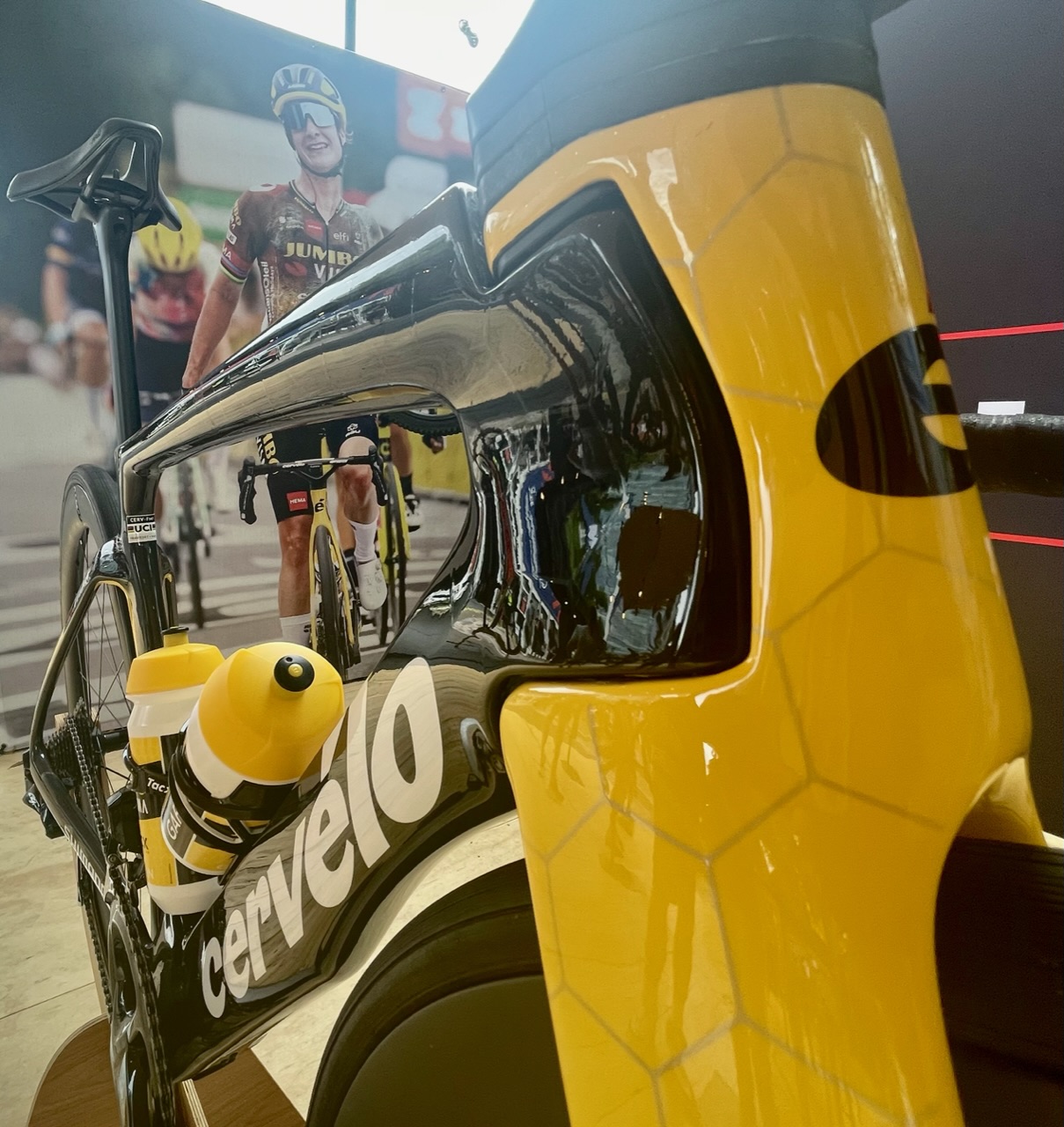 Talking more about bike specs, Jill explained hers is a 2019 S5 while Marianne's is the 2022 model.
"The new frame is slightly lighter with different carbon," she said "And my bike has SRAM Red eTap while hers is Shimano Dura Ace. Overall her bike is 600g lighter than mine."
Will Jill Ride The Famous S5?
Receiving the bike in the weeks leading up to the Tour Down Under, Jill said she was yet to ride it. "I'm not saying I won't ride it, but it's a piece of art to me," she told us.
"Ultimately it's going to be hung on my wall as a memento, with a picture of Marianne next to it along with the framed authenticity certificate."
"For me, to know that she sat on this bike, and being such an idol of mine, well my heart was racing when the auction finished and I heard I'd won."
Pat Jonker To The Rescue
But a logistical issue arose and that was safely and securely getting the bike to Adelaide, which proved to be a problem for Jill.
"The auction house won't ship to Australia," she told us. "But then I spoke with my good friend ex-pro Pat Jonker. He knows the guys at Jumbo-Visma well, so he contacted the crew in the Netherlands and said 'by any chance can you bring the bike to Adelaide when coming for the Tour Down Under'. And they said 'sure we'll bring it'.
"Well I was over the moon," she continued. "I was so excited to pick it up from the actual team."
With her 2019 Cervelo S5 her regular ride, Jill confessed she will occasionally take Vos's team bike out.
"I'll ride it on hot, dry days," she said. "Days with zero chance of precipitation," she added with a laugh."