Almost 5 years on from its debut release 3T's specialist gravel platform, the Exploro, now has a sibling.
To be known as the RaceMax, the new frame compliments the existing Exploro lineup which includes the Pro and Team bikes. The major point of difference this time round? Massive tyre clearance and an even wider downtube than on the original frame – flaring to 75mm.
"While the idea was simple, the execution was very challenging," 3T co-owner and designer Gerard Vroomen writes.
"To lower drag, you need to shield the tires. Which means you need to know exactly how big all these tires are. Hint: It's not what's on the label! Hundreds of measurements later, we came up with two new concepts – WAM: Width As Measure and RAM: Radius As Measured."
"By now, we know so much about tires we wake up screaming in the middle of the night. With all these measurements, the engineering of the frame could begin."
The result is a frame with:
tight-fitting rear wheel cutout (with mud clearance of course)
downtube optimized to re-direct the airflow coming off the front wheel and onto the water bottle
narrow headtube with a big steerer inside (it's pretty trick)
dozens of small details to eke out every last Watt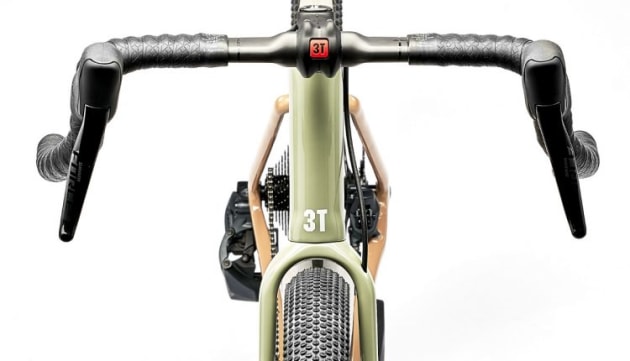 Even Bigger Tyres
The Exploro RaceMax frame will be used on two series of bikes:
Exploro RACE series targeting absolute top speed with 700c wheels and 35-42mm WAM tires, starting at 4199 (euros) with Shimano GRX.
Exploro MAX series of unstoppable gravel machines with 650b wheels and up to 61mm WAM tires, also starting at 4199 (euros) with Shimano GRX.
The new platform will sit alongside the existing Exploro series:
Exploro PRO series for the best value in fast gravel riding with its aero frames and tire fit of 30-54mm WAM, including the Exploro PRO Rival.
Exploro TEAM series with an even lighter frame and top spec including the Exploro TEAM SPEED aimed at the All-roader and Gravel racer.
Australian pricing and availability will be announced when details are released.