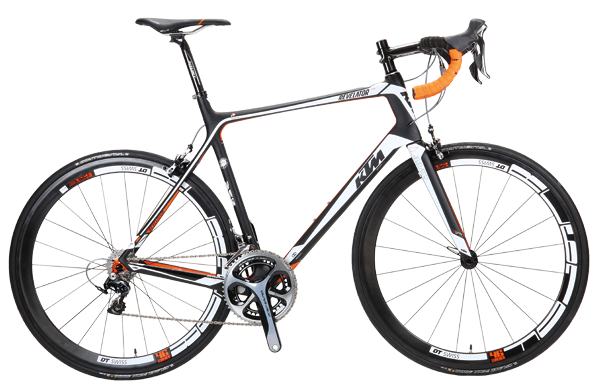 For many people KTM bikes are a new brand on the market. Bicycling Australia first became aware of them at the 2010 Ausbike show where they were on display prior to their release the following year. Upon taking delivery of this test bike one thing immediately became apparent, that KTM has a very respected name in motorbikes.
Every second person who saw this bike, more even, made a comment about the motorcycle brand. They were very surprised to find out that KTM have been making bicycles since 1964. From that time up until 1992, all KTM products were made under the same umbrella, but that year, due to an economic crisis, the company split into four arms, sport motorcycles, tools, radiators and bicycles. They have been separate since then.
This focus on the motorbike brand by the public isn't something that necessarily seems to please the bike company and they've always been at pains to keep the two separate. This confused me because if the parent company is so respected, why would you want to remove yourself from it? And even if you do happen to think this is the way to go, why paint all your bikes black, white and orange, the same colour as the motorbikes. It seemed a bit 'cake and eat it too' to me. But the reason is that a number of car manufacturers have released bicycles over the years and these bikes have been somewhat tokenistic. KTM want their bikes to be seen as a quality product in their own right, hence the separation.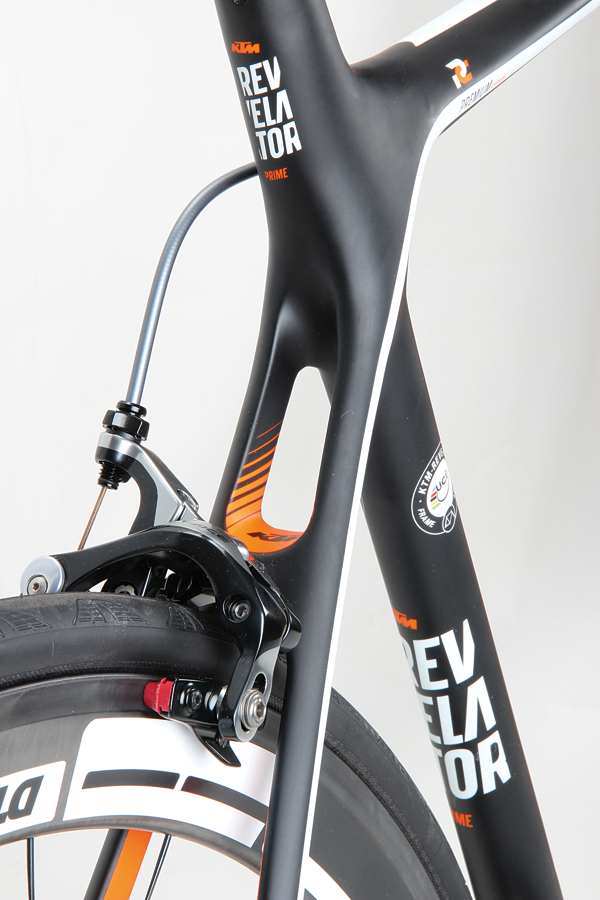 Releasing a bike into a new market must be a tricky business. You need to have a certain amount of quality and be prepared to spend time building up a reputation. For my money, KTM have made a pretty good start, at least with the quality of the bikes. Whoever the person is who is designing the graphics and decals on this bike, they deserve a pay rise, although you might think they've been a little heavy handed with the number. In case you should forget the name of this model, it's written on the frame no less than 14 times. Still, this is a fabulous looking machine and during the test period I didn't receive a bad comment from anybody about how this bike looks, quite the opposite in fact. Personally, there's a few bits that I would have left out, such as the 5nM guides on the bottle cage bolts and the words "premium carbon" that were placed in random areas. Everything else was excellent, and I particularly liked the custom bar tape, orange on the drops and black on the hoods. It all looks particularly stylish.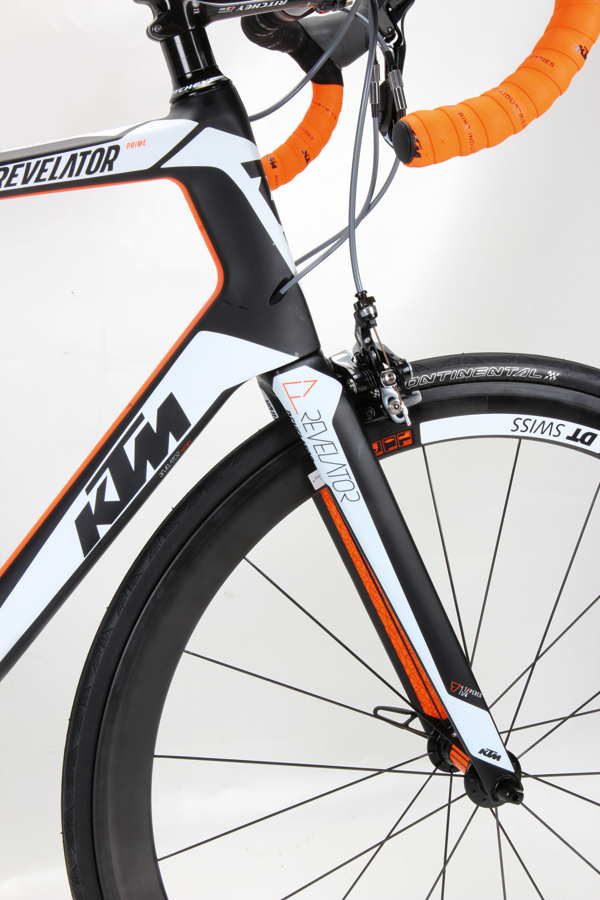 The quality doesn't stop at the paint though. This frame is as good as it comes. The 'premium carbon' words on the frame, while mildly daggy, they are nonetheless accurate. This frame is made from what KTM call "Premium Carbon Monocoque." They don't specifically state which carbon is used, but it does appear to be very high quality, with smooth surface inside and plenty of carbon around the bottom bracket and head tube areas. I'm guessing it's a Toray blend, particularly given the frame's origin which is Taiwan.
The components chosen for this bike reflect the position of the Revelator Prime's position at the top of the KTM tree. There's not a bit of dud gear on this bike at all. Selle Italia SLR saddle (custom to match the bike), Continental GP 4000 tyres, Ritchey WCS Carbon seatpost, stem and bars. I have to say that I expected to have a rough time with the bars. They felt stiff before heading out, but while riding they absorbed a surprising amount of road vibration.
The wheels are DT Swiss' RC Carbon 46. These hoops were great to ride on, sprightly, predictable and as always with DT hubs, smooth rolling. I was disappointed to find that the rear wheel was out of true. This can happen with carbon rims but fortunately wheels like these with standard spokes can be brought back into true quite easily. It is a small concern though as the KTM website boasts that wheels on their bikes are trued by hand in Austria as they're assembled. Perhaps this particular one missed out?
As expected, the 11 Speed Dura-Ace was excellent. We've talked about Shimano's goal of making mechanical groupsets just as good as electronic in previous issues. And we've also talked about a perception that Campagnolo's EPS electronic levers have a more traditional feel during shifting. These Dura-Ace 11 speed levers answer both of these comments quite well. The shifting is light, which brings it close to the electronic shifting, but it still has a fair amount of tension during the throw of the lever. I have been a critic of Shimano levers due to what I considered their excessive lightness. But I've changed my mind with these as they were fabulous. I still think the hoods are a bit hard, so if Shimano make these more comfortable they'll be hard to beat.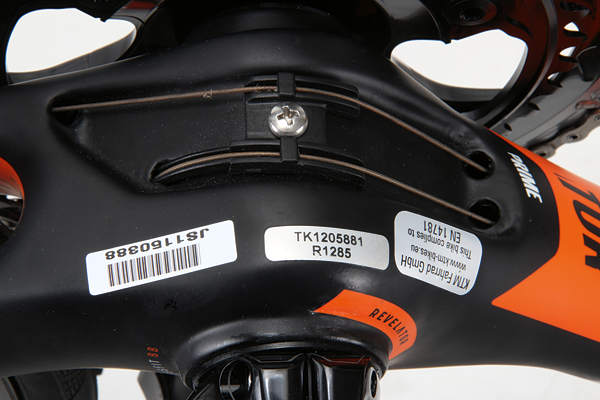 Also good were the Dura-Ace brakes, which I found out quite by accident as the levers were set up in European format. Foolishly I hadn't checked this before setting out, but once my heart rate was back to normal I appreciated the quality of these stoppers, particularly the carbon specific pads. Disc brakes apart, you couldn't ask for better braking.
This bike was one of those machines that accelerate fantastically from the first pedal stroke. Riding along the flat, the word that comes to my head is humming. There was a lovely light feeling to the frame that brought a smile to my face. It felt light and thin, with a lot of road information coming through to my body. I kept listening for the bike to make a 'ping' noise. It was all good. The long-ish head tube took a bit of getting used to and this was immediately apparent at the first corner, where a certain amount of correction was required half way through. I played around with this a fair bit, getting rid of all the spacers to achieve a low bar position and bringing the saddle forward to put more weight onto the front wheel, but I never quite lost the feeling that the front end was a little flighty. The lightness of the frame accentuated this, meaning that descending at speed or heavy cornering required a steady hand. Descending at speed in traffic on a single lane road required a very steady hand and descending at speed in traffic and a cross wind was interesting to say the least. That flightiness however did make for a very responsive bike. It would suit someone who likes to ride fast and has good experience, but nervous riders may find it a bit of a handful.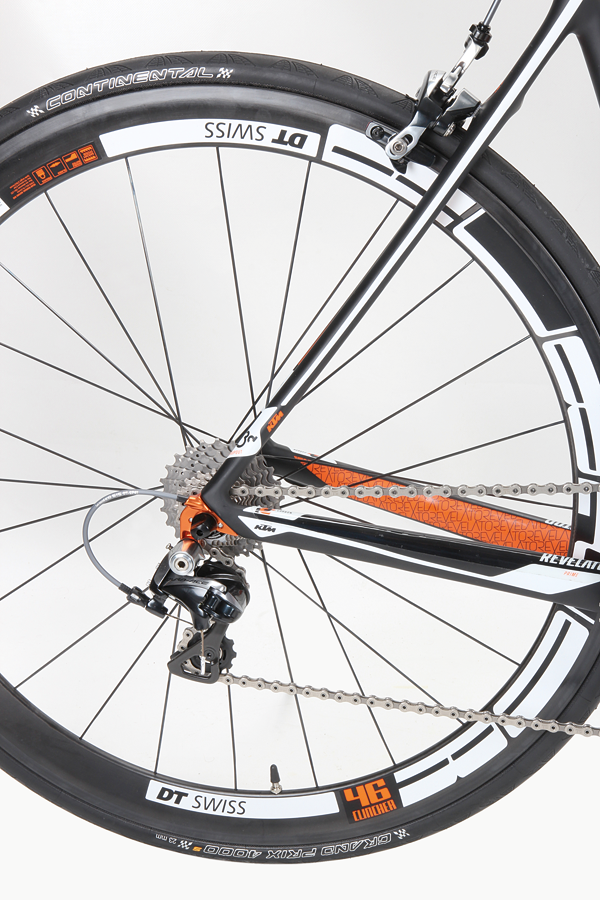 I have no bad comments about the climbing ability of this bike. In a word, it was brilliant. The lightness of the frame, the stiffness, the responsiveness and the sensibly specc'd 28T cog all made for a wonderful climbing experience. I've ridden a number of bikes for Bicycling Australia over the years and I would put this bike very high on the list of good climbers. Very high indeed. That stiffness and responsive power also translates very well on the flat. On Friday mornings my work colleagues and I have a pre work ride which contains numerous Strava sections. There's a particular one of about two kilometres along a false flat next to an airfield. It's a popular section with more than 500 competitors and I sat in the low to mid eighties. Now, part of this improvement involved learning how to wind up timing on the false flat properly and I also had a good lead out, but the first time I rode the KTM on this section I jumped up to 47th on the leader board. The next time up to 38th. Those are impressive figures, and honesty makes me admit that it's mainly down to the bike rather than the rider. If you're looking to improve your numbers, the KTM Revelator Prime is worth checking out.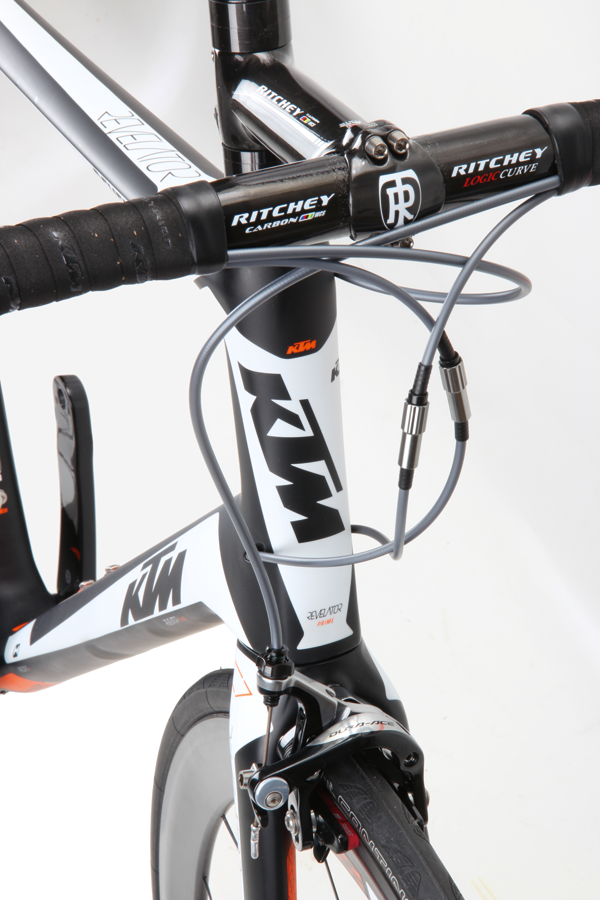 Specifications
Frame: High End Premium Carbon Monocoque
Fork: High End Carbon Monocoque
Head Set: Ritchey WCS Logic Zero
Stem: Ritchey WCS 4-Axis Carbon
Handlebars: Ritchey WCS Carbon Curve
Saddle: Selle Italia SLR Flow
Seat post: Ritchey WCS Carbon
Shift Levers: Shimano Dura-Ace 11 Speed 9000
Brakes: Shimano Dura-Ace
Front Derailleur: Shimano Dura-Ace 9000
Rear Derailleur: Shimano Dura-Ace 9000
Cassette: Shimano Dura-Ace 11 Speed 11-28T
Chain: Shimano 11 Speed 9000
Crank: Shimano Dura Ace 53-39T
Bottom Bracket: Shimano Hollowtech II
Wheels: DT Swiss RC 46 Carbon
Tyres: Continental GP 4000
Weight: 6.8kg
Price: $8,600
Distributor: KTM Bike Industries Australia