Carbon is the basis of all lifeforms on this glorious planet and it is also the major construction material of most of the modern race bicycles. However, those of us with a few years under our belt, or more precisely under our chamois, can remember a time when a lot of our riding conversation was taken up with arguments as to whether indeed carbon fibre would end up being a suitable material for making a bike frame. And whether in turn that frame would be stiff enough to race, smooth enough to ride all day and durable enough to stay in one piece underneath us. All these conversations took place while we were riding along espousing the virtues of our various aluminium frames and how it would seem a long way off before we jumped ship to the new fantastic plastic machines.
Well fast forward to today and carbon fibre has certainly earned its stripes and proven to be a great material for frame production. That is not to say though that aluminium has no place in the great scheme of things any more.
Trek's Emonda range is designed "to create the lightest line of production road bikes ever offered" and the ALR version makes this lightweight performance utterly affordable. If you were to compare the aluminium and carbon versions of this frame there appears to be very little difference. The hydroforming of the aluminium tubes creates shapes that are remarkably similar to the carbon version of the same bike. Seeing as this aluminium bike is part of the lightweight Emonda range it would look sadly out of place if it was too weighty. At 8.2kgs for an aluminium framed 105 spec bike the ALR can feel right at home in the Emonda range. The finish of the ALR is impeccable. The gloss black paintwork is faultless and contains a green glitter fleck throughout. Trek also have gone easy on the logos, while there is no mistaking what brand the bike is, it is not gaudy or overdone.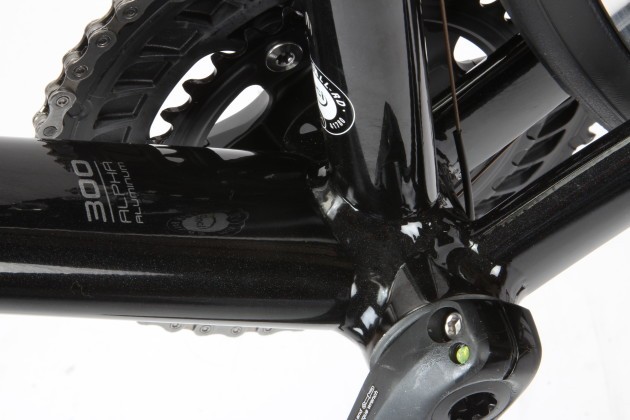 Reviewing the Emonda ALR also allows me to do something I haven't been able to do for quite a while, comment on the quality of welds. If the welds on the Emonda were performed by hand you would be recommending the person responsible for a pay rise. They are reminiscent of the best double pass welds on any of the fine alloy frames from "back in the day". Parked at the café I doubt there would be many people who would pick it as an alloy frame without rigorous inspection.
The Emonda is running Shimano's complete 105, 11 speed ensemble. The substitution of parts for "in house" brands can often occur on bikes built to a price point and often it is the brakes that are first to go. This is a shame as the braking, along with the front derailleur, are the real standout improvements in Shimano's 11 speed groupset. Thankfully the Emonda is running Shimano from tip to toe so you can take advantage of the better braking performance of the new 5800 series brakes.
The front derailleur is the same design as its more expensive stable mates, so still carries the superbly light action which makes hopping the chain up to the 'big dog' a breeze. The Emonda runs the gear and brake cables externally which is an uncommon sight on carbon frames but quite normal on alloy frames. It may not be quite as neat as internal routing but does tend to allow smoother cable runs and easy maintenance. The compact 50-34 chain rings are a sensible choice and teamed with the 11-28 cassette gives big enough gears to go seriously fast and small enough gears to get up almost any hill.
Casting an eye over the geometry charts of the Emonda range reveals that Trek have not dumbed down the geometry of the ALR. This means although you can have the Emonda ALR for a song, when it comes to racing you will be able to hit all the right notes with it. That goes for the very tall and very …well, not so tall. The Emonda ALR spans the size range of the other Emonda models but also comes in a very small 47cm and a very large 64cm frame size.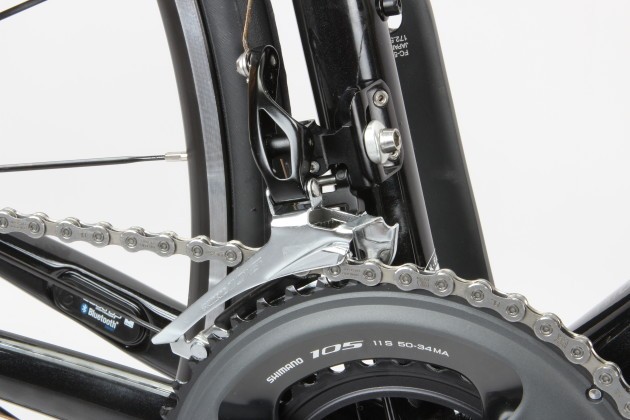 When testing bikes it is always a good idea to approach the process with a blank mind, something my wife seems to think I'm pretty good at doing far too often. However, I must admit to throwing my leg over the Emonda with some residual memories of my previous aluminium rides and having spent many of those years riding time trial/ triathlon bikes, some of those memories were not always positive. So while it may not seem fair to jump off my regular ride and compare it with the Emonda, it is actually a pretty good gauge of just how well made this alloy frame really is. While the immediate impression is that there is a touch more road buzz than I'm used to from my own bike coming through the bars, once you reset your expectations you can settle in and enjoy the Emonda for what it is.
And what it is, is a solid, dependable, stiff and agile bike. Keeping the standard Emonda geometry means the ALR handles like a race bike should. It rolls quickly, quietly and smoothly. It rewards effort and reacts precisely to steering input. "Unremarkable" may not seem like a flattering term but given that in a budget alloy racer many things could go remarkably wrong, unremarkable is a good thing.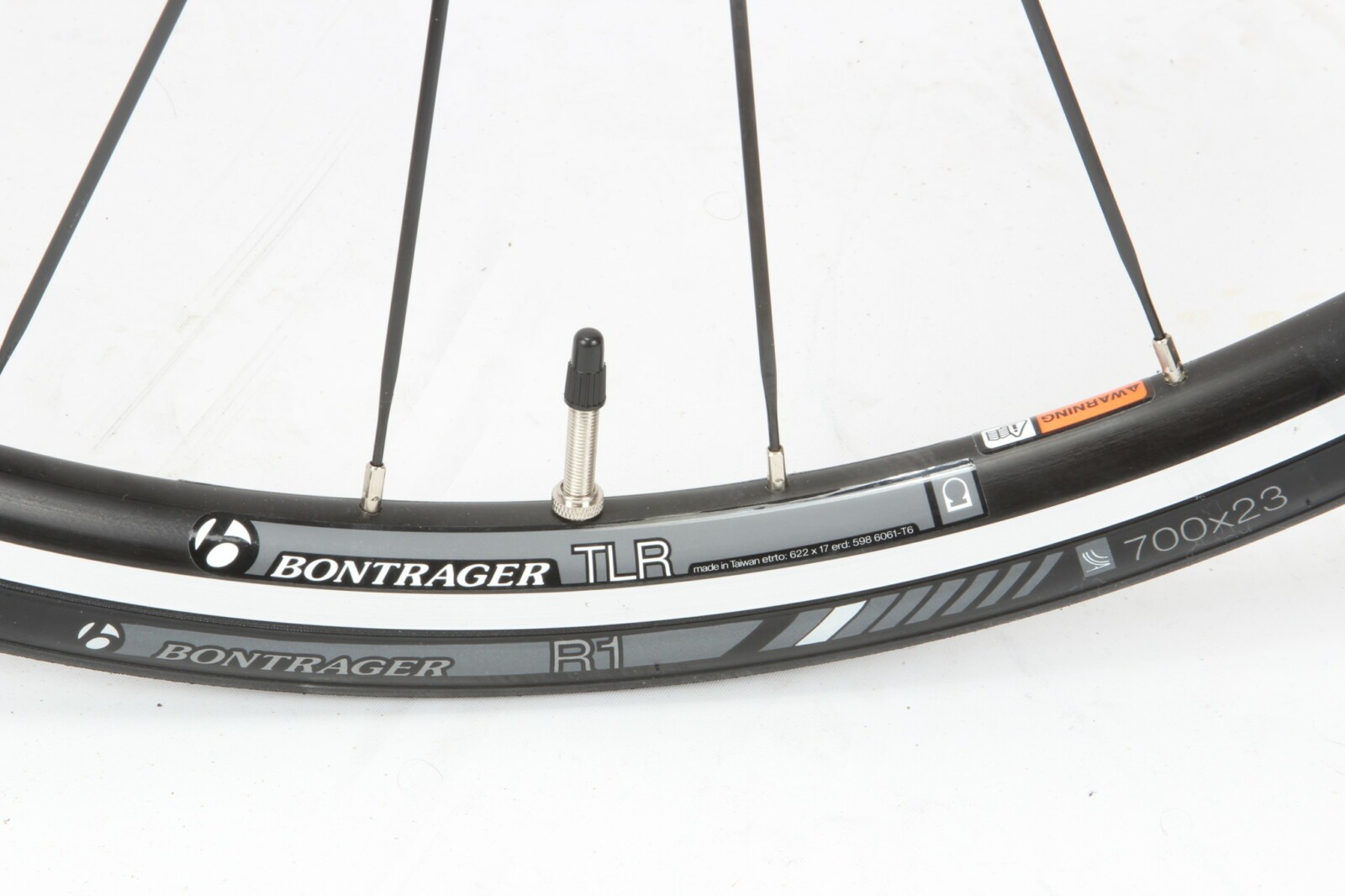 The kit of parts on the Emonda is largely from Trek's own component brand, Bontrager. Having used, tested and owned plenty of their parts, the build quality and durability cannot be faulted and it's a much preferred cost saving option to swapping out groupset parts. The saddle however was one part I couldn't come to terms with, the cut-out style of saddles have never suited me and I bear the scars to prove it, as they say though, saddles are a personal choice and this may well be perfect for you.
The Bontrager wheels are a tubeless ready wheelset, however in this incarnation they are shod with Bontrager R1 tyres and tubes. The wheels are a solid choice which stayed true throughout the test and unlike many new wheels didn't creak or ping on settling in for their first few rides.
While on tyre choice, a few days in to the testing process I had what started as a frustrating day. A flat tyre and a failed co2 inflator became a moment of serendipity. As the malfunction happened close to home I limped back to the garage and grabbed a spare wheel which happened to be shod with a nice 25mm tyre. The difference it made to the ride was so tangible that for the next ride I put the matching front on to see what it would do to the quality of the ride. What it did was made me forget that I was on an alloy framed bike and reminded me how important tyre choice is on any bike.
While the Emonda ALR is an entry level machine, with wider tyres it's amazing how far above its weight it punches.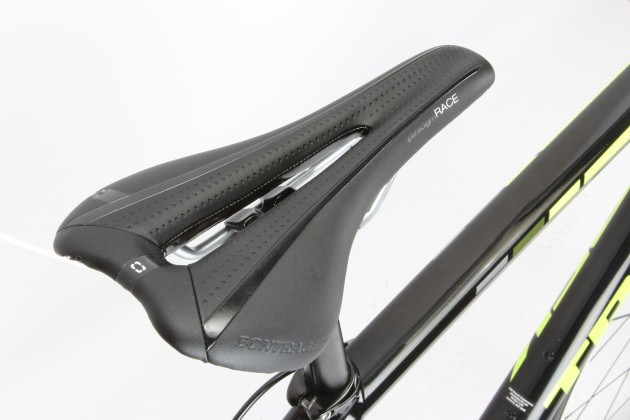 Summing Up:
Quality: An aluminium frame with the same geometry as Trek's premium carbon bikes, dependable Shimano running gear and a solid finishing kit make this a great toe in the water for those embarking on faster riding without breaking the bank.
Performance: There is nothing on the Emonda ALR that will be responsible for holding you back. Tuning the ride slightly by putting your tyres on a diet and getting them to lose a few pounds or getting your bike shop to stick some nice 25mm tyres on will, in my opinion, refine the ride nicely.
Value for money: At $2,199.00 the Emonda ALR is a lot of bike for very little money. You could spend the same or more with other brands and get a lot less. A complete Shimano groupset is a winner. There are no parts that need upgrading any time soon, save for possibly the tyres. If you were to buy this you could use the money you save to buy some flash looking kit to try and keep up with the aesthetic of the Emonda.
Overall: If you are new to race bikes, not sure if you trust carbon, want something that is at the extremes of the size range or after a great bike on a budget then the Emonda ALR fits any or all of those criteria. The Emonda ALR is durable and reliable enough to be a daily ride, will look at home at the coffee shop on Saturday and be a precision race bike come Sunday.
Specifications
Frame: Ultralight 300 Series Alpha Aluminium H2 Fit
Fork: Émonda full carbon
Shifters: Shimano 105, 11-speed
Front Derailleur: Shimano 105, 11-speed
Rear Derailleur: Shimano 105, 11-speed
Crank: Shimano 105, 11-speed 50-34, 172.5
Cassette: Shimano 105, 11-speed 11-28
Bottom Bracket: PF86
Wheels: Bontrager TLR
Tyres: Bontrager R1 700×23
Brakes: Shimano 105
Handlebar: Bontrager Race
Stem: Bontrager Elite
Headset: FSA Integrated
Saddle: Bontrager Paradigm Race
Seat Post: Bontrager alloy
Weight:8.2 kgs
RRP: $2,199.00
Distributed by: www.trekbikes.com.au