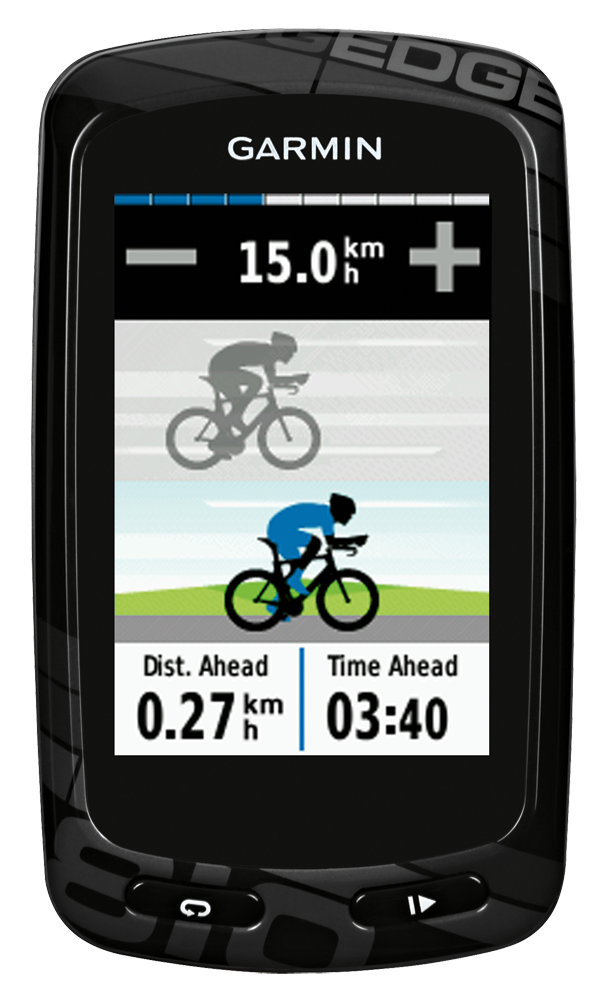 The text message vibrated my phone in the back of my jersey pocket just as I was halfway up an 11 per cent climb on a narrow, slightly damp and mossy coastal road, being pursued by a B-doubleBlast. No, not answering it. Can't stop. Will crash if I stop. Or be run over. But what if it's my daughter's school, needing me to pick her up? I speed up as best I can, the Garmin 810 on my handlebars tells me my heart rate has increased by 10 beats a minute; my speed by six kilometres an hour. I make it to the top, stop, check iPhone and find a note from husband: "The Garmin program is amazing! It tells me that for your first 5km you took 12 minutes eight seconds, had an average speed of 25.50kph and an average heart rate of 128".
Erm. Thanks babe. Glad I am providing you some light relief. But I didn't need you to tell me. Said Garmin on my bike today had been providing me with some quite useful info throughout my ride from Wollongong up along the famous Lawrence Hargrave Drive, Sea Cliff Bridge and up to Bald Hill lookout.
I was particularly interested in what my heart rate was doing on the climb and what gradient it was. Speed, distance travelled, average speed and cadence, were all things that a standard bike computer could have provided. Heart rate could have been provided by a typical HR monitor. The Garmin 810 gave me all of that in one easy-to-see unit, with its large display in a lightweight shell.
But there was more – connectivity – and this is what sets this unit apart from your typical bike computer. Linked to my iPhone's Garmin Connect app, it recorded all the info and set it out in user-friendly email-able graphs and lists – stuff my coach would delight in checking at the end of the week.
And, via the LiveTrack function, it fed the same info including a very accurate live map of my route (on the correct side of the road no less) back to my husband on his iPhone, who was keenly keeping tabs on my journey from his workplace ("for safety purposes," he says…I think he was just spying).
And how simple was it to set up! Just a bluetooth connection between the two devices and we were away. A few days later the tables were turned when my husband was out on a ride with the Garmin on and my seven-year-old was able to follow his progress on my iPhone as we chased him in the car. Although the SmartTrack function could be useful to those who like to broadcast their activities to the world via social media etc, I particularly found it encouraging as a safety tool.
Later I was impressed to open the app, click on 'activities' and see all the details of my ride, including a map showing my route, time, distance, speed, calories, time, moving time, average speed, average moving speed, maximum speed, elevation (gain, loss, minimum, maximum), heart rate (average and maximum). From my iPhone screen, I could tap on an arrow and flick all the info as a web link, to Facebook or Twitter or to a contact via email or message.
Now I am no tech-head. I have discarded a lot of similar items because I simply could not get my head around which buttons to press for what function, especially when I am trying to ride a bike and concentrate on staying upright. I liked the Garmin 810 because of its touch screen – only two buttons are required for on/off and timer on/off – the rest all happens when you touch the screen, just like a smart phone.
Over the month with the Garmin, I gave it a good test on all three of my bikes – the road bike in training, my track bike in training both at our local outdoor track and Sydney's indoor Olympic Dunc Gray Velodrome, and my mountain bike in two enduro events – the Capital Punishment 50km and the Mont 24 Hour, both held in Canberra. I especially loved it on the velodrome, where I found it retained excellent GPS connectivity and provided a large display of my all-important heart rate for sprint efforts. In fact, it didn't seem to take all that long to locate satellites so that I could start riding, wherever I was – inside or outside, in Wollongong or Canberra, and it never failed to do so.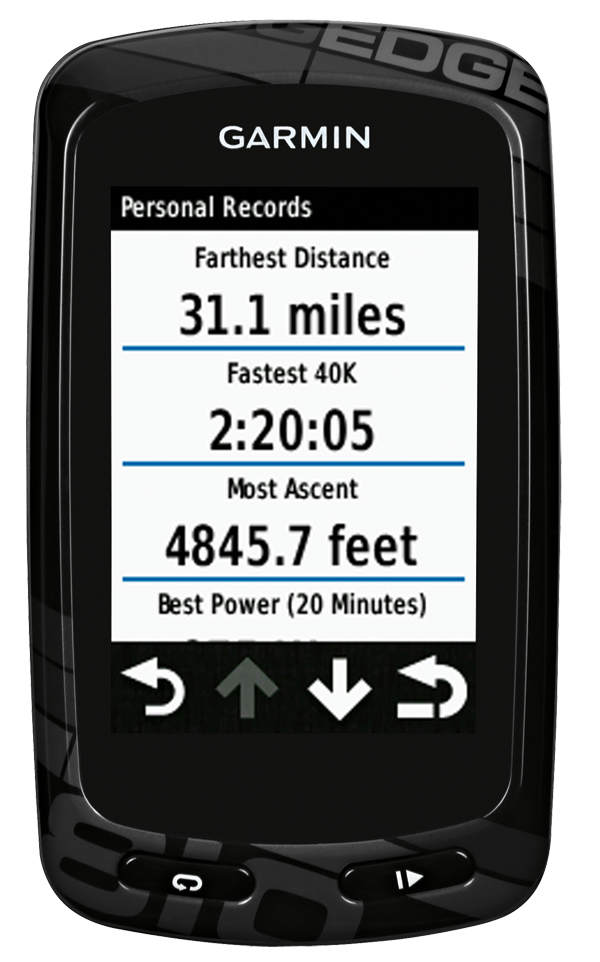 Riding at night, I found the backlit screen, which will stay on for prolonged periods at a simple swipe of the screen, extremely helpful. The Garmin has a really cool function where you can program it for all your bikes, choose a logo that looks like them, and set it accordingly for wheel size and so on. It was easy to touch the screen, select the bike and touch 'ride' to set it to record an activity, and then touch one of the outside buttons to start the timer.
In fact, you can predefine up to 10 bike types and five associated subcategories each with its own customisable selection of data screens. For each subcategory you can have up to five screens of data with 10 fields each as well as workout, map, course, elevation and virtual partner screens.
Having struggled to get best use out of an earlier Garmin model because I couldn't remember which buttons did what, or even manage to press them to effect a change of action while riding, I found the Garmin 810 a very easy piece of equipment to use. This unit didn't come with the optional heart rate monitor strap – I used my own. At a cost of around $60, it is definitely worth buying one with your 810. You can also option the 810 with a cadence receiver to attach to your bike. I find with time, speed and heart rate, I have enough information to meet my Masters level training program requirements. With one of the easy-to-install plastic quarter-turn mounts on each of my bikes (I was happy with the stem mount, but my taller husband preferred to install the supplied out-front version), it was a simple matter of removing the Garmin from its USB charger (where I soon learned to place it at the end of every ride, as the battery doesn't seem to last long enough for a second ride on a successive day without a charge despite the promise of 17 hours of battery life) and then popping it onto whichever bike I was using that day. The mount had a hard workout on the mountain bike at the Mont, which had a technical downhill section, but it stayed firm and true.
One of the sales pitches for the 810 is its GPS mapping capability, which is the only difference between it and the newly released 510 (which I have subsequently bought since having to return the test unit and deciding that I didn't need the maps). I found the supplied map on the 810 is very basic and didn't include the turn-by-turn directions that I was expecting (and thinking would be very useful if I was lost). There seemed to be a bug that stopped the map displaying properly so I gave up in the end. I didn't really need it. I have an iPhone for that. Apparently you can buy more detailed topographical data as an extra or upload your own maps.
In conclusion, I liked the Garmin functionality and connectivity of their new generation units enough to buy the little brother, the 510. If you don't have a GPS enabled smartphone to provide live mapping, or just want to have this functionality visible at the touch of a button on your bars, you may prefer to go with the 810. Some other reviewers have said the 810 isn't enough of an improvement on the 800, but coming straight from an Edge 305, I found it a huge step up.