You know a new tool or device is destined to become a go-to necessity when it's kept in a convenient, easy-to-grab location. That has certainly been the case with this therapeutic aide we've been using, a Theragun Pro.
Now permanently residing on the coffee table, this heavy-duty recovery device has had daily use over the past several months since it was purchased.
What Is It?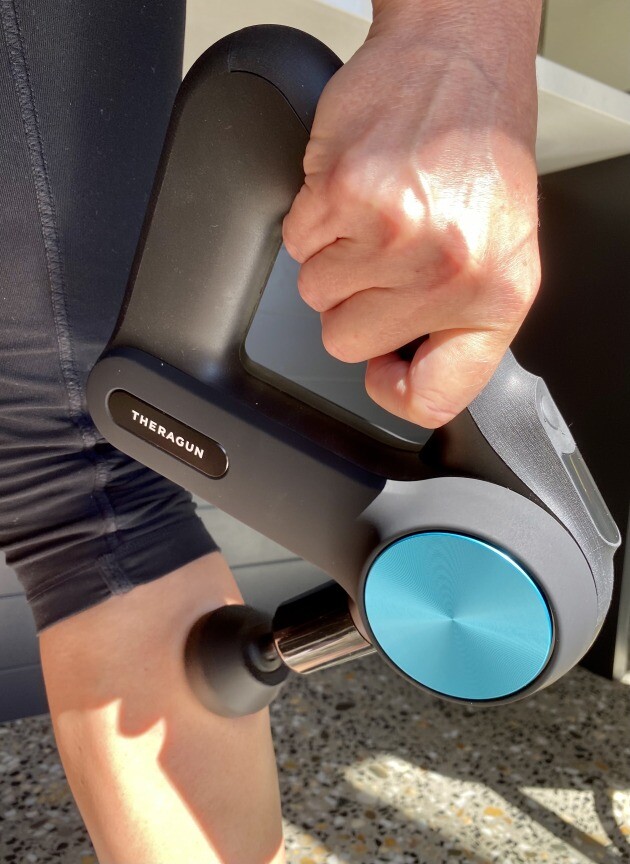 Theragun models feature various points of difference from competitors including higher hertz (pulses per minute) and a longer, deeper 16mm amplitude. Theragun claim this equates to 60% deeper muscle penetration.
Percussive therapy is gaining popularity due to its ability to help restore tired muscles, relieve lactic acid build-up, and help promote blood flow.
Massage guns are becoming prolific with many options available and prices starting from around $100. The Theragun sits at the opposite end of the scale to mainstream models.
The Rolls Royce of the industry, Theragun models feature various points of difference including higher hertz (pulses per minute) and a longer, deeper 16mm amplitude. Theragun claim this equates to 60% deeper muscle penetration. This helps to stimulate circulation, generate heat and release
deep tension.
Sitting at the top of the Theragun range is the Pro model we've been using. Unboxing is quite an experience with the level of quality obvious as soon as you lift the machine from its padded case.
Professional Use
This is a hefty and solid unit that wouldn't be at all out of place in a physio practice or in the hands of a trainer at a top-level league game or rugby match. In fact, during coverage of the Tour de France we were surprised to learn that 14 of the WorldTour teams are indeed using similar percussion therapy devices.
Back to the review, and first up it's wise to read the instructions and details of the intended use. The Theragun won't replace a trip to a professional, but will aide, assist and soothe tired muscles after a ride, spin session or workout.
The Theragun Pro features a lithium-ion battery for 150 minutes of battery life, and a second battery is included in the package. It boasts an ergonomic handle for solid grip and has four adjustable arm positions. Six various high-density washable foam attachments are also included in the package.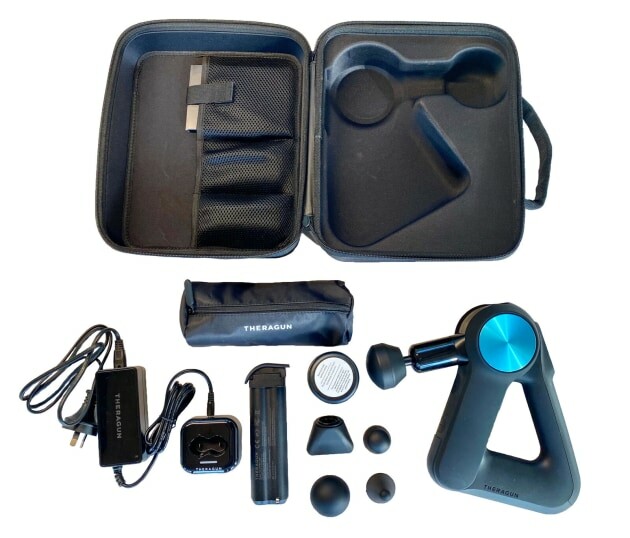 What's in the box? The comprehensive Theragun Pro kit.
The unit features five different percussion settings with the current setting visible on a small OLED screen on top of the gun. Like many products these days, an app is available for those who wish to track data including use, suggestions, recommendations and updates.
Summing Up
Aches and pains are part and parcel of our sport, and particularly for those in the 45-and-above age category. The Theragun Pro definitely helps in easing and soothing muscle soreness and stress—just like foam roller therapy, it makes a major difference with recovery and has quickly become a go-to training tool.
Negatives? The top-level Theragun does come at a price, the Pro model retailing for $899—but like anything, you certainly get what you pay for.
Overall, this unit has proven to be one of the best bike & body related investments of the year. It has been particularly helpful in aiding recovery after gravel and MTB outings, and greatly assisted in reducing calf pain and cramping after road and indoor trainer sessions. Highly recommended!