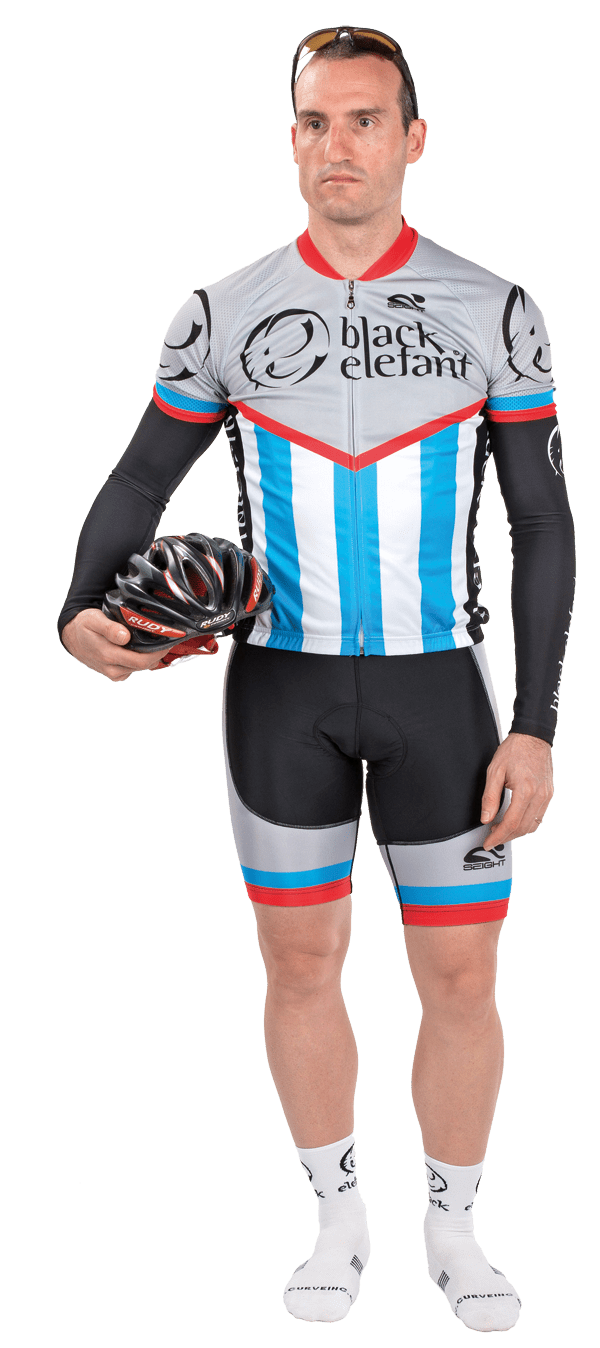 Hailing from Melbourne's Eastern suburbs, Black Elefant are a new range of on the bike and off the bike clothing. Why Black Elefant? The company say "We've always had a strong affinity with elephants, from seeing LeRoy Neiman's striking Charging Bull serigraph in San Francisco to experiencing the awesome presence of elephants on a nature reserve in Africa. Elephants inspire a sense of direction, focus and strength. The spelling of elefant with an 'f' represents family, friends, fun and fitness.
Shown here is the Short Sleeve Jersey—a three panel jersey of moisture wicking fabric, mesh inserts to improve ventilation, along with full zipper and three rear pockets. The Standard Bib Knicks are a six panel design with a high-tech elite chamois designed to decrease friction and saddle soreness. The fabric is high quality Lyrca with silicon leg grippers and flatlock stitching for comfort and performance. The Wind Stopper Vest is ultra light weight and combines wind and water resistant fabrics. It folds easily into a rear pocket and has a breathable rear mesh panel to help regulate body temperature.
The Winter Arm Warmers use fleece lining for warmth. They have durable silicon grippers to prevent slippage and come complete with a highly visible, digitally printed graphic. Lastly the Cycling Socks are anatomically shaped for the perfect fit and are made from moisture wicking Coolmax fabric that assists in removing odour.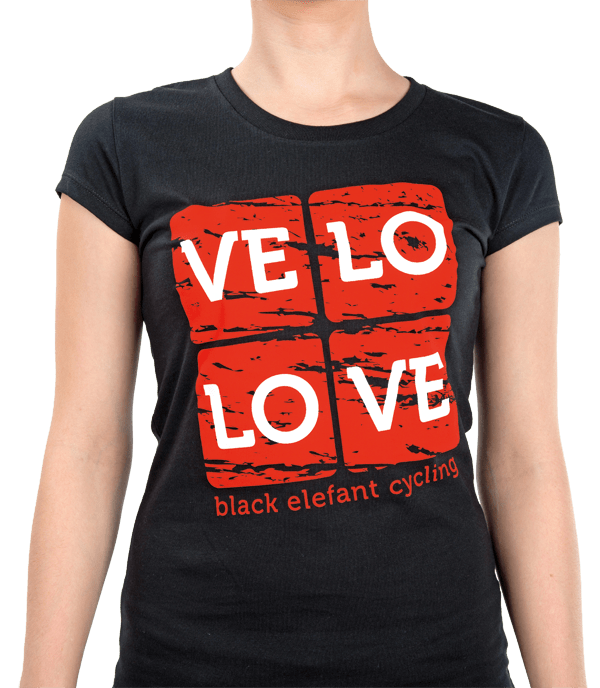 Black Elefant also have a range of after cycling wear. Shown here is the Velo Love Tee, which retails from $39.95 ($49.95 for long sleeve).
Prices Short Sleeve Jersey $119.50
Standard Bib Knicks $134.95
Wind Stopper Vest $94.95
Winter Arm Warmers $34.95
Cycling Socks $14.95
Tee Shirts $39.95 (short sleeve)
$49.95 (long sleeve)
www.blackelefant.com.au