His name is Jett Stokes, he's 10 years old, and we reckon you may be hearing a little more about him – his cycling life is certainly on the way up.
A remarkable feat for a rider of any age, Jett has just completed his first virtual Everest – 8848+ metres of climbing on Zwift – and is now the world's youngest rider to do so. Choosing the 'Alp du Zwift' climb, he rode for more than 15 hours and completed close to 210km from his Sydney home.
No stranger to setting records, in May this year he was the youngest rider to achieve a half Everest – 66 repeats of the well-known Taronga Zoo Hill for 4,424m and 162km!
Riding As Long As He Can Remember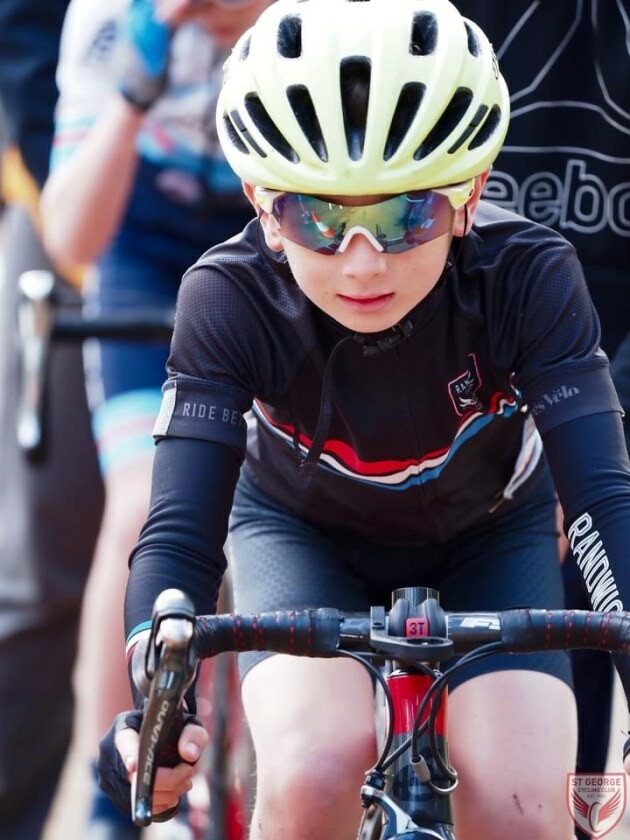 Cycling as long as he can remember, Jett was two years old when he was given a balance bike. Riding ever since, he now races against other juniors, has competed at State championships and wants to one day ride in the Tour de France and Olympic Games.
"When I was 4 years old, I got my first push bike. I've always liked tinkering around with bikes and little tools," he told us.
Before we get to the indoor cycling, out in the real world Jett rides a Cervelo R5 and Norco Fluid 24" MTB.
"I have a track bike as well, which is a Hillbrick Pista and I have a BMX bike which is a Haro Downtown," he told us. In true N+1 style, he said he also has a unicycle. "I am still learning how to ride that," he said. "In fact, part of the reason I wanted to do an Everesting was because someone did a Everesting on a unicycle, my reaction to this was 'wow!'"
Ten Questions for 10yo Jett
What indoor trainer do you use?
My parents and I all use a Wahoo Kickr.
How many kilometres a week and what indoor / outdoor split?
In total, my average number of kilometres each week is 65. Outdoors I do about 50 and on Zwift about 15.
Tell us a little about your cycling journey over the past few years?
I started riding on some basic mountain bike trails when I was about 5 years old. Then the next year in 2017, I rode the Otago trail in New Zealand when I was 6 which was 169 Kilometres over 4 days. I rode the Derby trails and Blue Tier in Tasmania when I was 8. I hadn't started training or thinking about breaking world records yet at this point, but this changed a bit when I started racing on my first road bike at the age of 9.
I started on a loan bike at Heffron Park crit track with Randwick Botany cycling club and then got my first own road bike at this time. This is also when I started competing at junior tours and state championships.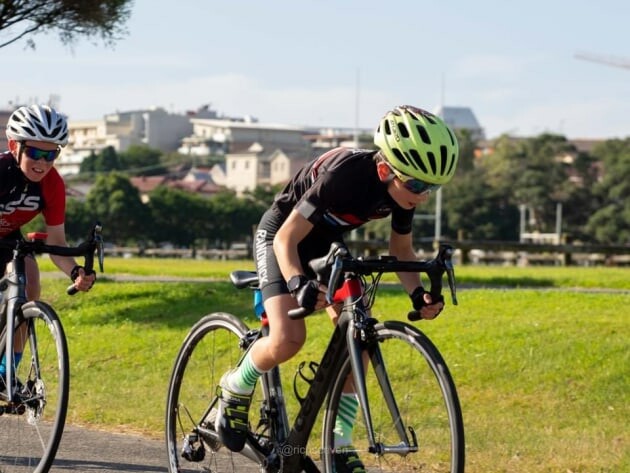 So you recently completed an impressive challenge … Can you tell us about this?
In 2019, my dad did a mountain bike Everesting and we were talking about this at dinner one night, then, I asked my parents who the youngest person ever to do an Everesting was with my fingers crossed hoping that it was older than 10 years and luckily, it was. We decided to do a quarter Everest, then a half Everest then a full virtual Everest.
When I did my quarter Everest, I didn't find it as hard as I thought I would but then when I did my half Everest, it was quite hard and this made me think maybe I should do a virtual Everest then try make my way towards an outdoor Everest. Once again, I had my fingers crossed hoping that a virtual Everest was going to be easier and I was relieved, it was.
How long did it take?
My ride was a 210-kilometres and took 15 hours and 21 minutes but my total bike time was 16 hours and 5 minutes.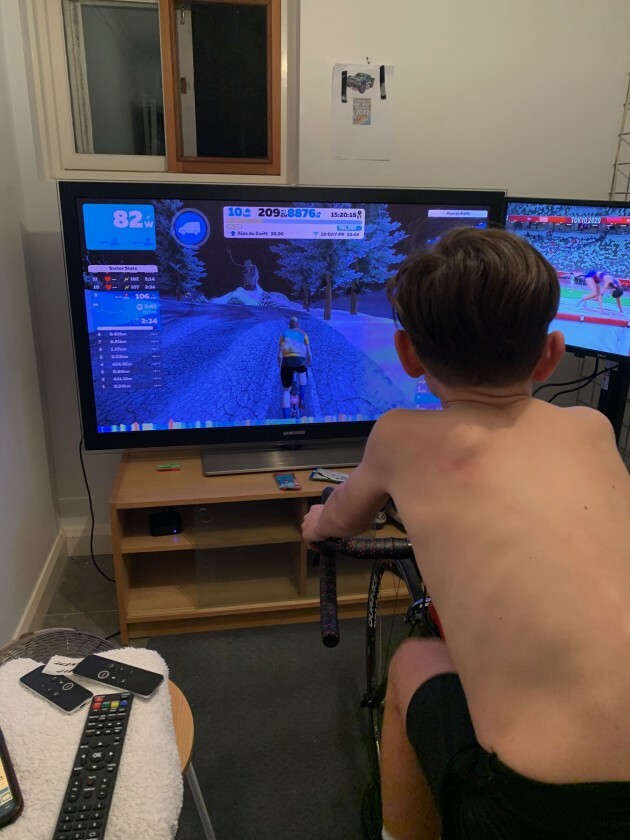 What was the most difficult part?
I did 8 1⁄2 hill climbs and the 8th one I found the hardest because I knew I was coming towards the end and I just wanted to finish and get it over and done with.
I also found the 3rd hill repeat quite hard as I thought I've only done 3 hill repeats and I'm nearly 5 hours in which made me think 'this is going to take ages!'
How did you train for the challenge?
We just went into lockdown because of Covid 19 and I thought, well, I'm usually racing at junior tours and weekly races but I can't anymore so I might as well do this virtual Everest. I didn't really do any physical training, but I did mentally prepare as I thought about doing this event one week before I accomplished it.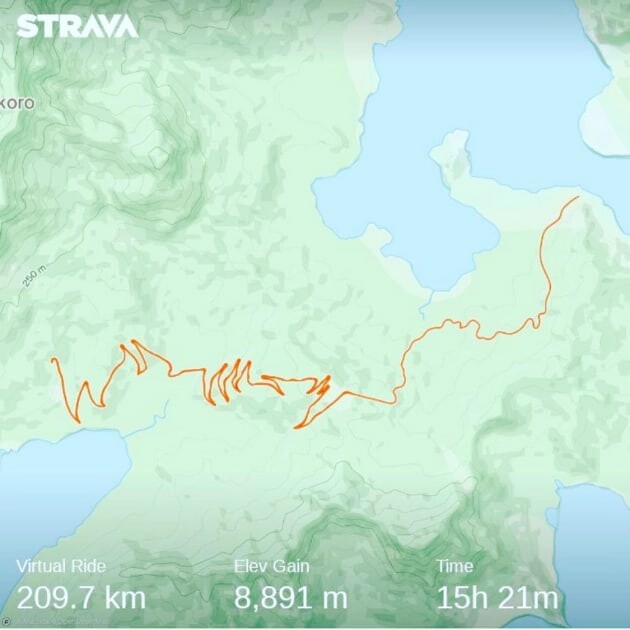 So what's next?
I would like to do a full outdoor Everest but my Mum said not to think about this for a week. I think that would probably be good advice!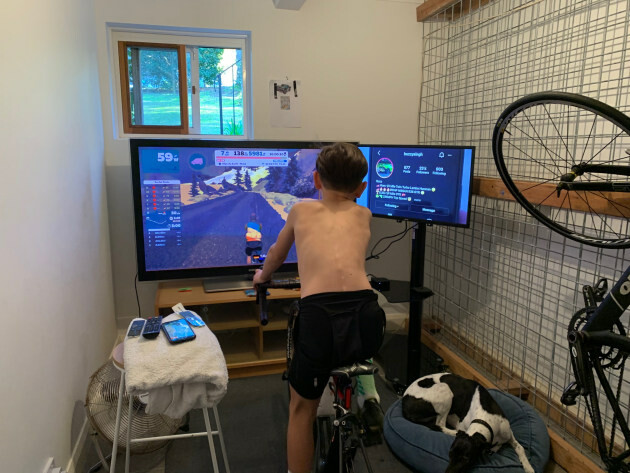 What are your longer-term cycling goals?
I one day want to be in the Tour de France or be in the Olympics, I also want to do a full outdoor Everest as I mentioned before but for now. I think I might have a rest from all these cycling events, especially the Tour de France and the Olympics as these both are dreams
Is there anyone you'd like to thank?
I'd like to thank everyone who gave kudos and who commented on my Strava or my parents Instagram. And a special thanks to two friends, Billy and Will, who I compete with at junior tours and state. They were both Facetiming me very consistently during my virtual Everest.
My dad has some cycling mates and a couple of them joined in on my Everest doing about one hill each. And any of my friends that were encouraging me through the whole way, a big thanks to all of them.