His long career could be well be defined by his 'never-say-die' attitude, and in what might be his final year as a pro, he has proven that point again.
Although Team Sky rider Sergio Henao won the 2017 Paris-Nice last night, the race will forever be remembered as one of Alberto Contador's finest performances.
Starting the 8th and final stage 31 seconds behind race leader Henao, it was a given that Contador would attack. The only question was when.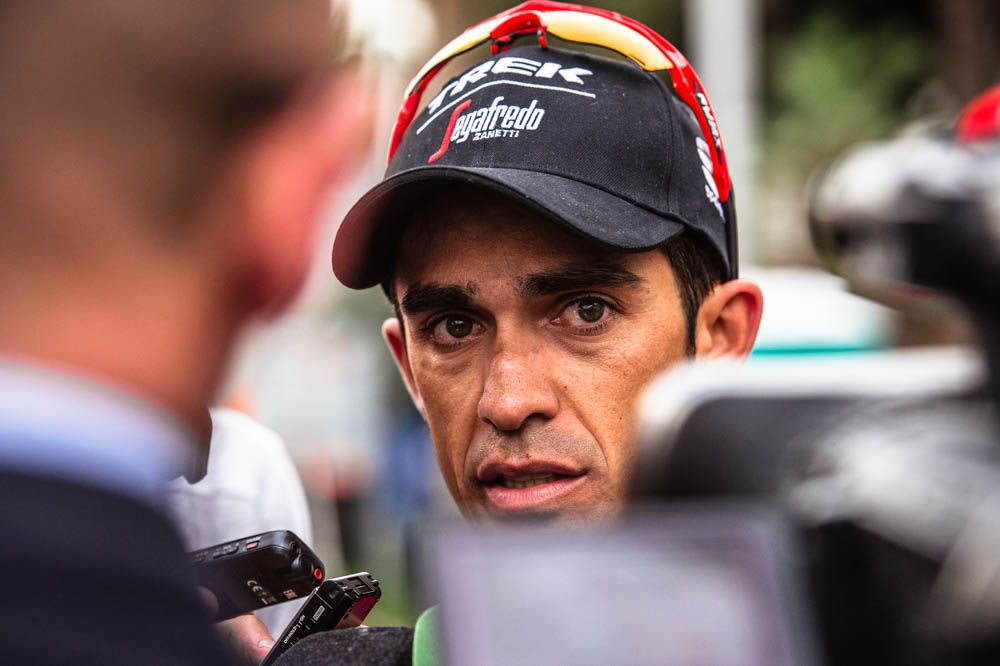 A 115km stage riddled with tough climbs, the Spanish veteran was calm and calculated, biding his time until the decisive moment. It came with 50km to go, and with gusto.
Going for it on the penultimate climb, after gaining a handy 8-seconds in time bonus earlier in the stage, Contador accrued a minute on Henao.

With Alberto dancing his way up the mountain, the Sky rider was further down the hill desperately upping his tempo. The team were in his ear, telling the Colombian he had to finish within 22 seconds of the Spaniard to secure the victory.
Just Two Seconds In It
As Contador crossed the line the countdown was on, those seconds feeling more like minutes. Alas, he missed out by the closest winning margin in Paris-Nice history – just two seconds separating ultimate winner Sergio Henao and second-placed Alberto Contador.
"I gave everything," said Contador after the thrilling finale.
"And my team gave everything today, they were incredible. On the one hand, I am very happy because everyone knew I would attack when (Jarlinson) Pantano was pulling hard, and I had to be strong. It's difficult to go alone because every rider is looking to me to do the work. But on the other hand, it is hard to lose by two seconds again and another second position."
Full of praise for his trusty lieutenant who'll play a pivotal role for him come July, Contador profusely thanked Jarlinson Pantano.
"Pantano for me is incredible," he said. "He not only a teammate but also a very good friend, and when you enjoy each other's company off the bike after you go more faster on the road. We are very motivated to work together, and he will be for me crucial in the Tour de France."
https://youtu.be/7mAbs4u15uY
"With him, I can play with different options. I am very happy that he is with me in the team and I can only say to him: thanks, thanks, and thanks! In the end, it was a good day, a beautiful day of cycling, and this is also important. Okay, I prefer a win of course, but this is the sport. Now I only think about rest and recovery before the next races," concluded Contador.
Have Your Say – How Do You Think Alberto Contador Will Go At This Year's Tour de France?