Ron Krueger is a keen cyclist and communications manager for TourXOz, a bi-annual charity bike ride that covers some of the most challenging routes in the nation. Here Ron tells us about previous TourXOz rides and tells us about the upcoming event, from Fremantle to Broome, in September.
Registrations are now open for the next TourXOz, an epic cycling adventure across Australia.
The relay ride starts in Fremantle, Western Australia on Saturday, 16 September, 2017 and ends eight days later in Broome. Cycling on average, 150kms each day, riders will visit Geraldton, Carnarvon, Monkey Mia, Coral Bay, Karratha, Port Hedland and finally Broome before a well earned beer and a feed.
Perth To Sydney For Charity
The bi-annual event, now a feature of the charity cycling calendar, began in 2010 when cycling friends and organisers Gary Denman and Neil Jackson joined six other riders grinding their way across Australia from Perth to Sydney to raise funds for the Smith Family. Seven years on and the ride has grown in popularity with 35 cyclists enduring Perth to Sydney in 2015 and over 60 riders challenging themselves to a gruelling ride from Adelaide to Darwin last year.
Both events raised significant funds for the Black Dog Institute which researches, diagnoses and treats mood disorders such as bi-polar and depression.
Over To TourXOz Ambassador Mike Tomalaris
This year 80 riders, 30 support crew and 15 vehicles will hug the coastline of Western Australia hoping to raise almost half a million dollars and more importantly awareness about mental health particularly in regional and rural Australia.
SBS cycling presenter and TourXOz Ambassador Mike Tomalaris will once more be joining this year's group after his inaugural ride from Adelaide to Darwin in 2015.
"That ride was a life changing experience for me," said Tomalaris.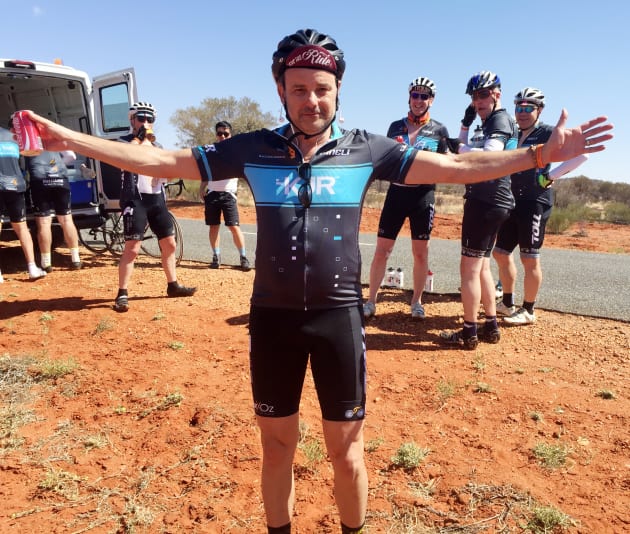 "Regardless of the conditions – the sometimes oppressive heat, the occasional head-on winds, the relentless flies, this is another physical and mental challenge I'm looking forward to.
"We will be enjoying not only Australia's wide open spaces but also the strong camaraderie that's unique to cycling.
"More importantly, we'll be riding to raise well needed funds for the Black Dog Institute. I'm proud to be the TourXOz ambassador for this event."
Riders of the 2017 TourXOz will visit communities along the journey as part of its campaign to raise mental awareness, particularly in indigenous communities where suicide rates are amongst the highest in the world.
To register for the ride go to www.tourxoz.com.au