You only have to look at the start list of the Tour Down Under to see how its importance as a pre season race is increasing on the world stage. Last year we had Armstrong, Voigt and Hincapie. In 2010 the big names have increased with Cadel Evans and Alejandro Valverde joining the other stars. When I received the press release announcing Valverde's attendance I immediately contacted Caisse d Epargne director Neil Stephens to arrange an interview.
I have a picture of Valverde in my head. It is of the finish of Stage One of the 2008 Tour de France from Brest to Plumalec on a boiling hot day. There was a steep uphill finish and what Phil Liggett would call 'The Heads of State' were all set up for the win. Suddenly Valverde exploded away from the other riders with apparent ease. The photo was taken head-on as Alejandro crested the final rise his face in a huge smile and his arms in the air. He has mirror sunglasses, shining white teeth and a gleaming Pinarello with yellow bars underneath him. Like Erik Zabel before Hell on Wheels, all we ever got to see of Valverde were the sunglasses and the raised hands on the finish line. Nothing else. Because he doesn't speak English, we never see him interviewed by SBS like we do Lance Armstrong or Mark Cavendish so for me Alejandro Valverde always had something mysterious about him.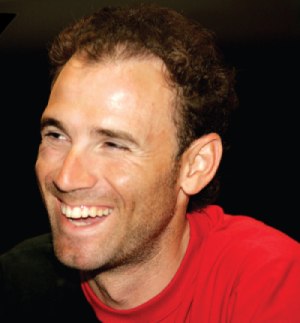 In real life Alejandro gives the impres­sion that he could fit in everywhere. He has the beginnings of a receding hairline and stands somewhere around five foot eleven. He could be likened to the descriptions of Magnum photographer Henri Cartier Bresson, who allegedly got such good photographs because no one noticed he was there. During the Tour Down Under, the lobby of the Hilton is THE place for peo­ple to gather. It's like a mini Hollywood, a lot of people who should be there and plenty who shouldn't. It can be a dif­ficult place to conduct an interview be­cause you invariably get seen and people wander up to listen. When I interviewed George Hincapie there in 2009 several people sat nearby to watch. And talking with Phil Liggett and Paul Sherwen was a mammoth task because they know everybody. But Alejandro Valverde went unnoticed by all and sundry and I could have been talking to my cousin. So with Neil Stephens, to whom I owe many thanks, doing the interpreting, we were able to have a good chat.
Bicycling Australia: You were born in Las Lumbreras in Murcia. I looked it up on Google Earth and it seems like quite a small place. Can you tell us what it was like growing up there?
Alejandro Valverde: Yes, you are right, it is a very small place and really, there's not much to tell. It is typical of many vil­lages in Murcia. Like most small towns it has good things because everyone knows everybody else, but also this can be a bad thing because everybody knows everybody's business. But it is very friendly place. My father drove trucks. He carried all sorts of things, mainly fruit and fruit juices, which is the local industry and my mother looks after the house. I also have two elder brothers, Francesco and Antonio. So you can see, we are not spe­cial in any way.
BA: I believe your elder brother was quite a successful bike rider as well?
AV: Yes, oh yes, my brother Francesco was third in the national champion­ships and was a very good racer at the national level.
BA: Which year was your first bike race?
AV: (Laughs) Oh, a long time ago. Ummm…1989 when I was nine years old. I came second.
BA: Can you remember the name of the rider who came first and did he have a successful career?
AV: I do know his name, but I cannot remember it at the moment. I remember he was the rider who won all the races until I started. I remember which town he comes from and his name is on the tip of my tongue, but I'm sorry…but I remember he always came second after that.
BA: Yes, I heard that after that you won every race you entered until you left school. Do you know how many races that was?
AV: Ummm…it was over three years, about 60 races.
BA: Wow. That's quite a winning streak! Because of this you were called the Unbeatable (El Imbatido). Did this put a lot of pressure on you?
AV: No, not at all. I was young and enjoying riding my bike. Sometimes of course I would get nervous, but that is natural at the start of a bike race, but no I wouldn't call it pressure.
BA: Who were your cycling idols grow­ing up? Indurain?
AV: Neil Stephens! (laughs) Neil Stephens (laughing): Don't put that in he's only joking!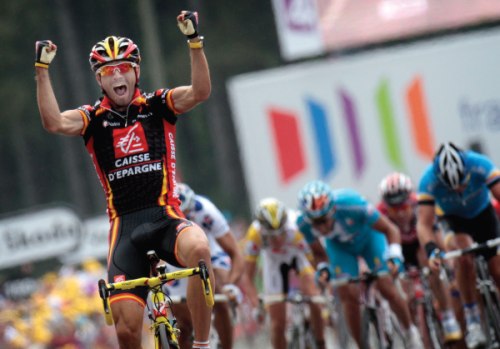 AV: Of course Miguel Indurain was huge in Spain. But I also liked watching Lau­rent Jalebert very much.With Miguel Indurain in mind I guess having the Banesto Amateur Squad as your first team, was some­thing of a dream come true?
AV: Oh yes for me it was unbelievable. It was a very big thing, one of the biggest things to ever happen to me. It was like I was walking in a dream every day.
BA: But you didn't do so well with this team. Why do you think that was?
AV: I think it was because it was such a huge step up. I managed to win three races, but it was a completely different style of bike racing, much harder and much more tactical. To be honest per­haps after having so many wins when I was younger, to make the step up brought me back to earth a bit. My cy­cling changed from being just a hobby, to becoming my work and I had to take on a more serious role.
BA: 2003 was a breakout year for

you. Can you tell us some of the reasons you began to go so well and how you felt?

AV: I think it was mainly that it took that period of time to make those adjustments that the step up caused. I learnt a lot as an amateur with Banesto and when I moved to the Kelme team I continued to learn. Turning pro was an­other big step, the same as moving into the amateur squad. But I was working hard and I knew I had talent. I just hoped that at some point the two would come together and finally they did.
BA: You stayed with Kelme even when they were in difficulties and since then you've stayed with Caisse d Epargne. Would you say that loyalty is an impor­tant part of your life?
AV: Yes, definitely. For myself, I am always faithful to my team. If you enjoy the environment that you are in, why would you bother to change? And that has been the case with both Kelme and Caisse d Epargne. At Kelme there was a period where we had several months where we didn't get paid, but we always had confidence that we would get our wages eventually. And we did. With Caisse d Epargne, I think we are one of the best teams in the world. I enjoy my position here so why would I think about going anywhere else?
BA: And how does that translate to the team. You have other champions in your squad such as Sanchez and up until this year Oscar Pereiro. Is this difficult at times?
AV: Actually for me it is good to have other talented riders on the squad because it takes the pressure off myself. It allows us to spread the load and gives each rider the freedom to focus on his particular goals.
BA: Do you find being something of an all rounder that it can be a hindrance? For example you have won La Fleche Wallone and Liege twice. Is it difficult to transfer the skills from a one day race such as these to something like the Tour de France?
AV: Oh no, not at all. Quite the opposite in fact. It actually gives me the confi­dence to go for the win in any situation and it means that other riders see you as a bigger enemy no matter what the terrain. I think this is a very favourable position to be in.
BA: How important was it and how did you feel to finally win the Vuelta?
AV: It was magnificent. I put a lot of pressure on myself because I always knew and the people that support me knew that I was capable of winning a major stage race. So the fact that I finally did this thing gave me a great sense of freedom.
BA: Were there people in the Spanish press who said that it would never happen?
AV: Yes. There was a group of people who said that it wasn't possible for me to win a three week stage race. They said I always had a bad day or that I didn't have the strength, but I was con­fident in myself that I could do it. It was nice to prove those people wrong!
BA: You took the leader's jersey quite early on Stage 9. How difficult was it to defend for such a long time?
AV: It was difficult yes. To wear the leader's jersey gives extra pressure but it also gives you something more in your legs. Our team defended the jersey for 14 days and at times, yes there were dif­ficulties. But I am lucky that I had such a good team to support me and I'll always be grateful for that.
BA: This is the first time you have been to the Tour Down Under. Is this a big change in your pre season training and if so, why have you made this change?
AV: You know each year my team returns from Australia and they always have good reports and good stories, so I wanted to see it for myself. But also the Tour Down Under has been growing in importance each year. In 2010 I want to do well in the early European races so I thought it would be good to start the season on a high note and do my pre season in Australia. So far I am enjoying it very much and I'm glad I came.
BA: Do you have a specific goal for 2010? Obviously to do well in the early races like you said, but one particular race you're focusing on?
AV: As with other years and as with many other riders, my goal is to win the Tour de France. However, in 2010 it will be even more complicated than ever because there are other riders who have named that as a goal as well. There is Armstrong, Contador, and of course Cadel Evans. So of course it will be very difficult.
BA: Moving away from racing, do you have any hobbies or interests outside of racing?
AV: I like to relax, and have some real, real downtime but I have my cars. I love fast cars and while I'm not a collector, I have several. Right now I have a Mer­cedes CLMG, a Porche KN and an Aston Martin. I had a V8 Vantage, a Ducatti Monster and a Harley. As you can see, I like to go fast!