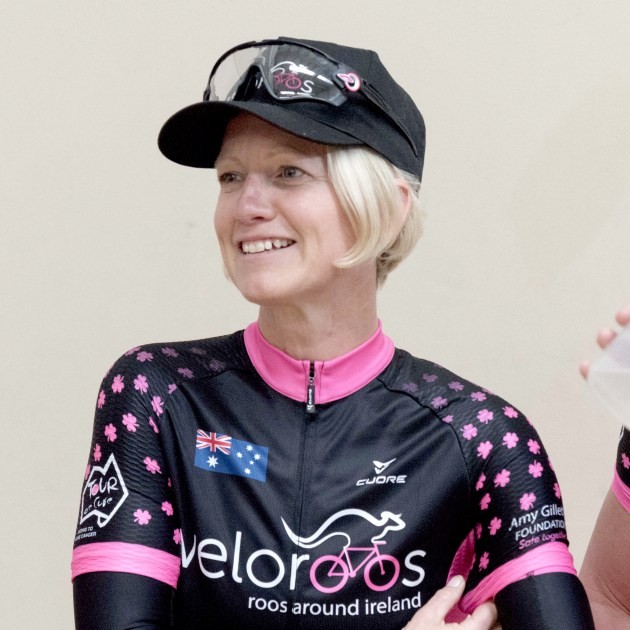 The Tour de France is currently a male-only affair and the question is often asked: Why can't there be a 21-stage race of the same calibre for women? This July, two teams of women from around the world will ride the entire course of the famous event to show what women can achieve. KAREN FORMAN talks to Aussie team member Sarah Anne Evans about how one trains for such an iconic effort, Down Under.
Sarah Anne Evans and her riding buddies Pippa Lyon and Julie-Anne Hazlett have been doing a lot of hilly rides in the Victorian Alps and NSW Snowy Mountains this Australian summer. A lot of big kay rides too.
Big kilometre rides aren't too much of a change for the Veloroos member, who divides her time between Sydney where she is a professional endurance sports coach and women's captain of the Manly Warringhah Cycling Club and Jindabyne where she and hubbie Warren own property "`in paradise".
She has, after all, contested the Race Across Ireland with the Veloroos and a number of other endurance cycling events with top results. She likes riding long distances and does it often.
But the big hills of the Pyrenees and French Alps? Not something you tend to find at great altitude around Sydney…
The reason Sarah Anne, Pippa and Julie-Anne have upped their altitude is because come July 5, they will join a select number of female riders from around the world on the Internationelles team riding the course of the 2019 Tour de France.
They will be joined by an all-French team in Brussels to set off the day before the great race, not racing Sarah Anne says, "but riding strong".
Their goal is to complete each of the 21 stages in good time and show the world what amateur female riders can do.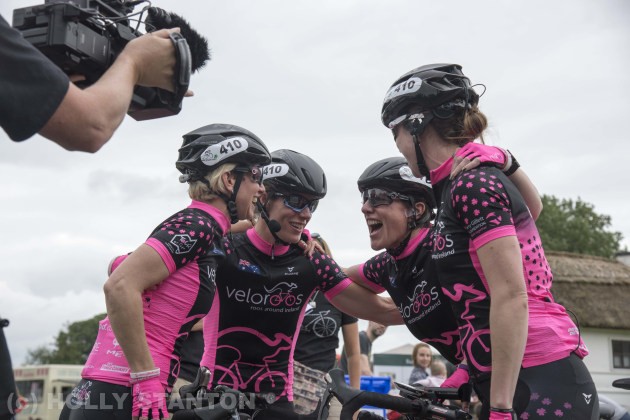 "It is not a race,'' Sarah Anne says.
"We are riding to prove that women can ride 21 stages of a grand tour and to champion for a women's tour in France, of which there is not one.''
The Donnons des Elles Au Velo (Give the Girls A Bike) project started in 2015 with a handful of female riders who decided to ride all 21 stages of the Tour de France and it grew from there. This year there will be 13 women in the French team and 10 in the new international team. This is the first time a team of international riders will be joining in.
"This year's Tour de France is the most mountainous ever in its 106-year history,'' Sarah Anne says. "It is another year without a major women's stage race. So, we have been busy preparing for the amazing adventure .''
Looking back over Sarah's personal story, it is not surprising that she is up for such a major physical and psychological challenge.
Back in London, where she was born and raised, she worked as an event organiser on various conferences, events and products. She worked as finish line director on the Tour of Britain, linking together her passion for cycling and racing and her job skills.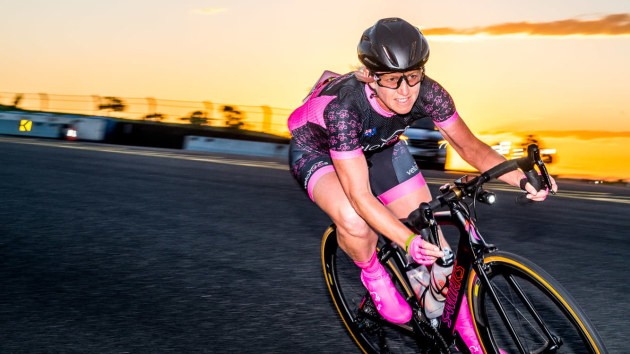 "I have been riding a bike all my life, but got back into competing, mainly in triathlon, 20 years ago,'' she says.
"I joined my local cycling club Twickenham, and we had a great cycling coach who nurtured a women's squad which would do a women's club level racing series all around the country competing in time trials, crits and road races.
She came to Australia in 2009, to "give it a go'' and hasn't gone back.
"(Husband) Warren had a skilled migrant Visa and I came as his wife. We aimed to try it for a couple of years and before we knew it, we had been here 10 years.''
Sarah Anne found the women's cycling scene in Australia virtually nonexistent. "Moving from London where women's racing was well supported at club level, I was surprised to find not much happening in Sydney. I stayed out of cycling for quite a while and got back into triathlon, tried my hand at ultra-marathons and mountain biking, then found my way into what I am passionate about, which is riding my bike.
"I joined Manly Warringah Cycling Club and am now women's captain and totally immersed myself in my sport, achieving level one Triathlon Australia and Cycling Australia coach accreditation and now help everyday human beings achieve their dream races, through our coaching business, Karmea.''
Sarah Anne discovered the NSW Snowy Mountains on a Randwick Botany Cycling Club training camp nine years ok, fell in love with the region and returned at every opportunity to ride and enjoy the peaceful roads , smooth tarmac and lung busting climbs.
Three years ago, she and Warren bought a property and now spend 10 days of every month there with their two rescue huskies, Luna and Koda "who don't get as much running as they used to as all I do is ride bikes''.
In 2015, she became aware of a team of everyday women called the Veloroos which formed to take on the grueling Race Across America. "I eagerly followed them and their record-breaking race as a female team of four. At Christmas the same year I was on a bike ride with a friend in Jindabyne, we ended up riding with two of the team, Julie Anne Hazlett and Nicole Stanners and friendships were struck up on a bike.''
"In early 2017 Julie Anne mentioned the Race Around Ireland and asked if I would be interested in joining The Veloroos to attempt the female team record and I said absolutely, keep me in theloop , but they then decided to do it as a pair. Four months out from the event, one of the riders had come down with adrenal fatigue, I was asked to form a team of four and with two other riders and training kicked up a gear!.
"In endurance cycling events such as Race Across America and Race Around Ireland, one rider was on the road at all times, non stop in a continuous relay. Ireland is a grueling 2200km long with 22,000 metres of climbing. It was a daunting prospect, we trained for it with big back to back days in Sydney, training throughout winter on rainy and cold mornings. When you have to jump on bike at 2am for your shift, there are no excuses. We had 14 crew including media making a doco, and we ended up placing fourth overall, close to the first male team, first females across the line, and breaking the female record by 19 hours,.''
Disaster struck in March last year when Sarah Anne was involved in a crash while out riding with a large bunch, hitting the ground at 45kmh after someone stopped pedaling in front of her to avoid animal remains on the road.
"The only way to evade was off the road and there was a metre-deep drainage culvert. The surgeon said it was the worst break he had ever seen of a forearm, which was in 15 pieces. The worst aspect was that I had snapped off the radial head and it had broken into three pieces.
"The chances of it re-grafting were very small, but thankfully I had amazing surgeons and a positive outlook. I wanted to ride my bike and I was on the trainer 2.5 weeks later and 10 weeks later did my first ride outside.
"I was bloody fit and healthy going into it, my body was ready to heal.''
She started racing again in July with the NSW state team time trial placing 3rd Elite team, went on to place second in her age group in the Amy's Gran Fondo, qualifying her for UCI World Gran Fondo Championships in Poland. In December, she finished in a very emotional second place overall at L'Etape Australia, "one of the biggest results of my racing career, extra special at home in Jindy with the people who were with me when I crashed my bike''.
She has gone from strength to strength since then. As part of the Veloroos at Revolve 24, a 24-hour road race around the GP circuit The Bend in Adelaide, the team placed fourth overall, behind two teams of eight men and team behind a team of four Olympians.
Having followed the Donnons Des Elles project in 2018 and being passionate about helping create more race opportunities for women, Sarah Anne applied to join the team.
"They had some stipulations around meetings in Paris which just wasn't possible for me so I continued to move on with own and Veloroos goals. Then in the second week in January I got an email from the InternationElles team manager saying he had had such a good response internationally he wanted to form an international team to take on the project. ''
Apart from big hills and 21 energy sapping days, Sarah Anne isn't sure what to expect, but she is looking forward to the experience.
"Apparently all the directional arrows will be out on the course making navigation easier and we will get the support of people along the way as the local towns know we are coming through. It got a lot of media attention last year.
"There will 23 of us riding the 3460km over the 21 stages. We don't race it, we ride it…we will ride it strong. Hopefully it will prove that if amateur women can go out and ride the course, why can't the pro women have the opportunity to go out and race the same. The teams will have individual crews which will work for us, but we will ride the time trial stages and recovery stages as a group.''
Sarah Anne believes women's cycling is changing. "We've got Le Course, which is the start of something. I hope that ripples effect keeps going. I would like to get to the point where we don't have to talk about gender equality anymore. That we don't have to have the conversation time and time again.
"It seems ridiculous that the greatest bike race on earth has no female representation. We are going out to prove we can do it and also to support the men's race.
"Le Course will be on July 19 so we hope to be able to get out on the route for that day and support the women's race.'' On endurance cycling events, I am used to riding a 20-minute shifts, now I'm preparing to do the entire distance. The training will be massive. We are already clocking up 400-500km weeks. The plan is to continue with lots of time in the mountains. A LOT.''
Bicycling Australia Will Be At The Start Of The 2019 Tour De France – Stay Tuned To Our Website & Social Channels For More From The Veloroos And All The TDF Action.