Cyclists are spoiled for choice when it comes to cycling kit these days – a visit to a specialist outlet, a browse online, or simple scroll through your Facebook feed and you'll be bombarded with seemingly endless jersey, knicks and sock options.
While narrowing the enormous variety of and selection down to a particular manufacturer is nigh on impossible, there is one brand that's caught our attention over the past few seasons and that's Blackchrome Sportswear.
One of Australia's better known sportswear companies, the Adelaide and Brisbane-based group have been creating cycling kit for 4 years with much of the energy, direction and success attributed to the tireless work of Blackchrome's Travis Eddie.
Blackchrome Cycling Is Born
A keen, talented and long-time rider, around 18-months ago Travis was tasked with heading a new company offshoot, Blackchrome Cycling.
In that time it's fair to say the cycling division has gotten off to a cracking start and, as Travis told us when we recently met for coffee at Cibo cafe at Adelaide's iconic beachside suburb of Glenelg, Blackchrome Cycling is booming.
"Every year has been a little bit different and people are really embracing our products, the kit and technology we offer," he said. "Our kit is visibly unique along with being thoroughly researched, designed, developed and tested by riders around Australia and overseas."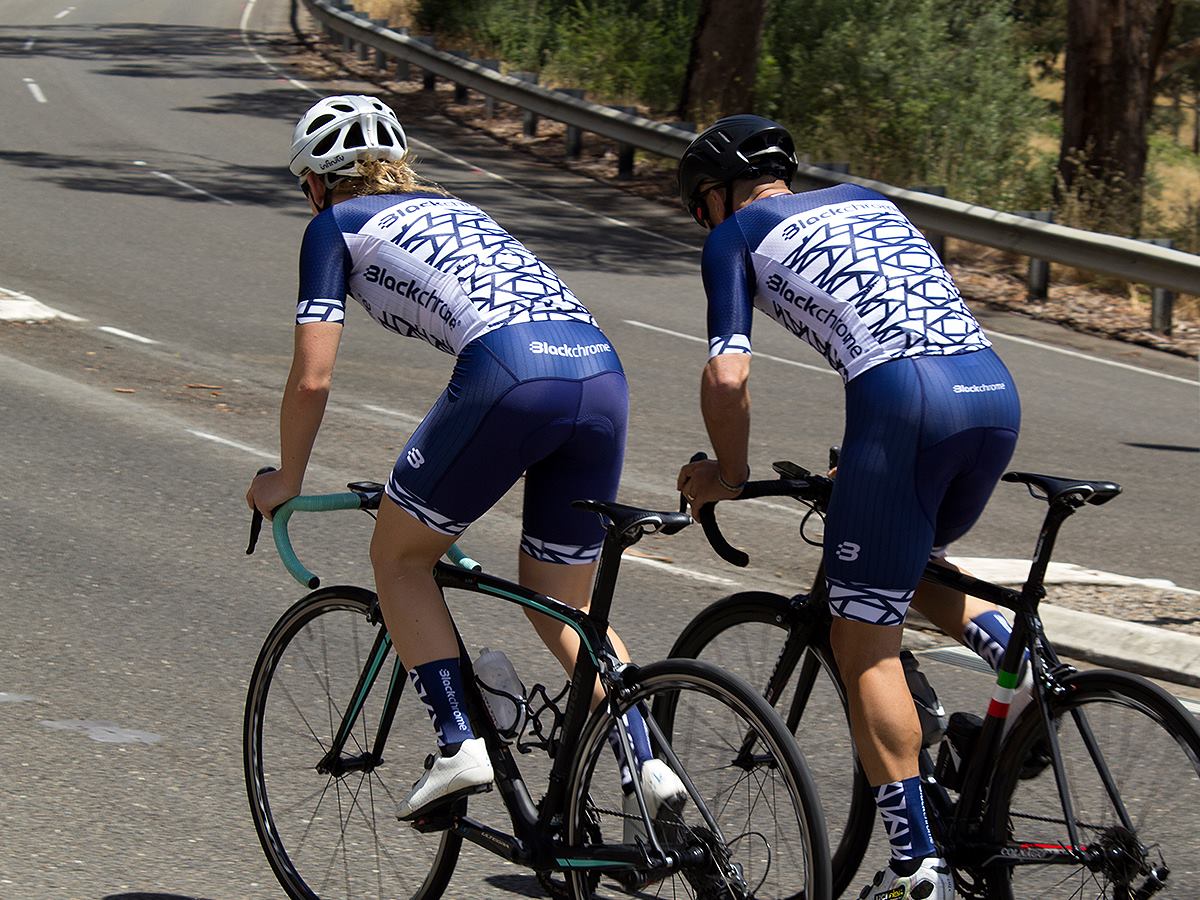 2018 Pro Fit Collection
Blackchrome's latest incarnation is the new pro fit range and those who followed or were at the 2018 Santos Tour Down Under may have witnessed the company's interesting product launch strategy. Using social media along with a number of fit, healthy and race-ready looking friends Travis revealed a new product line on each morning of the 6 race stages.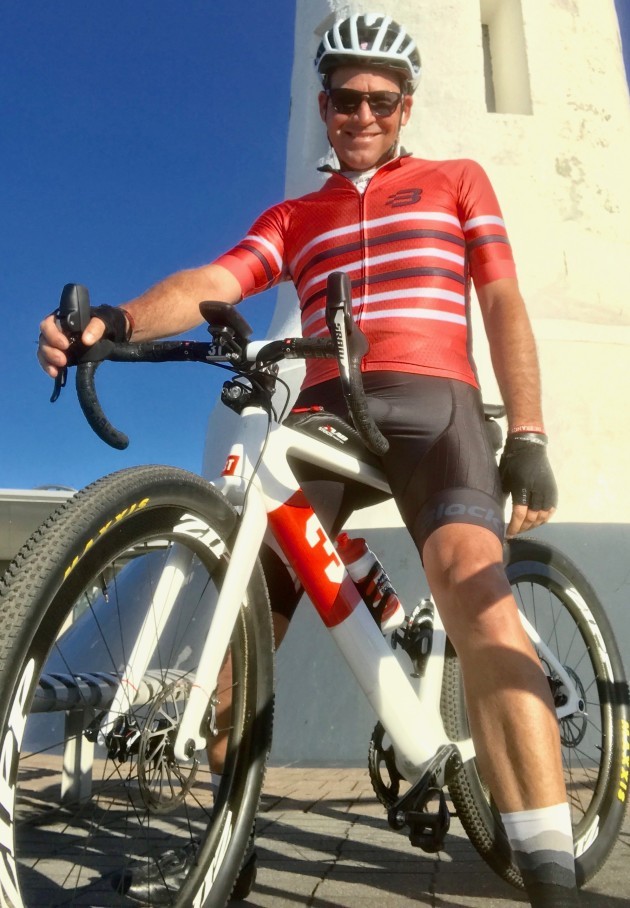 "We soft-launched late last year," Travis told us as we ordered more coffee and banana bread. "Then, to coincide with our new retail range, we released 6 different kits across 4 different ranges at the TDU," he continued.
"Each morning a different series of images of each kit was released on social media … our followers loved it. We presented our Rails kit, the Thatcher in White and Navy, our Limited Edition in mens and womens and also our dark floral."
"We also showcased our performance fit which is a little bit better value and a tier down, and our Cobbles range which I tested on the Koppenberg and Belgium's other legendary roads and routes last year."
Rails Kit Put To The Test In Adelaide
Over the past month Bicycling Australia have been field testing Blackchrome's Rails kit in the Coral colour.
"It's an incredibly breathable fabric, particularly considering the elastine and spandex base which are generally not known to be overly breathable." Travis explained. "It's also a very slick, aero fabric."
During recent rides and in temperatures of 25 to 34 degrees, we've found the sleek fabric to be outstandingly comfortable, with a tight, firm second skin type fit. It's incredibly light with a silky texture to touch, and on warmer days the fabric does its job quickly and efficiently – drawing moisture off the skin and drying quickly.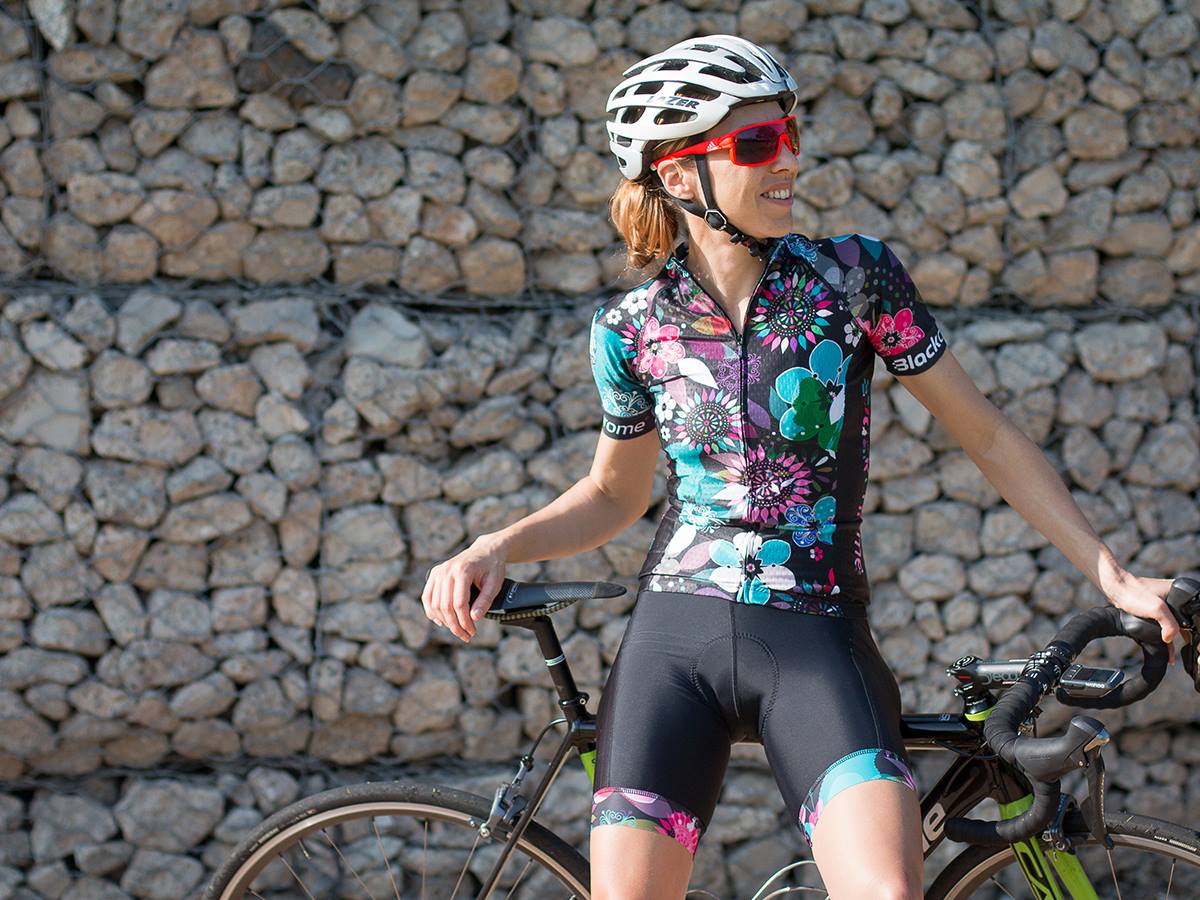 With a longer sleeve, the Coral Rails jersey fits snugly to a point just above the elbow and, according to Travis, is "on trend".
The fabric is claimed to be sunsmart and, in testing so far, this holds true. It sits very well on the skin with the sleeves staying in place thanks to tech gripper fabric on each arm.
The front features a panelled fabric layout and the jersey claimed to exhibit aerodynamic properties (feel it and you'll agree!), is breathable, well ventilated and keeps you cool.
The bibs fit snuggly, firmly and again offer an incredibly comfortable and natural fit from the first time they're pulled on. On theme with the jersey, they feature a stylish pinstriped design with 7.5cm tech grippers on each leg – they stay exactly where they are meant too. There's an Italian chamois that includes 4-layers of density and – according to the company, includes shock absorption technology.
The front cut of the bib is particularly comfortable and well proportioned – not too low to prop or push a belly out (as some cuts tend to do) – but also not too high. The bib straps are soft, comfortable and made of a fabric sourced from Italy.
Create Your Own Kit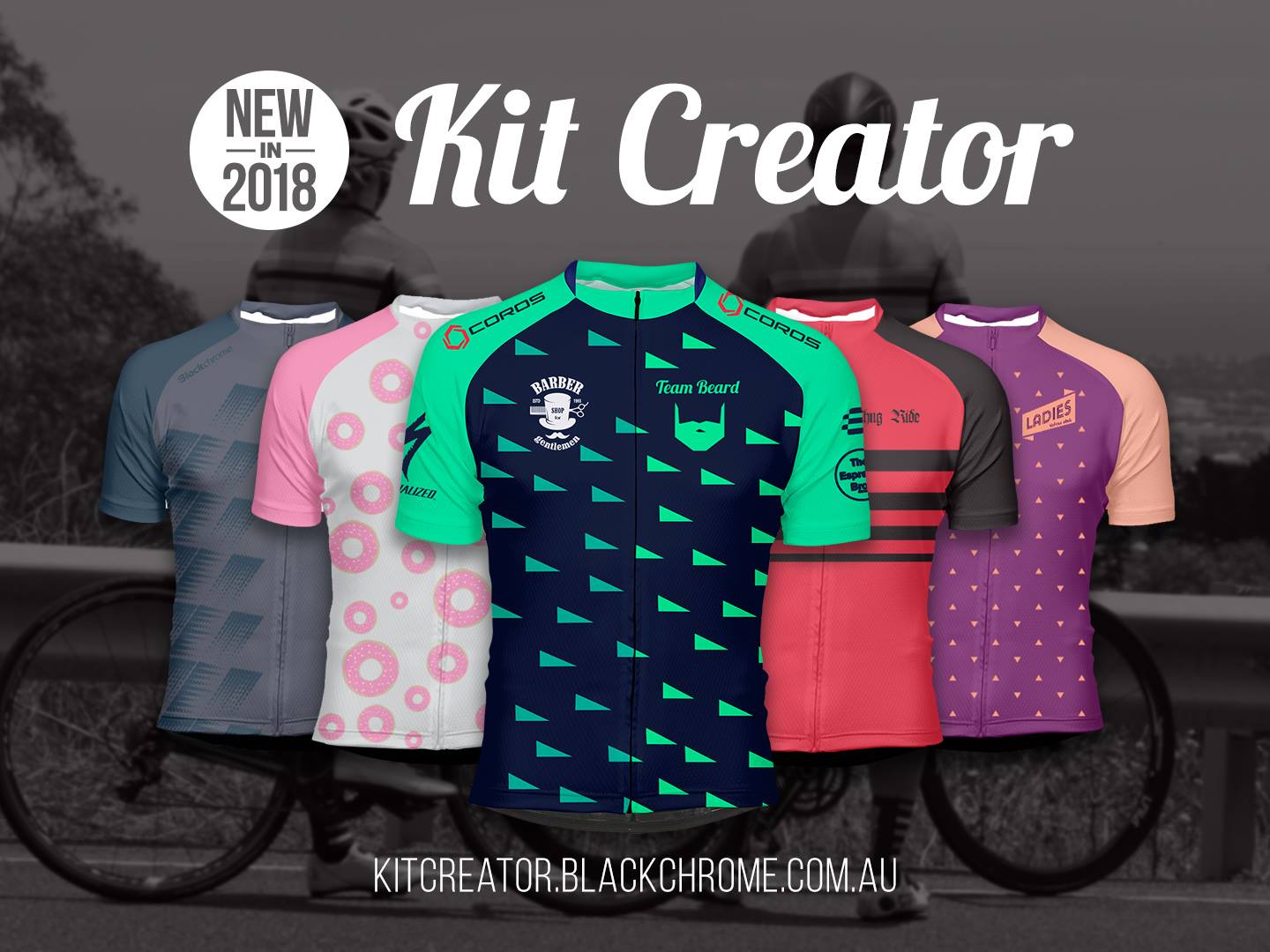 Blackchrome sponsor a number of cycling teams in Victoria, South Australia, and Queensland, and also offer custom kit options for teams, clubs and groups via unique 'kit creator' technology.
"We've had a 'design your own' section for cycling jerseys on our website for a few years," Travis told us. "This gives 24 templates – customers can choose their colours, styles and add a logo."
Not content with that, during 2017 the company kicked off an ambitious program to develop a 100% custom kit platform.
"It's a blank slate," he explained. "There are literally a thousand different options to create absolutely whatever kit, colour, style and design you want."
"Via the online portal customers can create unique kit for as little as 6 people. We don't need big volumes, and clients don't need to wait for months for their gear to arrive. As little as 6 people, or 3 people with 2 kits each, and you can have your own completely customise jersey and knicks. It's bespoke, it's custom and we're hoping people see it and really take to it."
Travis said based on the feedback and response to date, Blackchrome can't keep up with emails, enquiries and demand. And what's not to love about an Aussie success story like that!
The Coral Rails jersey kit can be ordered via the Blackcrome website as well as select retail stores. The jersey is priced at $99 with the bibs $129. Matching socks are also available at $24. For details, and to see the kit creator, visit www.blackchromecycling.com.au