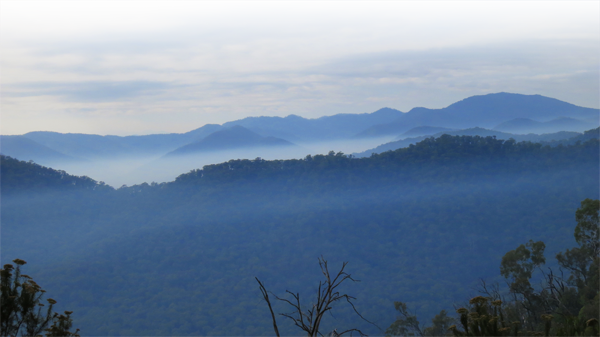 We all have our favourite places to ride. Self-confessed climbing junkie Keiran Ryan looks at why Bright is often referred to asAustralia's premier cycling destination.As they say in real estate, the three most important things are location, location, location. Bright is certainly in the dress circle, nestled into a beautiful valley surrounded byVictoria's highest mountains. Lightly trafficked roads snake their way to a choice of summits, each climb offering cyclists a different experience. Non-climbers also have plenty to enjoy, including the Buckland and Ovens river valleys, Wandiligong and the vast and hugely popular rail trail network stretching to Wangaratta and beyond. This is also the epicentre for mountain biking, including a new development close to town.
Bright is blessed with a climate that makes it possible to ride well into autumn. Summer weather is often calm without the winds that prevail near the coast. And if you pick the right day in winter you can ride in beautiful weather up to the snow.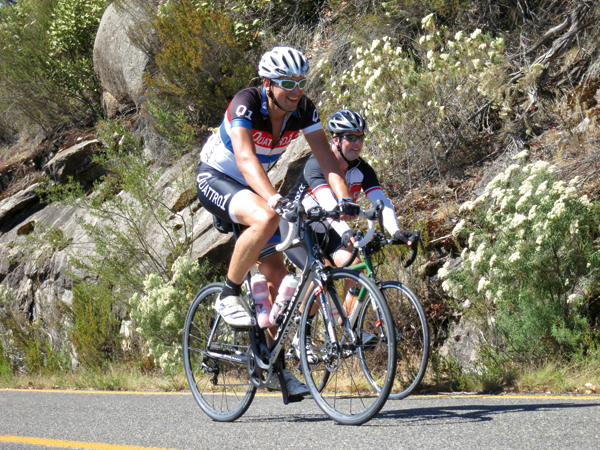 Thousands of cyclists flock to Bright annually. New cycling events are regularly spawned, providing a remarkable range of options for all ability levels. Indeed, the Orica GreenEdge team holds annual training camps around Bright and many of our elite riders train here over the summer months. From late October, the area is awash with a veritable who's who of professional cyclists, amongst whom you can spot your heroes, without the airfare toEurope. You might be literally rubbing shoulders with riders from the Tour de France either on road or while relaxing at Cafe Velo, where the owners hold 'meet and greet' events.
Local council, regional tourism bodies and the business community have achieved a remarkable success story in cooperation; we cyclists get the benefits, and the local community gains a significant economic boost. Tourism surveys by event organisers show that an average recreational cycle tourist spends $230-250 per night. That's a $17.4M annual benefit to the north-east Victorian regional economy, with around $847,000 spent in Bright.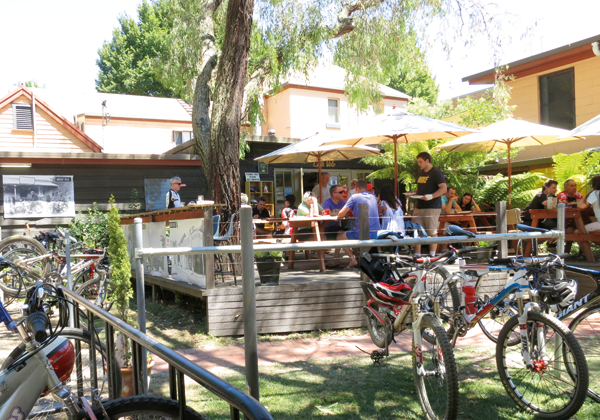 The annual Audax Alpine Classic is the single largest event in the Alpine Shire, and also the largest annual Audax event in the world. Ably run by Phil Bellette and a small committee of six, it attracts around 2,500 riders who also bring, on average, another two people with them. Audax started the classic in 1986 and its success has influenced the development of many other events. Its philosophy is about personal achievement and offers a variety of rides to suit differing levels of experience and ability. Towards the finish line, a party atmosphere crowd cheers the slower riders perhaps even more than the quick ones—appreciating the personal commitment required to complete the event.
The 7 Peaks Challenge, the new kid on the block, began in 2009 with 500 participants. This joint initiative of local government, resorts and regional tourism swelled to nearly 3,000 riders this year, and hopes to reach 7,000 in 2014.
We cyclists can be a selfish mob, often spending many hours away from home doing our own thing. The family or significant others might cut us some slack when we return from a ride a bit happier and more relaxed, an outcome that is pretty much guaranteed up here.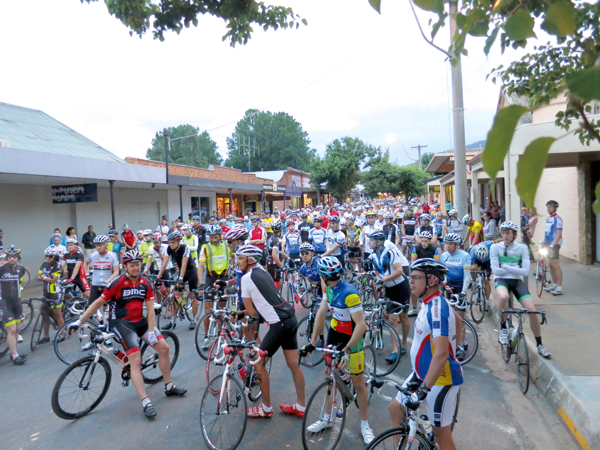 Choosing this holiday destination, brimming with non-cycling interests will very likely earn you some big brownie points and leave your non-cycling loved ones equally relaxed and happy.
There are plenty of activities to fill the non-riding hours, from floating down the river, walking or picnicking atEurobinFalls, or perhaps visiting orchards and vineyards to sample the region's produce. Boynton's winery is located along the rail trail just out of Bright. Owners Kel and Janelle, who actively support cycling by sponsoring events, have created one of the most picturesque, idyllic environments for 'accompanying persons' to enjoy too.
If you like a bit of adventure and want to try something different, once again Bright has many options.
Try paragliding and get a bird's eye view of where you ride. Harnessed together with your instructor, a few quick steps and you are gently airborne. A few turns to find the upward lift of air moving over the mountain and you start to climb effortlessly and silently. Usually you will be invited to take control for a while. How about a flight in a glider or motorised microlight from Mt Beauty or Porepunkah airstrips? It's a marvellous way to experience a breathtaking perspective of your favourite mountains.
Cafe Velo is one of those places where cyclists get warm fuzzy feelings. A Kiwi and a Pom have given a beating heart to the circulation system of roads and trails surrounding Bright. Brainchild of Susan Hildred and partner Wayne, Cafe Velo is an outlet for their passion and knowledge of cycling, and has rapidly become a social hub for cyclists. Close to the centre of town, Wayne and Susan's vision offers bike friendly accommodation and a restaurant. However it's their retro-style cafe, adorned with memorabilia and paraphernalia that is making its mark. It has evolved into an unofficial headquarters for cyclists, a great place to refuel, relax and check out what's happening. The café can cater for large groups of riders; just have a chat withWayne. Or arrange a mentoring session with him. He is quiet and unassuming but his racing credentials are astonishing; twice Australian road champion is just part of his achievements.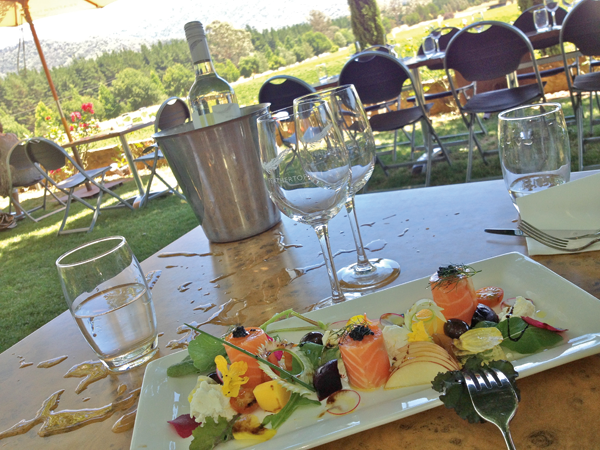 Next on the itinerary, the Bright Brewery. On the Great Alpine Road near the Information Centre, owner and cyclist Scott Brandon has a welcome blend of local beers and ciders on tap, within a casual family and cycle-friendly venue. Like Cafe Velo it has alfresco as well as indoor areas, plus views down the embankment to theOvensRiver. This place is irresistible after a day in the saddle.
The Climbs
European climbs have an almost mythical status for cyclists watching the drama of Le Tour unfold. Perhaps there is a perception that our mountain climbs are less difficult or less glamorous than European climbs. I have been fortunate enough to have participated in many sportif events throughoutFranceincluding all the major climbs in the Alps andPyrenees. Along with many other Australian cyclists who have ridden inEuropeI now have a greater appreciation of what we have at home.
Although the Victorian Alps have different altitude and gradients, the climbs you access from Bright can be every bit as tough as their European counterparts because they are far longer than most you encounter inFrance. Our roads also tend to have a rougher, slower surface that adds drag.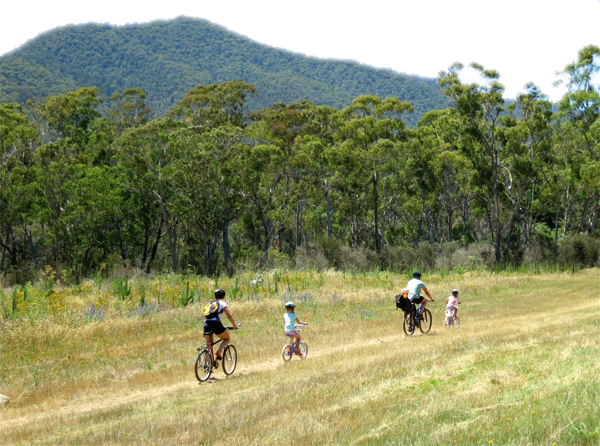 If you want a performance boost, stay in Bright for a week and do a different climb each day; these long climbs do wonders for your fitness. It is spectacular country and its beauty enhances your training. Bring a group of fellow riders, family and non-cycling friends and have a fantastic experience.
Be aware that when you tackle one of these climbs for the first time you will have around a 10 per cent decrease in maximum performance when approaching the summit due to the altitude effect.
Philo Saunders has been a top ranked distance runner as well as being a senior physiologist at the Australian Institute of Sport. He is a specialist in altitude training. Even though research indicates that an altitude of greater than 2000m is required for at least two weeks to achieve training benefits, many athletes including Philo train at Falls Creek (~1600m) and report good results. Having a training camp focus with support from others may be part of the success.
Fast Facts
Getting There: Bright is around four hours' drive north east ofMelbourne. Head straight up the Hume Freeway and take the Milawa exit. Or catch the train to Wangaratta then a bus to Bright. (Check with V/Line regarding requirements for bike carriage.)
The Alpine Visitor Information Centre is open seven days, 119 Gavan St, Bright. Toll free: 1800 111 885 Email: alpinevic@alpineshire.vic.gov
Book your accomodation well in advance for any of the major cycling events.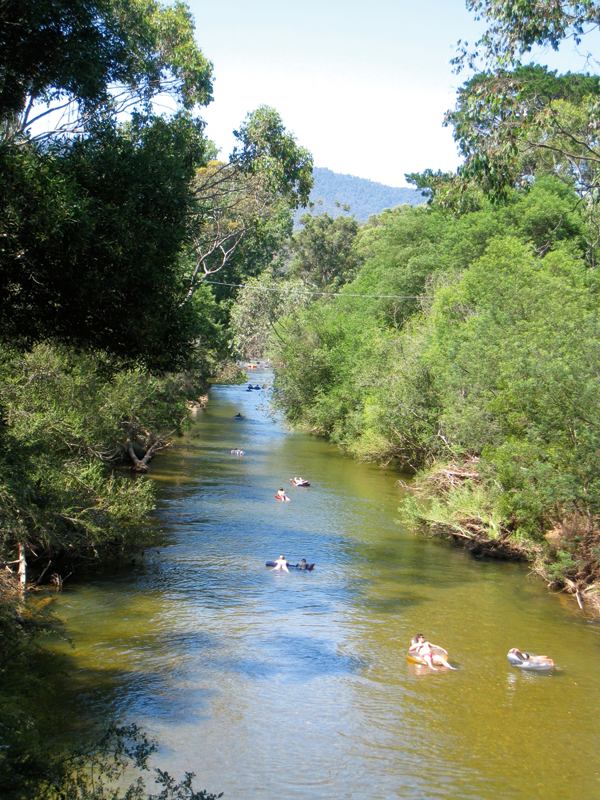 Suggested accommodation:
The Porepunkah Pine Tourist Park
BIG4 Bright Holiday Park
Bright Riverside Holiday Park
Bright Pine Valley Tourist Park
Mt Buffalo Caravan Park
For caravanning and camping, visit ExperienceCaravanningandCamping.com.au. The website offers a range of over 800 quality caravan holiday parks conveniently found using the 'Find a Holiday Park' function on the home page. While there, you can also sign up to the FREE VIP Club for interesting and exciting editorials which can help assist you with planning your next adventure on the road.
Road Cycling Events around Bright
Audax Alpine Classic, Jan – www.alpineclassic.com.au/
Three Peaks Climb, Mar – www.bv.com.au/general/great-rides/42359/
Gran Fondo Beechworth, Apr – www.granfondobeechworth.com.au/
Bright Boot Camp, Feb/Mar & Nov – www.cycling-inform.com/bright-boot-camp-home
7 Peaks Challenge, Oct-Mar – www.7peaks.com.au
The Alpine Delight, Nov – http://audax.org.au
Tour of Bright, Dec – www.tourofbright.com.au/
See also Alpine Cycling Club (www.alpinecyclingclub.com.au ) for Alpe d' Buffalo and other events throughout the season.