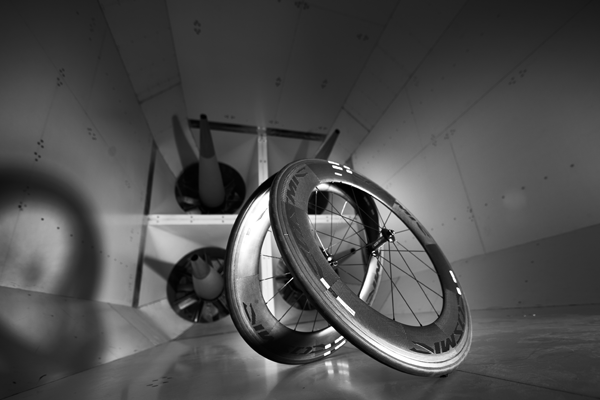 French wheel gurus Mavic are one of the oldest and most respected companies in the bike business. Their iconic yellow race vehicles are synonymous with top-level pro racing. Steve Thomas drops in to see them.You'd be hard pressed to have been involved with cycling for any length of time and not have ridden on a pair of Mavic wheels. Now owned by Amer Sports Corporation out of Helsinki along with their portfolio of major sporting brands (including Wilson Salomon and Atomic) Mavic have been operating for more than a century. They have set the benchmark when it comes to rolling stock building one of the strongest brands in cycling. In 1889, before the Olympics and the Tour de France, cycling was a fresh and growing sport. A small company was set up in Lyon by Charles Idoux and Lucien Chanel (called EMR – but trading as AVA). The company made bicycle parts (aluminium mudguards first), and soon began marketing some of them under the brand name of MAVIC (Manufacture d'Articles Velocipediques Idoux et Chanel). The rest, as they say, is history.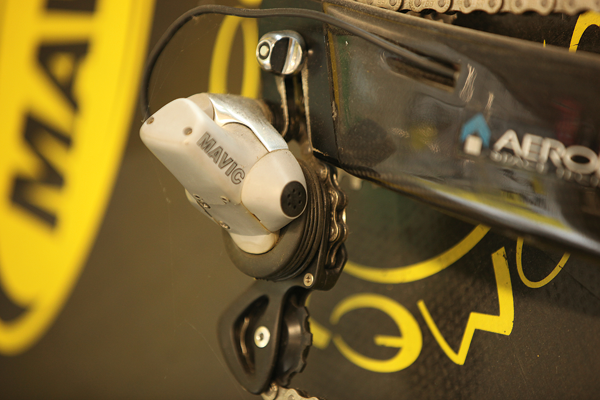 Going from strength to strength the company soon established its strong reputation through pioneering specialist aluminium alloy products, in a time when steel and wood were the main fabrication materials in bicycling.
Through persistent innovation, consistency and by sticking to its 'high-end' guns, Mavic has survived and prospered in an arena where few survive for long. From its original mudguards and accessories via sideline pedal cars and even kit aeroplanes, to its industry-leading carbon wheelsets and now apparel, the Mavic brand has stood the test of time.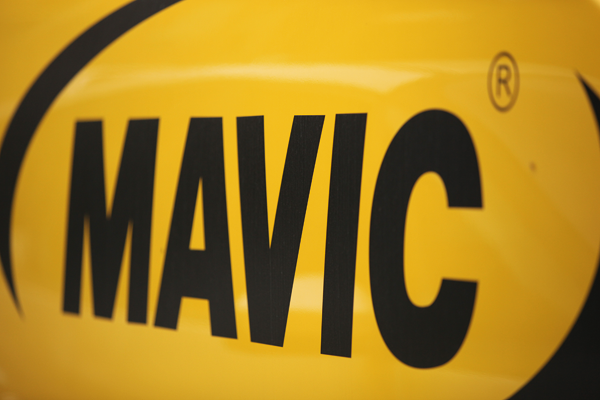 Magic Mavic (and cycling) Moments
1870s – The Penny Farthing arrives.
1879 – The first rear-wheel chain driven bicycle is made.
1885 – Bianchi is founded in Italy.
1887 – Raleigh Cycles is founded in the UK.
1888 – Dunlop invents the pneumatic bicycle tyre.
1889 – Charles Idoux and Lucien Chanel launch the Mavic brand.
1892 – Liege-Bastogne-Liege takes place for the first time.
1895 – Schwinn is founded in the USA.
1896 – The first Olympic Games (including cycling) take place in Athens. The first ever Paris-Roubaix also arrives.
1903 – The Tour de France is born.
1921 – Shimano is established and produces its first freewheel.
1923 – The Mavic trademark is first registered.
1933 – Campagnolo is founded.
1934 – Mavic produce the first aluminium alloy rims, weighing in at 750g a pair (compared to 1,200g for steel). At the time they were deemed unsafe for use in races. A set was painted to look like wood and Antonin Magne rode them to victory in the Tour de France.
The following year they were standard issue to most riders in the Tour.
1938 – Mavic produces its first crankset.
1973 – The first anodised SSC rims appear, in blue and gold.
–Mavic launch the SSC neutral service at Paris-Nice.
1974 – Hard-coated Mavic Grey Paris-Roubaix SSC rims appear.
1975 – The 500RD sealed bearing hub launches.
1997 – Mavic SSC service arrives at the Tour de France and major cyclo sportive events.
1979 – The GP4 rim launches, as do headsets, a rear derailleur, bars, aero wheels and other parts – 'Tout Mavic'.
1980 – The Speelo rim is produced – made from thermoplastic and fibreglass – it was not considered rigid enough to launch.
1984 – The French track team use foam-filled carbon Mavic wheels at the LA Olympics.
1985 – Mavic Air Department is launched – selling ultra-light motorised planes (ULMs), but fails to 'take off'.
1986 – Open 4CD rim launches (weighing just 400g).
1989 – Greg Lemond wins the Tour on Tout Mavic components.
1990 – Floating clipless pedals launched.
1991 – The SUP rim production process is developed.
1992 – Mavic supply official technical support at the Olympic Games in Barcelona (and follow up in 2000 and 2004).
– Mavic Zap electronic gearing is launched – it doesn't succeed and is eventually scrapped.
– Chris Boardman wins the Olympic IP title on Mavic wheels.
1994 – Cosmic aluminium and carbon wheels launched.
1997 – Mavic Helium wheels launched.
2001 – ISM (internal spoke milling) is developed, reducing rim weight by 20%.
2005 – Aksium wheels are launched.
2008 – Mavic footwear is launched. Oscar Pereiro wins the Tour de France wearing the Zxellium shoe.
2011 – Helmets are added to the apparel line; you can now dress head to toe in Mavic kit.
2012 – CXR80 carbon wheels are launched – believed to be the most aerodynamic road wheels in production.
The Service de Course (SSC)
The bright yellow SSC neutral service cars and motorbikes of Mavic have been synonymous with top-level pro bike racing for many years now.
In 1972 the annual Tour de France dress rehearsal, otherwise known as the Critirium du Dauphine, was in full flow, racing around its trademark Alpine mountains flanking the town of Annecy, the home of Mavic.
One of the team support vehicles had broken down, leaving the riders without any race support. Mavic boss Bruno Gormand was at the race and offered up his own car as a temporary replacement.
That was it; the idea of the Mavic Service de Course came into being, and the free neutral support system, along with its race-wide radio communication system has been an integral and iconic part of pro bike racing ever since.
The first official outing for the SSC was in the 1973 Paris-Nice. Things grew slowly from there until 1977 when the SSC support system first appeared at the Tour de France. Since that time most Tour de France, ASO-organised races and numerous other top line events including more recently sportive events, have been supported by the yellow cars.
It wasn't until 1984 that the first SSC motorbikes appeared in the pro race convoys, the first one being a Honda XL600 at the Paris-Roubaix. These too have become standard provision. That same year the company also provided a yellow Cessna aeroplane, which patrolled the skies above races acting as a relay for race radio information – it was also planned that an airship would take to the skies in the coming year, but it didn't come about.
In 1992 Mavic were appointed to supply technical assistance to the Barcelona Olympic Games across all cycling disciplines, which they followed up in Atlanta in 1996, and Sydney in 2000. By 2001 the company was supplying 1,200 days' worth of race support across the world annually.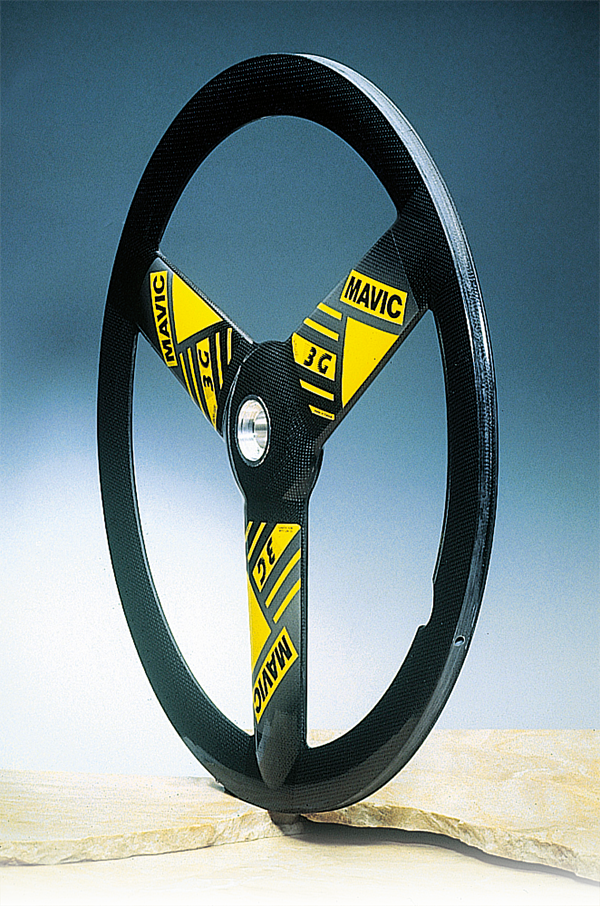 The sign of a yellow car tailing a group of riders is instantly recognisable as a mark of opportunity. The yellow car bridging the gap between a breakaway and the chasers brings hope to escapees. Once that gap goes over a minute, the team's own support vehicles are called into service. Dip beneath 30 seconds and the neutral vehicles are pulled out, which is a tense time for the riders.
The average time taken for an SSC mechanic to exit the car and change a rear wheel was 30 seconds in the early days. That was halved within three years of service, and now sits below 15 seconds in most cases, and only 10 for a front wheel.
The mainframe of the SSC is housed in the Mavic HQ in Annecy, at the rear of the building. Here you'll find rack upon rack of wheels and yellow bikes – both old and new. The place is a virtual museum of iconic and legendary bikes, not to mention signed rainbow, yellow, pink and other historic jerseys from the sport's greatest champions.
This awe-inspiring workshop and storeroom would amaze any cycling fan, although they are not permitted inside; development and product testing is highly secretive here and test samples pass through this workshop.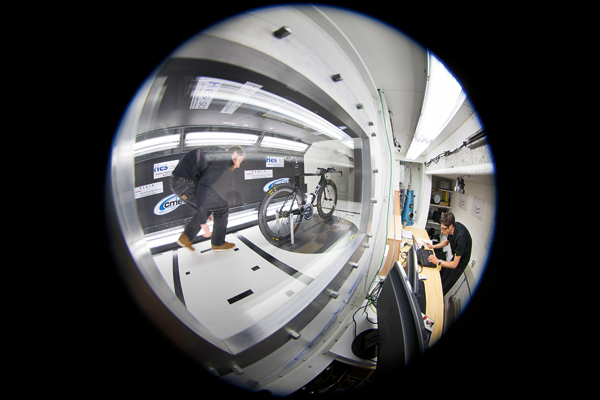 Outside the main building the car park is full of yellow Mavic cars, vans, trailers, motorbikes and even huge 4×4 trucks used for mountain bike expedition races.
We spoke to Michel Lethenet of Mavic's media department about the SSC.
"We have eight full-time technical experts working at our HQ. Add to that our internal staff rule, which states that anyone who would like to join and help the Service de Course team at an event is welcome.
We implement a list at the beginning of the year, and anyone from any department can register. In 2012 some 38 staff did so, amounting to a total of 223 days of race assistance from regular staff.
The maximum amount of people attending and helping on one event is 18 – at both the Etape du Tour and Roc d'Azur MTB festival.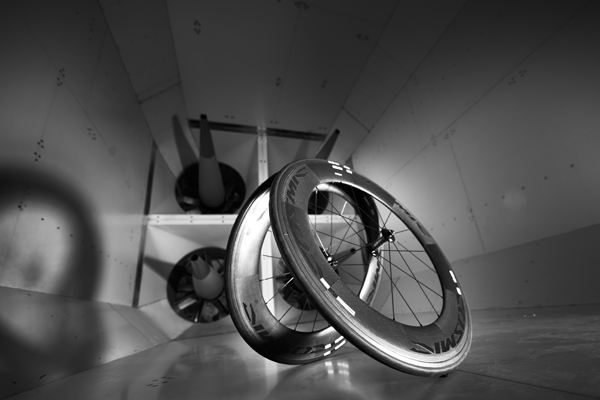 We provide a Service de Course, neutral assistance, or technical service to consumers in the countries where we have a direct distribution (France, Germany, Austria, Switzerland, USA, UK, Italy, Spain, Portugal, Korea, Japan).
Outside of this, our exclusive local distributors are doing the same – including in Belgium, Czech Republic, Poland, China, Slovakia, Estonia, Lithuania, Latvia, Chile and New Zealand (moto only).
Also some 40 to 50 per cent of our other distributors are using yellow tents at mass events to provide a customer service.
"We cover more or less 80 countries with some form of technical/SSC assistance in all."
In Annecy we have the following: six yellow cars, four motorbikes, one scooter, two VW Crafter MTB assistance trucks, one VW Crafter road assistance truck, one MTB long trailer, two empty trailers (to carry the motos, scooter, and so on), one Mavic 'village trailer' (new for 2013), one VW T5 Transporter lorry and one VW Crafter Mavic 'shop in shop'.
Cannondale bikes are now used for SSC, though we have not always supplied bikes. Before Cannondale we had some other suppliers. It's not a worldwide deal; the brand can vary from one country to another. They are meant to be neutral and not promoted. We replace them approximately every two years. We use a minimum of 18 road bikes, and then there are track and MTBs too.
"The Service de Course (as we call the complete set of equipment) is the same for each car. Depending on the race, we take what's considered to be needed. Each car carries five front wheels, four rears with Shimano compatible casettes and four rear Campagnolo compatible. A scooter carries one front and two rears. A typical race day usually involves three cars and one scooter."
The Service Course wheelsets are renewed every year, except those for Paris-Roubaix, we have to judge that after the race.
We use our own Mavic tyres and tubulars on all wheels for service. We buy Shimano and Campagnolo cassettes. For each race, we have the team list in the cars, and so we know what brands they use, so when the technician jumps out from the car he immediately takes the compatible wheel – if it's a rear puncture that is, fronts are standard.
"We take 100 pairs of wheels to Paris -Roubaix, and usually five cars plus four motos and one service truck. We also support up to 80 other races annually."
We utilise many Mavic sponsored pro riders in every discipline of the sport: track, road, triathlon, MTB XC, enduro and downhill.
During the off-season they test wheels, tyres and shoes. We provide a yearly service so all of the feedback is implemented throughout that time. Every product with a SSC label on it has been developed in close collaboration with these pros, and is designed to meet the rigors of the top level of the sport in real-life conditions.
Sometimes we have them try prototypes, but most of the time they use stock products, straight out from the box (like everyone else does).
Amateur testers number approximately 650. They are registered in a database. They receive prototypes or early production wheels, shoes and helmets. They ride and implement feedback directly to our database on a weekly basis (logging their ride and equipment statistics and other feedback or technical issues).
Testers must clock up 5,000km on a MTB wheelset and 10,000km on a road wheelset in order to validate them as a field-test, which runs as a separate test to our regular product lab tests.