Tens of millions of Australians have walked this Earth. Millions have owned bicycles. Thousands have been fortunate enough to race professionally. But only one has stood on the Champs-Élysées as winner of the world's greatest bicycle race. And right now he's sitting directly opposite me. Cadel Evans doesn't do a lot of interviews.
Indeed, as our conversation progresses I realise how fortunate we are to be having this one. For as a national sporting icon with lofty aspirations in 2014, not to mention a wife and young son whom he clearly adores, Evans is a man with more on his mind than the freshly-made banana smoothie sitting before him.
The venue for our rendezvous is the Victorian seaside town of Barwon Heads, backdrop for the 1990s ABC television series 'Seachange'. Evans has lived here since 2005 after stumbling across the town when he arrived early one day for a round of the Bay Series criteriums. Roughly a two-hour drive from the Victorian capital it's close to Melbourne but not too close, which seems entirely fitting. Just like his racing Evans can keep an eye on things without getting caught up in the day-to-day maelstrom. Keep out of trouble. Stay focused. Get on with it.
Evans has spent the overcast morning training near Anglesea on the Great Ocean Road and, not unusually according to the smiling proprietor of the deli we're sitting in, he's running a little late. When he does emerge in jeans and trainers having parked his gleaming BMC outside the tradesman's entrance, Evans apologises and explains with a wry laugh, "my life's complicated." He also explains he'll be lucky to find 20 spare minutes today between cycling and family duties. Best we get started then.

With several best-selling books on the subject, Cadel's early days are well documented. What I really wanted to explore was life since the European summer of 2011 when things changed forever for the cyclist whose career began astride a $300 bike with one of Australia's oldest mountain bike clubs, the 'Fat Tyre Flyers.'
Beyond the inescapable fame and expectation that comes from being Australia's first Tour de France winner, the other fundamental change in Evans' life is that of parenthood, which he explains is actually why he's running late today. His son, Robel, is now three years old and starts school – or Kinder as the Swiss call it – in 2014. It can be a complicated time for any working parent and Evans is only too aware of the sacrifices it's likely to demand; indeed they're already happening.

"A lot of people ask 'how does being a dad affect your cycling?' Well, your training is based around sleep times and babysitter availability times," he says before a melancholy moment. "We were originally going back for the European Christmas because Robel starts school in January. But with the Tour Down Under I'm not going to be there, which I'm a bit disappointed about to be honest." While Evans makes his eagerly-anticipated return to Adelaide for the first time since winning the Tour in 2011, his wife Chiara and Robel will be experiencing one of childhood's major milestones over 16,000km away without him.
"I've seen people like Robbie McEwan go through it; as your kids get older it's not easy. They also have a big break in July and August which if you're riding the Tour is when you're very busy. School over Christmas is important too. The (European) breaks are only short. But as Australians if we don't come home then we'd never see our families." Evans pragmatically accepts this is the lot of a professional cyclist born in Australia. "In the end we're all facing the same issues. We want to train, we want to be with our families. But we've only got a certain amount of time. As Australians we're always exhausted by the end (of the off-season). But we're usually pretty fit as well because we've raced and trained hard while we're here."

Training hard this off-season has proven more important than usual for Evans as he prepares for a year he readily admits will dictate his future, kicking off at the National Road Championships in Ballarat (where he finished a superb second behind Simon Gerrans and ahead of Richie Porte) and Tour Down Under, building towards his obiettivo principale: the Giro d'Italia in May. Guided by the wisdom of experience, the BMC leader is excited but also cautious of his earlier-than-normal start in 2014.
"Some young (Australian) riders, they do too much. The weather's good, they're racing and training hard in December – which is great for January. But the season goes through to October. You have to be careful." It's why given a choice Evans prefers to ease into his racing nowadays. "I like to let my body progress and build, rather than force things. The main reason I didn't ride the Tour Down Under in recent years was because you need a certain amount of intensity before you go if you want to be competitive. But once you start doing that intensity work it can take away from May onwards; it makes a long season even longer."
Is there any chance we might still see Evans in France come July then? "I'll go to the Giro but it's highly unlikely I'll ride the Tour. It allows me to have a real mid-season break and build again for the back end of the year. I'll be able to go with all the other families in Italy and sit on a crowded beach instead!"
While Evans may not be in France the first time in 10 years, he'll certainly keep an eye on things as he always does. "I follow the racing closely, but I don't spend my life sitting on the couch watching television. I'll never miss the final of Sanremo, Flanders, Paris-Roubaix. But if my little guy wants to go for a ride or something I'll always go out with him."
In the same breath Evans also confirms we shouldn't expect to see him at the Spring Classics, despite conquering the Mur de Huy to claim Fleche Wallone in 2010 and twice placing in the Top 10 at Liege-Bastogne-Liege. "I love those races. But that's a really important time to do specific work for the Giro so for that reason I won't be there." He instead suggests his likely path to Italy will include Tirreno-Adriatico, Catalunya and Trentino where he rode strongly last year before going on to place third overall in the Giro.
With several health setbacks since 2011, it's hardly surprising Evans is more sensitive than ever about the need for rest and recovery as he embarks on what is a pivotal season in his glittering career. "As an experienced rider I know my body well. I was quite sick in 2012 and that changed the way I recovered. I raced the Tour de France that year completely unaware and afterwards it all came out. I was told to stop for two months – 'no bike, no exercise, you've got to rest.' My body changed and I've had to relearn a lot of things."
It isn't just the support team at BMC helping Evans navigate the long way back to peak condition. He continues to be involved with the Mapei Sport Centre in Varese, something he's done since first riding for the famous Italian set-up in 2002. "They (Mapei) don't have a cycling team any more, but I still work closely with people there like Andrea Morelli," he says. "I'm finally getting back to where I was in 2011."
Whilst optimistic now, Evans admits to an 18-20 month period when he was far from confident about the future. "Through to last September my recovery just wasn't what it used to be. I'm thinking 'well you're 36, is that old? Especially when no doctors could give me an answer." But like so many times before Evans persevered and eventually the wheels started to turn in his favour. He's still wary, mind you. "We'll see in the results. You can feel great in training but it's how you race (that matters). It's certainly nice to push hard for a few hours and be able to back that up day after day again."
Evans may be closer to 40 than 30. But he's certainly not the oldest rider on the WorldTour and the conversation steers naturally towards ex-Lotto team-mate Chris Horner, who was almost 42 when he dramatically seized the 2013 Vuelta España ahead of Vicenzo Nibali and Alejandro Valverde. How did Evans feel to see someone more than five years his senior scale such epic heights? Pretty darn happy as it turns out. "I was the oldest (post-war) Tour winner at 34 and 7 months. Then I had a bad year and everyone started saying 'he's too old, he's too old'. But Chris comes out and wins the Vuelta. I don't get that any more!"
"Chris just loves racing. To see someone at his age so passionate, I found very refreshing. He has the enthusiasm of a 19-year old." As Evans recounts stories from the 2006/07 seasons when they rode and roomed together – featuring everything from post-race Mars bars to car magazines – there's clearly a strong connection between the two, and I wonder if perhaps it exists between many of the elder statesmen on the WorldTour?

"I think so. You go through these experiences and it creates a certain bond. Like when Stefano Garzelli retired recently. I raced my first Grand Tour with him, but he didn't have a good (final) year. Things like that are a bit sad – we had this bond, the guys who were at Mapei at the Giro in 2002, and of course at the Tour in 2011. There's always something there and over the years you share more of those experiences."
As we switch from past team-mates to current ones, Evans provides the one and only glimpse of just how much sway he holds within the BMC set-up. It's common for WorldTour squads to hold team camps in preparation for the upcoming season. But I don't recall Evans being at one. Would BMC be having any?
"Yeah, we actually had some guys in America in the first week of December," he says. "And all the European-based guys arrived in Valencia last Tuesday." This leaves an obvious question hanging in the air, which Evans is quick to answer. "For me, of course, I could attend those camps. But considering the jet-lag it's not really worth my while. I've prepared for plenty of seasons. I've come out and won races in past years training here, so why not? I've always tried to convince my team through results I'm the guy to ride for, rather than talk it up."

Training camp absences or otherwise, Evans says all is good within BMC, especially the group slated to ride in South Australia and later at the Giro d'Italia. "We have a really good team coming out for the Tour Down Under. Morabito and Brookwater were at the Tour in 2011, and I'm looking forward to racing with Ben Hermans. He was 5th overall in 2013 (TDU); a rider who can be there at the final every day. Most of the guys are down for the Giro as well, so it's important we start spending time together and build cohesion."
Confirmation of Evans' return to Adelaide coupled with the appearance of Team Sky's Richie Porte ensured the lead-up to the 2014 Tour Down Under was reaching fever pitch by mid-December. "From my point of view there's probably a bit too much excitement," Evans chuckles. "But I think it's a real credit to cycling – the riders, the media, the coaches who bring these young riders through, the race organisers. South Australia created this fantastic event which is truly international now." I jokingly ask if (Race Director) Mike Turtur is on the phone every day to make sure he's still coming? "Actually, he is on my list of people to call this afternoon!"

Being a Tour de France Champion does tend to make you popular with Race Directors, of course. Yet for the first decade of the 21st century it appeared Evans may never quite get there; especially given he holds the unfortunate distinction of finishing second in consecutive Tours, each by less than a minute.
"Coming second isn't a very nice position in the Tour," Evans offers. "You might be the best rider in the race – but you can feel like you're the most criticised for not winning. You're often talked about as a subject rather than a human being. 'You stuffed up, you lost.' When you're surrounded by people like that it's sometimes a bit uncomfortable. Okay, I didn't win. But in the percentage of things, with 198 starters for a 90-hour event, that's not actually bad. Sometimes you do everything right but a little thing goes wrong and you're 23 seconds behind. You didn't ride a bad Tour, it just would have been better to go 24 seconds faster!"
23 measly seconds. The excruciating margin that separated Evans from Alberto Contador after an epic 3,569km in 2007 and the second smallest in Tour de France history, behind only Laurent Fignon who finished eight seconds adrift of Greg Lemond in 1989. He'd return a year later to once again 'lose' the Tour to a Spaniard, this time Carlos Sastre by just 53 seconds. Having also stood on the lower rungs of numerous World Championship podiums earlier in his career, I wondered whether getting so close to victory in so many major races had made Evans even more determined to ultimately prevail?
"Definitely," he says without hesitation. "Especially at the World Championships. I went to my first Worlds in 1994 and finished second. I went to my next one and was leading until I punctured. The next year I was second again. By the time I finally became a World Champion in 2009, I had seven medals at home – MTB, Junior, U23 – and none were gold. When it finally came, I realised it was probably a blessing in disguise because it kept me hungry for a very long time."
Less than two years after claiming the rainbow jersey in Mendrisio – poetically just 6km from his European base in Stabio, Switzerland – Evans would add the greatest prize of all to his palmarès on 24 July 2011: the famed maillot jaune. At a personal level Evans knew what he'd accomplished was special. But the national scale of his achievements didn't really hit home until he arrived back in Australia for, among other things, a victory reception on the streets of Melbourne.
"When we first landed I rang my Mum and said 'people are going to turn up to parade, aren't they?' As we came out of the airport there was a giant three-storey billboard with my face on it saying "Well done Cadel". At that moment it came to me – 'this is big'." Evans then makes an observation of great insight and humility. "I think a lot of Australians supported me, not because I was there, not because I'd come second, but because for years I was giving my all. Personally it was very nice. But I got the feeling Australia was most happy not that I'd won but I'd kept trying." He offers an example. "I stopped at a petrol station for a soft drink one day and an elderly lady said 'I can't help you on your bike out there, but I see you're always on your own, the least I can do is give you this, on me.' Things like that are really touching because I realise I've resonated with something beyond just sport."

Nothing is perfect, of course. The elevated status Evans enjoys as his country's first Tour winner does present challenges and frustrations. "We have a lot of good qualities as Australians. But sometimes we don't accept no for an answer very well. It can make things a bit difficult," he says. "It's nice people are so keen because I won the Tour. But I only won the Tour because I worked really hard for years – so please don't stop me when I'm in the middle of an interval in the pouring rain for a photo to put on Facebook. I want to win more races!"
In many ways this unwavering focus and determination has defined Evans' career. Aesthetically he's renowned for his pained and contorted expressions; someone who leaves everything on the road, day after day, race after race. But is he really suffering like that? "Yes!" Evans laughs. "People ask 'Why do you always look like you're suffering out there?' Because I am. It's funny, I used to get criticised for that. But things have changed in cycling and now people say 'oh yeah, that's actually a good thing'."
Perhaps his most famous public display of suffering came on Stage 18 of the 2011 Tour and the hors catégorie ascent of the Col du Galibier (www.youtube.com/watch?v=zJftXtmlyfc). With the race fast slipping from his grasp and no-one prepared, or able, to share the load Evans gritted his teeth and single-handedly clawed back over two minutes against Andy Schleck in the final 10km as the peloton disintegrated around him. His exertions to finish third on the stage took him to the physical brink – and many rivals like Alberto Contador beyond it. But it also carried Evans to the cusp of cycling immortality as he had, somehow, managed to remain within striking distance of the Luxembourger as Paris loomed.

Given the gravity of what was suddenly within his reach – an achievement that surely ranks Evans alongside the America's Cup win of 1983 and arguably above Adam Scott's conquest of Augusta in 2013 – you could forgive the man himself for being anxious on the eve of the race-defining time trial in Grenoble. But Evans suggests it was his BMC team-mates who were the bundle of nerves. "Brent (Brookwater) said he was more nervous watching my time trial than he was riding his own. But for me it was all about being focused on the process not the outcome. Race, recover, rest and so on."
And so on? Three tiny words that humbly neglect the bit about 'and finally realise my life's ambition and enter the pantheon of Australian sporting legend.' Of course, enter it he most certainly did, which at 34 years old begged the question: how could anything else ever compare?
"I'd seen a lot of people have big results and fall apart afterwards, especially when I was younger," reflects Evans. "So I've always focused on 'That goal's done. Tick the box. Move on.' I just thought stay on the process. Okay, Tour de France done. Next race was the Tour of Colorado. Then a quiet off season. Then it was a new year, new goals, new program."
This compartmental approach has undoubtedly helped Evans remain motivated and focused throughout his career, but he admits there is downside. "Unfortunately you don't perhaps enjoy what you've done quite so much," he says before adding philosophically, "of course enjoying things too much can also be a bad thing." Notwithstanding Evans makes no secret he still draws considerable pleasure from his Tour de France victory, something he'll no doubt do long after he ceases to be a professional cyclist. When might that be? Evans isn't even sure himself. But barring injury you get a strong sense the timetable for his departure is likely to be one entirely of his own choosing.
"Well, I still love riding and racing," he says. "And the motivation is still there – if I can be good. I don't want to go to the Tour and race for fifth. I spent years working up to it (winning in 2011). I've been through all those processes, like doing GC on my own. I had to do it to prove myself. That's not something that appeals any more. I'm going to use this year as a bit of a yardstick for the years beyond that."
Whenever Evans does decide to hang up his cleats, can we expect him to stay involved in top level cycling? Or will he straddle his bike one last time and ride off into the sunset? "It's too much in my blood to step away completely," he reassures. "I'll certainly be involved, but probably not in a very public way. I'll still be riding my bike that's for sure, and part of my association with BMC is also what happens after my racing career. But I don't have great aspirations to be a team director or work in the media."
Describing himself as a "healthily curious person" it's obvious Evans advocates work/life balance, so it's no great surprise this also extends into retirement. "When I was younger I was very focused on my riding; you have time and less commitments, you learn a lot. But if you want to have long career you need balance in your life, and that means also coming away from the world of sport." Evans says he tries to read the newspaper every day. He immerses himself in family life as much as possible. He goes to the local RSL for dinner (in fact he's off there tonight). He tinkers with his car in the garage. These things are unlikely to change post retirement. But how about satisfying his fiercely competitive instincts? After two decades as a pro cyclist, surely stepping away from racing will leave a void that needs to be filled somehow? Evans laughs. "Well, my idea is if you have a long and committed career by the time you get to the end of it you've run your competitive spirit so dry it never needs to be wrung again!" Time will tell if he's right.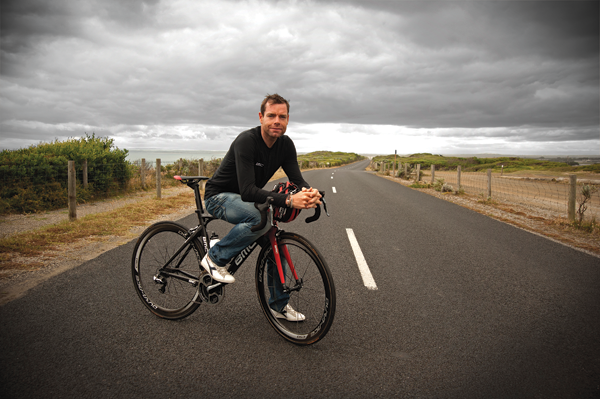 Of course, when Evans does make the transition from rider to ex-rider, he'll be farewelling a very different landscape to the one he entered two decades ago. Given the major changes at the top of World and Australian cycling in recent times, he feels there's cause for cautious optimism. "It's a little early to tell, but I am excited. I think there's potential for things to get much better. Despite all that's happened people still love this sport, and really I don't think it could get any worse," he adds, reinforcing the views of many.
Closer to home, Evans is genuinely heartened by the increasing number of riders he encounters whenever he's back in Australia. "I'm just so happy to see people of all ages out riding, enjoying being on their bikes." Does it occur that many are probably riding because of him? "People do come to me and say that. 'I haven't ridden since I was 12 and I started again when you won the Tour.' I ask 'and how do you feel?' They say 'I've never felt better in my life.' I fell in love with cycling because of that too. I'm just so happy people are coming into the sport for these reasons as well."
As a loving husband, doting father, elite athlete and national icon, life is indeed complicated for Cadel Evans, in a way no Australian has ever quite experienced before. But like every other challenge in his 37 years you get the distinct impression Evans is ready to knuckle down and do all he can to be the best he can. And then do some more.
"I still have to change nappies, I still get caught in traffic jams, I still get punctures. None of that ever changes. I think when you lose touch with those things you're losing touch with humanity. And that's not good."
Little risk of that happening to you, Mr Evans. It's been a pleasure.