Released just over 18-months ago, Cervelo have announced details of new builds and colour options for their S5 model.
The Canadian company's premium road offering, the S5 is considered one of the world's most coveted and respected performance platforms.
For 2021 the S5 will be available in grey/carbon, blue/chameleon, carbon/metalic and the red/black/white Team Sunweb colours. SRAM's Force eTap AXS has also been added as a groupset option, in addition to SRAM Red plus Shimano Ultegra and Dura Ace.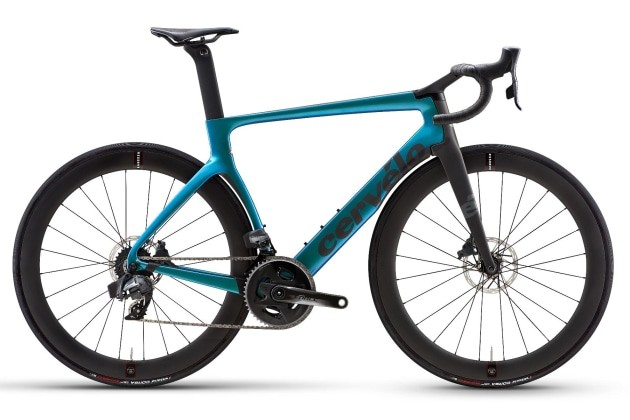 Test Riding The Cervelo S5
Girona, the jewel of Catalonia in northern Spain, is one of the world's most dream-worthy locations to ride a bike. Rolling hills, long flats, smooth roads, steep climbs, narrow country lanes, courteous, bike-aware locals and some of the most picture-perfect scenery imaginable.
So it was not too much of a surprise the region was selected as the location of a secretive global launch of what has already proven to be one of the most talked about, discussed and debated new aero offerings of 2019.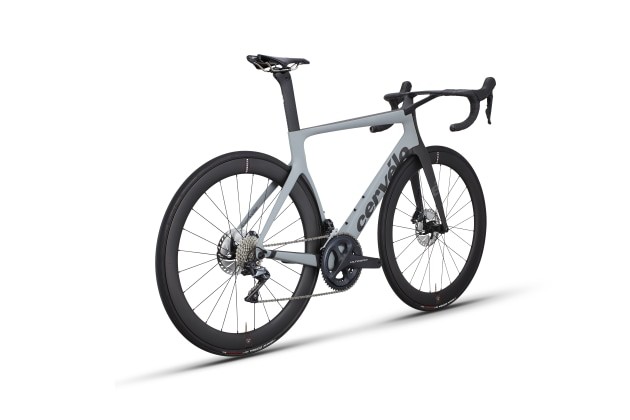 Fourteen hours to Dubai, a 90-minute transit, eight hours to Barcelona, then an hour in the back of a blacked-out minivan, and we arrived at the 800-plus year old Catalonian villa. Hidden behind a hill, about a kilometre from stupefyingly beautiful Lake Banyoles, the drive up the winding gravel driveway added to the mystery of this heavily embargoed launch.
In the courtyard of the expansive villa is where the secrecy ended. There they were, eight or ten 2019 Cervélo S5s neatly and evenly racked outside one of the company's mobile service course buses just driven down from Germany.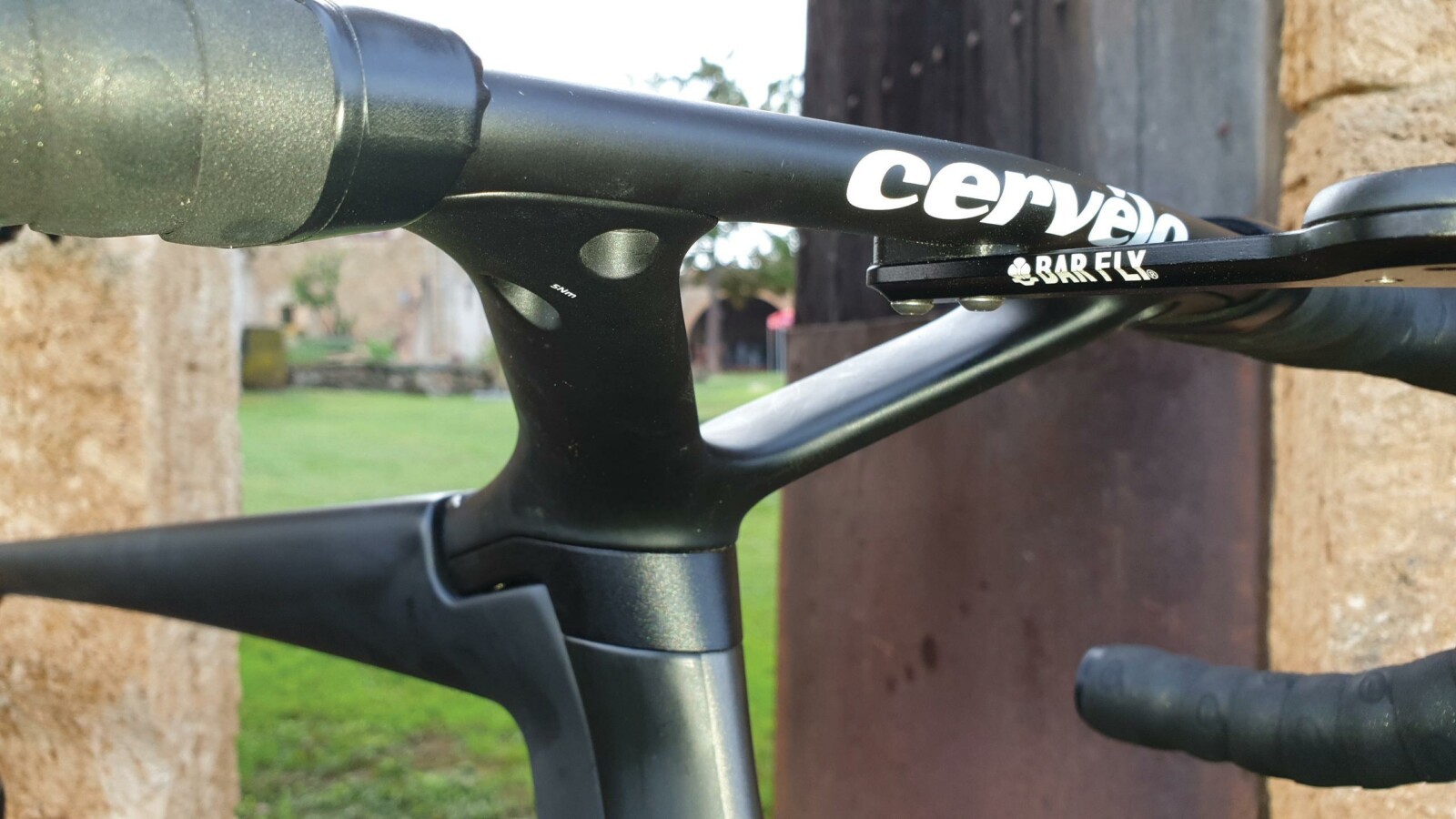 I was pleasantly surprised by the comparatively smooth ride, as I was expecting that the aero qualities may come at the cost of harsher handling.
Splitting the stem
While it may not be as significant as splitting the atom, Cervélo are the first bike manufacturer to have split the stem.
This was obviously the major talking point among the world's cycling media upon arrival that day but, as we learned from chief designer (and gun rider) Graham Shrive, the unique aero stem design is just one of the new features of the updated S5.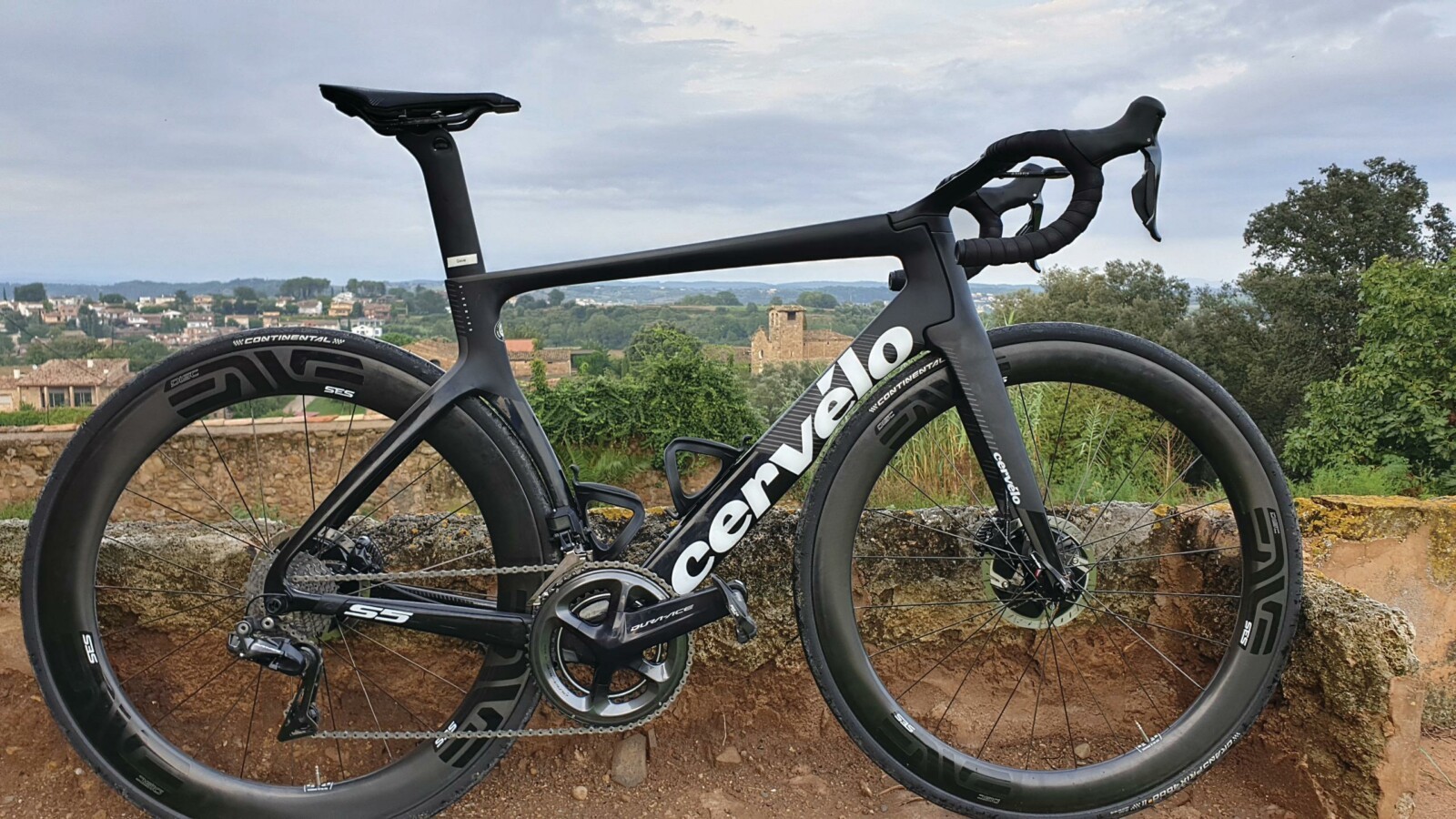 Hidden cables
Aero is everything. If there's one overriding theme of the 2019 bikes we've seen so far it's better airflow, concealed cabling and integrated stems. But how do you feed cabling through a split stem? Shrive was casually disassembling an S5 front end as he explained the surprising simplicity of the split system.
"There are no 90-degree cable bends – it's all routed for ease and minimal friction while being fully adjustable," he said.
"In addition to that we've engineered it so the stem can be extended up to 30mm in 5mm increments," he continued. "Handlebar elevation can be adjusted by 2.5mm, independent of the stem, while handlebar pitch can be adjusted in two steps: 2.5 degrees and 5 degrees."
What this has done, as was glaringly obvious, was to create a clean, open and comparatively unrestricted airflow through the bike.
Wind tunnel tested
Shrive went on to explain the exhaustive wind tunnel and real-world testing that had taken place, even describing how he had raced one of the earlier prototypes at his local criterium.
"The design was challenging but it's about streamlining airflow," he said.
"The streamline is the path traced by a particle as it moves with the flow around an object. CFD allows us to calculate streamlines around the bike and rider's geometry."
A comparison of streamlines around two different stem configurations, traditional and the new Cervélo split stem, was provided by Cervélo as an example.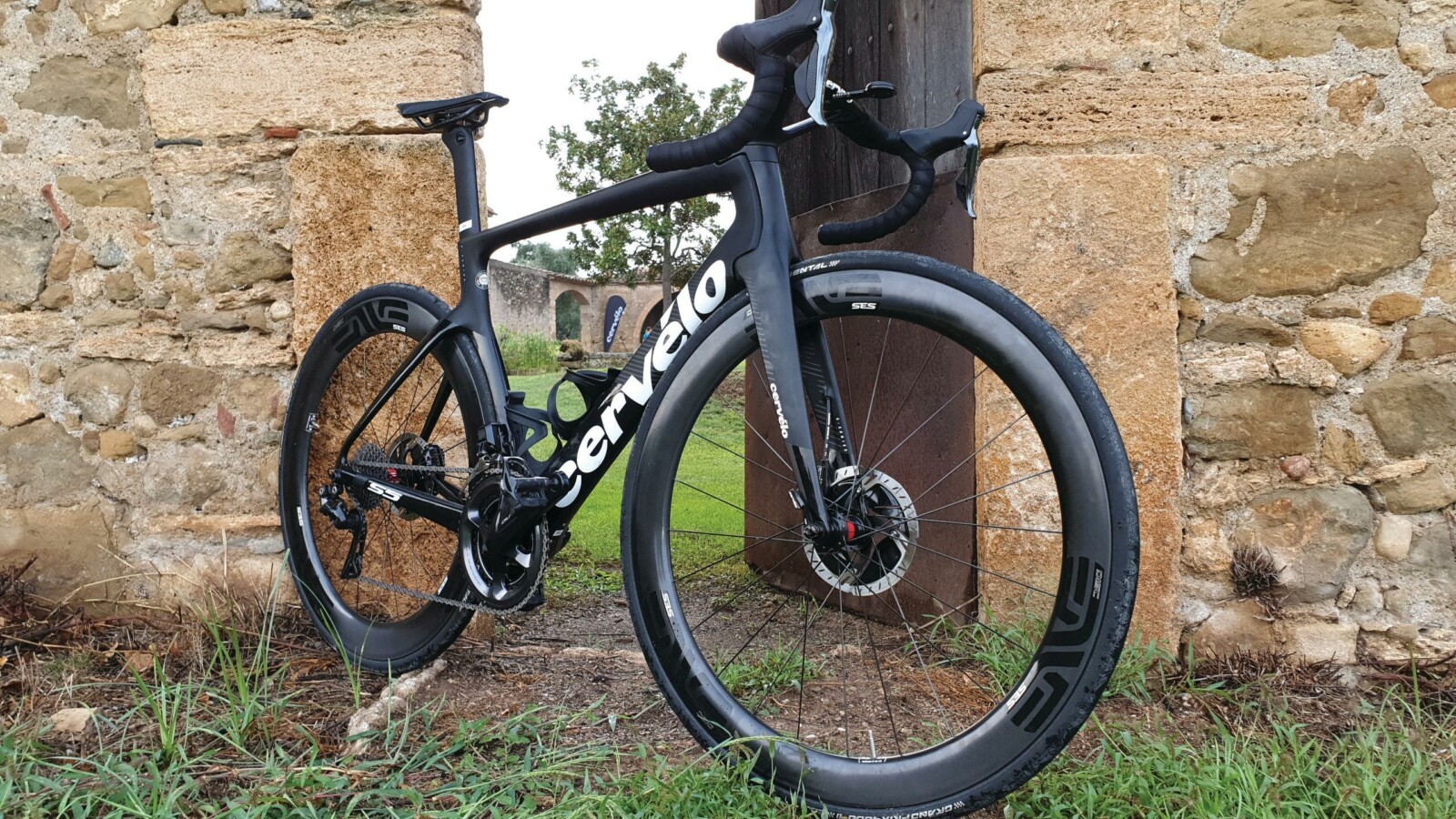 How does it ride?
In a word, fast.
The Bicycling Australia test bike weighed in at an even 8kg in size 54. This included Shimano pedals, two cages and a Barfly mount.
The test bike featured 25mm Continental tyres on Enve SES 4.5 wheels. It was fitted with Shimano Dura-Ace Di2 with a 52/36 up front and 11-30 cassette (handy for some of the climbs to the Mediterranean coast!)
Off the mark the S5 accelerated fast and strongly – it was a snappy performer. The frame and bottom bracket stiffness were immediately noticeable. Add to that the aero front end and slick flow-through bar/top tube/seat post design, and it all came together as a supremely aero offering.
Those sweet Catalonian corners
Cornering-wise, the bike felt rock solid on the road, tracked well and instilled confidence. even though I was generally taking extra care (the thought of a long haul flight while nursing a broken collarbone does not appeal at all), it felt this bike was urging to be pushed harder and faster into the winding Catalonian corners.
I was pleasantly surprised by the comparatively smooth ride, as I was expecting that the aero qualities may come at the cost of harsher handling and a more direct feel to the road.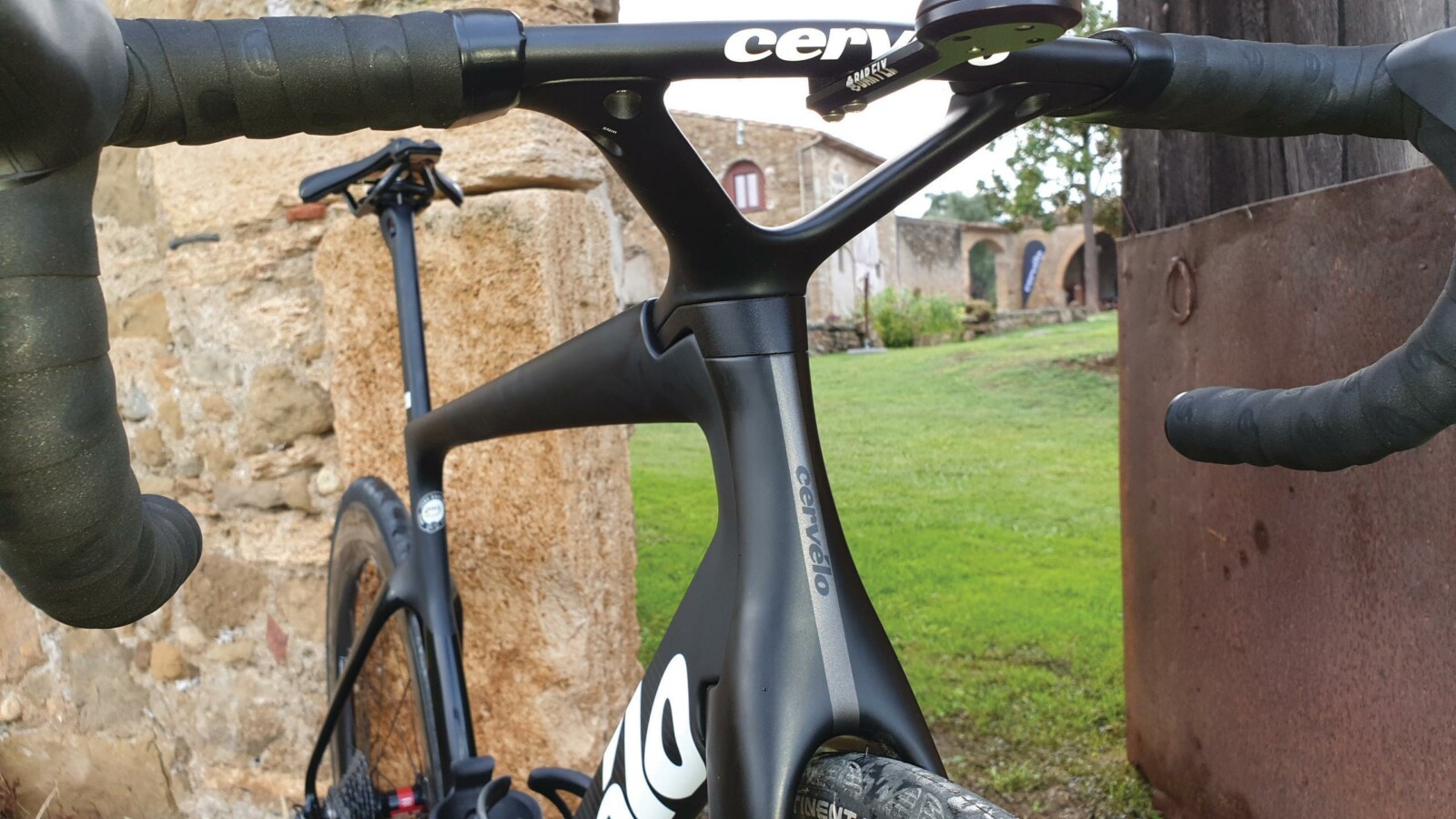 According to the S5 launch information, 'road vibrations are soaked up by specific frame lay-ups and tube shapes, together with clearance for tyres up to 28mm, helping to reduce your fatigue on long days'.
This rang true when put to the test, particularly on day two of the trip. Leaving the Rocacorba Cycling Lodge near Banyoles, we tracked toward the coastal holiday town of L'Escala, enjoying a 110km loop. Carefully planned by our guides, the route took in all manner of roads – climbs, descent, long flat straights perfect for the sprinters and roads of varying surfaces.
Later in the day I was exhausted but simply could not get enough of the S5. Aching for more time aboard this unique machine, I headed out with S5 Product Manager Phil Spearman for a memorable 35km circuit taking in the hilly Banyoles backcountry.
The 2019 Cervélo S5 is that type of bike – it is fast, nimble, responsive, surprisingly comfortable and just loves to be ridden.
The bottom line
The S5 is available in the following builds, colourways 
and price points:
Dura-Ace Di2 R9170, black/graphite/white: $14,500
SRAM Red eTap, black/graphite/white: $14,000
Ultegra R8070, black/graphite/white: $10,500
Ultegra R8020, riviera/slate/black: $8,000 
Nat Bromhead travelled to Girona as a guest of Cervélo.