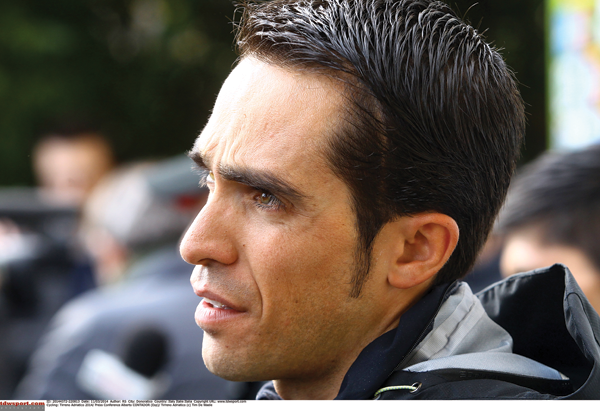 Written off by many (including this very author) after his fourth-place finish at last year's Grande Boucle, Alberto Contador, in the time since, has reasserted himself to being in a class of his own – and is now odds-on favourite to win the 101st Tour de France.
Those ringside couldn't hear it at the time but that's what Muhammad Ali, no more than 12 inches away from his nemesis, told George Foreman moments before the bell in their 1974 world heavyweight title fight in the Democratic Republic of Congo.
Each time he stands cheek by jowl with Chris Froome, each time he lines up next to Alejandro Valverde, next to Vincenzo Nibali, Tejay van Garderen – each time he lines up to anybody who dares to challenge him this July – this is what Alberto Contador is likely thinking.
The master has returned… Now you must meet me, your master!
In March he rode two important WorldTour stage races. He did not win the Volta a Catalunya but then again he did not need to. The plan was to ride conservatively. Tirreno-Adriatico, on the other hand, was a different matter.
He was imperious.
The intention was to win ("Tirreno-Adriatico is an important goal. Lots of riders are here to prepare for the Giro; I want the final result," he said the day before the race began) and thus he arrived in Donoratico fighting fit – and left San Benedetto del Tronto a winner. A little unusual for someone with such a voracious and successful stage-race appetite, it was the first time he won 'The Race of the Two Seas'. He intended to push himself, to find his limit, or reach a new one, and gauge where he was relative to his rivals – only to discover he had no peer. "If I could have written the script myself, it could not have gone better," he said the morning after his second consecutive hilltop scalp, atop the Guardiagrele Wall.
It was the first of a string of warning shots before the 101st edition of Le Tour kicks off in Leeds on July 5. Still, the Contador we've seen so far this year is, by guestimate, only at eighty, maximum 85 per cent form. "He's better than he was when he won the 2012 Vuelta a España," Bjarne Riis, Tinkoff-Saxo team manager, told VeloNews after the 31-year-old – yes, still only 31! – finished second overall to Joaquim Rodríguez after the Volta a Catalunya's final stage in of Barcelona, the Catalan capital, four seconds adrift of 'Purito'.
Better than he was in August-September of 2012 but not better than 2007, '08, '09 or '10.
Not yet.
By Tour time, that will come. You know it will. It will come with the same surety that the Grand Départ will begin in Yorkshire. The important thing is that his legs are back, his preternatural powers of recuperation have returned – "The legs recover well each day and for that I am very, very happy," he said after the fifth stage of Catalunya – and his team believe in him.
For Tinkoff-Saxo, their likely Tour nine will be no weaker than Team Sky or Movistar or BMC or Astana.
Jesper Hansen, Jesus Hernandez, Roman Kreuziger, Michael Mørkøv, Rafal Majka, Sergio Paulinho, Bruno Pires, Nicolas Roche, Rory Sutherland, Chris Anker Sørensen to name a few… They could certainly do with 'capitaine de route' Michael Rogers but he's been living in Limbo Land since last December, having tested positive for clenbuterol after winning the Japan Cup; to use the correct parlance, an 'adverse analytical finding' for which he claims he was an unintentional victim. (If suspended, he would need to look no further than his Spanish leader for advice on how to deal with the matter, though if awarded a two-year ban, one would surmise that for Rogers it would be career-ending, rather than career-suspending.)
Nonetheless Contador doesn't seem too fazed when it comes to who will or won't be with him – and seems equally insouciant about his foes. Till the time comes to beat them to a pulp, he thinks about them no more than Riis, his divisive shaman-like boss, contemplates life without pro cycling.
He is concerned only with what he can control: himself.
He chose early on not to race any of the Ardennes Classics (Amstel Gold, La Flèche Wallonne, Liège-Bastogne-Liège) that, on his day, he could win. An unnecessary distraction. However, before a two-month break from racing till his pre-Tour appointment at the Critérium du Dauphiné, he pinned on a number at the six-day, climb-laden Vuelta al País Vasco (Tour of the Basque Country) – and succeeded with aplomb.
He'd won by the first day, in fact. At just under 2.5km long it was designed for the 'puncheurs' but on the final of eight climbs he surged away from Valverde and a star-studded GC field as if they were standing still – then proceeded to descend like a bat out of hell to gain a quarter-minute advantage. "We must seize every opportunity. This morning I had good legs and had to seize the day," Contador said afterwards, whose descending prowess is often overlooked because of his uphill aptitude. His strategy? "I just worked to endure the pain in my legs and that's it." He maintained his vice-like grip on the race going into the final day, in between doing no more or no less than he needed to do, before an undulating 25km time test. Including a pair of second-category climbs, it was not dissimilar to the Stage 17 time trial at last year's Tour where, over 32km, he finished second to Froome, nine seconds adrift of the Kenyan-born Brit. And significantly, he showed that other than three-time world TT champ Tony Martin, he was the best of the rest.
In short, he displayed all the skills required to win this year's Grand Shindig.
After a lacklustre yesteryear, would he call 2014 a rebirth?
"I just carry on working as I always have. Sometimes I win, sometimes I don't, but wouldn't talk about a rebirth. I just get on with doing my job."
The old dog, he never gives anything away. Still, before the start of Tirreno-Adriatico, he did say this much: "I've had a good winter, my sensations are perhaps the best I've ever had at the start of a season."
He would never dare say it but as with most multiple Grand Tour winners there's no fear in his mind that come July 27, he will fail to win his third Tour de France – what will be his sixth Grand Tour. He does not ponder failure any more than Froome, the defending champ, thinks himself incapable of scoring back-to-back victories in La Grande Boucle. Therein lies one small problem: the mutual exclusivity of their intentions.
At the time of writing, following his victory at País Vasco and Paris-Roubaix, Contador was at the top of the UCI WorldTour rankings. Despite being in the middle of the Spring Classics he'd been there since March 30. As for the other Grand Tour contenders Nairo Quintana was eighth, Jean-Christophe Peraud ninth, Cadel Evans 11th, van Garderen 12th, Carlos Betancur 13th, Rodríguez 15th, Richie Porte 27th, Valverde 31st, Froome 40th.
Nibali? Well, as for last year's Giro d'Italia champion, he'd yet to score one point.
Clearly, those early season sensations were not a figment of Alberto's imagination. Everyone else is playing catch-up. For those who dare to challenge him in July, they had exactly 83 days to get ready, before they meet their master.
The Contadorus Rex is far from extinct.
Twitter: @anthony_tan