Should Alberto Contador falter in the Pyrénées or fall foul of Lady Luck, there's a quartet of contenders in waiting who, in the event of that happening, will be poised to pounce.
If Alberto Contador doesn't win who will?
You rarely get a lucky winner of the Tour de France – or any Grand Tour, for that matter – unless you count those who won by default, such as 2006 winner Oscar Pereiro or 2010 champion Andy Schleck, both bestowed their crowns after the fact; a consequence of the respective doping positives of Floyd Landis and Contador. (There's that name again – and no, he just won't go away!)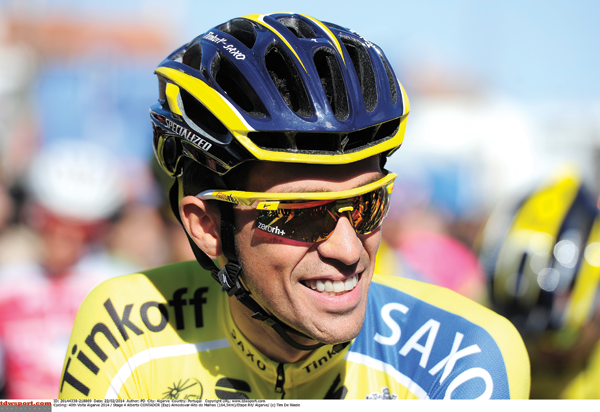 After all, this is, in essence, a sustained three-week effort over some 3,500km, give or take a few 100 or so; the fact that it rewards the most consistent rider over 21 race days means the best man invariably does win. Unless they aren't playing by the rules, it is a misnomer to think there is such a thing as an undeserving winner of a Grand Tour. You cannot fluke a win at the Tour.
Each time a Grand Tour comes around, I'm reminded of something Irishman Daniel Martin said after he won arguably the most exciting stage of last year's Tour to Bagnères-de-Bigorre: "I think everybody is going to have a bad day at some point in this race, and whoever is going to have the least bad day is going to win the race in Paris."
Remember that: Whoever is going to have the least bad day is going to win the race in Paris.
That's Grand Tour racing in a nutshell. It will be the formula to win this year's Tour, and future Grand Tours to come. It does not mean you must always race conservatively or defensively – but it does mean more than any other type of bike race, you must measure your efforts; your body is like a six-shooter and has only so many bullets to fire before inevitably it about turns to face you.
The Defending Champ: Chris Froome
Last year his trajectory to La Grande Boucle followed a similarly successful one to that which his teammate and predecessor, Bradley Wiggins, enjoyed in 2012. He won at will. He won with aplomb. Oman, Critérium International, Tour de Romandie, Critérium du Dauphiné, and needless to say, the Tour itself. He was the man.
This year, things are a little different. Okay, very different.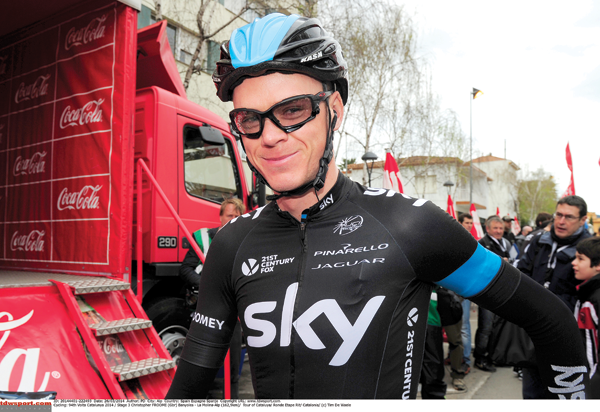 Auspiciously, Froome defended in Oman but after that the winds of fortune changed tack, away from him, away from the team. Inflammation in the lower back (a perennial bugbear of his) saw him skip Tirreno-Adriatico in early March, where he would have met a rampaging Contador (in retrospect, perhaps a good thing). Later that month he returned for a face-off with the Spaniard at the Volta Ciclista a Catalunya and finished 17 seconds off winner Joaquim Rodríguez and 13 behind Contador.
Not so bad, but not 2013.
His bestie Richie Porte was also going through the motions (quite literally, but please, don't try to imagine it) around the same time, gastroenteritis forcing him out of Tirreno and Catalunya, leaving Team Sky's sport directors with no option but to pull him from contesting the Giro d'Italia. Again in hindsight it might not be such a bad thing; professional cycling's modern-day milieu is a zeitgeist whereby riders are capable of riding only one Grand Tour per season in peak condition – and Porte would have emptied the tank to try and win the Giro, in what would have been his first three-week race in a leadership capacity. As his uber-loyal sidekick – Porte is to Froome what Tonto is to the Lone Ranger – the Tasmanian is likely to be fresher and more useful in July without a Grand Tour already in his legs. Team principal Dave Brailsford's decision to quit his post at British Cycling mid-April and channel all his energies into Sky Procycling is perhaps indicative of an outfit that realises repeating the feat may not be so easy as first envisaged; and second, that Contador's return to form has rattled them.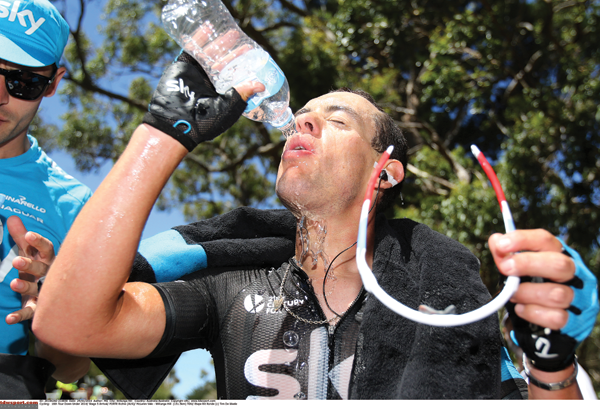 I'm convinced come July 5 the 'Froome-dog', as he's affectionately known, will be fighting fit and barring injury or disaster, emerge as Contador's greatest foe as the race enters its denouement deep in the third week. It will be 'mano-a-mano' between these two all the way to Paris – it's just a question of which man will win.
As a past Tour winner Wiggins (who settled his differences with Froome earlier in the year), even more so than Porte, could be the key to unlocking a third consecutive crown for what is essentially the Manchester United of the WorldTour peloton. (Have shedloads of money, will buy!)
The Great White Shark: Vincenzo Nibali
'Lo Squalo di Messina', they call him. The Shark of Messina. Vincenzo Nibali.
He won last year's Giro at a canter and vowed to come to the 2014 Tour to win but like Froome, the water's been a tad choppy for the 29-year-old Sicilian so far this season.
As of April 13, following Paris-Roubaix and the Tour of the Basque Country, Nibali, uncharacteristically for one with more than a healthy appetite for blood, had failed to score a single WorldTour point. Not one. And unlike the year previous Wikipedia had not a thing to say about the Astana front man, nor a result to add to his otherwise extensive palmarès that includes stage-race victories in the Vuelta a España (2010), Tirreno-Adriatico ('12, '13), Giro del Trentino ('08, '13) and the French one-day classic GP Ouest-France.
The motor, talent and pedigree are there – aside from Wiggins and Froome, who went 1-2 at the 2012 Tour, Nibali was by some margin the best of the rest – so in a year where he's chosen to be so singularly focused (he's raced two Grand Tours a season three times previously, including last year) it could be that 'Nibbles' is slowly munching away, biding his time, biting off no more than he can chew (alright, alright, you get the idea, no more eating idioms from me). Still, at the time of writing, in the quartet of stage races he'd done – Tour de San Luis, Dubai Tour, Tour of Oman, Paris-Nice – he'd been notably conspicuous by his absence at the head of affairs.
I'm going to put his lacking of the limelight down to a slow build. Plus, with a supporting cast that includes Jakob Fuglsang, the Iglinksy brothers, Tanel Kangert and Lieuwe Westra, he's got a team to match the likes of Tinkoff-Saxo and Sky.
Just like a white pointer, the Shark of Messina may come out of nowhere and swallow his victims up, though not before tearing them to pieces. (Yes, I know I said no more snacking parlance – I lied.)
Cue Jaws soundtrack, thank you music maestro…
Last Chance Saloon: Alejandro Valverde
After Nairo Quintana, his then 23-year-old teammate and 10 years his junior, completely upstaged him en route to finishing second overall and taking the mountains classification to boot, Alejandro Valverde, even though he encountered moments of misfortune last year, probably doesn't deserve to be Movistar's leader once more.
But he is.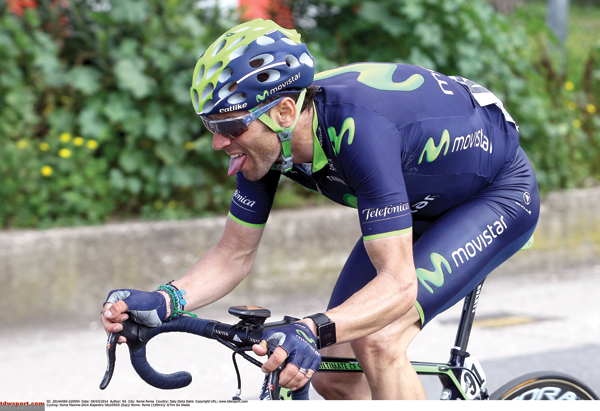 Fact file: Last July Quintana, in his debut Tour no less, rode better than Valverde's ever gone at the Tour. In the four times he's finished, the controversial Spaniard – whose dog's nickname 'Pity' was plastered all over refrigerated blood bags found inside infamous doping doctor Eufemiano Fuentes' Madrid apartment, eventually leading to a two-year suspension where he remains unrepentant to this day – "I did nothing wrong, I have nothing to be sorry for" – ran sixth (2007), twice eighth ('08, '13) and 20th ('12).
Clearly, the surname Valverde wields significant power within the hallowed halls of Team Movistar.
Admittedly, he began the year with a bang, taking scalps at the Vuelta a Andalucía, Vuelta a Murcia, Roma Maxima and GP Miguel Indurain – but where he is strong, therein lies his Achilles heel, for he tends to race at his maximum too much; something he could afford to do in his mid-to-late 20s and early 30s but now… not so much. In early April, at the Vuelta al País Vasco (Basque Country) he was already showing signs of wear, riding poorly in the final stage time trial and freefalling from second to fifth overall after a 25.9km contre la montre that should have suited him to a T.
Valverde knows this will be his last chance to win the Tour before Quintana, who has (somewhat reluctantly) agreed to ride the Giro this year, becomes Top Dog. Contador, Froome and Nibali would need to fold to see him triumphant in Paris; I could envisage one, perhaps two capitulating – but all three?
Blue moon en France it would need to be. Nah.
The Upstart: Tejay van Garderen
American cycling's next big thing. Finally, after Landis then Lance got scrapped from the history books, the land of the free and home of the brave may just have found a worthy successor to three-time champ Greg LeMond, the last of their kind to win the Tour paniagua (a Spanish idiom for bread and water), now almost a quarter of a century ago.
Signs of promise emerged two years ago, when, at 23 years young, he finished fifth overall and took home le maillot blanc as best young rider. It must be said, however, that fifth place behind Wiggins in 2012 equated to being more than 11 minutes in arrears, so van Garderen wasn't quite the revelation Quintana was last year.
In 2013 BMC, despite speculation otherwise, went in with Cadel Evans as outright leader after the 2011 champ finished a more than creditable third at the Giro. But when Evans faltered early in the piece, losing four minutes on the first mountain stage to Ax 3 Domaines, Tejay was no match for Froome, Quintana, Rodríguez et al – in fact, he lost more than twelve minutes that day! (He would arrive in Paris 45th overall, nearly one-and-three-quarter hours down on Froome.)
With long-time team manager John Lelangue out last August and former-Aussie-pro- turned-sport-directing-supremo Allan Peiper in, there have been changes aplenty at BMC. 2012 world road champ Philippe Gilbert has been told to pick up his game in the Ardennes or bugger off. Greg Van Avermaet was granted a clear leadership role in the cobbled Classics. And Evans was told he would no longer be leader at the Tour. "It was a little bit of a shock for Cadel. He never really sat down and thought about making the Giro his mission. For him, the Tour has been the biggest part of his life for more than a decade. Letting that go wasn't easy," Peiper told VeloNews back in January.
"We're in a building phase with Tejay right now. He is still only 25. It will be another five or six years before he would come to his peak. It took Cadel quite a few years before he won the Tour. With Tejay, we've got to keep our feet on the ground, and build the team for the future. Wonderfully, for us, we still have Cadel as an ambassador for the team."
While Peiper may say "five or six years" before he reaches his maximum potential, team owner Andy Rihs will be hoping – more than likely, by way of a none-too-subtle phone call to team management in the middle of the night – that he makes the podium in half that time.
Or less.
"Tejay is the future," said Peiper. "This is the year he gets his chance. It's his team we're building around him. The focus is on the Tour."
So far, so good. Clearly defined leadership and the weight of expectation seem to sit nicely with van Garderen, even if it hasn't all been plain sailing: second to Froome in Oman; sidelined with a stomach bug at Paris-Nice, exiting stage left shortly into the first stage; third behind Rodríguez and Contador in Catalunya; solid though not special at País Vasco, finishing sixth behind 'El Pistolero', Alberto Contador, who did enough to wound his enemies though not mortally – the Gatling gun will be reserved for the Tour.
Van Garderen was slated to skip a title defence at the Tour of California, and instead ride a few of the Ardennes classics and the Tour de Romandie, before a short break leading into every TdF contender's favourite tune-up, the Critérium du Dauphiné. By the time you read this we will know the results, and come July, have a better idea of exactly what this bright young thing can do.
Twitter: @anthony_tan