Cancer Council SA have announced several new additions to their major annual cycling-based fundraiser – the Ride for a reason Challenge Tour that coincides with each year's Santos Tour Down Under.
The Challenge Tour is the Santos Tour Down Under's annual mass-participation ride. The one-day Tour gives riders the chance to tackle the same route as the professional riders from Glenelg to Strathalbyn, with four different start locations allowing participants to ride a distance that suits them.
For the first time in 2019, all participants who raise $500 or more in the lead up to the Challenge Tour will earn a customised Ride for a reason jersey to wear on the event day. In addition for 2019, Ride for a reason cyclists can set their own distance challenge, which they can strive to complete throughout the eleven days of Tour week.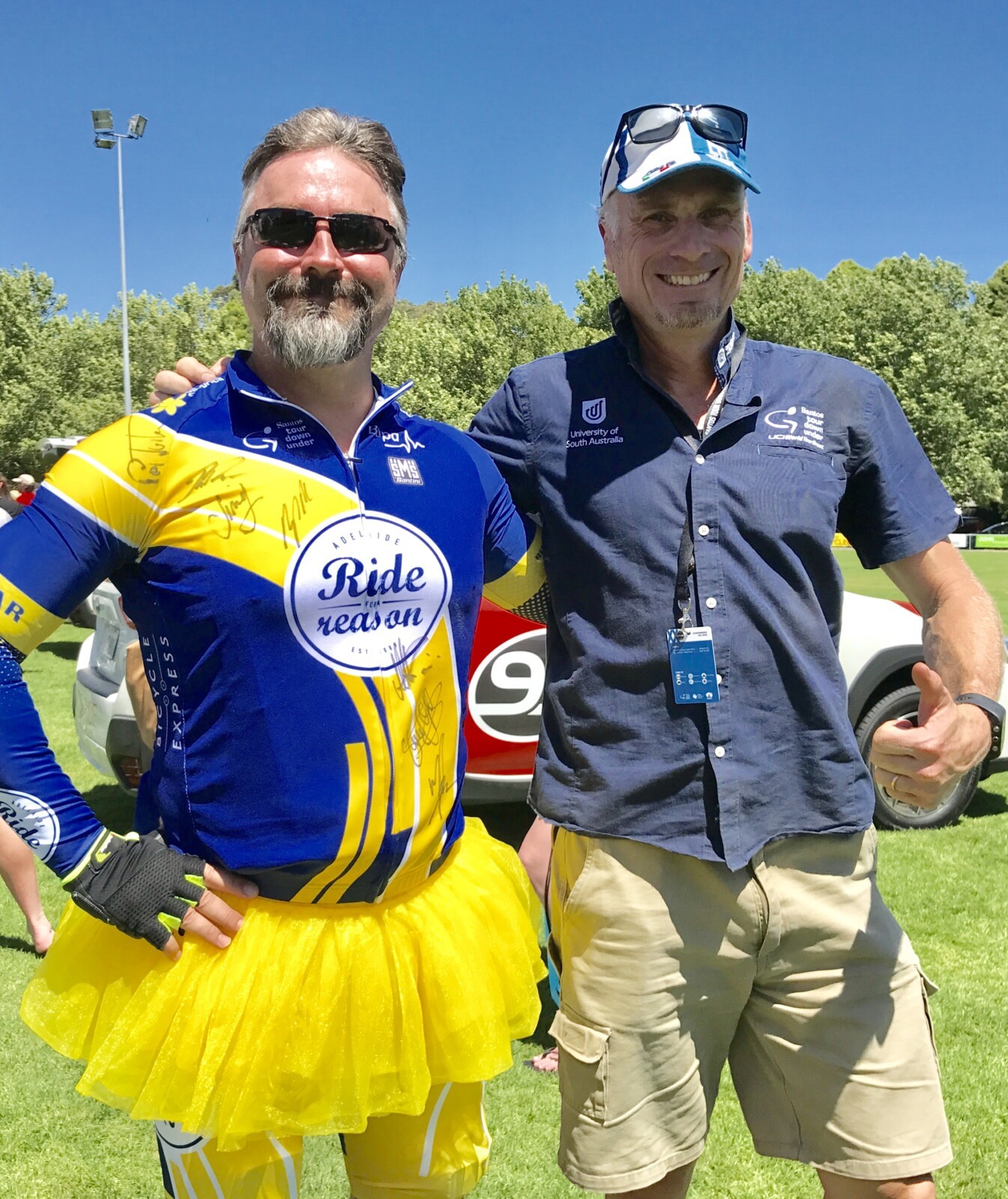 Riders will also receive complimentary Zwift cycling sessions and access to an elite training program written by five time Tour de France rider, Olympian and former Tour Down Under Winner, Patrick Jonker.
Cancer Council SA Chief Executive Lincoln Size said he was excited to offer cyclists new ways to Ride for a reason in 2019.
"Since 2009 we have joined with the South Australian Tourism Commission to give participants a chance to Ride for a reason and raise critical funds for those impacted by cancer in our community. We're excited to be hosting Ride for a reason again in 2019 with the new Distance Challenge giving participants even more opportunities to get involved."
"The Distance Challenge is something we're really excited about this year – cyclists can commit to ride whatever distance they want, whether it's 50km or 2000km, with family and friends able to support them as they work towards achieving their goal."
"Anyone who Rides for a reason also has an extra incentive, with prizes on offer and riders able to earn exclusive Santini Ride for a reason kit with each fundraising milestone they reach."
Pat Jonker Rides 2019 Course
Pat Jonker, a former Tour Down Under winner and Cancer Council SA Ambassador, has been Riding for a reason since the event started in 2009. He's already ridden the Challenge Tour route and says is one of the best to date.
"The Santos Tour Down Under Challenge Tour is a fantastic opportunity for South Australian cyclists to ride the same route as the pros and has become an iconic part of the South Australian riding calendar," he said.
"I'm thrilled to be involved in the event again this year by supporting Cancer Council SA and leading the Ride for a reason charge."
"Even though the route might be challenging, it's nothing compared to the challenges faced by those impacted by cancer, which motivates me to come back year on year and ride for the ones that I love," he said.
Money raised through Ride for a reason enables Cancer Council SA to invest in ground breaking research, run lifesaving prevention programs, support people impacted by cancer and advocate on behalf of the community.
Since the event started in 2009, Ride for a reason has raised more than $4million for Cancer Council SA. This year, Cancer Council SA is hoping to raise more than $400,000 to support South Australians impacted by cancer.
For more information about Ride for a reason and to sign up visit rideforareason.com.au.