South Australia is fast becoming a premier destination for serious and recreational cyclists.
Australia's premier international cycling race, the Tour Down Under, is held in the State every January, with the superstars of world cycling battling it out for glory for the coveted Ochre leader's jersey. Held since 1999, the Tour Down Under is one of the first major UCI (Union Cyclist Internationale) events of the year, and the very first ProTour cycling race to be held outside of Europe.
Against backdrops of city landscapes, rolling vineyards, and picturesque coastlines, the Tour Down Under offers fast, and frenzied racing action, with hundreds of thousands of spectators turning out annually to the streets of Adelaide and regional South Australia, and millions of other cycling fans tuning in to watch the event on television from across the world. Recreational cyclists are also very much part of all the action, with a real highlight being a ride along one of the race stages in the Challenge Tour before the official teams hit the road. www.tourdownunder.com.au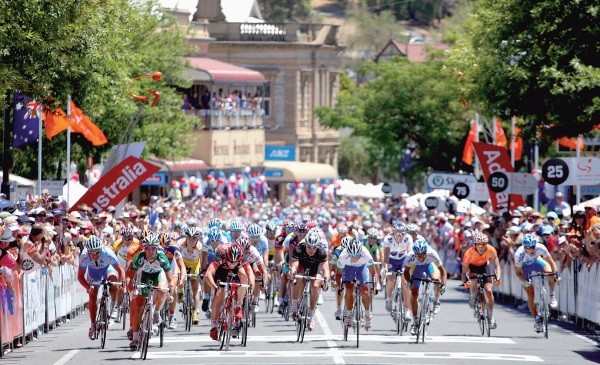 The state's Mediterranean climate and variety of terrain also supports a broad range of other cycling opportunities both in and out of the city. The cycling revolution is certainly alive and well in Adelaide with pristine coastline on one side and challenging hills on the other. In between are miles of bikes lanes linking the Adelaide city centre to the vineyards on the rural fringe. Adelaide, with its broad streets, long coastal esplanades and classic switch-back climbs along the Mount Lofty Ranges has a strong local cycling culture – with a particular highlight being the River Torrens Linear Park, linking the Mount Lofty foothills with the sea. The Eagle Mountain Bike Park also lies just 15 minutes from the Adelaide city centre and offers 21 kilometres of trails dedicated to the 'fat tyre' enthusiast.
Heading out of the city, forests and old quarries are the playground for off-road adventurers, while tourers and sport cyclists may like to pedal around one of South Australia's 16 wine regions. For the dedicated mountain bike rider, the Flinders Ranges offers rugged terrain with broad vistas – a true taste of Australia's outback. Some of the best nature and wildlife experiences can also be enjoyed by bike, with a network of cycling trails meandering through national parks and regional areas, passing vineyards, historic towns and spectacular landscapes. The options are really quite endless – from the 800-kilometre Mawson Trail, to short paths along city beaches, or a leisurely ride through the vines, there's definitely a track to meet every mood and motivation level in South Australia. Here are some of the highlights:
Mawson Trail
The most famous cycle route in South Australia is the Mawson Trail, an epic trail traversing the Mount Lofty and Flinders Ranges, from the Adelaide Festival Centre in the heart of the city to the Flinders Ranges town of Blinman. You'll ride over country roads, fire trails, station access tracks, and be rewarded with spectacular views, abundant wildlife and extensive vistas over the ranges and surrounding plains. The trail can be ridden in sections or in its entirety.
Clare Valley Riesling Trail
Visit beautiful country towns and up to 30 local wineries on the Clare Valley's famed Riesling Trail: a walking and cycling route following a disused railway line through the heart of the valley from Clare to Auburn. You can traverse the 25 km trail in either direction and start your journey from a number of clearly signposted side roads in each town (and even between towns). The entire trail can be cycled one way in about two hours. The trail starts in Auburn, around 90 minutes drive north of Adelaide, with bikes available for hire in Clare.
Adelaide's River Torrens Linear Trail
At more than 35 kilometres in length, this is the longest hills-to-coast park in Australia. You can either head east to the hills from Torrens Lake near the city centre, or west to the coast at Henley Beach, and along the way you'll pass the Adelaide Festival Centre, Elder Park and Adelaide Zoo. Extensive plantings of trees and shrubs create a sense of being hidden away from civilisation. Bike hire in Adelaide is available in Elder Park, while the Adelaide City Council has free two-hour bike hire for visitors to use within city limits. Full day hire is also available with charges applying after two hours or more. Bikes travel free on Adelaide trains between 9am and 3pm weekdays (and after 6pm) and all day on weekends and public holidays.
Flinders Ranges by Bike
With summer now over and cooler weather on the way, riders have the chance to cover new ground with this trail, combining a section of the Mawson Trail in the Flinders Ranges with exclusive sections of pastoral land adjoining the park. Riding across private land allows intimate views of the landscape and the chance to explore the area's pastoral history when riding from one homestead to another. The landscape ranges from native pine forest to ochre coloured gorges and open grassed plains, with ample opportunity to experience some peaceful isolation and an abundance of wildlife. The 200 km multi-day circuit, which starts at Rawnsley Park Station (Wilpena Pound) in the south and travels to Gum Creek at Blinman in the north, provides off-road enthusiasts with a real adventure.
McLaren Vale
For a great cycling day trip out of Adelaide (and with some great wine tasting) take the train south from Adelaide to Noarlunga Station. Ride south to the old railway line that's been converted into a bike path, and head east into the heart of McLaren Vale. En route you'll find the McLaren Vale and Fleurieu Visitor Information Centre: stop here for maps and directions to some of the best wineries in Australia. If you don't have your own wheels, hire a bike from Blessed Cheese in McLaren Vale. And while you're there, grab some cheese to match with top wines as you cycle your way around the region.

Cycle Tours
If you would like to join a cycle tour, several tour operators visit some of South Australia's most spectacular cycle destinations. They offer on and off road tours to suit all levels of fitness and adventure, and many are fully catered and supported. Ecotrek (www.ecotrek.com.au), offer cycling tours all over South Australia and visit areas such as Kangaroo Island, Flinders Ranges & Outback, and the Barossa, Clare Valley and Adelaide Hills wine regions. Barossa Classic Cycle Tours (www.bccycletours.com.au) specialize in gourmet cycling trips around the Barossa and extended tours around South Australia. Cycling Tours Australia (www.cyclingtoursaustralia.com.au) also offer a range of tours from Adelaide along the picturesque Fleurieu Peninsula that take in not only wonderful coastal scenery, but also the famous McLaren Vale wine region.
Best Time to Cycle in South Australia
Mountain biking: April – November (note: most MTB areas close on a total fire ban day) Road cycling: September to January and March to June.
More Information
There are heaps of other options for cycling to and through South Australia:
• Bicycle SA – www.bikesa.asn.au
• South Australian Trails – www.australiantrails.com
• For 'Bike Direct' bike maps of Adelaide www.transport.sa.gov.au
• Official holiday information for South Australia – www.southaustralia.com
"THE McLAREN VALE" is ideal for a cycling day trip out of Adelaide (and with some great wine tasting). Cyclists can catch the train from Adelaide to Noarlunga Station in order to ride south to the old railway line which has been converted into a bike path. They can then head east into the heart of McLaren Vale. En route, the McLaren Vale and Fleurieu Visitor Information Centre provides maps and directions to some of the best wineries in Australia. Bikes can also be hired locally from Blessed Cheese in the McLaren Vale. www.blessedcheese.com.au
ENCOUNTER BIKEWAY is a 22 km on road and shared path facility that links the towns of Victor Harbor and Goolwa on Fleurieu Peninsula. The coastal trail weaves its way through a number of picturesque seaside towns such as Port Elliot and Middleton. www.tourismvictorharbor.com.au