He's fixed and he's fit. Brad McGee looks to the future in this exclusive interview with Bicycling Australia's Simon Hayes.
Followers of Australian cycling will need no introduction to Brad McGee. Will any of us forget his win in the prologue of the 2003 Tour de France beating Lance Armstrong and David Millar in Paris? Brad held the yellow jersey for three days that year. Then in 2004 he won the prologue of the Giro d'Italia, making him only the second Australian to wear the pink jersey. In doing so, he became the highest placed Aussie in the 87 year history of the race. Brad has competed for Australia at the Olympic Games in Athens, Sydney and Atlanta as well as Commonwealth Games in Manchester, Kuala Lumpa and British Columbia. He was awarded the Order of Australia medal in 2005. Since those glory days however, McGee has been plagued with injuries. He completed only six races in 2006 and only two races after a comeback in 2007. After two years in the wilderness, Brad now finds himself, fit, well and with a new team after 10 years at Francaise Des Jeux (FDJ). We caught up with Brad after his first weekend of racing in the Trofeo Laigueglia along the Italian Riviera and the Tour du Haut Var in France.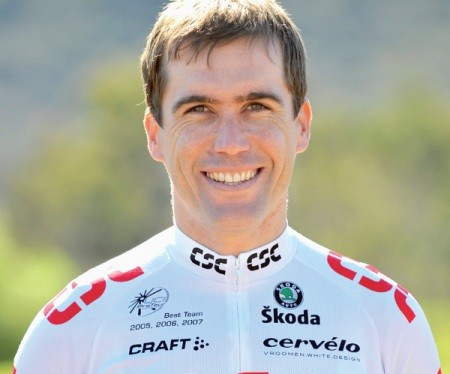 Bicycling Australia: Well Brad, how does it feel to be racing again?
Brad McGee: Mate, it feels fantastic. I was so nervous, I felt like a junior again at my first race. I went OK; I stayed up the front until right near the end and then dropped off. But I came through unscathed so I'm happy.
BA: You're racing with CSC now. How does it feel to be on a new team after ten years with FDJ?
BM: You know, everyone says a change is as good as a holiday, but after ten years in a French team I feel like I've changed sports. The difference is that dramatic. I think changing to any team would have been good for my career but I can't see the possibility of a team existing that is better structured and having a better atmosphere than CSC.
BA: They have a history of resurrecting riders in a bit of a slump. There's been Stuart O'Grady, Bobby Julich, even Ivan Basso who have gone on to be successful. Why do you think that CSC are able to do this?
BM: They put a lot of time and effort into the riders. Starting with the survival camp we had last November in Norway. We were there for one week in all sorts of extremes. There were a lot of activities, a lot of meetings, but not once did we speak about bike riding. I didn't see a bike; I didn't even see a wheel. They went right down to the fundamentals of creating a solid atmosphere and then they work up from there. That was important for someone like me, because when you're dealing with older riders who may have a bit of baggage, you need to erase all that and start again.
BA: Have CSC given you any indication of what they're expecting from you this year?
BM: Nothing as specific as "You need to win this race, this race and this race." The goal is just to get me back to where I should be when performing on the bike. Be it time trials, grand tours, anything I've been able to do previously. I already feel that I'm on a better level than I've ever been.
BA: You're quite a unique rider in many ways. You've won sprints, time trials and come eighth overall in the Giro.
BM: That Giro was like a three week sprint though, really. There was a lot of fast descending. (Laughs). I really feel the way cycling is at the moment; you can just put your mind to something and then adapt. Sure, sometimes you have to get real and focus at what you're best at and for me that keeps coming back to the time trial. Even if I'm going for the GC in a particular race, I still have to have a killer time trial. It's good for my confidence too, focusing on the TT, because I've got numbers to work with. I know if I push a given amount of watts, I'm in with a running chance and I sort of feed off that.
BA: Have you got any particular personal goals for this year?
BM: I'm on the start list for the Giro. But that could find me in a very different role. I might be supporting someone like Carlos Sastre or one of the Schleck brothers. And that excites me. To go into battle for guys who are up for the win will not only lift me as a bike rider but could set me up for something else in the future as well.
BA: You had two years of injuries with your back.
Can you talk me through what the problems were and how you went about fixing it?
BM: Well, the problem was always my left leg. I had sciatica symptoms like tingling and numbness in my left foot. And because I was always effectively limping on the bike, the compensation came up to my lower back, which is where I had the pain. We approached it like a lower back problem and found there was a small herniation of the disc at L4-L5. We focused on fixing that, but when the problems kept coming, my view was, "Let's go in and fix this. Let's have an operation", but no doctor would operate on a hernia that size. Eventually when we were staring down the barrel of fixing it or giving up racing, we realised there must be something else. But no one offered any enlightenment on what this other thing could be, you know? Eventually, just by chance, a colleague of a sports doctor in Monaco, at the institute of sport here, gave me a five minute going over. On the basis of that examination, he proposed that I had a cyst in my left knee. We had an MRI done the next day and sure enough, there was a dirty great cyst sitting right on the nerve. So I had it burnt out a couple of days later and I haven't had an inkling of the problem since.
BA: A pity you didn't meet him two years ago then!
BM: Well yeah, but what do you do? I've already lost too much time to be looking back.
BA: Have you had to make many modifications on the bike?
BM: Well this is the thing. Now I'm riding longer and lower at the front. It's a more natural racing position whereas in the past I was always higher and had to come further forward over the bottom bracket. Everything you shouldn't do for a racing cyclist. I was riding around like a tourist! Now, I'm low, comfortable and I'm breathing properly. It's a great feeling. Previously I couldn't enjoy cycling at any level. Even just riding down to the coffee shop, you know? And that really pissed me off. It was a hard thing to deal with. But once I got that back, just to be able to ride my bike with a smile on my face is a great thing.
BA: When you're in low points like that, you must have thought from time to time, of just chucking it all in?
BM: I thought of it all the time. But you get a lead, a new specialist or doctor or something. You attack it full and every time I'd come back with a bad response. Then there'd be a lull and I'd think, "Hang up the bike. That's one option." But I always found another avenue to go down. I was running out of options towards the end so I had to get creative. Luckily doing that found the problem.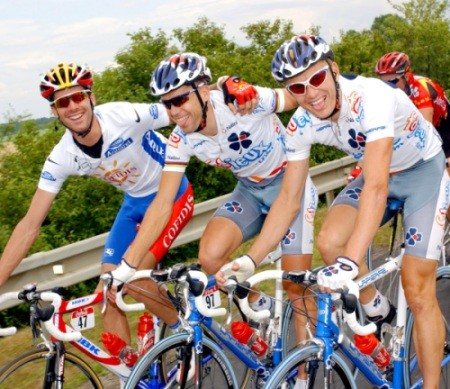 BA: You have a wife and two kids. Did you worry about being able to provide for them?
BM: I've always had confidence that bike rider or not, I'm young, healthy, good spirited so I've always got that covered. But what was an issue was the fact that basically, I was a non practicing professional bike rider. And you ask yourself the question, "Why am I living over here in Europe? What am I doing? What's it all for?" That was difficult. It's a hard lifestyle as it is, there's a lot of time on the road and to make it worthwhile you need to be winning races. That's what I'm in it for and I didn't even have the opportunity to be racing races, let alone winning them. It was pretty hard to deal with.
BA: How were FDJ during all this? Did they provide much support?
B

M:
They were very good. Very understanding. But I had the feeling from the very top direction that there was a bit of "It's your problem; we're right behind you but….." Their doctor was good, but in the end, it was up to me to find a solution.
B

A:
How did you decide in the end that you were finished with them?
BM: Without this injury I'd probably be still there. It was just a case of a little bit of respect lost both ways and it was just too much of a legacy to hold onto for them. From my point of view, I needed a whole new outlook on cycling. So in the end it was a very mutual and easy decision to part company. We're still friends, I was talking to their management on the weekend so that's all good.
BA: Did CSC approach you or did you approach them?
BM: I'd been in contact with them for many years actually. I knew some of their director sportifs and we always thought it would be a good relationship. Slowly but surely this came together and we clicked at the right time.
BA: When you're racing overseas all the time, how important is it to have other Aussies in the team?
BM: I think an Aussie in any team is important. It's almost now like every team has to have their token Aussie or two. I think we bring a great drive or attitude to any team. Someone like Cookie (Baden Cooke), he's got so much of that in him that he just brings it into the team and people feed off it. I'm finding that the more I work with the Scandinavian people, they have a lot of the same characteristics as us but yeah, it's nice to have some Aussies there as well.
BA: Changing the subject, you were always a champion of clean riders. With the UCI's biological passport a lot of riders don't like having to predict their whereabouts three months in advance. What are your thoughts on that?
BM: I don't have a problem with any of it. At the moment I'm under two whereabouts systems. One for CSC and one for Australia. I have to fill in these things and it's a bit time consuming. But people who complain about their loss off freedom and all that. They have to realise that our sport is in crisis and if we want it to survive, these are the things we're going to have to do. So I don't have a problem with it at all. They've improved it a lot and from where I'm sitting, it's working pretty well. I don't think there's any room for griping unless you've got something to hide.
BA: When you're riding in the peloton for a whole season, you must get suspicions about particular riders using performance enhancers. Then they might beat you in a sprint. How do you deal with that sort of thing?
BM: Look, I've seen that sort of thing all my career and sometimes you scratch your head and wonder. But in recent times, with a lot of people coming out or getting caught, I could start to look at all my second places and work out which ones were to people who have since been found to be doping. It starts to add up and there are important victories that have gone begging. But it's not worth a second of my time to dwell on that right now. You have to move forward. But hopefully it's being highlighted enough for people to realise that while some people are cheating, other people's livelihoods are being taken away. You know, one or two victories in the right places can mean a big difference to a person's career.
BA: When a rider who has been found guilty returns to the peloton, how are they treated by other riders? Someone like David Millar for example.
BM: I feel that David has been welcomed back. I think the reason is that he didn't drag the problem out any more than it had to be. He admitted what he'd done, talked about it openly, took his sanction and now he's back. Other guys I've known like Jorg Jaksche or Tyler Hamilton, they're not welcome. They're just not welcome and they know it. You can feel it.
BA: Changing the subject once again, how do you feel about the UCI wanting to put ProTour races in China and Russia?
BM: I haven't really been following the UCI expansion plans, but I think it comes down to the sponsors. A company like CSC might welcome racing in China and Russia because it opens up new ground for advertising. But I think the problems will happen when sponsors who are more local have absolutely no interest in going to these countries. But as a rider, you need to fulfil your contract. So if you want to ride particular races, what do you do about that? Well, you need to ensure you're good enough to do the races you want to do.
BA: Lastly, when are we likely to see you racing in Australia again?
BM: (Laughs) Well, the Herald Sun Tour isn't out of the question this year and I'm looking forward to doing Tour Down Under next year.
BA: What did you think of the six sprint finishes in the Tour Down Under this year?
BM: I think they'll look at that. I'm sure Mike (Turtur) is aware of it and there'll be some changes. I'd like to see one decent day of what we call a selection. Something that will split the riders early in the race, like a short hill time trial. They've got plenty of hills and roads around there where they can do that and I think most riders would look forward to a test like that early in the year. Nothing too hard, just enough to split the bunch early in the race and maybe a hilltop finish later on.
BA: Brad, thanks very much for your time.
BM: No worries!