It's every cyclist's dream to ride the Tour de France and mine was no different. After winning the Australian Time Trial champs in Ballarat at the start of the year, I said to the team that riding the Tour is something that I really wanted. I think they sort of took it with a grain of salt and if I'm honest with myself, I kinda felt that way too. But it wasn't going to stop me from trying hard and proving that I was good enough to go.
My main goal of the season was the Dauphine Libere, as this is a major lead up race for the Tour. I didn't want to ride the Giro because I knew it would have affected my results at Dauphine, but I had no choice really. So while I was racing at the Giro, I had one thing to prove. That I was a team player and I would be worth taking along to France. And that's exactly what I did, but it wasn't easy. I supported Mark as much as possible, in any situation. I always stayed behind him during the stages to make sure if he was to crash, I'd have to pass him and never miss him.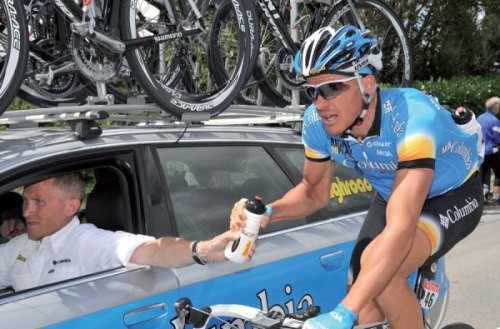 On the odd situation when he went down, which happens more than you see on TV, I did my best to get back to the bunch for him to contest the sprint. Luckily for me, with great lead outs I was providing good support for Mark, I was told at the Giro there's a 99% chance that I'd be going to the Tour. But in cycling nothing is 100% till it's done. So after the Giro I had to do a race. In Europe they still follow the old tradition. You can't go to a major race without doing some racing before, because in the old days they believed training was never enough. This is something I don't believe. I believe if you have the discipline, training can keep you at your best. But I had to follow directions because as a rider, I don't make the choices. So going to Dauphine I wanted, in fact I had to show I was still in good form to ride the tour. I wanted to do the whole race, but was forced to pull out after four days because if I was going to ride the Tour then the directors thought it was far too much to do. Amstel Gold, Fleche Wallone, Liege- Bastogne-Leige, Tour of Romandie, Giro d'Italia and then the Dauphine. OK that's a pretty wild program, but even so, I still was not convinced I was doing the Tour. While I rode well there for the team and things were looking better, there was still no answer if it was 100% or not. You know how when you hope something will be happening and you wish you just knew one way or the other? That's how it was for me. It was a hard time after this big racing block because I needed a rest, but if I were to ride the Tour, well, it would give me something to really work for. I still had to train though and I only had one choice, train through and hope I go to France. Because if I don't, I don't get my rest and I'd be in trouble! After being constantly nervous, I was finally told its 100%. I'm going to the Tour.
God Damn! A dream come true and now I can't wait to see what all the hype is about at this race in France. It didn't take me long to find out. The Tour is different. It's much bigger, much faster and so much harder than all the others. At some races you'll have 200 guys or so. It's not the best 200 in the world and not all the guys there have form. Maybe about 40% do and only 50% of the peloton are really motivated. But at the Tour it's a whole different ball game. Here you have 180 guys with form and every single one of them are motivated with extra pressure from their bosses. So it's just that much faster. I must admit, I felt like I was doing my first Pro race again. It was just like stepping up to another level. You ride faster in the corners, closer together and everyone is much more nervous! The noise from the fans lining the road is deafening. But as Mark Cavendish keeps saying "Yeah Baby! It's the Tour de France!"