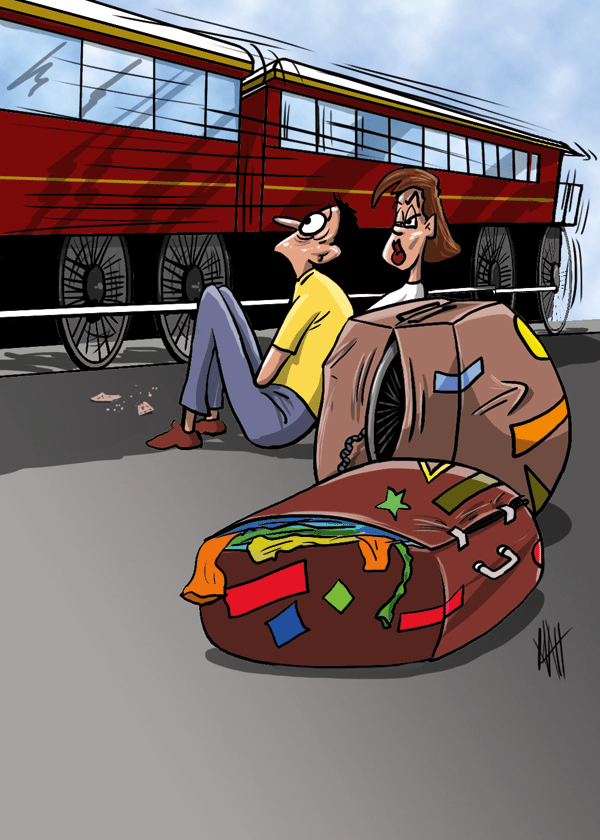 One of the perks of Cycling Hubby's dabble in the world of international cycling is, unquestionably, the amazing places he has been fortunate enough to travel to. Needless to say, his collection of stamps in his passport is looking fairly impressive at the moment. Prior to this, Cycling Hubby's experience of international travel existed solely of a family trip he took at the age of 11, so he is not what you would call a veteran traveller. This has meant that with his debut back into the world of international travel, Cycling Hubby has had a fairly easy ride. For those of you who have travelled, you can appreciate the energy and time it takes to plan and prepare for a trip. Cycling Hubby is blissfully unaware of this whole process, as everything is done for him when he is touring with the team. All he needs to do is wait for the call that tells him which airport he needs to be at and when. The most difficult part of Cycling Hubby's travels is his responsibility to pack his luggage.
Recently, Cycling Hubby suggested a weekend away to Vienna, revolving around a race that was there of course, but a weekend away nonetheless. Any time away is rare so you can imagine how I jumped at the chance. Given his lack of experience in organisation, I was surprised to hear him say he would organise the logistics of it all. I couldn't help but be curious as to how Cycling Hubby would fare. Without the travel arrangements being handed to him on a silver platter he would have to navigate the seemingly simple tasks of organising trains, buying tickets and arranging accommodation, but when you add a language barrier into the mix, it all becomes slightly more complex. I could hardly wait to see what adventure lay before me.
So as we began to pack for our trip, I was reminded that travel with a cyclist, inevitably leads to copious amounts of luggage. I watched as Cycling Hubby easily filled a large suitcase with kits (one for every type of weather imaginable), race shoes, and team clothing, before beginning to pack his other bag – the bike bag. So we are finally ready to leave for a short two day trip away and we have managed to keep our stuff to a minimum … with only a largish suitcase and a bike bag, we are set to go.
The day arrives and we are off. Just two hours into our five hour journey we are required to change trains as we enter a new country. As we wait for our next train we begin to notice that everyone else is holding a different ticket to us. Whilst Cycling Hubby insists that he has booked the right tickets I don't feel so certain and suggest we ask someone. Pleased to find a fellow Aussie amidst all the Austrians, we asked for his advice, which was given with true Aussie spirit as he said – 'Oh, she'll be right mate'.
Well, we took his advice and boarded the train, trying to look as inconspicuous as we could with our excessive amount of baggage. We found a seat and awaited our fate. It didn't take long before the ticket inspector found us. As suspected, our ticket wasn't valid and we were kicked off the train at the next stop. We had made it two hours and 20 minutes into our journey before our hiccup happened. I won't bore you with too many details of the saga that unfolded, but I will just let you know that, what was to be a five hour trip, ended up being a nine hour trip. What was supposed to be a two train journey resulted in a six train journey and what was supposed to be a 'cheap' ticket ended up costing us more, and more and more. We finally arrived in Vienna, a little later and a little poorer than we had expected, but thankfully, we had arrived safely.
Our romantic 'weekend away' proved to be a good lesson for Cycling Hubby into the ground work that happens behind the scenes of all this travel he has been doing and that it pays to do a little bit of research when travelling. Naturally, Cycling Hubby is denying any error on his part and is claiming that he organised it so we could have an 'adventure' on our trip. Given that it took us the same time to travel from Italy to Austria (neighbouring countries) that it takes everyone else to fly from Sydney to Hong Kong, I beg to differ. However I do have to wonder if it was an intentional move on Cycling Hubby's part, in the hope that he may never be asked to plan a trip again and can continue the luxury of having someone else do all the organising. Hmmm …