The name Daniel Bonello will be familiar to many, the former Sydney-based cyclist has raced & ridden pretty well here there and everywhere over the past decade or so. Well known in the crit racing scene, Dan has been to several Bowral Classic Gran Fondos as well as numerous NRS races, the Herald Sun Tour and even this year's Mediterranean Games.
But this week Dan Bonello surprised many of his Aussie mates by being on the start list of one of the biggest races of 2022 – the Individual Time Trial at the World Championships in Wollongong.
What's more, he made the most of the opportunity by being up on stage and in the hot seat for a short time. And if that's not enough he is now preparing for the big one – the Elite World Championship Road Race on Sunday September 25.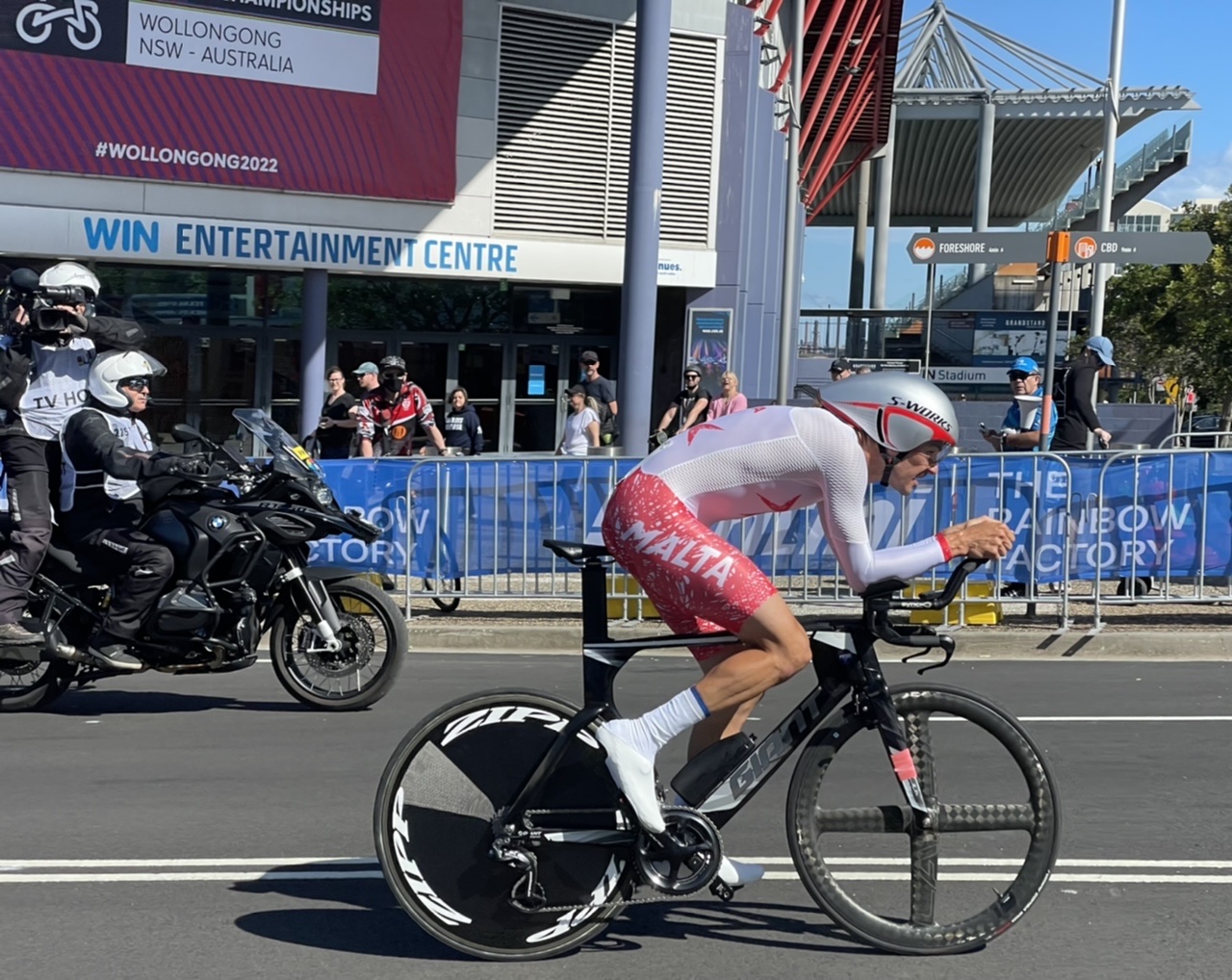 Representing Malta and kitted out in resplendent red and white, we caught up with Dan the Man after he completed the gruelling 34km Time Trial, and just after he gave up the hot seat.
"I am Maltese on my dad's side of the family," he told us. "His family were post-war immigrants after World War Two. They moved to Western Sydney and I'm a descendant of a pretty huge Maltese community. I've had my citizenship for a few years with ambitions of going to the Commonwealth Games this year. But I missed out on that and basically asked the people at Maltese Cycling if I could do the World Championship Road Race. I had actually planned to race the MTB Marathon Worlds in Denmark held yesterday. But Malta came back to me and said they had Time Trial spots for two guys, so another Aussie / Maltese rider Alex Smythe and I did the TT.
"With the opportunity before me I came home to Australia (from Girona in Spain) a little earlier and prepared the best I could. I'm here for the experience and it has been incredible so far. My girlfriend (Brodie Mai Chapman – riding for Trek-Segafredo in 2023) is racing for Australia and the experience has been incredible so far. Then, last night, I found out I was first off with another Girona local Lucas Plapp not far behind me."
Dan continued to explained how he was four and a half minutes ahead of Lucas. "So I tried to keep him at bay," he told us. "It was hard but so much fun … I gave it everything I could and I'm stoked."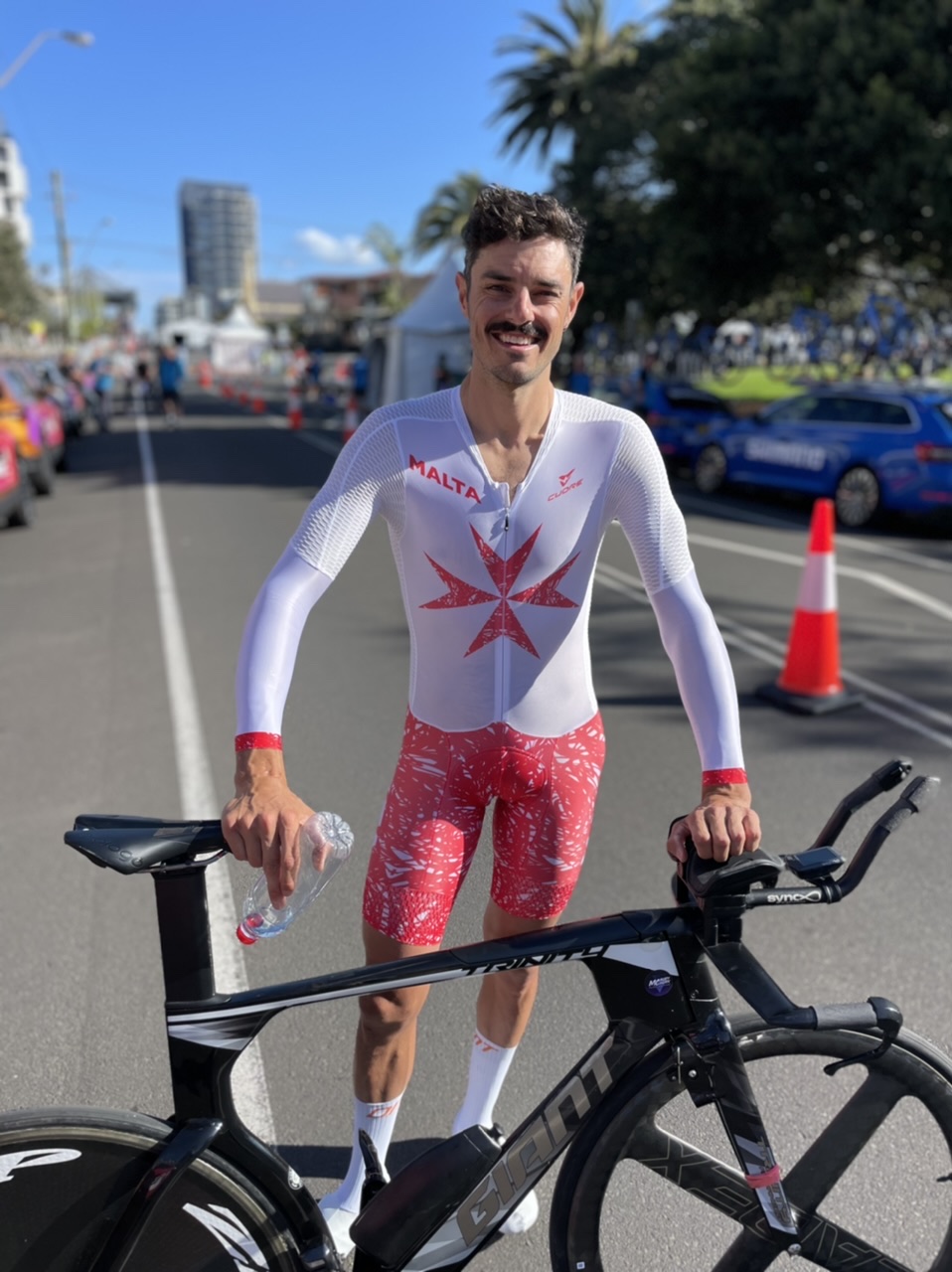 Preparation for Dan's biggest ever race (so far) involved three weeks of TT training in his home town of Girona in Spain where he lives and trains with Brodie.
"I don't actually have a TT bike, and after how painful that race was I don't really want to own a TT bike" Dan told us. "A young Australian who lives in Girona – Harrison Bailey – loaned me his Specialized TT bike which I was training on. I started to feel really good on that bike but wasn't going to bring it home as I'd lined up this Giant Trinity from young Sydney rider Alex Callea who's also of Maltese descent – so a massive thanks to Alex."
"Shimano have also been very supportive – a big shout out to Toby Shingleton who helped a lot. You never know how many favours to ask of people, but when something big like this comes up it's incredible just how much people want to get behind it. Mick at MC Bodyworx is another who helped with bike fitting – I was straight off the plane and went and saw him."
Asked how he felt during the final countdown on the start ramp, Dan said he "was pretty nervous".
"In the days leading up to this I was fine. But as it drew near I was getting quite severely nervous. Let's be honest, with the level of the athletes here I'm competing with them, but not against them. I was definitely trying to take it in, and had some wonderful support from spectators out on course."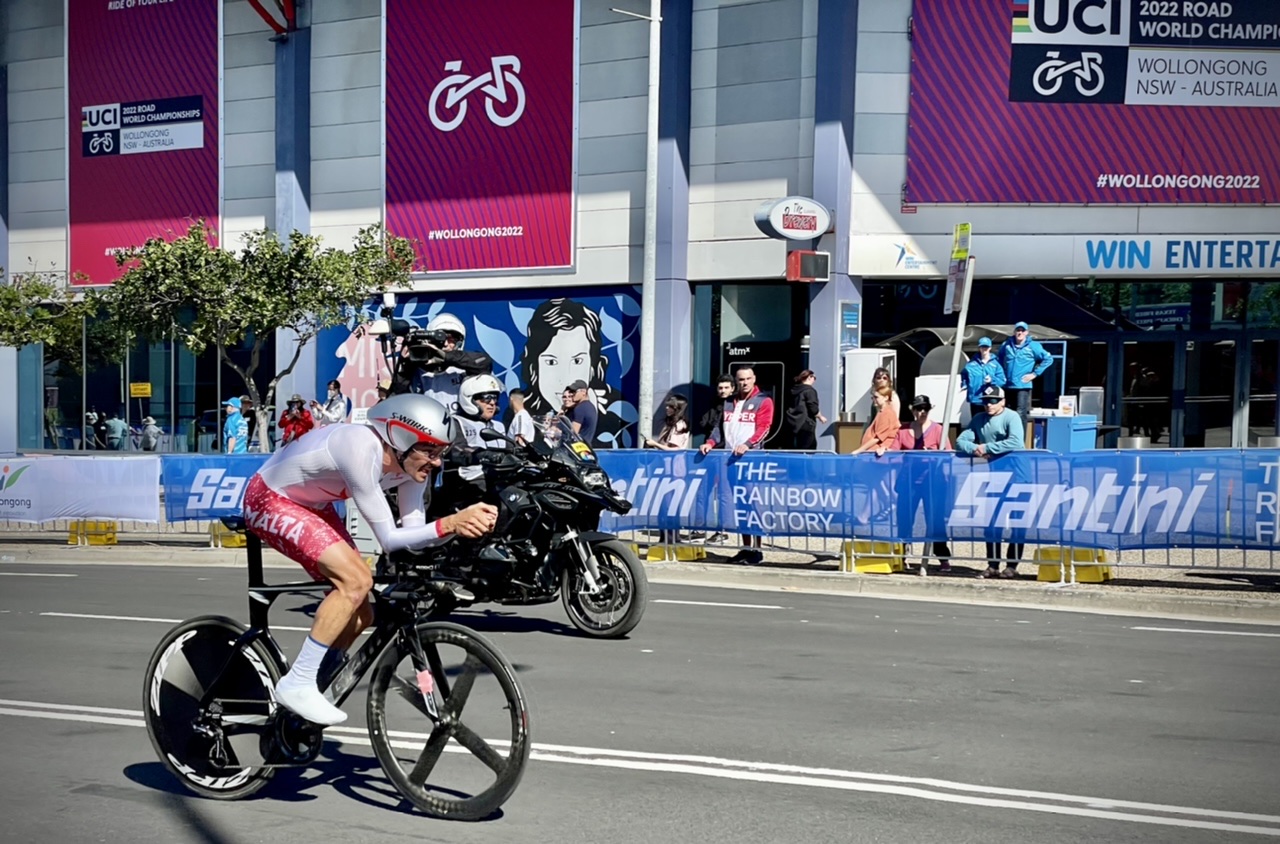 Crossing the line is when many TT riders immediately start to slow down and draw breath, but not Dan. Keeping the power on, he raced through the UCI testing and mixed media zone with the hot seat firmly in his sights.
"I thought I was going to be booted off there pretty quick. The lady came out and told me I had the third fastest time … but I just sat in the middle seat and enjoyed it," he said with a laugh."
"I knew some of the other riders that came up to the stage – one rider, a Canadian pro Matteo who also lives in Girona – I haven't seen him in ages then I see him on the stage at the World Champs," he said with a laugh.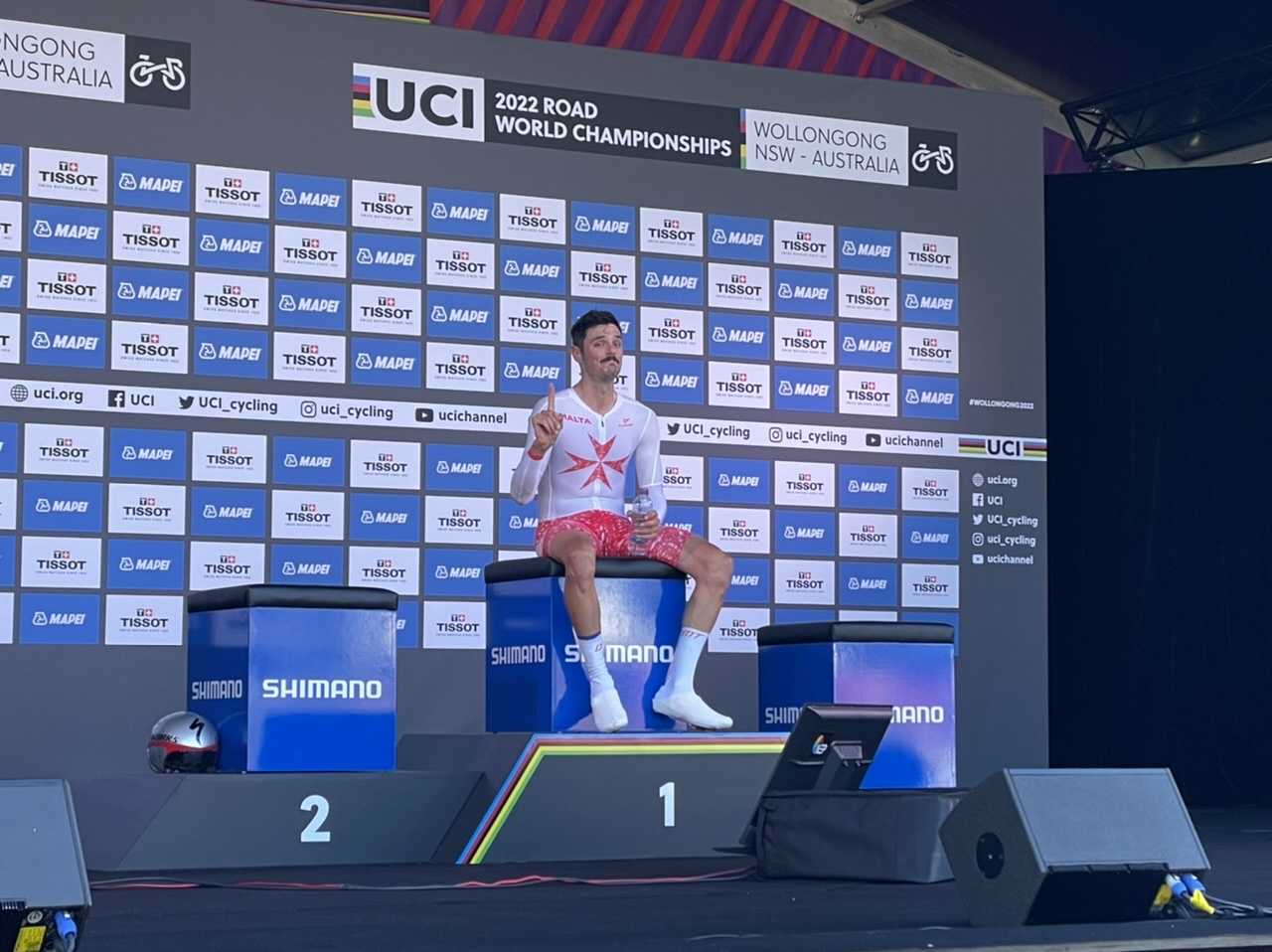 And Dan's takeaway from riding at the Worlds? "It was a cool experience – I just hope this is a super-successful event. I want kids to see this and bug their parents to take them out on the bike path or to go and buy them a bike. Having an event that shows off Wollongong and gets more people on bikes is the most important aspect – and for me it was always about enjoying the experience."
And Dan's next major race after the World Championships TT and Road Race? None other than Bicycling Australia's very own Bowral Classic Crit & Grand Fondo in mid-October.
"I'm riding the Bowral Crit on the Saturday – that's obviously my scene, then the Fondo on Sunday. I mentioned it to Brodie yesterday and she lit up straight away. She's probably meant to have an off-season but won't be able to say no, so yeah, we'll be there."
To register for the Bowral Crit and Bowral Classic visit www.bowralclassic.com.au